Hello, Core friends! Vivian Keh here with an accordion mini album that I made for one of my three closest high school friends, all of whom were able to visit me recently for an amazing reunion, just as we all hit the big Four Oh! I crafted this album to house small photos from our long weekend together, using a monochromatic palette, which is extra fun with all the lovely tones and tints of cardstock that Core'dinations has available! 
Check out the Core Essentials part of the website for color families so you can create your very own monochromatic look like this!
There's some die-cutting, dry embossing, stamping, and of course my current favorite – tearing!
A distressed crumpled look is so so easy with Core!
Layer your scalloped edges for a "gingerbread" look! Ya know, like the roofs of gingerbread houses..cute, huh?!??!
Core'dinations -
Sizzix – "Mariposa" bigz die, embossing folders
Tim Holtz – tiny attacher
EK Success – floral punch, circle punch
Memento – Dye ink
Gems
Decorative Brads
~~~~~~~~~~~~~~~~~~~~~~~~~~~~~~~~~~~~~~
Next up a layout….. How cool are those torn squares?!?!
And yeah for the cool embossed punches from Marvy Uchida!!!  How cool are those torn squares?  First layer the torn paper on some scrap paper and adhere.  Then cut out any shape you like and you have your very own embellishment!
SUPPLIES:
Core'dinations -
Sizzix – Sizzlit "Typeset" Alphabet Strip Die
The Paper Studio – Self-adhesive pearls
I think my new favorite color is white…is that possible?!?!?
Shaunte Wadley created these beauties for us today…wowzas! Creating dramatic monochromatic projects is so easy with Core because you can mix and match the different lines for some sparkle…emboss for some texture and you have the perfect card.  For each card, I listed the  lines she used so you can look closely and see beautiful details. Little things like different embossed layers, pearls and stitching make all the difference.
For more monochromatic ideas check out a post we did a few weeks ago HERE.
Card One is the simpliest with a David Tutera Cardmaking system white smooth cardbase, Core Essentials white, and the butterfly is Core Couture.
Card two: start with a David Tutera Cardmaking system white cardbase and emboss it.  Then add a strip of Core Couture with die cut letters, then emboss some Core Essentials white in another strip. Stitch together. Then add butterflies laong the top in Glitter Silk and a strip along the bottom from Step 3 of the David Tutera Celebrate Cardmaking system.
Again, starting with a David Tutera Celebrate cardmaking system smooth white cardbase, emboss a layer in white Core Essentials. Adhere with Helmar Zap dotsafter punching a hole in the side, add white heart on a string from Glitter Silk Cardstock, finish by creating some embossed strips along the bottom with scalloped pieces, an embossed strip from Core Couture and a banner created using a Dymo Label maker.
Did you know we have  a video on how to create with your Label Maker?  Check it out HERE!
Well…as a cake topper!  Jill has some great birthday ideas for you today.
Hi everyone! Jill from Every Day is an Occasion back to share another project with you. Today I am sharing the cake topper I made for my son's birthday. He turned four this year. He loves cooking and baking, so we decided we would make the cake together. He picked out the kind of cake he wanted, the frosting, and of course what he wanted on top of the cake. This summer we have spent a lot of time at our lake cottage. He absolutely loves it up there. One of the highlights for him is to look at all the animals while we are on the pontoon boat. He especially loves it when we find turtles. So this year we decided a turtle themed cake would be fun.
Turtle Themed Birthday Cake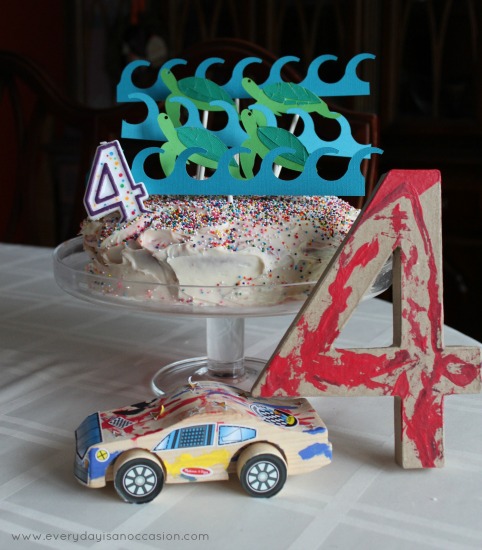 You may notice a random car in the picture…he painted that car and asked for it to be in the picturebecause he wanted to remember he painted that on his birthday.
I love Core'dinations Brights Paper Pack. I use it all.the.time! It is my second go to…my first go to favorite is Core'dinations white in the neutral pack…I know I'm weird! lol
Anyways, the turtles and waves were both made using the Brights pack. So go get yourself some and thank me later:)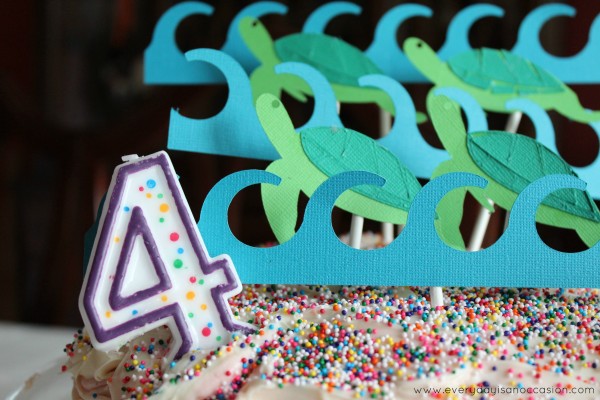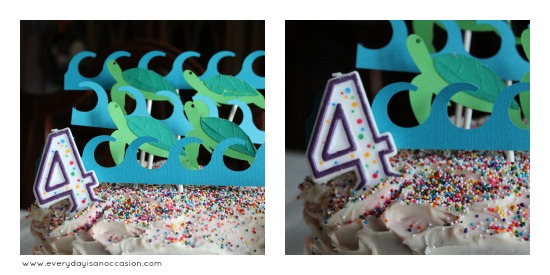 Next up I'm sharing a project I made for my mom. I keep making cards for her that she absolutely adores and doesn't want to throw away…this is where I blush and come up with a solution…..
Card Holder and Scalloped Card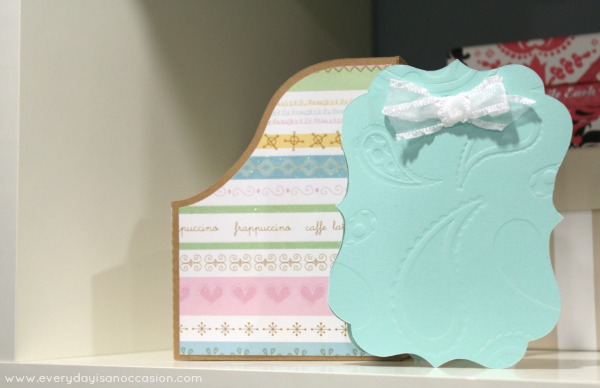 When I first got my Design Team box from Core'dinations, this SUPER CUTE Fancy Pants Core paper was inside. This paper was my mom's absolute favorite! I knew when her birthday rolled around, what I would be using to create her card! She doesn't like really fancy things. She is more of a clean and simple gal so I used the backside of the cardstock.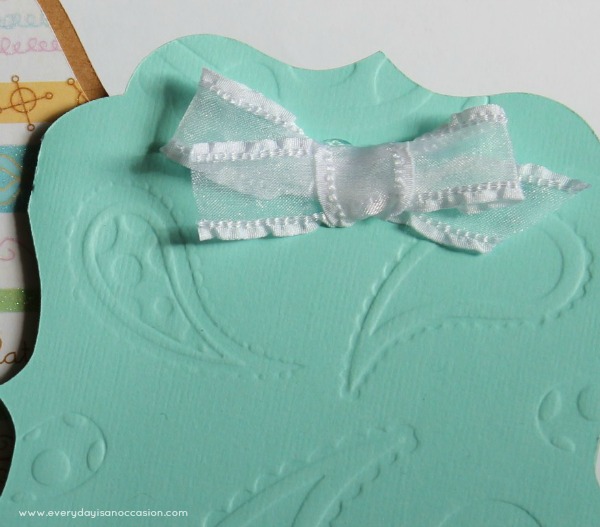 Then when she said she needed a place to put all the cards I was making her, the Tim Holtz Kraft Core paper stuck out to me because on one side it is a kraft color and on the other side it is colored. I think it is so perfect because no matter which side you look at the paper it is beautiful!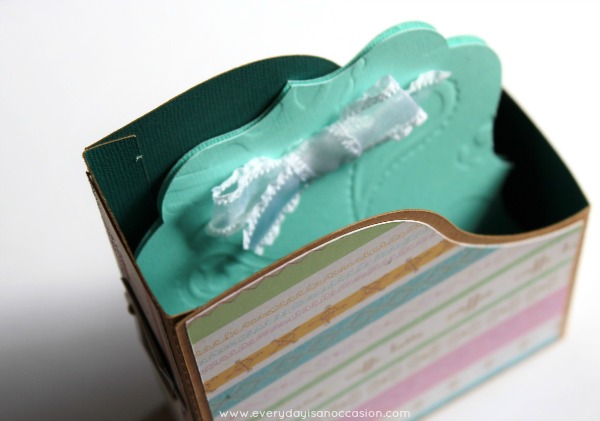 Materials
Card Base: Fancy Pants Coredinations paper
Ribbon: May Arts
Silhouette Cameo
Card Holder: Tim Holtz Kraft Core 
For more details on how I created these two projects, come visit me at Every Day is an Occasion.
Thanks for stopping by and checking out my project.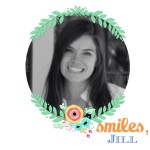 –
Every month we challenge our designers with something fun and this month it was all about monochromatic color schemes.
Did you get the August newsletter?  Well if you did then you got a FREE downloadable PDF from Designer Mary Pat Siehl featuring a quick "how to" on how to create EASY monochromatic looks with just embossing!  Core makes scrapbooking easy, don't you think? By being a Hard Core Crafter you are automatically signed up for our newsletter.
Our Design Team also did some for us today as well. As you can tell our team likes blue
First up Kate Nolan-Deham…Kate used a banner to really enhance her monochromatic color scheme. And how sweet is her Glitter Silk dress form that she embellished!
And look at all this texture from Designer Gail Linder??!?! LOVE how she chose to use some yellow…a color I think a lot of scrappers struggle with:
A super simple card from Designer Ava Gavloski…monochromatic doesn't need to be complicated….
 and one last card from Designer Heather Kaesgan…LOVE how she mixed in some Gemstones for her monochromatic look for that bit of shimmer….
Clare Buswell used our Core Amour Cardstock to create a unique monochromatic look:
And Tracy Gruber always creates the CUTEST cards….hippo-ray, LOL! So cuuuuute! And monochromatic doesn't need to be the exact same color. Tracy used different hues of purple for hers and added some Gemstones as well.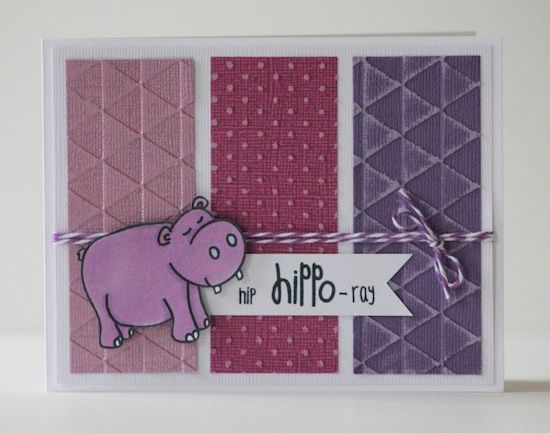 And how about a Pink Monochromatic layout from Designer Ava Gavloski? Look at all that gorgeous detail!  Using the BasicGrey Core Impressions for her base and then just adding fabulous bits and pieces in pink and white….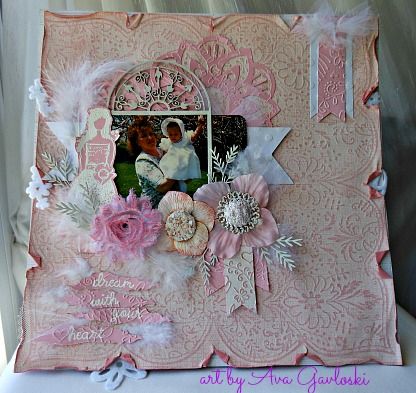 Sorry I am a little late today, the flu bug has hit our home and today hasn't been so much fun. Thank goodness it's today and not next week when our kids go back to school.
So what is on the agenda for today?  First we have a giveaway!!! Does that word ever get old? LOL! May Arts, our absolutely go to ribbon around here, is celebrating so check out how to win HERE!
Next up we have Designer Kim Moreno with a  ffew gorgeous gorgeous gorgeous layouts!
To create the hearts in the background of my layout I placed a chipboard heart behind my cardstock and slightly sanded over the top making sure to get the edges well so the heart would show clearly (the outlining technique).
I the layered the pre-embossed Spotted purple cardstock and the cuttlebug embossed grey paper to create my layout. I added white spotted cardstock and instead of inking the raised dots I simply rubbed them along the black cardstock and it picked up the "leftover" dust and colored the white spotted cardstock nicely. 
I then added my stickers and embellishments to complete my layout!
Supplies:
Cardstock: Core'dinations (Spotted- Forge me not, BlackMagic- protect, Core Essentials- Argos, Snowflake)
Chipboard: Heidi Swapp (arrows), American Crafts (letters), Magistical Memories (heart used to sand)
Stickers: Jillibean Soup
Flowers: Creative Charms
Jewels: Queen & Co
Washi Tape: K&Co (black dot), scroll (unknown)
Cuttlebug machine and embossing folders.
~~~~~~~~~~~~~~~~~~~~~~
Summer Lovin' layout using loads and loads of Imaginisce goodies!
And a close up:
Using my scorpal I embossed the lines around the edge of my layout to frame the whole layout I then sanded the lines and the edge of my paper rather roughly tearing some of the edges to reveal the color core of the cardstock. I backed my photo in patterened paper and vintage cardstock tearing along the bottom to reveal the core. I also traced on the back of the vintage yellow cardstock and tore the pieces of the sunshine out and sanded the edges slightly to create the sunshine piece.
Supplies:
Cardstock: Core'dinations (Autumn & Lemonade- Vintage Collection), (Nassau Blue, Snowflake, & Sutter Butter- Core Essentials collection)
Patterned paper/ sticker/ die cuts: Imaginisce
Adhesive: Zapdots by Helmar
Tool: ScorPal