Supply List:
Darice Notebook Recycled 4×4″
Embossalicious embossing folder
Big Shot, May Arts Trim
Ranger Distress Ink Picked Raspberry
Memento Luxe Angel Pink
Hand carved flower stamp
Silhouette Portrait
Silhouette file Design ID #41654
Font – Happy Fox
Quickie Glue Sakura
American Crafts Premium Ribbon Ruban Blush
Corner rounder
Step 1: Unscrew post from notebook, carefully keep notebook pages in a stack, remove cover.
Step 2: Trim Tim Holtz and Ranger Distress Collection Spun Sugar cardstock to fit front and back covers. Sand edges using Sand-It Gadget.
Step 3: Trim 110lb Smooth White Core cardstock slightly smaller, stamp little flowers in two shades of pink, round corners, attach and punch hole in corner.
Step 4: Trim Core Reflecting Pool cardstock to fit across cover, emboss, sand and adhere.
Step 5: Cut square of Relecting Pool cardstock to fit back, emboss using embossing folder, sand and attach.
Step 6: Cut letters using Silhouette and Core Fuchsia Fizz cardstock. Adhere to cover using glue pen.
Step 7: Add embossed layer over the back and sand.
Step 8: Reassemble notebook to finish.
Mary Pat Siehl here with you today and I am excited to share a new Back to School layout using some  Core'dinations cardstock.
Supplies:
Cardstock-Core'dinations (Core Impressions Jillibean Soup, Graphic 45 Signature Series, Core Essentials, 110lb. smooth)
Canvas Embellishments- Little Yellow Bicycle
Scoring Board
Spectrum Noir markers
Sand It Gadget
Dust Buddy
Lawn Fawn dies
Cuttlebug embossing folder
1. I love to layer my cardstock and so I decided to layer grey on top of light blue. I wanted to create a light chalkboard effect with the grey so I scored my grey cardstock with a scoring board and scored at the 1/2 inch line all around the paper. Then just sanded the paper pretty heavily to really expose the lighter inner core.

2. Next, I took a piece of Core Essentials and laid it on an embossing folder to create a very light embossed look to the paper strip again sanding  pretty heavily to give it a very distressed look.

3. I then took a piece of the Core'dinations Jillibean Soup Impression paper and sanded it and placed that on top of the blue piece. If you don't have Core Impressions you could easily emboss another sheet.
4. Next I added a small strip of yellow and added that on top. (Again, I LOVE to layer my paper with different textures and designs.)
5. Add  photos.
6. Make a star embellishments using die cuts, embossing them using an embossing folder, and lightly sanded them.
I also have this video for you on how this layout came together.

~~~~~~~~~~~~~~~~~~~~~~~~~~~~~~~
Happy Tuesday Everyone! Jennifer Edwardson here and I've been lucky enough to work with the
David Tutera Celebrate
 system from the beginning and have made some super cute quick and easy cards, along with more detailed ones too but I wanted to try something a bit different this time so I encorporated bits and pieces of the David Tutera Celebrate line with Core'dinations lines, too.
Many card makers are also scrapbookers and I decided to take some of the new patterned cards and create a layout instead.  I started with a brown Core'dinations cardstock base and layered a white spotted piece slightly smaller on top.
I chose the colors of cards I wanted to use and made a border punched mat for my photos first. Once i had this all in place I started punching shapes from the card bases.  I used a couple different sizes of scalloped circle punched and then a tiny circle punch too.
I gently sanded the edges of these and then layered them on top of each other using 3D foam throughout the layout, trimming a few to a straight edge here and there as well.
I added a layered card sentiment as the title and some typewriter journaling to complete this one of Em and one of her closest girlfriends on her 13th birthday !!
Supplies:
David Tutera Celebrate A2 Assorted Patterned Bold Cards & Envelopes
David Tutera Celebrate Happy Birthday Layered Sentiments
David Tutera CelebrateBaby Girl Embellishment Kit
Core Essentials: French Roast, Izmir Purple
Spotted Jillian Dot: Snowflake
Sand It Gadget
Dust Buddy
Other: Xyron and American Crafts adhesive
We are one of the main sponsors over at CSI: Color….Stories…Inspiration this month and we couldn't be more excited!  Every Friday there is a new color palette introduced called a Case File. This week it's Case File No. 126.
LOVE how not only is there the "scene" which is the color palette but there is "evidence" and "testimony" that give you prompts to create as well! We will be sponsoring all month long so make sure you stay close  this month for a few more chances to win some Core. All images you create must be posted over on the CSI site.
Today we have a layout from Debbie Standard using this gorgeous Case File focusing on the Chevron pattern from the Evidence using our Core Impressions cardstock.
Supplies: Core Essentials, Spotted Cardstock
Make sure you head over the CSI Facebook page for more amazing inspiration!
I don't know about you but the end of school is right around the corner for us and I am looking for some ideas for my children's teachers. If you are, to0, then this is the place for you!
Today we have a cute gift bag and mini card from Shaunte Wadley.
Instructions for the Gift Bag:
Using an electronic cutting machine, cut a scalloped border medallion shape from yellow cardstock. Fold and glue shape. Adhere to small kraft gift bag.
Using a 2 3/4″ circle punch, cut a circle from blue cardstock. Emboss with swirls embossing folder. Sand. Adhere to center of yellow medallion.
Using an electronic cutting machine, cut four (4) 2″ apple shapes from red cardstock. Fold each apple in half. Adhere apples back to back, and attach to center of blue cardstock circle. Add brown cardstock stem. Using a craft punch, create two leaves from green cardstock. Fold in half. Sand. Adhere to apple top.
Tie small tag to stem of apple. Hand write sentiment on tag.
Instructions for card:
Using a craft punch, create scalloped circle from yellow cardstock. Adhere to center of label shaped mini card. Using a craft punch, create a circle from blue cardstock. Sand. Adhere to center of yellow circle. Computer generate sentiment. Trim ends into pennant shape. Adhere to bottom of circle. Using a craft punch, create apple from red cardtstock. Add to top of circle. Using a craft punch, create leaves from green cardstock. Add to apple. Adhere red gems to bottom of circle.
Hi there! Jill from Every Day is an Occasion ( http://everydayisanoccasion.com/ ) here to share a fun way to package a treat. I was thinking these would be fun for Valentine's Day, but also for a favor for a wedding shower, or even a birthday party. I just love these little treats. I think they are so fun!!
Hand Stitched Paper Heart Treats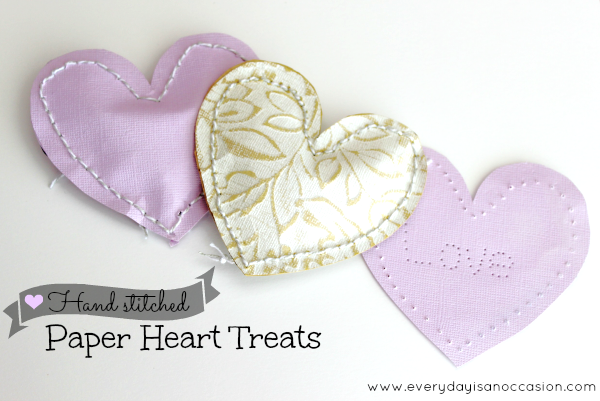 To create these little fellas, I traced a heart pattern I had lying around onto Fancy Pants Embossed Core and Lavendar Core. Then I cut them out. You could find a heart pattern on the internet and print it out and use that as a pattern or you could draw one. Then I used the We R Memory Keepers Sew Easy straight attachment to create the holes around the heart.
After the holes were punched, I just went ahead and hand stitched following the directions that came on the package. It was really fun and relaxing. If you haven't hand stitched yet, I say give it a shot because it is fun. I love how it looks on a layout too! One piece of advice, make sure to sand your embossed paper after you have the heart all stitched up. When I sanded before it made the heart too pliable and harder to punch through. Before I stitched the heart up I added some Sixlets.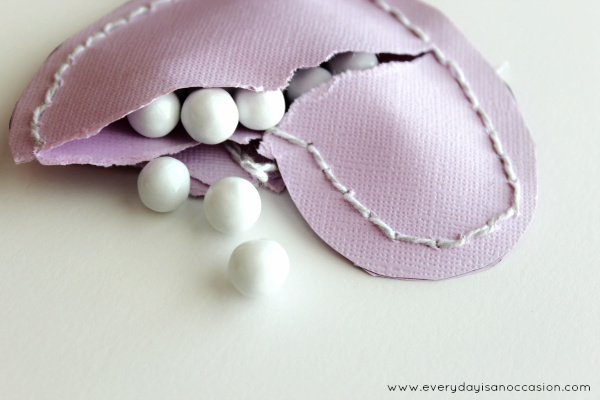 Thanks for stopping by today! Have a SUPER fun day!!