Many card makers are also scrapbookers and I decided to take some of the new patterned cards and create a layout instead.  I started with a brown Core'dinations cardstock base and layered a white spotted piece slightly smaller on top.
I chose the colors of cards I wanted to use and made a border punched mat for my photos first. Once i had this all in place I started punching shapes from the card bases.  I used a couple different sizes of scalloped circle punched and then a tiny circle punch too.
I gently sanded the edges of these and then layered them on top of each other using 3D foam throughout the layout, trimming a few to a straight edge here and there as well.
I added a layered card sentiment as the title and some typewriter journaling to complete this one of Em and one of her closest girlfriends on her 13th birthday !!
David Tutera Celebrate A2 Assorted Patterned Bold Cards & Envelopes
David Tutera Celebrate Happy Birthday Layered Sentiments
David Tutera CelebrateBaby Girl Embellishment Kit
Core Essentials: French Roast, Izmir Purple
Spotted Jillian Dot: Snowflake
Sand It Gadget
Dust Buddy
Other: Xyron and American Crafts adhesive
We are one of the main sponsors over at CSI: Color….Stories…Inspiration this month and we couldn't be more excited!  Every Friday there is a new color palette introduced called a Case File. This week it's Case File No. 126.
LOVE how not only is there the "scene" which is the color palette but there is "evidence" and "testimony" that give you prompts to create as well! We will be sponsoring all month long so make sure you stay close  this month for a few more chances to win some Core. All images you create must be posted over on the CSI site.
Today we have a layout from Debbie Standard using this gorgeous Case File focusing on the Chevron pattern from the Evidence using our Core Impressions cardstock.
Supplies: Core Essentials, Spotted Cardstock
Make sure you head over the CSI Facebook page for more amazing inspiration!
I don't know about you but the end of school is right around the corner for us and I am looking for some ideas for my children's teachers. If you are, to0, then this is the place for you!
Today we have a cute gift bag and mini card from Shaunte Wadley.
Using a craft punch, create scalloped circle from yellow cardstock. Adhere to center of label shaped mini card. Using a craft punch, create a circle from blue cardstock. Sand. Adhere to center of yellow circle. Computer generate sentiment. Trim ends into pennant shape. Adhere to bottom of circle. Using a craft punch, create apple from red cardtstock. Add to top of circle. Using a craft punch, create leaves from green cardstock. Add to apple. Adhere red gems to bottom of circle.
Hi there! Jill from Every Day is an Occasion ( http://everydayisanoccasion.com/ ) here to share a fun way to package a treat. I was thinking these would be fun for Valentine's Day, but also for a favor for a wedding shower, or even a birthday party. I just love these little treats. I think they are so fun!!
Hand Stitched Paper Heart Treats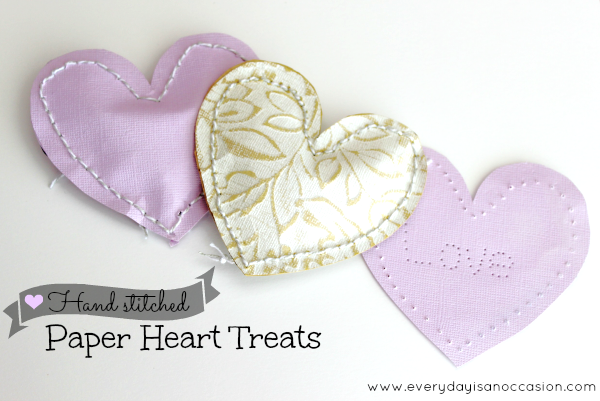 To create these little fellas, I traced a heart pattern I had lying around onto Fancy Pants Embossed Core and Lavendar Core. Then I cut them out. You could find a heart pattern on the internet and print it out and use that as a pattern or you could draw one. Then I used the We R Memory Keepers Sew Easy straight attachment to create the holes around the heart.
After the holes were punched, I just went ahead and hand stitched following the directions that came on the package. It was really fun and relaxing. If you haven't hand stitched yet, I say give it a shot because it is fun. I love how it looks on a layout too! One piece of advice, make sure to sand your embossed paper after you have the heart all stitched up. When I sanded before it made the heart too pliable and harder to punch through. Before I stitched the heart up I added some Sixlets.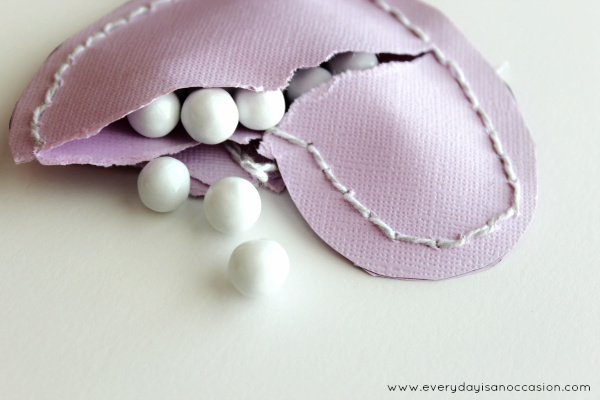 Thanks for stopping by today! Have a SUPER fun day!!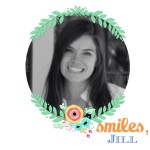 ~~~~~~~~~~~~~~~~~~~~~~~~~~~~
For this layout I had initially chosen a neutral pallete, but knew it was missing a pop of color.  I started by pulling in color through alternating layers of cardstock which I paper tore to show the colored core. I loved the pop of yellow from tearing the Black Magic so I found the perfect match of yellow in the Core Essentials Brights Collection and used that as my background paper.
Next time you need a pop of color in your paper project, try tearing your Core'dinations!
Core'dinations Supplies:
Core Essentials: Brights Collection
Core Essentials: Neutrals Collection
Other Supplies:
May Arts Ribbon
Jillibean Soup Alphas
Misc. Eyelets
American Crafts Jute
~~~~~~~~~~~~~~~~~~~~~~~~~~~~~~~
And Kim Moreno just uses a touch of tearing on her layout below. She does a great job mixing embossing, tearing, scoring ANd outlining on here. Again…don't be afraid to check out our technique videos for more ideas!
During the holidays I was finally able to my sisters kids and mine together for a group picture… it wasn't easy to get them all to smile and look at the camera but I managed to get one good shot in and just love it! I couldn't wait to print and scrap it!
I used my ScorPal tool to create the embossed lines around the edge of my layout. I like doing this because I feel like it frames my layouts well and I like the look.
I then placed a large chipboard star behind my layout where I wanted it and using my Sand It Gadget sanded over the top of the cardstock to reveal the star image below the cardsock. I trimmed different sized stars from cardstock and embossed and sanded them each and attached to my layout using pop dots to a few of them to give them more dimension. I used the star embossing folder to emboss a strip of gray cardstock and sanded it to reveal the lighter gray core the tore the edge of some green cardstock and made banners of each and adhered to my layout. I added the title to finish my layout.
Core'dination Dust Buddy
Coredinations Sand It Gadget
Cuttlebug embossing folder and machine.
Marvy Uchida star punch
ScorPal tool
ONE amazing Monday and THREE incredible layouts from Gail Linder!
~~~~~~~~~~~~~~~~~~~~~~~~~~~~~~~~~~~~~~~~~~~~~~
Sweet Delight Layout
I have a secret to share today. Sometimes I scraplift my own layouts! Gasp!
Seriously, if you're ever "stuck" for ideas, just choose an older layout of your own that you loved and scraplift it using new products or techniques!
That's exactly what I did for today's layout.
I knew I wanted to create bright, fun blocks at the top of the layout and I wanted to use Core cardstock (of course) showing a couple of techniques.
I cut 10 squares of cardstock (in 6 different colours) that were 2″x2″. After finding the arrangement that I was happy with I simply when from square to square, embellishing slightly.
Some of the techniques I used include:
Embossing (you could also try de-bossing)
Sanding and inking
Adding die cuts (some raised on pop dots)
Punching out a shape from the square, using the negative space
Punching a circle 'notch' from the corner to add in a circular embellishment
I kept them quite simple as I wanted to fabulous colours to stand out!
And take a look where my journaling is hidden in this one:
The photo panel lifts up to reveal journaling underneath! I just folded a piece of white core cardstock to be the 'flap'.
You can actually see the original layout that inspired this one on my blog here. I hope I've inspired you to look back at your older layouts for inspiration with fresh eyes!
Supply List – Gail January Project #2 – Sweet Delight Layout
Core Cardstock:
Snowflake (neutrals)
Navy (darks)
Love Potion & Tulip (brights)
Sugar'n'spice (pastels)
Tumbled Glass & Shabby Shutters (Distress)
Sand It Gadget
Dust Buddy
Big Shot
Lifestyle Crafts embossing folder
SSS, MFT & Avery Elle dies
Martha Stewart butterfly punch
Silhouette Cameo
Feathers cutting file
~~~~~~~~~~~~~~~~~~~~~~~~~
One Little Word Layout
Do you follow the One Little Word concept? Although I'm a little late sharing my One Little Word for 2014, I have had it chosen since the end of last year, or rather, it came to me as per usual! Give.
I decided to create a layout for my word, using a phone selfie of myself (it's the only recent photo I could find of me!).
I created the background to this layout by overlapping pieces of Core'dinations cardstock in pink and aqua with a few scraps of patterned paper. The card was cut at an angle (alternating directions) and I started from the bottom and worked my way up!
I gave all pieces of cardstock a quick sand to reveal a bit of the lighter core, for more dimension.
A couple more things to note:
The title was cut using my Cameo. The word 'give' was cut out of Black Magic card (with a pink core) so when the edges had a light sand, they had a bit of pink showing to coordinate with the rest of the layout!
I didn't think my photos and title stood out enough on the busier background so I again used my Cameo to cut the circle design out of simple white cardstock to layer beneath! I love that effect and think it's something I'll be doing again and again!
I didn't want to cover up any more of the background with a journaling blog and knew I had a bit to say about my OLW. An easy solution? I journalled on a white core tag, slipped it into a glassine bag and adhered it behind my photos. Love me some hidden journaling!
If you are interested in reading about why I chose this particular word, and more about my personal OLW journey, please visit my blog here!
I hope I've inspired you today!
Supplies:
Core Cardstock:
Snowflake (neutrals)
Reflecting Pool, Sugar'n'Spice & Scotch (pastels)
Tanzanite (Gemstones)
Hex (Black Magic)
Spring Green (G45 Signature Series)
Worn Lipstick (Tim Holtz Distress)
Sand It Gadget
Dust Buddy
White Core Tag
Big Shot
Spellbinders 'Asters & Poppies' die
SSS heart die
Silhouette Cameo
Thirsty Script & Georgia fonts
Circle Background cutting file
Crazy Layout
Hello! I have another fun and colorful layout to share today! Can you tell I love putting together awesome color combinations with my Core'dinations cardstock? For this layout, I was inspired by a card I saw around the web that had strips of washi tape on the background. I tried to re-create the look with strips of embossed card.
I wanted the colors to "pop" so I used the reverse of a Kraft Core cardstock for a neutral kraft background. Then I chose six bright colors for my strips and got to work adding some texture to each strip.
You can see in the detail photos that a couple of strips are embossed and sanded to reveal the core. A few other strips I added some lines and borders simply using my Scor-Pal: a criss-cross, stripes and an outline.
Supplies:
Tim Holtz Kraft Core (reverse side)
Core Essentials – Fuschia Fizz, St Valentino
Neutrals – Snowflake
Brights – Atoll, Aqua
Tillie Dot – Tulip
Distress – Tumbled Glass
Adirondack – Purple Twilight
Sand It Gadget
Dust Buddy
Scor-pal
Big Shot
Lifestyle Crafts embossing folder
PTI border die
Spellbinders speech bubble die
Silhouette Cameo
Thirsty Script font