Before we get started today we have some dates for you that you need to put on your calendars! We are having our THIRD  online crop in less than a month so make sure you save the dates! We have SO MUCH fun..we have tons of challenges all weekend long and then you have an entire WEEK to create.
So if you have been with us this week then you have been seeing loads of Xyron and Core ALL week long. And do not forget to head over to the Xyron blog for MORE inspiration AND a giveaway over there, too. AND we have a giveaway for our Facebook Fans, too! CLICK HERE to enter to win.
We love our mega runners and today that is what we are working here on the Core blog!
~~~~~~~~~~~~~~~~~~~~~~~~~~~~~~~~~~~
Hi! I'm Jill from Every Day is an Occasion here to share a project I made using the Xyron mega runner and Core'dinations Fancy Pants Core Impressions and pink Vintage cardstock. I also used some Authentique patterned paper. My daughter turned two recently and so we got her two year old pictures taken. I just adored this one and had to create a mini album page layout.
Mini Album Two Year Old Layout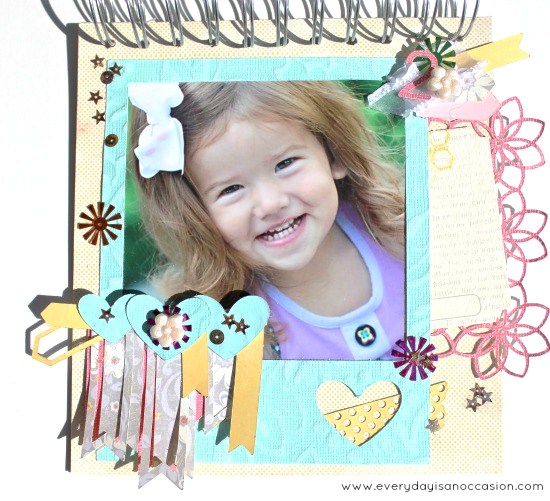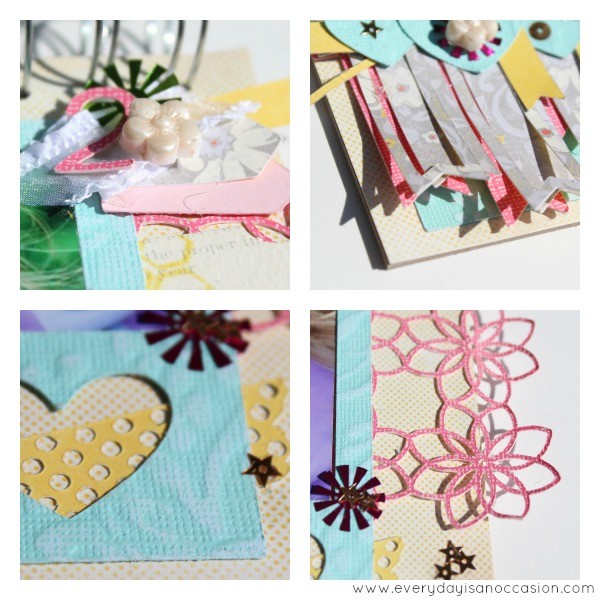 As mentioned before, I used the Xyron Mega tape runner. Even though it is called a "mega" tape runner it isn't so mega that it is obtrusive to your crafting. Actually, I love the size of the mega tape runner. I also love the refill system, so simple and quick! Thank you Xyron!!!
In this layout I used the Fancy Pants Core impression paper for the photo frame, and then I sanded it. The pick accents are the Core'dinations Vintage Collection. I cut out the accents using my Silhouette Cameo.
Materials:
Fancy Pants Core Impressions, Vintage Core'dinations, Authentique Patterned paper, Vintage sequins from stash (the were my great grandmother's), flower, Xyron mega tape runner, Sand it Gadget and Dust Buddy.
~~~~~~~~~~~~~~~~~~~~~~~~~~~~~~~~~~~~
And next up Designer Ava Gavloski with an amazing project for us today, too!
Party Favors have truly taken center stage at parties and has given the cake a nudge. So, today, I would like the two too share the spot light together.
Lets start with quality Xyron Adhesive and the best cardstock on the market…Coredinations! 
You need some GREAT adhesive for this. Have you ever made a project like this and then the next day it's all popped apart?  Not with Xyron. This beauty is still going strong!
Now, look at how lovely the Couture Creations Embossing folder showcases the Core'dinations inner colored cardstock.
Adding some Graphic 45 papers to the top of the cake was a delight. To complete the bridal presentation I made a card and decorated a candle holder to match the festive occasion.
Supplies:
Core'dinations:
"Sugar and Spice" from Pastels Collection
"Old Paper" from Tim Holtz & Ranger Distress Collection
Sand-It Gadget
Dust Buddy
Xyron:
Mega runner tape adhesive
1.5 Create a Sticker
Glue Stick for corners
May Arts Ribbon
Want2Scrap-pearls
Couture Creations – Embossing Folder: Smooch, from Fresh & Fun Collection,
Graphic 45- Once a upon a springtime pattern paper
Marvy Uchida – Floral Paper Punch
Marvy Uchida-Poppy punch
Imaginisce-Glam Rocks
~~~~~~~~~~~~~~~~~~~~~~~~~~~~~~~~~~
And a layout from Designer Kim Moreno!
Here's how Kim created this layout:
 I used my ScorPal again to create the border around the edge of my layout and then sanded it slightly. I then sanded and cut out the ledger cardstock and adhered it to the center of the black cardstock. I matted my photo with the red cardstock and tore it along the bottom to reveal the colored core of the red cardstock. I cut out the clocks and sanded each of them to reveal the kraft core.  Then layered my photos and embellishments to finish my layout.
Supplies:
Stickers: Jillibean Soup (yellow "joy")
Letter Sticker: American Crafts (yellow), Doodlebug (black glitter)
Embellishments: Simple Stories
Flag Pins: Maya Road
Tool: ScorPal
Happy Monday everyone!
Today we have two layouts from Designer Suzanna Lee using our Core Impressions.  The great thing about these lines is that you can sand them or not sand them. So we thought we would give you to examples  of each. The first one uses the BasicGrey Core Impression Whimsy collection not sanded. 
The fun thing about Core is you can sand some …and not sand others ..all in the same  layout like Suzanna did here. She sanded the tone on tone stars and scallop shape in red to make them pop off of each other and then left her Core Impressions as is. Don't forget to get out your Sand it Gadget when you decide to sand
It's repositional sand paper pieces make it so easy to use!
Supply List:
Core Impressions:  BasicGrey
Coredinations Tim Holtz  Distress
~~~~~~~~~~~~~~~~~~~~~~~~~~~~~~~~~~~~
Core'dinations looks great cut in your Silhouette or any die cutting machine!
Love the bits of sanding….
Supply List:
Core Essentials: Darks
Core Impressions Basic Grey Whimsy
Tim Holtz/Ranger: Distress
12×12 Crabgrass
Whitewash 6×6 pad
Sand it Gadget
Dust Buddy
Patterned Paper and stickers: Pebbles
Decorative bag: Fancy Pants
Ink: Memento
Stamp: Cocoa Daisy
Wood pin:Little Yellow Bicycle
Wood Veneer: Studio Calico
Tag: Chic Tags
Die: Lifestyle Crafts
Dot: Q&Co
 Aren't you? But of course in a good way! Today we have some projects from Designer Vivian Keh. This first card is so cool! It takes paper tearing to an entirely new level. And Vivian mixes and matched all  kinds of Core…some Spotted, Core Essentials and Vintage.
Hello, friends!  Vivian Keh on the Core blog today with a happy card using cardstocks from a number of different Core'dinations collections.  I've been having so much fun simply tearing our lovely color core cardstock for fast texture in papercrafted projects!  I tore several strips of Core for the right side of my card and tucked a simple sleeve behind the torn pieces to house a cute die-cut tag which slides out. Just about all the elements were sanded because I am in love the distressed result and how beautifully sanding brings out Core edges and embossing.
And a cute close up of the pocket.
Really Reasonable Ribbon – White Seam Binding
~~~~~~~~~~~~~~~~~~~~~~~~~~~~~~~~~~~~~~~~
And who is ready for a layout?
For my base, I sanded a sheet of this wonderful Coconut Cream Woodgrain cardstock that we carry – I love the organic patterns and the versatile creamy color. For the embellishment, I relied heavily on my beloved paper punches.  The photo was backed with a piece of Core that I dry embossed and then fashioned into an easy folder.  I added a cute tab that I had die cut and embellished with a heart-shaped button. Simple journaling in the bottom left corner, and more detailed journaling hidden inside the folder.
Thanks to my punches, this layout came together quickly, which was very exciting for this typically slowpoke scrapper.
Lovely sanding….
Some hidden journaling…perfect!
Sizzix – "For the Record" Thinlit Die Set $659108
EK Success – paper punches
Martha Stewart – paper punches
Recollections – Self-adhesive pearls
Mark Richards – Nailheads
Hope you are ready for a GREAT weekend! Today we have some great layouts from Designer Mary Pat Siehl.  Here is a littl bit about these projects from Mary herself.
I love trying new techniques and Core Cardstock is just so perfect for everything. I love how it handles the different types of medium. For my project I first sanded the Spotted Cardstock. I then applied a light amount of paint. I then tore the cardstock to expose the Core. I then cut several embellishments using my Silhouette out of the Core and I lightly sanded them. ( I don't know about you but I love making my own embellies!). Finally I added some of the new Smooth Core Tags. I am really addicted them right now!
Supply list:
Cardstock- Tim Hotlz Distress Collection, Spotted 12×12
Tags- Core Smooth Tags
paper- Fancy Pants
Die Cut Tags- Elle's Studio
wood veneer- freckled fawn
Misc. Paint
Sewing Machine
Silhouette
Sand It
Dust Buddy
And another layout working that Cosmo Cricket Core Impressions….
 Supply list:
paper- American Crafts, Elle's Studio
Vellum – American Crafts
flair- a flair for buttons
twine- the stringery
wood veneer- studio calico and freckled fawn
alphabet stickers- jillibean soup and Glitz
Silhouette
Embossing folder- cuttlebug
Sand it
Dust Buddy
Happy Friday!
Today we have Kim Moreno!
Here is a little bit about Kim:
And Kim gave us a description of super cool 8.5×11″ layout…keep reading!
And some details…love this idea of  the circles and brads with the Core Impressions. No embossing needed!
Core'dintions Core Impressions- Basic Grey Ornate and Whimsy collections
Core'dinations Core Essentials (snowflake and french roast)
Simple Stories brads embellishments
Scor Pal
Jillibean Soup letter stickers
Marvy Uchida and Martha Stewart punches
~~~~~~~~~~~~~~~~~~~~~~~~~~~~~~~~~~~~~
How about a winner of the Darks Collection pack?
~~~~~~~~~~~~~~~~~~~~~~~~~~~~~~~
Speaking of supplies……who wants some Vintage Cardstock??? Comment to win win win!