And of course she used ALL Core'dinations Cardstock! Who doesn't love that???
~~~~~~~~~~~~~~~~~~~~~~~~~~~~~~~~~~~~~~~~
Tag, You're it!  Well, maybe not you, but this layout is chock full of Core'dinations Core Tags.  Core Tags are such a great way to accent a layout, journal, or frame a photo like I did in this layout.
I used several different technques on the tags.  Crinkling and distressing, debossing and distressing, paper tearing and distressing, embossing and distressing all can be done on the Core Tags, just like you would any Core'dinations Cardstock.    The title Core Tag was even die cut in my Silhouette.  Before you try sending a Core Tag through your Silhoutte, remember to remove the grommet first. I added mine back after die cutting.
By keeping the grommets in the Core Tags before applying any techniques to the tags, it allowed for the gromments to take on a grungy, smooshed look.
What do you do to your Core Tags?  We'd love to hear about it!
Core'dinations Supplies:
Other Supplies:
Couture Creations Embossing Folders
Darice Embossing Folder
~~~~~~~~~~~~~~~~~~~~~~~~~~~~
For this layout I had initially chosen a neutral pallete, but knew it was missing a pop of color.  I started by pulling in color through alternating layers of cardstock which I paper tore to show the colored core. I loved the pop of yellow from tearing the Black Magic so I found the perfect match of yellow in the Core Essentials Brights Collection and used that as my background paper.
Next time you need a pop of color in your paper project, try tearing your Core'dinations!
Core'dinations Supplies:
Core Essentials: Brights Collection
Core Essentials: Neutrals Collection
Other Supplies:
May Arts Ribbon
Jillibean Soup Alphas
Misc. Eyelets
American Crafts Jute
~~~~~~~~~~~~~~~~~~~~~~~~~~~~~~~
And Kim Moreno just uses a touch of tearing on her layout below. She does a great job mixing embossing, tearing, scoring ANd outlining on here. Again…don't be afraid to check out our technique videos for more ideas!
During the holidays I was finally able to my sisters kids and mine together for a group picture… it wasn't easy to get them all to smile and look at the camera but I managed to get one good shot in and just love it! I couldn't wait to print and scrap it!
I used my ScorPal tool to create the embossed lines around the edge of my layout. I like doing this because I feel like it frames my layouts well and I like the look.
I then placed a large chipboard star behind my layout where I wanted it and using my Sand It Gadget sanded over the top of the cardstock to reveal the star image below the cardsock. I trimmed different sized stars from cardstock and embossed and sanded them each and attached to my layout using pop dots to a few of them to give them more dimension. I used the star embossing folder to emboss a strip of gray cardstock and sanded it to reveal the lighter gray core the tore the edge of some green cardstock and made banners of each and adhered to my layout. I added the title to finish my layout.
Core'dination Dust Buddy
Coredinations Sand It Gadget
Cuttlebug embossing folder and machine.
Marvy Uchida star punch
ScorPal tool
Hello!! Jill from Every Day is an Occasion here to share a fun Kids Craft & Core  project with you! Do any of you have the winter blahs? This sweet little treat container can cheer anyone up!! It would be a fun gift to give or a favor for a winter birthday party!
Snowball Treat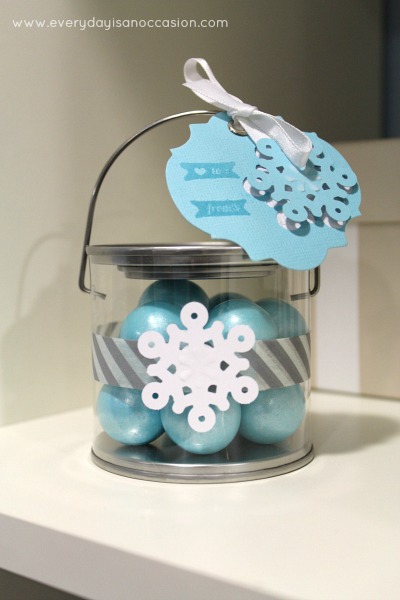 Steps:
1. Put gumballs into pail.
2. Wrap washi tape around pail.
3. Punch snowflakes out of white cardstock.
4. Punch a snowflake out of blue tag and adhere white cardstock behind. Use foam adhesive to pop snowflake up.
5. Sand snowflake with Sand It Gadget…my kids favorite part!!
6. Tie tag on pail
7. Enjoy!!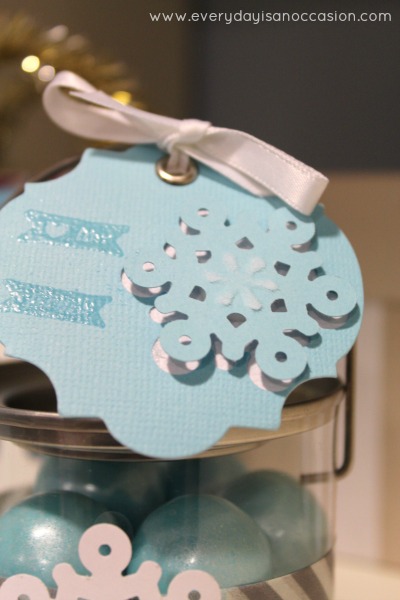 Materials:
White 110 cardstock Core'dinations
Core Sand it Gadget
Darice Washi Striped Tape http://www.darice.com/store/details/catalog/wholesale-memory-embellish-washi-paper-tape/1217-96
Marrvy Snowflake Punch
Gumballs http://www.darice.com/store/details/catalog/wholesale-party-gumballs-and-sixlets/sw15002
See Thru Pail with lid http://www.darice.com/store/details/catalog/wholesale-memory-scrapbooking-storage/1212-96
Foam Adhesive
Ribbon
Hi! Jill from Every Day is an Occasion ( http://everydayisanoccasion.com/) here to share a really cute baby shower gift . This gift is for the person that has everything already…. or perhaps someone who is having their second, third or fourth baby! Babysitting coupons are ALWAYS appreciated, take it from a mom with two little ones right now!
Babysitting Coupons
If you have ever seen any of my projects on here before you know my love for Core's BRAND NEW 110 lb white cardstock! This is no exception! I used it and ran it through my printer to print this cute tag (Just for You). My printer adores this paper, seriously!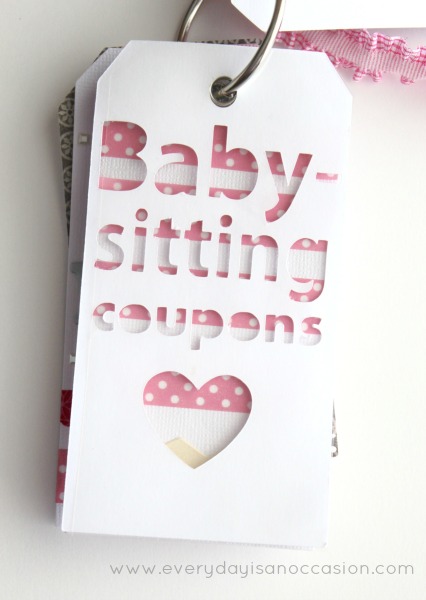 I used my Silhouette to make the cover of this coupon booklet. Basically I just typed in the words I wanted, added a heart and cut. I just trimmed off the corners to make it a tag. I used Darice's pink polka dot washi tape on a separate tag. Then I used foam adhesive to attach the two together.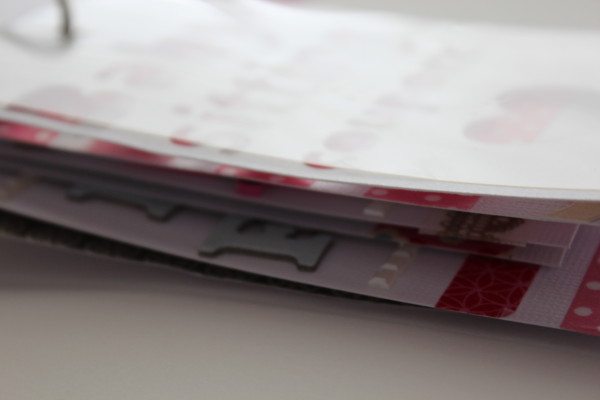 Then I used Core tags to make 5 days worth of coupons.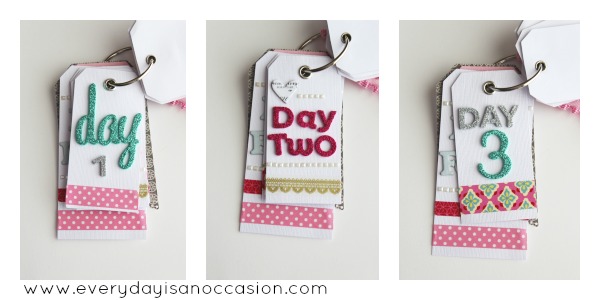 I love. Core. tags. They are so sturdy! My faves are the tags with the eyelets though because I like to use them with craft rings.
Right?? Well, as of today, we are all off for  CHA in Anaheim for the Mega Show and busy as ever!  Don't forget to stay close and keep coming back for some photos of the show and SNEAK PEEKS!
BUT…We thought it might be fun to have a challenge for you while we were gone!!! How does that sound?  Create a card or layout based on this sketch and link it to our Facebook Page or post a link ON THIS post for a chance to win. We will pick a winner when we return and get settled on January 25th so get those projects linked. Remember you must use a visible amount of Core and you know how we LOOOOOOOVE technique!
Mary Pat Siehl created this sketch, card AND video just for this challenge. ENJOY!
Mary Pat used some Core Tags and the  Pastel Collection Pack  for this card….LOVING this color palatte!
AND Mary Pat has a video for us, too!
So what is up for grabs?  A PASTEL Collection Pack! Make sure you link to this post or our Facebook page!
Can you belive Christmas is over and in two days it will be 2014?  We thought it would be a cool idea to show you some layouts that focus on important days we celebrated in 2013 today. Kim Moreno has some layouts focusing on her kids and some milestones they celebrated this year. ENJOY!
~~~~~~~~~~~~~~~~~~~
EEEEK! I looove this big HUGE star!