This week we have a fun week in store for you….we are introducing our NEW 2011 Design Team.  For this special week, each Design Team member created a layout all about themselves.  We will be updating galleries daily with new projects from the team so make sure you check their galleries often!
First up..don't forget to check out our June Challenge!!!
All you need to do is journal and show us a fun Hard Core technique and you can get up to TWO chances to win!!
Check out details here.
The Cosmo Cricket Woodgrain Core Impressions is still a favorite around here. It can be used for layouts, cards…
anything! Today's card from Cari Locken is no exception.
First off, it is  SO stinkin' CUTE! And it can be perfect for those men in your life as we are celebrating Father's Day.
And check out the inside!!! The wood grain and additional embossing look fabulous.
This is such a great example of cards that work on the inside AND out.
Have a GREAT week!
We have another FABULOUS day for you today.  We have some MORE  inspirational Father's Day project for you today.
We love dads and the men in our lives.
Leica Forrest created this uber cool layout using masking and the backside of her
Cosmo Cricket Core'dinations Core Impressions.
Leica flipped her Core Impressions over and use the backside and then masked her title.
Masking on Core!!! WE LOVE IT! Looks fabulous, doesn't it? Just another way that Core'dinations can be your "go to" cardstock for ANY project.
Here is a detail shot for you.  LOVE this idea of masking on Core. Stay tuned for some more tips and tricks on this technique in the next few weeks! 😉
It's June 1st. Let's kick of this month with a fun CHALLENGE!
What do you think?
We just loved this technique that Melissa Oliveira shared with us yesterday on the blog that we wanted to extend the invitation to try it to YOU!
Journaling is such an important part of a scrapbookers journey to preserve memories and tell stories.
SO for this challenge….we want to see your Journaling. It doesn't have to be this specific technique…you can journal any way you choose.
But  for this challenge there are a few things you must do:
1) JOURNAL
2.) Use Core'dinations Cardstock (it must be a visible component of the layout).
3.)  Link your project to THIS blog post or post it on our Facebook page. Make sure you "like" us, too!
4.) Show off a cool Core technique and we will throw in an additional chance to win!
The rest is up to you!
And how could I forget??? Of Course a random Winner will win some CORE'DINATIONS CARDSTOCK!
Here is a layout from Melissa Oliveira to get you inspired on the many ways you can journal on your Core.  The possibilities are endless and we can't wait to see what you can do! For this layout she sanded where she journaled AND scored her journal lines. Brilliant!!!
Deadline for this challenge is two weeks…June 15th by midnight PST.
Core'dinations used: Cosmo Cricket Core Impressions, Basic Grey Core Impressions Ornate collection, Core Essentials.
And a close-up!
Today we wanted to take time and remember all the amazing men & women that have and continue to
fight for our country and our freedom every day. THANK YOU!
Design Team Member April Derrick created this layout in remembrance especially for this post today. First off, isn't this photo a treasure?   And check out the amazing details like the mixture of Core Impressions and how April turned the cardstock over and doodled on the backside!
And Design Team Member Brianne Nevill made this super cute project that is perfect for all your Memorial Day festivities!
LOVE all that vintage goodness!!!
Yipppppeeeeee!
It's Friday today and we have some fun finds for you today.
~~~~~~~~~~~~~~~~~~~~~~~~~~~~~~~~~~~~~~~~~~~~~~~~~~~~~
First up is a layout from  Sheri Twing's , well, speaking of FIRSTS…this is  FIRST time Sheri used Core'dinations! Can you believe that? The thing that caught our eye about this layout is the subtle sanding on the Black Magic in the upper left hand corner and the complimentary spritzing down at the bottom. The two different techniques play so well off of each other, don't you think?
Thanks, Sheri!!!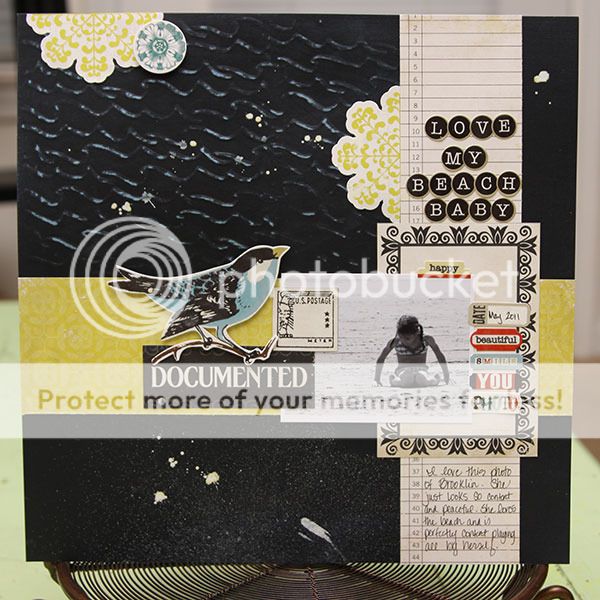 Other supplies used:
Mr. Huey's spritz, Echo Park for the Record.
~~~~~~~~~~~~~~~~~~~~~~~~~~~~~~~~~~~~~~~~~~~~~~~~~~~~~~~~~~~
And next up is a fun layout from Amy Teets from their first snow. How cool is it that she turned the Cosmo Cricket Woodgrain Core Impressions on it's side! Such an awesome look and so simple!
Thanks, Amy!!!
And a close up of  that FABuLous woodgrain!
Other Supplies used:
Creative Imaginations- Beloved by IOD, The Robins Nest silver dew drops, Magistical Memories- Nesting Circles chipboard, Sew Easy- Misty Morn, Elle's Studio- Vintage Winter Flashcard, Jenni Bowlin- Vintage Style buttons, Helmar Adhesive Runner, 450 Adhesive and Zapdots.