Today we wanted to take time and remember all the amazing men & women that have and continue to
fight for our country and our freedom every day. THANK YOU!
Design Team Member April Derrick created this layout in remembrance especially for this post today. First off, isn't this photo a treasure?   And check out the amazing details like the mixture of Core Impressions and how April turned the cardstock over and doodled on the backside!
And Design Team Member Brianne Nevill made this super cute project that is perfect for all your Memorial Day festivities!
LOVE all that vintage goodness!!!
Yipppppeeeeee!
It's Friday today and we have some fun finds for you today.
~~~~~~~~~~~~~~~~~~~~~~~~~~~~~~~~~~~~~~~~~~~~~~~~~~~~~
First up is a layout from  Sheri Twing's , well, speaking of FIRSTS…this is  FIRST time Sheri used Core'dinations! Can you believe that? The thing that caught our eye about this layout is the subtle sanding on the Black Magic in the upper left hand corner and the complimentary spritzing down at the bottom. The two different techniques play so well off of each other, don't you think?
Thanks, Sheri!!!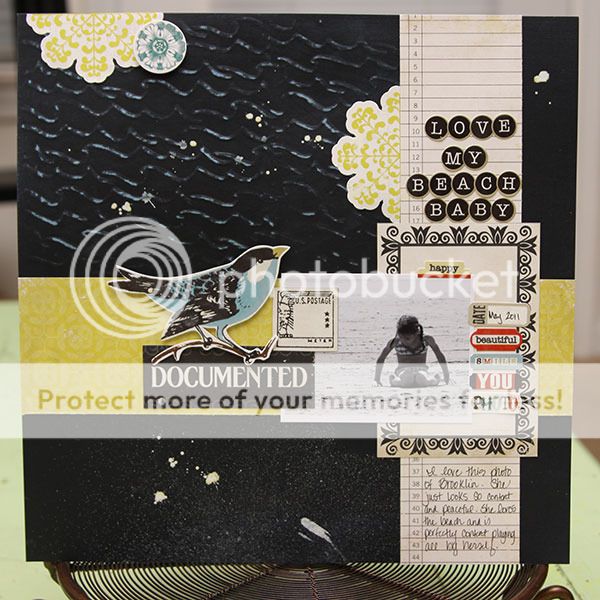 Other supplies used:
Mr. Huey's spritz, Echo Park for the Record.
~~~~~~~~~~~~~~~~~~~~~~~~~~~~~~~~~~~~~~~~~~~~~~~~~~~~~~~~~~~
And next up is a fun layout from Amy Teets from their first snow. How cool is it that she turned the Cosmo Cricket Woodgrain Core Impressions on it's side! Such an awesome look and so simple!
Thanks, Amy!!!
And a close up of  that FABuLous woodgrain!
Other Supplies used:
Creative Imaginations- Beloved by IOD, The Robins Nest silver dew drops, Magistical Memories- Nesting Circles chipboard, Sew Easy- Misty Morn, Elle's Studio- Vintage Winter Flashcard, Jenni Bowlin- Vintage Style buttons, Helmar Adhesive Runner, 450 Adhesive and Zapdots.
Today Linda Beeson shares a few simple steps to create this beautiful box that is perfect for your special Mother's Day gifts.
All you need is some Cosmo Cricket Core Impressions Core'dinations Cardstock, adhesive and a scoring tool and you can create this gorgeous project, too. One of the reasons we love Core'dinations is that is a sturdy cardstock that will stand up to scoring and projects such as this.
For more information on scoring, please use this link and check out our videos.
Linda started with a 5″ square and scored 1″ lines on each side.
After scoring, cut on the scored lines on both sides and adhere:
VOILA! You have a gorgeous gift box:
The Great thing about using Core Impressions is that the cardstock is embossed and ready to go!
Add some crinkled flowers and a brad for some beautiful finishing touches.
What could be better than Spring? Today we have a few projects from our Design Team that celebrate the joys of being outdoors as we enjoy this beautiful weather.
But before we get started….just a friendly reminder that….
TOMORROW IS THE LAST DAY FOR DESIGN TEAM SUBMISSION! YOU HAVE UNTIL 4 PM EST TO GET THEM IN. CLICK HERE FOR MORE DETAILS.
First up we have the cutest layout from Design Team Member Heather Bowser. From the clouds to the stitched raindrops…it doesn't get much cuter than this!   And it's ALL cardstock! Heather mixed and matched FOUR different kinds of Core:  Core Couture, Pearls, Core Essentials, and Stacy Julian Core Impressions on this layout.
And next up is a layout from Design Team Member Kandis Smith using Core Essentials and Cosmo Cricket Core Impressions.
How great does that stamp look on the Core Impressions woodgrain?
Here on the Core blog! We are celebrating brown and blue today! This color has really turned into somewhat of a classic these days and can be a go to color combination for any occasion.  Check out these two very different themed layouts from our Design Team using the same color combo.
A Sporty layout from Design Team Member Hera Frei using some Cosmo Cricket Core Impressions and Gemstones Cardstock:
And a festive layout from Design Team Member Paula Gilarde using some Jillibean Soup Core Impressions:
Have a colorful day!!!
Good Morning!  We hope everyone had a great weekend! It's Monday and we are ready to go for another week of fun!
But before we get started, we wanted to send out a huge congrats Congrats to all of our winners of the Core Impressions and Tim/Holtz Ranger contests!  The winners have been notified. We appreciate your support and response to the give-a-way and look forward to more of these soon!
Today we are kicking it on school here at Core'dinations. What does that mean exactly? That means we are using some pre CHA 2011 products for you today. Our Design Team is busy working on their new goodies but we still love some of those older releases that have become staples in our scrapbooking supplies.
First us is a Cosmo Cricket  and Jenni Bowlin Core Impressions layout from Kim Moreno. Aren't these colors gorgeous???
Looks gorgeous anchored with some Core Essentials as the layout base.
And a double page layout from Ellen Sosnoski using some Jillibean Soup Core Impressions and Core Essentials.
And how about some Jenni Bowlin Core Impressions from Paula Gilarde. I know this is a Christmas layout but since it snowed here today, I figured that was okay
We'd love to see your "old school" layouts! Make sure you link us up or email them to ellen_sosnoski@coredinations.com.
HAVE A GREAT WEEK!