We are celebrating the Holidays with some TIM HOLTZ KRAFT-CORE! Did you know that KRaft-Core comes in TWO collections?  Both the Nostaglic collection and the Shattered Collection. Both come in 12″ and 6″ assorted packs, so perfect for any paper crafter.
We have a giveaway for you, too! Want your very own SIGNED copy from Tim Holtz himself???
 Well we have a treat for YOU…HURRY you only have until Sunday. Click on the image and then enter to WIN!
~~~~~~~~~~~~~~~~~~~~~~~~~~~~~~~~~~~~~~~~~~~~`
Now some projects from our Design Team ….
Hi everyone! Jill from Every Day is an Occasion here to share a kids craft with you today!!! I made this chapstick card. This "kids" craft is great because it can be made by little kids for their teachers or by teenagers for friends! I think it is a great little something for anyone actually!!
Chapstick Card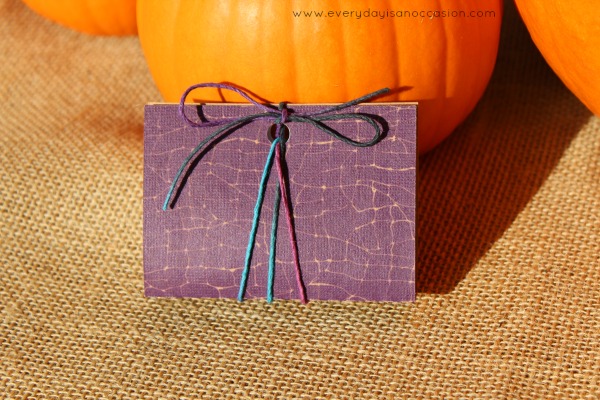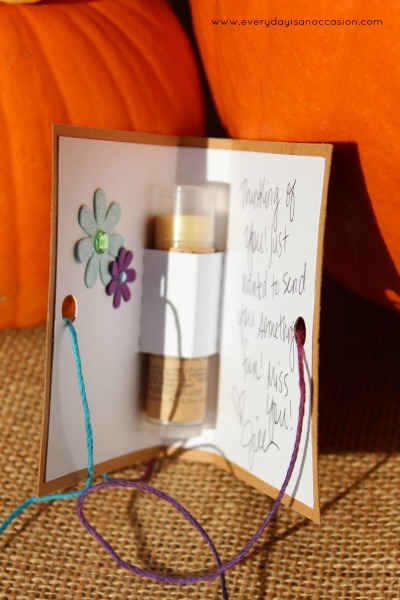 To create this card I used Core'dinations' Tim Holtz Kraft Core Shattered Collection, 110 lb white coredinations paper, this silhoutte cut, and some Hemptique cord.
Thanks! Have a Great day!!! Smiles, Jill
~~~~~~~~~~~~~~~~~~~~~~~~~~~~~~~
And next up we have a card from Designer Clare Buswell using more of that Gorgeous Tim Holtz Kraft-Core Shattered cardstock! Clare really adds some great distressing details with inks and stamps. This cardstock is so great because you can use it "as is" or add your own touches to it!
Welcome to our Kids Crafts  and Core Series!
Our awesome design team has put together a few tutorials that you will be seeing here on the blog that are designed JUST for you and your family. We had our first series from Design Team Member Char Dobson over Valentines Day here with some great Cricut tips.
Today we have Design Team Member Kim Jeffress and her son with a fun tutorial using Core'dinations cardstock, punches and other found items around the house. Here is a little bit about this project from Kim herself and a sneak peek of what they created together:
My 5 year old son in completely obsessed with all things Space. He spends all day everyday, reading Space books, drawing Space pictures and playing with his space toys.
He is also a BIG lover of craft just like his mum and I have to hide away all my precious Scrapbooking papers and goodies for fear he will cut them up.
Today we decided to create a Space picture using  some of my Coredinations scraps.
Step 1 We gathered a bunch of Coredinations cardstock scraps, scissors, glue, crayons and a pencil.
Step 2 To create the planet Mars he chose a piece of pre embossed Pink Paislee cardstock cut it into the desired shape then used the side of a crayon to shade over the bumps…"Look mummy a pattern" he shouted!
Step 3 He then used some containers to trace circles for other planets and cut them out! He also used the different coloured cardstock to cut out a rocket which he sanded and a sun…Glitter cardstock for a shiny sun!
Step 4 I helped him to cut out the rings for Saturn but he insisted on using my sanding block to sand the rings himself!
Step 5 My punches are definitely a favourite and he raced up stairs to get my star punch to create some stars.
Step 6 He wanted some craters on Mars so I suggested he use the kraft core to tear the top, he then drew and cut out the rest.
Step 7 He then went ahead and assembled his picture.
Step 8 Finally he wrote a simple story about his picture, he couldnt wait to read it to his daddy!
And here is the finished project! SO CUTE! And FUN!