Leeann Pearce!
We are so excited to have Leeann designing with us for the next few months. AND…HAVE YOU HEARD???
Leeann just earned the amazing title of Scrapbook Master from Scrapbooking Memories! And we have her all to ourselves today.
Here is a little bit about these cards from Leeann:
Hello… My name is Leeann Pearce and I live in a small country town called Capel in Western Australia with my darling husband Quentin and 3 gorgeous girls, Holly, Storm and Jorja. I have been scrapping for nine years and I love it! It has taken me on this amazing creative journey that makes me strive for. I have a massive love for all crafting products and I love playing with all the new stuff. But I also like to mix it up with the older stuff as well. Because it's all still so cool to me. I scrap for a lot of reasons not just to record. I love the creative outlet it gives me – the freedom to create!
I really Love my core cardstock. There is so much you can do with it. Today I want to share two cards I made using Tim holtz kraft-core from the nostalgic collection. I simply trimmed my Kraft core to size and using a Christmas number embossing folder and ran this through my Cuttlebug, lightly sand the top, revealing the Kraft colour. It certainly makes the cardstock pop and adds great texture at the same time. Then I simply finished each card of with a sentiment and buttons and some hand folded leaves.
If you were at our Hard Core Crop you saw these gorgeous leaves!
Here's an extra for you – if you would like to know how to make these leaves follow these directions.
Special Note: I am NOT the original creator of these leaves…
Here is a close up. I tried this myself and LOVE it! SO much fun especially with Core.
We have a fun tutorial for you today from Design Team Member Andrea Amu!
But first up we need a winner from last week from our week with May Arts!
Now let's get to the this cool tutorial on how to make this!
Here is a little bit from Andrea herself:
Today I wanted to share with you a technique for making a pretty textural ribbon flower that can be used on a variety of projects.
I created my ribbon flower by covering panels of cardstock with rows of adhesive backed ribbon and then die cut and layering a variety of different sized floral shapes from the ribbon panels.
Here's a list of supplies needed:
Choice of coordinating ribbon  (I used May Arts Silky Crush ribbon in brown and teal)
Choice of metal dies (I used Spellbinder's Nestabilities dies, Classic Scalloped Circles)
Die cutting/Embossing machine (I used my Cuttlebug)
Xyron 15 Adhesive and Applicator
Decorative Brad
Okay, to get started you will want to cut various scraps of light colored cardstock into panels and then cut several strips of the ribbon.
You will want to add adhesive to the backs of the ribbons strips.  I have found that the easiest method of doing this is to run ribbon strips through a Xyron Adhesive Applicator.
Once you apply the adhesive to the ribbon, you can begin to cover the surface of the cardstock scrap panels, alternating strips of color as I have done, or  you can cover a panel using strips of one color.
For the next step, you will want to take each die cut shape and crinkle it up in your hands… don't be afraid to crinkle them up tightly… the more crinkle the better!   Now take each piece and flatten them back out, and  you've just created even more lovely texture and dimension to the pieces.
To form the flower, simply layer each shape center to center forming a stack from largest to smallest.  You will want to punch a hole in the centers of each and then attach the stack together using a decorative brad.  Before attaching my brad here I also rolled up a small piece of extra ribbon and coiled it around the center punched hole.  Once you attach the brad fluff up the layers to give dimension.
Now you can have fun embellishing your projects with beautiful ribbon flowers that you've made on your own!
Design Team Member Kim Jeffress is here today with an awesome tutorial for us. Here is a little bit about the project in her own words.
The Space Stick
My eldest who is 4 is learning to write. He has had trouble remembering to put spaces in between each word  as he writes. I decided to make a space stick out of some Core'dinations cardstock, a pop stick and some other bits and pieces.
Step 1 punch two circles out of some cardstock. I have used a sheet of Vintage Cardstock.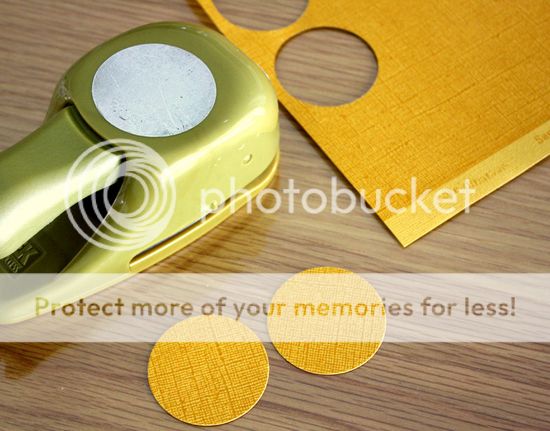 Step 2 Emboss your circles using an embossing folder. I have used a circle embossing folder which i Thought looked like craters for me space theme.
Step 3 Sand your circles to reveal the core underneath.
Step 4 Grab a coloured pop stick and glue it to the back of one of the circles. Now glue the other circle on top.
Step 5 Finish off your Space stick by inking the edge to add difinition and adding stickers and other bits and pieces suitable to your theme.
Step 6 Now your Space stick is ready to use!
The answer is….
IT'S NEVER TOO MUCH!!!
Every month we challenge our designers to create something special and this month it was to emboss!
You know how much we love to emboss and sand here. And if you need some tips make sure you check out our videos here.
Design Team Member Lydia Jackson ran with this challenge and created this cool layout that uses
30 DIFFERENT EMBOSSING FOLDERS!!! Can you beat that? We would love to see you try!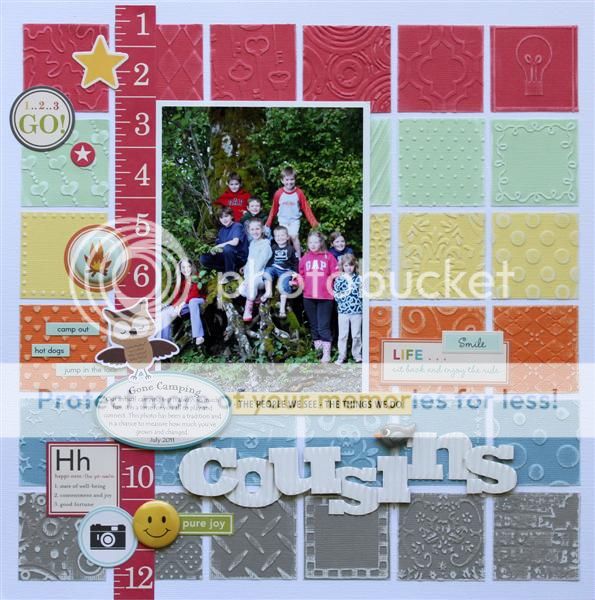 Today's Tutorial comes from Linda Beeson. Remember the gorgeous house she created with Tim Holtz Core'dinations Cardstock, stamps, inks and other goodies? Well, Linda put together a wonderful tutorial for you today including the dimensions needed for your own house!
This is a little bird house made of cardstock.  It can be created from a 12" x 12" piece of cardstock (right click and save  the image below to your computer then print out. You will need to recreate the dimensions on a 9 1/2 x 11″ piece of cardstock) .  For my bird house, I cut out a circle in the front and lined that with a piece of acetate this way it can hold a little gift of candy and the window shows you the treats inside.
Here is the pattern for the base created from a 9 ½" x 11" piece of cardstock.  Note: This pattern can be altered though to make the house in the size you want.  Keep the 11" side the same, just adjust the size of the middle and/or top sections to make the house taller or shorter.
I wanted my bird house to be created from embossed cardstock but the Cuttlebug or Sizzix embossing folders are not big enough for the entire bird house at once, so I created a base bird house with plain cardstock and then embossed pieces to glue to the sides of the bird house and then additional pieces to create my little roof.
Score on the score lines and crease those folds with a bone folder.  Here is a photo of what all of the folds and cuts will look like.
When all of the lines are scored and creased, the paper folds to form a box.  Glue along the edge of the extra tab.  Here you can see how the roof should come together.  You can give the roof folds scored lines too or use your fingers to give the correct creases.
I used my Coluzzle circle cutter to cut my hole in the front of the house.  Then, I cut a piece of acetate and glued that to the inside of the house.  This is optional.  I filled my house with candy. If you aren't going to do that, the top can be stapled or glued together and use some kind of a paper clip so that it can be easily opened.
Now, I measured each of my sections and cut embossed pieces of cardstock and glued those in place.
Remember if you need tips on embossing to check out our videos here.
Here is another view:
We hope you enjoyed today's tutorial. A HUGE thank you to Linda for putting this together. It's gorgeous!!! We would love to see yours if you create one so make sure you link us up.  Have a great week!