The answer is….
IT'S NEVER TOO MUCH!!!
Every month we challenge our designers to create something special and this month it was to emboss!
You know how much we love to emboss and sand here. And if you need some tips make sure you check out our videos here.
Design Team Member Lydia Jackson ran with this challenge and created this cool layout that uses
30 DIFFERENT EMBOSSING FOLDERS!!! Can you beat that? We would love to see you try!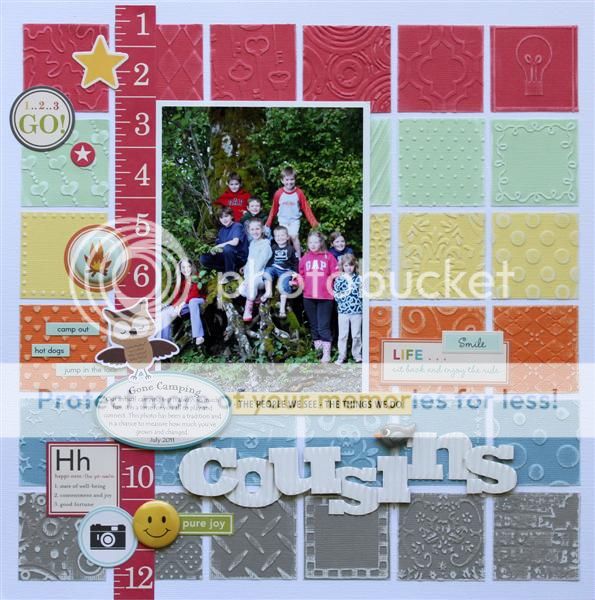 Today's Tutorial comes from Linda Beeson. Remember the gorgeous house she created with Tim Holtz Core'dinations Cardstock, stamps, inks and other goodies? Well, Linda put together a wonderful tutorial for you today including the dimensions needed for your own house!
This is a little bird house made of cardstock.  It can be created from a 12" x 12" piece of cardstock (right click and save  the image below to your computer then print out. You will need to recreate the dimensions on a 9 1/2 x 11″ piece of cardstock) .  For my bird house, I cut out a circle in the front and lined that with a piece of acetate this way it can hold a little gift of candy and the window shows you the treats inside.
Here is the pattern for the base created from a 9 ½" x 11" piece of cardstock.  Note: This pattern can be altered though to make the house in the size you want.  Keep the 11" side the same, just adjust the size of the middle and/or top sections to make the house taller or shorter.
I wanted my bird house to be created from embossed cardstock but the Cuttlebug or Sizzix embossing folders are not big enough for the entire bird house at once, so I created a base bird house with plain cardstock and then embossed pieces to glue to the sides of the bird house and then additional pieces to create my little roof.
Score on the score lines and crease those folds with a bone folder.  Here is a photo of what all of the folds and cuts will look like.
When all of the lines are scored and creased, the paper folds to form a box.  Glue along the edge of the extra tab.  Here you can see how the roof should come together.  You can give the roof folds scored lines too or use your fingers to give the correct creases.
I used my Coluzzle circle cutter to cut my hole in the front of the house.  Then, I cut a piece of acetate and glued that to the inside of the house.  This is optional.  I filled my house with candy. If you aren't going to do that, the top can be stapled or glued together and use some kind of a paper clip so that it can be easily opened.
Now, I measured each of my sections and cut embossed pieces of cardstock and glued those in place.
Remember if you need tips on embossing to check out our videos here.
Here is another view:
We hope you enjoyed today's tutorial. A HUGE thank you to Linda for putting this together. It's gorgeous!!! We would love to see yours if you create one so make sure you link us up.  Have a great week!
Tuesday's Tip comes from Design Team Member Char Dobson who created these gorgeous wraps for her wine bottles.  Now I know these have a bit of a festive Holiday theme but you could easily make these for any Holiday or special occasion you may have.  So Today's tip is to alter! Don't be afraid to take ordinary, every day items you see around your house and add your own personal touch to them.
Remember our 12 Days of Techniques in December? Well this project features debossing. Such a fun and easy way to add a little spice to your projects. If you need a refresher or missed our 12 Days of Techniques, please check out the video here.  For this project, Char used cardstock from the Whitewash Collection. Can you see the core color on the backside of the Whitewash through the bottle? SO COOL!
And a close up of this great technique:
Other Supplies used from our preferred partners:
EK Success snowflake border punch and Cuttlebug Snowflakes embossing folder.
What's the coolest thing you've altered? We'd love to hear!
Oh MAN! If you have been liking loving the new releases so far, you are going to LOVE this new line!  Our BRAND NEW Pearl Cardstock collection is GORGEOUS! I falls somewhere between our Gemstones Cardstock and Glitter Silk lines. Oh wait, you haven't seen Glitter Silk yet? Well, you are going to have to hold on to see that one but for now…let me introduce you to our new Pearl Cardstock. It's shimmery and smooth.
It embosses beautifully AND is great paired with our other lines like this card from Design Team Member Linda Beeson. Linda paired it with some Whitewash and (heat embossed) Core Essentials.
And here are some beautiful cards from Design Team Member Heather Bowser.
Can you see that Pearl like finish? Ooooh lala! We love this!
And don't forget, we have  a chance for you to win some more of our BRAND NEW never seen before Cardstock! Only until tomorrow, January 28th!!! So hurry….
Do you like to tear, rip, sand, crinkle AND Ink??? You have come to the right place.
This time we have teamed up with Tim Holtz for exclusive cardstock packs that core'dinate with the Tim Holtz & Ranger Distress and Adirondack collections!
(Click  on the image to take you to the contest. Contest runs until January 28th, 2011)
Welcome to our First Ever 12 Days of Techniques. We are excited to share with you some of our favorite techniques using our unique color core cardstock. Each day a Design Team member is going to share a project featuring a technique with Core'dinations cardstock. We have TWELVE unique and amazing days lined up for you leading right into Christmas Eve Day.
In case you are just joining us today here is what we covered so far:
Day One: Sanding
Day Two: Tearing
Day Three: Embossing
Each day we will be giving away a great selection of Core'dinations ! Each prize will also receive a Dust Buddy and our NEW Sand It Gadget! And today we have one of our favorite sponsors and they have a prize for you in addition to the Core'dinations prize pack!
CAN YOU GUESS TODAY'S SPONSOR ?????
Anyone know what this cute little  green machine is????
Yup, you guessed it! Todays Winner will also receive this CUTTLEBUG! PLEASE make sure you head over to the Cuttlebug Facebook Page and tell them how much you appreciate their support of the 12 Days of Techniques! We really need to let our sponsors know we appreciate them, it'll only take a second. The Cuttlebug is so popular it has it's own Facebook Page!
So what do you need to do to win?????   Watch the Debossing Video here leave us a comment and tell us if you have ever debossed on a project before and promise us if you win that Cuttlebug you will share with us what you created!
Today's inspirational project comes from Linda Beeson. Doesn't the Core Essentials neutral cardstock look beautiful against the Gemstone Cardstock?  Such a gorgeous example of how debossing  can add that special to touch to any project.
So anyone want to know who won yesterdays prize pack featuring Core'dinations Cardstock, a Dust Buddy and our NEW Sand It Gadget AND the Sizzix Texture Boutique???

Did someone say……WINNER!!??!!!?!?!?
Yesterday's winner is………………….
Tona says:
I love all of these cards!
My favorite line to emboss is Reminisce from the Vintage collection.
Congrats Tona!!!! We cannot wait to see what you create with your Core'dinations and Provocraft goodies.
Come Back tomorrow for more winners and another BIG give-a-way!!! You won't want to miss this one. Don't forget to watch the Video here all about how to deboss.