Linda Beeson created this adorable card for Thanksgiving next week for those of us in the United States that are celebrating…it is just too cute.
Linda utilized her Fiskars crimper. It is one of the most versatile tools you can get to work with Core'dinations Color Cardstock. It is easy and you can do so many things with it. She used Paprika cardstock, a gorgeous color for this time of year!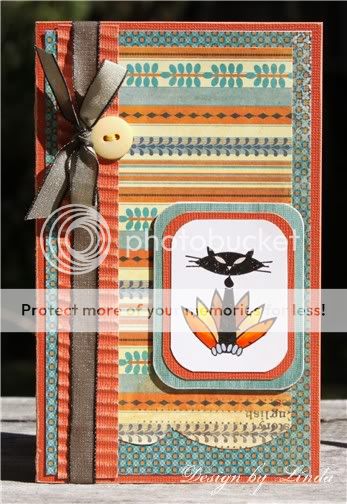 Stay tuned later this week for our Cuttlebug highlights and blog swap! There will be some AmAzIng inspiration and
Here are some more wonderful projects that the Design Team from the Cuttlebug Challenge blog has made with Core'dinations Color Cardstock over the past few weeks.
Don't forget to check out their blog every Wednesday for the Be Inspired challenges and weekly give-a-ways and the previous post for next month's blog hop.
Rosemary used the Whitewash collection for this amazing invitation.
Cindy made this festive Halloween card just in time for next week!

And Betty made this beautiful tri-folded card utilizing the Whitewash Cardstock.
Just wanted to give you a little heads up for something we have brewing next month…
Core'dinations Color Cardstock is teaming up with the Cuttlebug Challenge Blog for an exciting Festival November 18th to the 21st. Core'dinations is offering a prize valued at over $100! All you need is some Core and a Cuttlebug so make sure you mark your calendars for this wonderful event!
The design teams are brewing some wonderful projects for your inspiration.
Core'dinations has been featured quite a bit over at the Cuttlebug Challenge blog so make sure you go over there and check it out. The team over there works very hard and they have tutorials and challenges all week long. And, remember, Core'dinations Cardstock goes perfectly with the Cuttlebug Embossing machine!
Cassandra Larson made this adorable truck shaped card with her Black Magic Core'dinations Cardstock as the wheels. It is ADORABLE!
And Karen Maldonado made this amazingly detailed card…make sure you check out the sky background behind the houses! She sanded the whitewash to reveal where she embossed. Gorgeous!
Core'dinations recently teamed up with My Little Shoebox … don't you think they look great together!? There are so many cool things on this layout by Lydia, I just couldn't wait to get it on the blog to share!
Make sure you check out all the great techniques. See the cool frame she sanded in the background and how it frames the entire layout? And how she ran the letters through her Cuttlebug with the Swiss Dots folder and sanded them? Don't forget to find the Fiskars punch action, too!
Remember to add us to your Feedblitz or RSS reader so you can get updates when we post. Every week we will be featuring TONS of techniques!
And we have our FIRST contest! Click here for more.