Today we have some really great layouts from Designer Mary Pat Siehl. She always creates really well-balanced layouts and mixes and matches her Core! For the first layout she creates balance bu using circles and her Silhouette. For the second layout….check out how she works those Core TAGS! You are going to love love it.
~~~~~~~~~~~~~~~~~~~~~~~~~~~~
One of my favorite things about Core Cardstock is that it cuts beautifully in the Silhouette. For my layout I cut out the background using the white in the Nuetral collection. I then took my 1 inch punch and cut out 81 circles to fill the negative spaces. Core cardstock has so many colors to coordinate with your pattern paper so I punched 63 circles using the Core cardstock (some were embossed and I lighty sanded them and some I left with their solid color) and only 18 with pattern paper. I then matted my photo using my Core Cardstock that I scored and lightly sanded to frame the photo. Finally I scored the 12×12 sheet to frame the circle background.
elle's studio tags
paper- fancy pants
stickers- fancy pants
studio calico wood veneer and cork arrows
Scor Pal
sand it Gadget
Dust buddy
~~~~~~~~~~~~~~~~~~~~~
Core Cardstock is really amazing because you can do so many things with it.  I used the Core Essentials Snowflake cardstock and scored it to give it a slight frame.  Next I misted it lightly just to add a hint of color.  I then also stamped directly on it.  The cardstock is awesome for all these "On Trend" techniques.  I then made a banner with the different Core Tags.  I just love the different sizes and here I embossed all the tags with different embossing folders and then lightly sanded them.
paper- lily bee
die cut tags- elle's studio
flair- a flair for buttons
mist- heidi swapp
stamps- studio calico and american crafts
ink hero arts
wood veneer- freckled fawn
stickers- jillibean soup and little yellow bicycle
What else could you possible need?  Tracy Gruber is working colors, patterns and so much more today!
First up a very fun and festive card…but keep scrolling down…there's a great layout, too!
I love to find new techniques to use with my Core!  For this card, I used a Studio Calico mask and put it behind my piece of Core card stock.  I then sanded with the Sand It Gadget until the design started to show.  Pretty cool, huh?  Then, I cut some stars and then added the  white shape with the Paper Smooches sentiment. Next up some May Arts ribbon and Imaginisce Glam Rocks finish off this card perfeclty!
-May Arts Ribbon
-Imaginisce Glam Rocks and I-Rock
-Paper Smooches Word Salad
-Tuxedo Black Memento Ink
-Spellbinder's Label 4 die
-Memory Box Cosmic Star Set
-Studio Calico Mask
~~~~~~~~~~~~~~~~~~~~~~~~~~~~~~~~~~
The best part about scrapping with Core'dinations card stock is the ability to use different techniques to create unique layouts.  On the dark pink base, I simply used the Sand It Gadget to sand three different areas for a distress look.  It adds a different element to your layout that is really easy to do!  I then used a piece of light pink Spotted Tillie Dot and sanded it to make the polka dots "pop."  The last technique I used was crumpling up a piece of White Wash card stock, flattening it out, and then sanding it.  This allows the Sand It Gadget to hit the creased spots and the background color to show through.
-Studio Calico Star Wood Veneers
-May Arts Ribbon
-Sand It Gadget
-Dust Buddy
-Jillibean Soup "hello" sticker
-My Mind's Eye chipboard stickers
-The Twinery twine
-Xyron Mega Runner
Happy Wednesday! We hope you are enjoying your summer so far and today we want to start out with a super summery layout from Design Team Member Tracy Gruber.  I always struggle with white as a base for my layouts but Tracy makes it looks so easy! Plus…all  that embossing just makes me happy. 🙂
-Tim Holtz Distress Inks: Picked Raspberry, Squeezed Lemonade, Spiced Marmalade
-Lawn Fawn Sunny Skies and Jessie's ABC's stamp sets
-Water Brush
-Tuxedo Black Memento Ink
-1″ Fiskars circle punch
-Sand It Gadget
-Dust Buddy
-Cuttlebug Embossing Folders: Swiss Dots, Tiny Bubbles, Seeing Spots, Spots and Dots
-Sizzix Swirls Embossing Folder
-Thickers
-Clear Rock Candy Distress Stickles
Wahoo! Our site is up and we are ready to rock-n-roll! But we did lose a few blog posts from earlier this week so today is one of those posts. Unfortunately they were some Fourth of July posts so it may seem a little  late so sorry about that!
BUT the good thing is that you can make these stars ANY time of the year! They look SO good on layouts, too.  Keep on reading for some great step-by-step directions from Designer Kate Nolan-Denham!
1)Create a card base, A2 size, made out of Red Rose Core'dinations Cardstock.
2)Cut a piece of White Glove CoreCouture Glitter Cardstock to 4″ x 5.25″. Glue to card base.
3)Deboss a piece of Navy Cardstock from the 4.25 x 5.5″ Darks collection and layer it on top of the white mat. I used Craft Concepts Solid Stars embossing folder for this card. The debossing is a GREAT contrast to the raised stars, don't you think?
4)Die cut 3 larger stars in different sizes and 2 small stars out of the Red Rose cardstock leftover from making the base of the card.  I used Sizzix Star Framelits.
5)Score each large star at each point.
6)Scor the stars along the scored lines and sand them with the Sandit Gadget to give them a 3-D effect.
7)Die cut a label shape out of the White Glove CoreCouture Glitter Cardstock, trim the bottom of it so it will be flush with the White Glove mat already on the card.
8)Stamp the sentiment on the label you die cut in #7. I used Spellbinders Label.
9)Add the stars and sentiment label to the card using 3-D foam. I used Helmar Zapdots.
10)Give to someone.  This card is bound to brighten anyone's day!
Core'dinations Supplies:
Core'dinations 12×12 Darks – Red Rose
Core'dinations 4.25 x 5.5 Darks – Navy
Core Couture  6×6 – White Gloves
Sand it Gadget
Dust Buddy
 Other Supplies:
Scor-Buddy by Scor-Pal
Helmar Quick Fix Adhesive & ZapDots
Spellbinders & Sizzix Dies
Stampin' Up! Stamp
Creating with the Tim Holtz Kraft Core Shattered line is SO MUCH fun! This card was just perfect for using this line.   Did you know that all the Kraft Core lines Core'dinate? Design Team Member Debbie Standard embossed the Core shattered and lightly sanded it so that it would show both the Shattered as well as the embossed image.
Supply List:
Tim Holtz Kraft Core Shattered
Core EssentialsNeutrals 6×6
Sand it Gadget
Dust Buddy
Cuttlebug
Lifestyle Crafts Folder
American Crafts sticker
Creative Charms flowers
Queen & Co. Pearls
Debbie made this card using some of the Tim Holtz Shattered collection in the 6 X 6.  This time she didn't emboss it just left it as is.  Then she layered it over Core Essentials Brights cardstock and stamped on the back of the white for the top of the card.
And a layout using some BasicGrey Core Impressions: According to Debbie, she loves creating  layouts using some of the Core Impressions as the background .  Sanded and dusted it creates such a great palette to use on your page.
Additional supplies:
Sand It Gadget
Dust Buddy
Prima Flowers
Are you ready for next week?
We sure are! Grab your blinkie and let us see it! Post it on your blogs, use it as your profile pics, avatars..anywhere and come back here or post on Facebook with what you did to get entered to WIN some goodies! And don't forget…we are chatting away on our Facebook event page here. We will have all the rules and guidelines posted tomorrow so stay close! Remember…all you need is some Core'dinations Cardstock to participate.
Here is the link for the blinkie or you can right click on the image below and get it that way…whatever is easiest for you.  http://i121.photobucket.com/albums/o227/howdee347/blinkies/CoreBlinkie_HCCropper_300pix.gif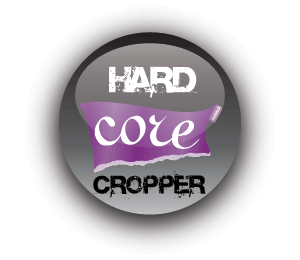 Have you seen our new Darks collection pack?  I just love how everything we have core'dinates. We have the Darks colors in 12×12, Core Cards AND the Cut & Emboss series. Design Team member Lydia Jackson used all of these on this card so you can create
ANY project without any work…we core'dinate the colors for you!