Let's Celebrate Saturday…with David Tutera Celebrate cardmaking system!!!
The David Tutera Card Making system is fantastic for quick, easy and beautiful cards, but it is also perfect to create mini albums too! Designer Jennifer Edwardson created a super cute and FUN mini album for us today…ENJOY!
~~~~~~~~~~~~~~~~~~~~~~~~~~~~~~~~~
I chose several pieces to put this fun birthday mini together.  The 'cover' to my album is a 5 1/2″ card base and the pages are (2) A7 (5 x 7″) white card bases.  I layered these together and then used my Crop A Dile to punch 2 holes in the spine to thread my twine through.
To embellish the cover I used tags, ballons, twine and a layered sentiment sticker from Step 3 of this system.  The bits to embellish with are so cute and together with some Bella Blvd. alphas they were perfect !!
Once I had my album bound together I started to create all the pockets and photos onto my pages. I added A2 and A1 cards to the main pages to create more spots for photos and cut the edges of a few for 'hidden' journaling spots.  I left these space blank as Alex wants to write his memories of his special day in this album (LOVE this
I love how it all came together and this shows that by taking great basics and putting them together, you can create amazing 'step outside the box' projects !!!
Supplies:
5 1/2″ Prince Asst. Smooth Cards
A7 White Smooth Cards & Envelopes
A7 Neutral Smooth Cards & Envelopes
A1 Vintage Paper Asst. Canvas Cards & Envelopes
Asst. Tags Deco Edge White
Asst. Tags Neutral
Happy Birthday 2 Sentiments
Balloon Shapes
Tillie Dot Cardstock
Other – Bella Blvd. Birthday Boy collection
Oh yes! Project life with David Tutera Celebrate. With the last few days of fall upon us, what are you going to do with all those photos? Pumpking picking, leaves falling, Halloween…you name it…we've got photos for it, right?
Well we have a  cool is this idea from  Designer Trine Brandt-Lassen using those Step 2 layers and Step 3 embellishments.
One of our NEW chipboard pieces from the embellishment kits layered on some David Tutera Casual Elegance burlap and more bits of the Step 2 layers!
How pretty is this Step 2 Lace Grid kraft layer? Because they are made to fit the A2 size, they will work perfectly for the 4×6 areas on your Project Life albums.
In the vellum pocket, Trine used a punch of the Step 3 embellishemtns and finished it of with the "So Thankful" sticker.
We are so excited about the BRAND NEW David Tutera Celebrate cardmaking system embellishments!
Today our David Tutera Celebrate design team is creating some  Halloween cards for us!
First up is Designer Margie Higuchi. Margie used the Glitter Silk Carstock base for her card. You don't need much more than that to add sparkle and pizazz to your cards!
AND all THREE of the projects have FREE downloadable pdf's so you can recreate these cards at home. How cool is that?  Just check out our How To page HERE.
This first card is from Debbie Standard using only Step 3 embellishments! How cuuuute?
And how fun is this card?  Debbie used some mists on her black Step 2 layer to match that orange layer. Clever, huh??? And these banners come PRE-CUT for you in the new embellishement packs. How cool is that? Just punch out and sand…easy as 1-2-3!
We don't forget about our HUGE giveaway!
All you need to do is LIKE both Core'dinations and Couture Creations on Facebook (giving our friends over there shout out would be nice, too
and then click HERE to enter to win! That's it! We are giving away FOUR prizes of $50 FULL of products from both companies. You don't want to miss this!
Hello, everyone!! Jill from Every Day is an Occasion back to share another project with you! Today, I have what I like to call "FairyWare"….a lot like "silverware", but for fairies. My son and daughter love Disney's fairy movies, so that is where this inspiration came from.  This idea is perfect for ANY kind of party…birthday…holidays and more!
FAIRYWARE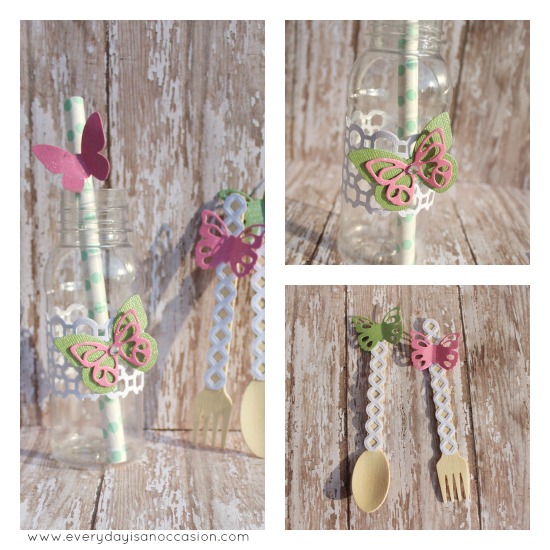 This is simple simple simple. All I did was take wooden silverware and decorate it with David Tutera's beautiful collections, the butterflies and borders pack. It is as simple as hot gluing them onto the silverware. Then I took a plastic bottle my kids had left over from their milk, took the wrapper off, washed it out and adhered David Tutera's butterflies and white lattice background. This set, unfortunately for my kids, had to be shipped off to HSN, but we will surely be making some more "fairyware" soon! Have a crafty day! 
Next up I have a Clean And Simple card to share with you. This card was created using David Tutera's line which is made from Coredinations Cardstock, just in case you didn't know. I love all different styles of card making, but with two small kids, lately I have been sticking with CAS. I think it is important to Thank people with a handwritten note. Today it is so easy to send a text message or email thanking someone, which I do, but my favorite is a handmade card.
Keep in mind this can be applied to invitations…Christmas cards..you name it!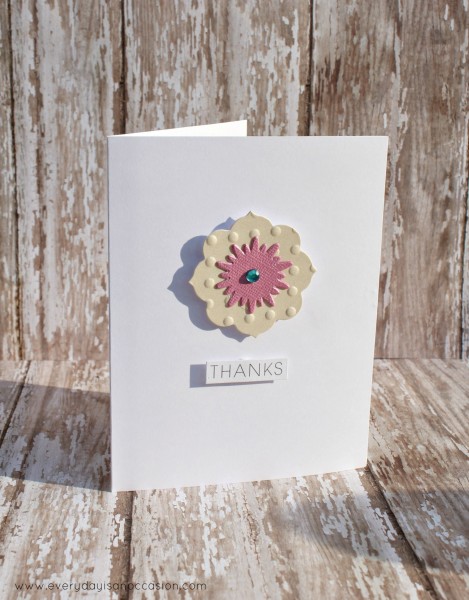 Sometimes I feel so rushed to make cards or I'll make one and the person doesn't seem to appreciate it the way I thought they would and then I feel like I wasted 2 hours of my life making a card they really don't care about. This card solves both of those problems. David's line is quick and simple. He has it laid out for you. Basically, you supply the adhesive and it takes 5 minutes  to make the card. I used David's white card base, flower pack and sentiments. All found here on his page exclusive ot our website.  Quick. Simple. Fabulous! Have a crafty day!
WOW..what a week last week! We had so so much fun last week….we hope you did, too.  With almost 400 comments, we couldn't pick just one winner so we have TWO winners of our Fancy Pants Core Impressions.
I love that card. Absolutely fantastic design.
AND
Ann Robbins says:
This paper is simply incredible. It is always my "go to stack" for simply the best quality in paper. Love these projects!!
Mstgane
Anne
Winners email ellen_sosnoski@coredinations.com with Fancy Pants Core Impressions winner in the title ASAP so we can get your prizze packs out to you! Please allow 3-4 weeks for shipping and processing. Winners have two weeks to claim their prizes. Email name, address AND phone number to above email address.
~~~~~~~~~~~~~~~~~~~~~~~~~
And now it's time for the SAVE THE DATE! We have a date for our third Hard Core Crop!  If you haven't participated in the past you better put this on your calendar! It is fun fun fun fun..We have TONS of challenges and prizes! We post challenges during the weekend and then you have an entire week to complete them.  The only requirement is you use Core'dinations cardstock so make sure you stock up!!!  There will be layouts, cards, tags and more….so something for EVERYONE!  We will post rules as we get closer but the first challenges will be posted on November 1st and continue through the 3rd.
~~~~~~~~~~~~~~~~~~~~~~~~~~~~~~~~~~~~~~~~`
Oh and one last thing! Make sure you head over to HSN TUESDAY because there are some David Tutera kits for sale!!! They will be featured in the Scrapbooking Deals under $20 @ 4 am, Scrapbooking Essentials at 6 pm.
These will be the LOWEST price we have ever offeredf!
We have the Tags and Embellishment kit:
Again..these are just SOME of the kits that have amazing prices so make sure you head over there and order yours now or tune in on September 17  for more fabulous scrapbooking deals for under $20!
I think my new favorite color is white…is that possible?!?!?
Shaunte Wadley created these beauties for us today…wowzas! Creating dramatic monochromatic projects is so easy with Core because you can mix and match the different lines for some sparkle…emboss for some texture and you have the perfect card.  For each card, I listed the  lines she used so you can look closely and see beautiful details. Little things like different embossed layers, pearls and stitching make all the difference.
For more monochromatic ideas check out a post we did a few weeks ago HERE.
Card One is the simpliest with a David Tutera Cardmaking system white smooth cardbase, Core Essentials white, and the butterfly is Core Couture.
Card two: start with a David Tutera Cardmaking system white cardbase and emboss it.  Then add a strip of Core Couture with die cut letters, then emboss some Core Essentials white in another strip. Stitch together. Then add butterflies laong the top in Glitter Silk and a strip along the bottom from Step 3 of the David Tutera Celebrate Cardmaking system.
Again, starting with a David Tutera Celebrate cardmaking system smooth white cardbase, emboss a layer in white Core Essentials. Adhere with Helmar Zap dotsafter punching a hole in the side, add white heart on a string from Glitter Silk Cardstock, finish by creating some embossed strips along the bottom with scalloped pieces, an embossed strip from Core Couture and a banner created using a Dymo Label maker.
Did you know we have  a video on how to create with your Label Maker?  Check it out HERE!