The smell of gingerbread always conjures up great Christmas memories.  When I found this simple recipe for a Gingerbread Sugar Scrub, and knew it would make a great present to have on hand for the season.  And with winter comes dry skin – so this not only smells great, it made my hands feel so smooth after using it.
Gingerbread Sugar Scrub Gift Supplies:
Stampers Anonymous Gingerbread House Stamp
Spellbinders Standard Circles Large, Scalloped Circles
Mason Jar
Imagine Crafts/Tsukineko: Versamark Ink Pad and Pen; Delicata Golden Glitz
May Arts Ribbon: 408-05-10; 420-33
Stampendous Embossing Powder
Derwent Inktense Pencils
Heat Tool
One Recipe of Gingerbread Sugar Scrub (Recipe Later in Post)
Step 1.  Stamp image with watermark ink onto Kraft cardstock. Heat emboss with white powder. Color highlights with pencils. Fussy Cut.
Step 2.  Die cut a scalloped circle to fit over lid of jar.
Step 3.  Use the inner part of the lid to trace around and mark on the back side of the scalloped circle.
Step 4.  Cut between each scallop, stopping at the drawn circle.
Step 5.  Put a bead of glue around the outer lid.
Step 6.  Center over the drawn circle and allow to dry.  Fold each scallop down.
Step 7.  Cut nesting circles to make label for the top.  Use watermark pen to write "Gingerbread Sugar Scrub" and heat emboss with gold powder.
Step 8.  Attach to the top using Mono Adhesive.
Step 9.  Tie gingerbread house onto jar with ribbons.
Step 10.  Fill with homemade sugar scrub.
Gingerbread Sugar Scrub Recipe
Mix the ingredients:
1 cup of brown sugar
1 cup of white sugar
1/2 tsp vanilla extract
1/2 tsp nutmeg
1/2 tsp ginger
1/2 tsp cinnamon
1/2 tsp pumpkin spice
Slowly add 1/4 cup of Coconut Oil, and 1/4 cup Jojoba Oil.
To Use:  Apply scrub to wet skin, and massage with a circular motion – concentrating on dry areas.  Rinse with warm water.
Whether you keep this for yourself or gift it to a friend, enjoy the scents of the season!
~Gini
The Thanksgiving season will be here before we know it. Right now is a great time to be working on those Thanksgiving projects. Every year I enjoy helping my children think about all the things that we are grateful for. This year, I'm so excited to use this fun Thanksgiving We Are Grateful Board to help them think a little more about gratitude. This could be used year after year. You could write things down for the nine days leading up to Thanksgiving, putting the papers in the pockets, or you could write down as many things as you can think of that you are grateful for now, and pull them out and read one pocket full for each of the nine days leading up to Thanksgiving. Today, I am going to show you how I put this together.
'We Are Grateful' Board Supplies:
Frame (I used a thrifted frame)
Jute Twine
Mini Clothes Pins
Scissors
Adhesive
Step 1: Using the Core Basics Smooth Kraft Cardstock, cut out nine library pockets. Using the Core Basics Canvas Texture White Cardstock, cut out the circles with numbers. I used a digital die cutting machine to do this. Fold the pockets, and using adhesive, glue them together. Adhere the number circles to the front of the pockets.
Step 2: Measure your frame for the lengths of jute twine. Using your scissors, cut four pieces total of the same length.
Step 3: Using whatever adhesive you'd like, attach one length of jute twine to the back of the frame, just below the top. I used masking tape for this. I'm sure a staple gun or some kinds of glue would work well too.
Step 4: Cut letters to spell "WE ARE GRATEFUL." Turn your frame back over so the front is face you. Using adhesive, put just enough glue on the back of the letters at the top, for them to stick to the jute twine. I used some craft tweezers to help get them just right.
Step 5: Lay out your pockets with the frame upside down. This is to help you see about where your other lengths of jute twine need to be attached. I also used a ruler to help get them straight. Attached your jute twine.
Step 6: Turn your frame over, so the front is forward. Using your mini clothes pins, clip your pockets onto the jute twine.
Step 7: Write down the items you are grateful for and add to the pockets, or add blank pieces of paper to the pockets to be written on later. Now you are all finished!
The little letters hang down, just right.
The pockets do too.
You can hang it on your wall, or set it on a shelf or table, anywhere that your family will see it and be reminded of what they are grateful for.
~Amy
Hi there Core fans! Suzanna here to share with you a couple of cards I created using smooth Core Tags.
Supplies:
Dies – Sizzix
Stamps and Coordinating Die – Mama Elephant
Washi – Recollections
Ribbon and Jute – May Arts
Color Pencils – Faber Castell
The sentiment is stamped on the tag and becomes the main focus of the card. The smooth tags are perfect for stamping and the 300gsm paper ensures that the tags don't curl.
Next up, a card featuring a small, white circle tag. Can you tell where it is?
Supplies:
Embossing Folder – Lifestyle Crafts
Die – Serendipity Stamps
Stamp – Heidi Swapp
Stickers – Evalicious
Stickles – Tim Holtz
Gelatos – Faber Castell
Thread – Gutterman
Yes, there is a Core Tag there! It's covert; under a cover of Gelatos, nestled in the heart of the sun rays! The hole of the circle tag is hiding under the bottom of the 'o'. Again, a smooth Core Tag, and it withheld the water from my waterbrush used to blend the Gelato.
Suzanna Lee 
Hello, everyone!! Jill from Every Day is an Occasion back to share another project with you! Today, I have what I like to call "FairyWare"….a lot like "silverware", but for fairies. My son and daughter love Disney's fairy movies, so that is where this inspiration came from.  This idea is perfect for ANY kind of party…birthday…holidays and more!
FAIRYWARE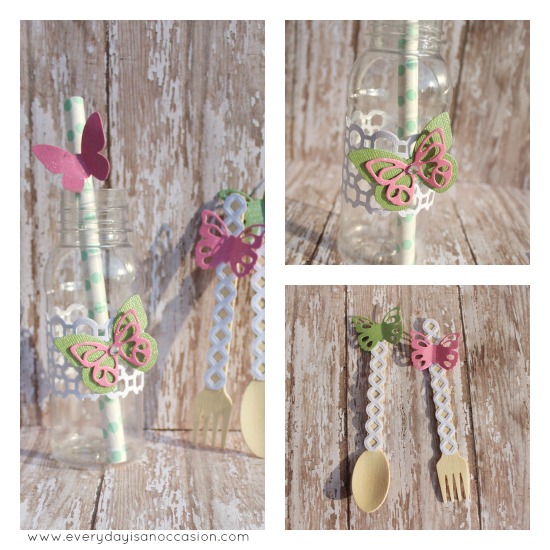 This is simple simple simple. All I did was take wooden silverware and decorate it with David Tutera's beautiful collections, the butterflies and borders pack. It is as simple as hot gluing them onto the silverware. Then I took a plastic bottle my kids had left over from their milk, took the wrapper off, washed it out and adhered David Tutera's butterflies and white lattice background. This set, unfortunately for my kids, had to be shipped off to HSN, but we will surely be making some more "fairyware" soon! Have a crafty day! 
Next up I have a Clean And Simple card to share with you. This card was created using David Tutera's line which is made from Coredinations Cardstock, just in case you didn't know. I love all different styles of card making, but with two small kids, lately I have been sticking with CAS. I think it is important to Thank people with a handwritten note. Today it is so easy to send a text message or email thanking someone, which I do, but my favorite is a handmade card.
Keep in mind this can be applied to invitations…Christmas cards..you name it!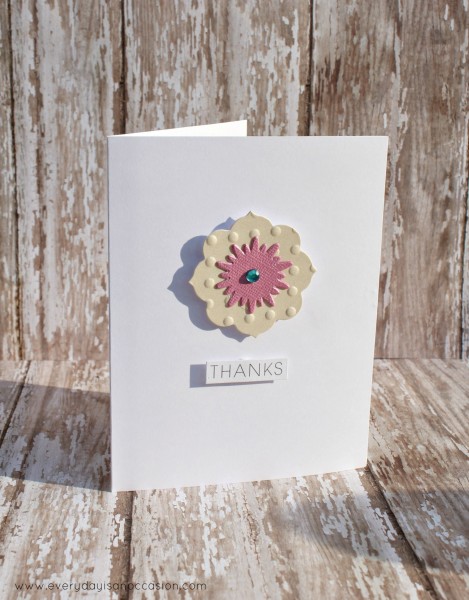 Sometimes I feel so rushed to make cards or I'll make one and the person doesn't seem to appreciate it the way I thought they would and then I feel like I wasted 2 hours of my life making a card they really don't care about. This card solves both of those problems. David's line is quick and simple. He has it laid out for you. Basically, you supply the adhesive and it takes 5 minutes  to make the card. I used David's white card base, flower pack and sentiments. All found here on his page exclusive ot our website.  Quick. Simple. Fabulous! Have a crafty day!