Hello! Jill from Every Day is an Occasion  here to share a kid's craft with you today! We are going to make bunny hats! Get excited! They are super simple! When I was a first grade teacher, my students LOVED making hats for any occasion. So, now that I have my own kids I had to make the hats with them, especially now that my daughter is BIG into dress-up clothes.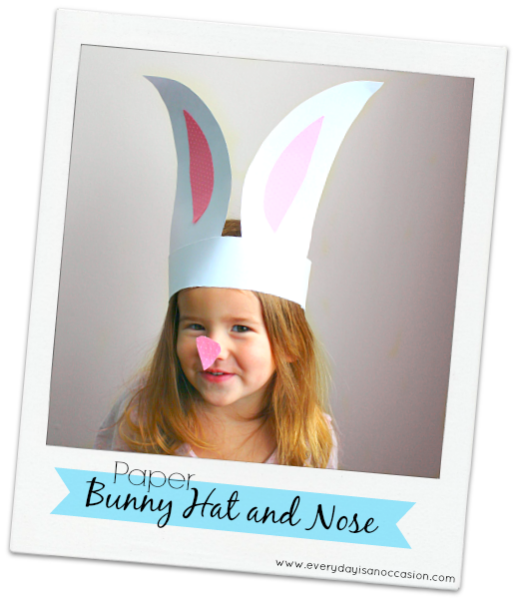 I know they have those $1 bunny ears out there made of fabric, but these are really fun to make to help keep your kids busy on those freezing snow days we've had! My daughter had a blast making these and especially wearing them! Now, I know you may be thinking, "She's two. How did she make those?" Well, she was mostly the assistant. In my humble opinion, I believe that getting kids helping at a young age helps them feel confident with Arts and Crafts.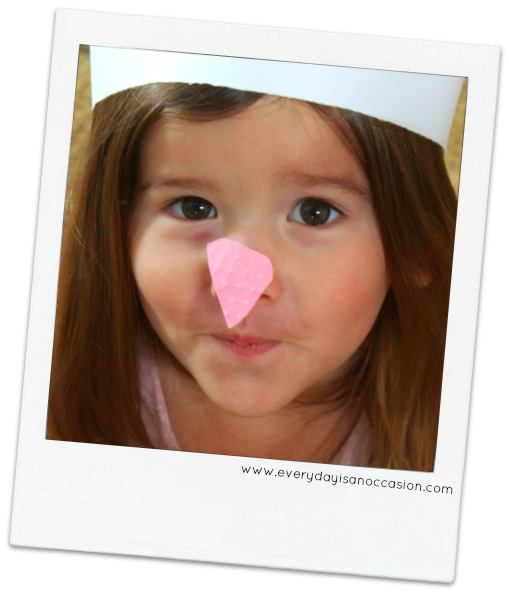 How to make Paper Bunny Hats and Noses:
Materials:
4 pieces of 8 1/2 x11 White Core 110lbs
1 piece Pink from Core Essentials Pastels
Swiss Dots Embossing Folder or any dotted embossing folder
Cuttlebug or your choice of embossing machine
Ear Template- hand draw or use the one below
Xyron Double sided tape
Steps:
1. Draw a bunny ear on the 8 1/2 x 11 piece of White Core. Cut out and use as your template for the White Core. This does not have to be perfect, it's just for fun! Trace onto two pieces of the White Core and cut out.
2. Draw a similar shape but smaller on the white paper. Cut out and use as your template. These do not have to be perfect. It's just for fun! Then trace onto the Pink Core and cut out.
3. Take one piece of 8 1/2 x 11 White Core and fold in half, hot dog style, then fold again so you have 4 pieces. Cut these out. Tape together measuring your child's head. This will be the head band.
4. Put Pink Core into Swiss Dots Embossing folder and then sand the dots.
5. Tape the Pink Core onto the inside of the bunny ears.
6. Tape the bottom of the bunny ears to the headband. *Quick Tip* If you roll the bunny ears up and let it go. It will help make the ears come forward for a cute look.
7. Use scotch tape to put the bunny nose on your child's nose.
8. Enjoy!
Here are the templates I used below in case you want to use them. Just right click on the image and save to your computer and then print.
Designer Suzanna Lee here today with an Easter project for you.
Using an accordian card die from Elizabeth Craft Designs, I created this fun Easter home decor. Each of the backgrounds is not only a different color but a different cardstock as well. I used some Core Essentials cardstock  and some Core Impressions in various designs. See my supply list for more details.
The oval of each panel is cut using white cardstock and individually decorated using more die cut cardstock and some stamps.
Emboss bits and pieces of the panel for added texture like I did here with the tulip. Then shade it with Gelatos for a hint of ombre color and shading. Scor the outer edge of this panel and sand to frame the letters.
 Embellish each oval shape and make a quick nest out of some twine like I did below:
Supplies:
Core Impressions, Basic Grey, Whimsy
Twine – The Twinery
Stamps – Stampendous, October Afternoon
Dies – Memory Box, Avery Elle, Die-namics, Lifestyle Crafts, Elizabeth Craft Designs
Ink – Heidi Swapp, VersaFine
Button – American Crafts
SO WOW! Are you ready for a gorgeous piece of art from Clare Buswell?
Take a 12×12 sheet of Cloudburst Core, fill a spray bottle with 1 part glycerin to 16 parts water, shake and spray the sheet of Core on both sides, rubbing the surface gently with your fingertips. Scrunch the sheet up into a ball, flatten out and spray and scrunch again. Flatten out and leave to dry. The glycerin and water mix makes the cardstock more flexible and will be easier to work with when covering the canvas.

Cover the 6×6 canvas with a layer of Mod Podge and cover with the sheet of flexible Core, brush with another layer of Mod Podge, trim excess cardstock and leave to dry. Using acrylic paints paint the lower half of the canvas green and the top half blue, blend the colors in the middle. Add some highlights of white acrylic paint to the sky with a dry brush and blend.
Spray sheets of Core Buttercup, Meadow and Emerald with the water and glycerin mix and set aside to dry. Die cut four daffodils from Buttercup Core, sand tips of petals with Sand-It Gadget and assemble. Use blending chalk to color the centers of the daffodils. Adhere daffodils to canvas with a strong adhesive. Roll four strips of Meadow Core into tight tubes to make the stems and adhere to canvas. For the foliage, cut a selection of long narrow leaf shapes from Meadow and Emerald Core and sand with Sand-It Gadget. Arrange foliage on canvas and adhere to create a layered effect.

Paint simple daffodil shapes in background using acrylic paint. Add gingham ribbon and bow, to finish.
Supplies:
Core'dinations ColorCore Cardstock – Buttercup, Meadow, Emerald, Cloudburst; Sand-It Gadget; Dust Buddy.
Other: 6×6 Box Canvas, Mod Podge, acrylic paints, blending chalks, green and white gingham ribbon, glycerin, spray bottle, Sizzix Thinlits Daffodil Die, Big Shot.
Good Morning!
We have some Easter Cards to share with you from our Design Team today!  These will definitely get you inspired to create some festive projects this week while you wait for the Easter Bunny to arrive.
First up we have a super cute card from Design Team Member Cari Locken.  Cari used Core Essentials, Gemstones and Whitewash Cardstocks and some Queen & Co. pearls along with the Cricut Expressions & Spring Holiday Cards Cartridge.
And here is a fun card from Design Team Member Linda Beeson. Check out all the cute details on here, including the gorgeous stamping on the Core Essentials and the Core Impressions Woodgrain on the cardbase.
And can you ever get too much Gemstones on one card? NO WAY! Check out  this beautiful card from Design Team Member Debbie Standard using layers and layers of Gemstones.
Have a GREAT week everyone!
We will keep you updated on the Design Team call as well.
TODAY IS THE LAST DAY FOR DESIGN TEAM SUBMISSION! YOU HAVE UNTIL 4 PM EST TO GET THEM IN. CLICK HERE FOR MORE DETAILS.
Last weekend we asked to see some of your work over at the Core'dination's Facebook page and we got some gorgeous posts!!!
Of course, we through in a give-a-way!!!!!!!!!!!!!!
Make sure you link link link us up with your projects because you never know when will pick a random winner for some Core'dinations goodies :):):):)
Congratulations to our Random Winner Tammy Kist.
(Tammy if you are reading this send me your email via Facebook or at ellen_sosnoski@core'dinations.com)
Check out some of her photos in our gallery here!
And we want to leave you with a SUPER cute Easter card from the team over at Consumer Crafts. Check out their blog for some more great details on to recreate this project. SO cute!
Have a great weekend!!!!