Our Fabulous Core Couture and Glitter Silk cardstock lines!
Ooooh….ahhhhhh….Shiney!
Did you know that not all of our cardstock has a sandable surface? I know, I know…can you believe it?  But we do have some lines that have a beautiful shimmer and shine to them.  Same GREAT Core…just a little different that if you sand it, that finish will go away BUT you can still cut it, emboss and do all the other great things you do with Core everyday.
Here are some designs from Design Team Member Debbie Standard:
And our Gorgeous Glitter Silk!!!
You will LOVE this…it barely sheds, cuts like butter…embosses beautifully! Take a close look..Debbie embossed it!
And some more Core Couture…as you can see the glitter picks up all sorts of colors. And is beautiful even in black.
Add some May Arts Ribbon and Queen & Co pearls and you have a gorgeous card.
See how it embosses???  LOVE it!
GOOD Morning! Thursday already??? That means only a few more days of Authentique.
If you haven't seen their new Carefree Collection you are missing out! It is goooorgeous AND it looks FAB with Core!
AND…DID YOU SEE OUR FACEBOOK PAGE RECENTLY????? We have 5936 6035Likes. How cool is that? Thank you, Thank YOU so much for getting us over 6k! We gave away a bunch of cardstock yesterday to celebrate!  I wasn't kidding when I said we would give some good stuff away!
Stay close to our FB page so that when you have more chances to win. Sometimes we just do random giveaways over there!
Now lets get to the good stuff! We couldn't be more excited than to do it this week with our friends over at Authentique.
So how can you STILL win this week:
1.) Comment on our blog all week long. So if you comment every day than it's up to FIVE chances to win. We choose a random winner and post it the following Monday.
2.) Head over to the Authentique blog for chances to win, too! If  you comment over on their blog, you can win some Authentique, too!!!!! Here is a link to their Facebook page, too. While you are over there make sure you tell them we said "HI"!
Now I said cards, right???  Let's get to it! Our Design Team just LOVES this Carefree collection…can't you tell?!
First up we have a card from Kim Jeffress. Don't be afraid to sand and emboss that Vintage Cardstock!
Next up is a card from Shaunte Wadley…the sanding on the gray cardstock is gorgeous!
And Debbie Standard. Love how Debbie mounted her card on the darker, brown cardstock. And she used some fun accents with her Spellbinder's Dies and May Arts ribbon.
See you tomorrow   with some more layouts!
Today we have a beautiful layout from Design Team Member Debbie Standard about her mother. This layout just captures the spirit of the celebration of mothers and all they mean to us.
Debbie used Tim Holtz Kraft-Core and sanded it and then smeared some  ink as her background. Debbie always uses punches and such neat finishing touches to her layouts for amazing details.
Debbie also created a card that would be perfect for anyone in your life. The color combo is gorgeous and the mix of embossing folders rocks! Don't be afraid to mix geometric patterns like Debbie did on this card …looks fabulous!  Especially the pop of teal in the Vintage cardstock against the Core Essentials and how she matted each piece with red. See…it's in the details!
Today's Tutorial is from Design Team Member Kim Jefress…..
AND she used Septembers Colour Inspiration  Challenge!
MY COLOUR BOOK
My two year old son is having trouble remembering his colours. I decided to make a mini album for him using some Core'dinations cardstock, embossing folders and chipboard.
1.Choose a pre made mini album, measure the size of each page and then cut your CORE cardstock in your chosen colours to size. Mark with a pencil where the holes are and using a hole punch,  punch some holes for the rings to thread through.
2. From the same sheets of coloured cardstock, cut pieces to fit into embossing folders you have, then emboss each coloured card with a different folder.
3.Using your sand it tool or sand paper, sand the embossed design on each piece of embossed cardstock.
4.Cover your album with PVA glue or craft glue and lay down your cardstock pieces from step 1. Smooth out with your fingers.
5. Now glue down your co ordinating embossed pieces the same way.
6. Choose some chipboard pieces and decorate each one to suit the colours of your pages. I have used, glimmer mist, paint, glitter and ink.
7. Using strong adhesive glue the chipboard onto each page, Type or write out a matching sentence for each colour, print trim and add to each page.
8. Use buttons and letter stickers to create your cover and then put your book together and you are done!
Here are some of the inside pages….GORGEOUS!!!!
And here are Kim's cuties looking at this amazing book!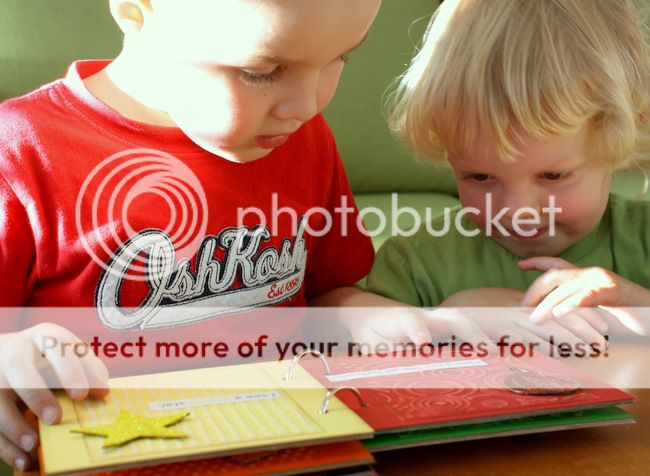 Welcome to our First Ever 12 Days of Techniques. We are excited to share with you some of our favorite techniques using our unique color core cardstock. Each day a Design Team member is going to share a project featuring a technique with Core'dinations cardstock. We have TWELVE unique and amazing days lined up for you leading right into Christmas Eve Day.
In case you are just joining us today here is what we covered so far:
Day One: Sanding
Day Two: Tearing
Each day we will be giving away a great selection of Core'dinations ! Each prize will also receive a Dust Buddy and our NEW Sand It Gadget! And today we have one of our favorite sponsors and they have a prize for you in addition to the Core'dinations prize pack!
Todays Winner will also receive this Texture Boutique from Sizzix! PLEASE make sure you head over to the Sizzix Facebook Page and tell them how much you appreciate their support of the 12 Days of Techniques!  BUT first you need to watch the Embossing Video here leave us a comment and tell us what your FAVORITE line of Core'dinations is to emboss!
Cari Locken has created some gorgeous cards using Sizzix folders. They are elegant and perfect for this gift giving season.
Other Supplies used: Core Essentials and Vintage Cardstock, Imaginisce Rubons and Ribbons.
So anyone want to know who won yesterdays prize pack featuring Core'dinations Cardstock, a Dust Buddy and our NEW Sand It Gadget
Did someone say……WINNER!!??!!!?!?!?
Yesterday's winner is………………….
Lisa W says:
December 14, 2010 at 7:54 pm (Edit)
I live in the country and like to use torn paper to represent the fields and hills. I'm glad I found your paper because with other paper I would use ink to hide the white core and it never looks right.
Lisa, we are happy you found and us and cannot wait to see what you create with your Core'dinations and Fiskars goodies. No covering up that inner core anymore!!!  Make sure you email us with your information!
Come Back tomorrow for more winners and another BIG give-a-way!!! You won't want to miss this one. Don't forget to watch the Embossing Video here leave us a comment and tell us what your FAVORITE line of Core'dinations is to emboss!
A HUGE THANK YOU TO SIZZIX!
Charlotte created THE cutest monsters! Aren't these guys adorable? They are colorful, full of texture and down right festive!  Char used her Cricut and the Mini Monster cartridge to create these little guys.  Next, she ran them through her Cuttlebug with various embossing folders to create the cool textures.   Just add a little sanding and some googley eyes and you have the perfect project for Halloween. (P.S. Make sure you scroll down for our Facebook contest we announced today)
Here they are individually. SO CUTE!
Core'dinations used: Vintage Cardstock, Core Essentials and Black Magic
TRICK OR TREAT!!!!
AND MAKE SURE YOU CHECK OUT OUR FACEBOOK PAGE! WE ARE DOING A HUUUUUUUGE GIVE-A-WAY FOR HALLOWEEN.