Hi there Core Fans!  It's Joann and I am really excited to be here today to share a fun 3D table top decoration which I think is perfect for the upcoming Thanksgiving season!  I loved this design so much that all I wanted to do was emboss and lightly sand the fantastic Core Cardstock for a bit of a Vintage look and feel.  After you lightly sand your paper don't forget to use your Dust Buddy to clean away the dust!
and as a bonus this opens up so you can use it as a gift box for a little something sweet!
Pilgrim Hat Box Supplies:
3d Box – Pilgrim Hat Item # 33992 From The Silhouette Store
M-Bossabilities Embossing Folder Dainty Dots
Stampendous Micro Glitter Frantage Sunflower
Trim, Lace And Bling From My Stash
Liquid Adhesive
Silhouette Cameo
To make this hat follow these steps.  To make things clearer I am showing the steps before the embossing was done.  Please emboss and sand your paper first.
Step 1. Cut the lid, base and brim out of black cardstock. The belt around the lower part of the hat from gray cardstock and the buckle from yellow cardstock.
Step 2. Score all lines so they fold into the the back of the paper and fold the hat into position so you can see where to glue.
Step 3. Apply a liquid adhesive to all the tabs.
Step 4. Carefully worked your way around the hexagon attaching the sides of the lid.
Step 5. Build the inside piece of the box the same way and place the base inside the lid to help it keep it's form.   Apply adhesive to the tabs and carefully center it on the brim.
Thanks for stopping by for a peek… Have a great day my crafty friends!
Whenever it's time for another birthday party (or any occasion, really) I have to admit I'm torn between keeping it easy and making things beautiful.  And no matter which way I choose, I want it to be easy on the budget, too!
Today's solution is a great mix of everything – I'll show you how you can turn scrapbook paper into simple and inexpensive party decor that doubles as something functional: a plastic utensil and napkin holder!  Leave one of these party pouches by each place setting, and guests will have everything they need.  You can even include party favors or game pieces for showers, and incorporate your theme colors and designs!  It's the perfect way to dress up plastic tableware – which is a staple at big get-togethers.
Scrapbook Paper Party Utensil Holders Supplies:
Core'dinations Core Essentials 12×12 sheets, in color(s) to match your party theme
Paper trimmer and/or scissors
Washi tape
Scoring board and bone folder
4.25″ wide embossing folder, and embossing machine (mine is the Sizzix Big Shot, but there are several options out there for embossing)
Napkins and utensils
Step 1.  Trim your paper into 3 equal vertical pieces 4″x12″.  You will be able to make 3 pouches per 12×12 sheet.
Step 2.  Emboss one end of your paper.  Make sure the end of the paper is tucked into the "top" of your embossing folder if you've chosen a design that has a right-side-up like this Happy Birthday folder.
Step 3.  Score your embossed paper at 5″.  Some of the design will be below the fold, and that's okay.
Step 4.  Fold along the score, and seal off the open edges with two 5″ strips of washi tape.
Step 5. Stuff each pouch with coordinating napkins and plastic flatware – and get ready to party!
It's a simple touch that adds something special to the table, and guests will appreciate having everything they need all in one place.  Best of all – the whole thing is disposable, so cleanup is so easy!
~ Adrianne
This sweet pic of my girl, Emma, and one of her closest friends was taken this past summer and I was so excited that I could use this fun lace doily embossing folder on my Core'dinations cardstock as is matched with Mackenzie's creme top .
I chose several colors of Core'dinations  to pick up the colors in my pictures and used the same portion of the embossing folder on each one.  One of my fave things about Core cardstock is how well it picks up the tiniest details of the embossing folder like with this one when you sand it gently.   The lace pattern really stands out so beautifully!
I rounded the corners and cut my larger photo the same way.  For the smaller ring pictures, I cut the photo down to what I wanted to show and then cut it in half again to adhered it on 2 different mats.
I mean..seriously?  How cute are these??!??!? Keep on reading on how to make these little cuties. They are perfect for Spring! And the button embossing folder is too perfect!
Cut files from cardstock using Silhouettte Portrait. Use paper crimper on roofs and sand using Sand It Gadget. Emboss main sections of bird houses using the button box embossing folder, sand using Sand It Gadget and wipe with Dust Buddy.
Assemble each bird house, thread ribbon through roof and glue roof in position. Roll piece of Core cardstock tightly to make peg for perch and place in position, to finish.
And a close up:
Other: Silhouette Portrait, Silhouette cut files (#44005, #44006), Crafters Companion Embossalicious 8×8 Embossing Folder Button Box, Spellbinders Grand Calibur, pink grosgrain ribbon, paper crimper.
Hi! Jill from Every Day is an Occasion  here to share a birthday card with you today! I used Core'dinations Gemstones paper, which is one of my favorite paper packs.
Birthday Card using Gemstones Core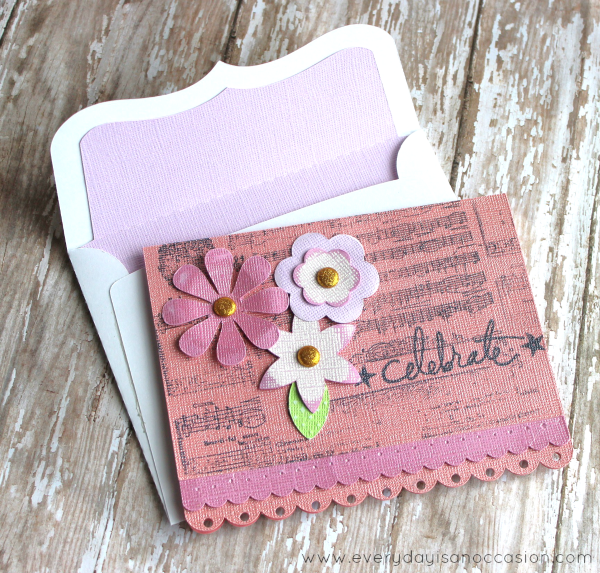 To make this card, I used Gemstones Core, Green 6×6 spotted core, and a little White Wash Core along with this Silhouette Card cut and this Silhouette Envelope Cut. But you don't need a die cutting machine..any cardbase will do!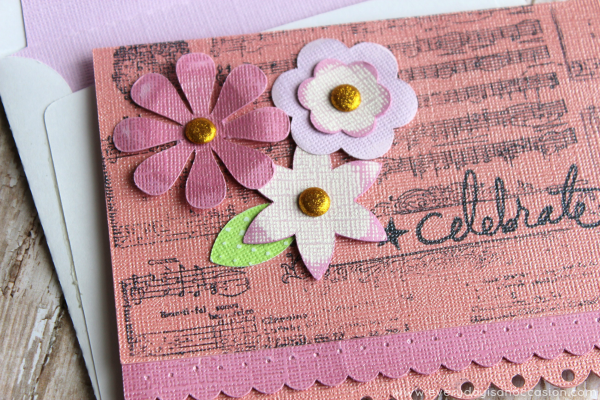 Once I cut out all the shapes I sanded the Core flowers with my Sand-It tool! To add a little fun detail to this card I used my Sew Easy Tool from We R Memory Keepers to create the little tiny holes. I then sanded the holes with my Sand-It tool.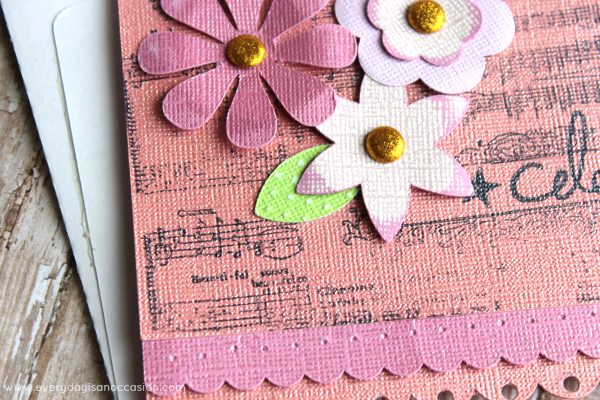 I also used some of Heidi Swapp's new stamps and ink. I stamped directly onto the Gemstones Core. The Gemstones Core just LOVED the ink! I just soaked it right up!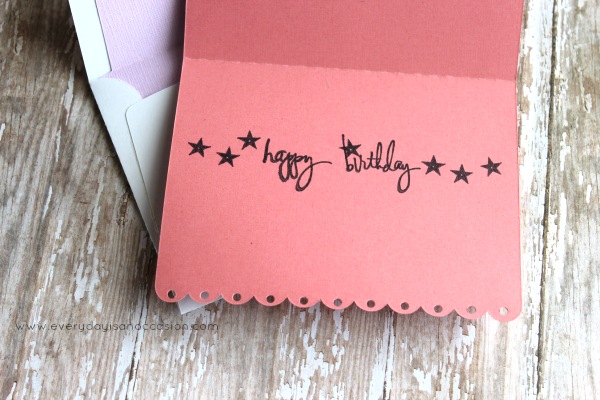 What is your favorite Core'dinations paper pack?
We are celebrating the Holidays with some TIM HOLTZ KRAFT-CORE! Did you know that KRaft-Core comes in TWO collections?  Both the Nostaglic collection and the Shattered Collection. Both come in 12″ and 6″ assorted packs, so perfect for any paper crafter.
We have a giveaway for you, too! Want your very own SIGNED copy from Tim Holtz himself???
 Well we have a treat for YOU…HURRY you only have until Sunday. Click on the image and then enter to WIN!
Today we have designer Vivian Keh working her Tim Holtz magic!
Hello Core fans! Vivian Keh here to share with you a new adventure for me in papercrafting. I've never done a December Daily before, mostly because what I've seen online has very much revolved around kids' experiences of this very special month, and our "kids" are only of the furry type. But my friend, Gwen, encouraged me to do one. So here I am today to share a bit of my project with you and hopefully inspire your Core crafting! Mine is going to be a gift for my man, and it's going to be a collection of everyday bits in the cherished life we share, featuring details that others might perceive as mundane, but which are quite precious to us.
Since it's a gift for hubbie, I decided to keep the palette masculine, using primarily Core'dinations cardstock from our Tim Holtz "Shattered" and "Seasonal Impressions" Collections. For this effect, I embossed pieces of various sizes with a number of Sizzix embossing folders, and also used Core pieces that were already embossed straight out of the package. After sanding and distressing the pieces, they were stitched into a patchwork.
This is a detail of the front patchwork, which was stitched onto a piece of printer paper so as not to add bulk, and then mod-podged as one piece onto chipboard.
And the back. On occasion, I will reach for the shimmery stuff, and this Christmas I have been doing quite a lot of it. But initially, I wasn't inclined to glitz up this project. My crafting buddy, Gwen, threw some Core'dinations Glitter Silk bells on top. Lo and behold, it totally worked and infused this project with holiday cheer!
I adhered several gold fibers to carry the gold throughout the composition, and added a bit of cream to contrast the more deeply hued palette.
The completed front…
And the back…
If you are interested, I have a few pages to share today as well! The inside cover has my little dedication.
Core'dinations' Kraft Core Seasonal Impressions have a lovely variety of typography already embossed into the cardstock. I sanded to reveal the beautiful patterns, added a bit of distress ink on the edges, and a few embellishments.
December 1st was all about getting the house ready for my in-laws who are all visiting on Christmas Day. Folks, the house isn't furnished yet! So we have been busy "swatching," painting, IKEA-ing, and sneaking meals in between. This page features Core'dinations Jenni Bowlin Red and Black Collection, which in my opinion is perfect for holiday crafting!
This is my page for December 3rd. A new habit the two of us have picked up is doing the crossword mornings when hubbie doesn't have to rush off. Each of us have different strengths, which makes collaborating on the more difficult puzzles so much fun. Many of these crossword squares were cut from scraps of pieces I had used for the covers.
The journaling is on a canvas texture Core tag that is pinned and removable.
Usually we walk the pooches in the morning together, unless my guy has an early morning meeting. December 4th was such a day, so I took a longer route, allowed the dogs to linger and sniff some more, picked up some lovely acorns that are all falling from the trees right now. We've got grey squirrels here, and black ones, too. The squirrelys go nuts for the nuts and the dogs go nuts over the squirrels lol! I die-cut these using my Silhouette Cameo and File #11205 from Hero Arts, placing patches of textured Core and patterned paper to fill in the negative space.
I hope you enjoyed my December Daily share today! I will be posting more of it as December barrels ahead on my blog!
Happy Holidays!
-Vivian
SUPPLIES:
Core'dinations –
Tim Holtz Shattered Kraft Core Collection
Tim Holtz Seasonal Impressions Collection
Jenni Bowlin Red and Black Collection
Core Tags
Sand It Gadget, Dust Buddy
Sizzix – all dies and Embossing folders
Hampton Art – stamps
Ranger – distress ink, Stickles
Memento – dye ink
Authentique – patterned paper
Really Reasonable Ribbon – fibers
Little Yellow Bicycle – Alphas
Silhouette – cutting file #11205 from Hero Arts
Martha Stewart – Snowflake edger punch
EK Success – Notebook edger punch
Fiskars – small heart punch