We are celebrating the Holidays with some TIM HOLTZ KRAFT-CORE! Did you know that KRaft-Core comes in TWO collections?  Both the Nostaglic collection and the Shattered Collection. Both come in 12″ and 6″ assorted packs, so perfect for any paper crafter.
We have a giveaway for you, too! Want your very own SIGNED copy from Tim Holtz himself???
 Well we have a treat for YOU…HURRY you only have until Sunday. Click on the image and then enter to WIN!
~~~~~~~~~~~~~~~~~~~~~~~~~~~~~~~~~~~~~~~~~~~~`
Now some projects from our Design Team ….
Hi everyone! Jill from Every Day is an Occasion here to share a kids craft with you today!!! I made this chapstick card. This "kids" craft is great because it can be made by little kids for their teachers or by teenagers for friends! I think it is a great little something for anyone actually!!
Chapstick Card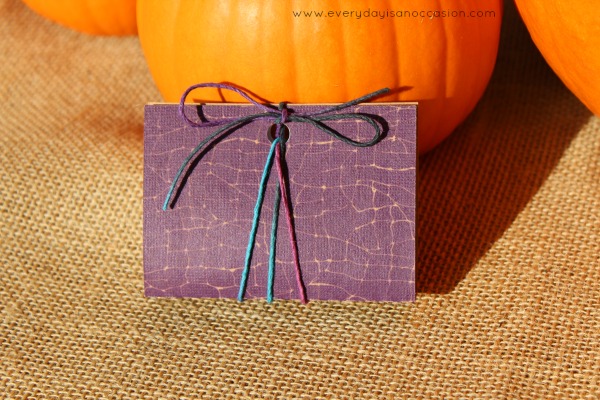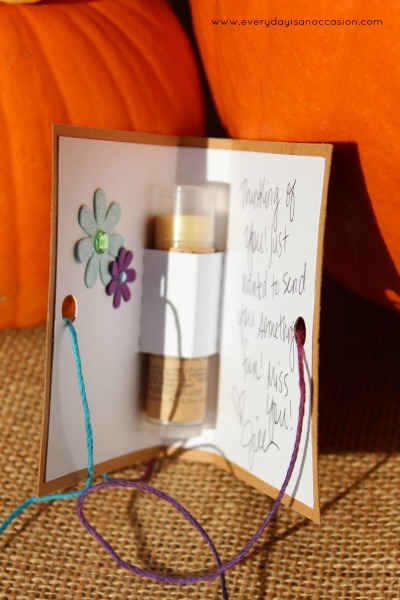 To create this card I used Core'dinations' Tim Holtz Kraft Core Shattered Collection, 110 lb white coredinations paper, this silhoutte cut, and some Hemptique cord.
Thanks! Have a Great day!!! Smiles, Jill
~~~~~~~~~~~~~~~~~~~~~~~~~~~~~~~
And next up we have a card from Designer Clare Buswell using more of that Gorgeous Tim Holtz Kraft-Core Shattered cardstock! Clare really adds some great distressing details with inks and stamps. This cardstock is so great because you can use it "as is" or add your own touches to it!
We have a fun treat for you!  Merry Christmas! Happy New year!  
How much do you love Kraft-Core? Well we have a treat for YOU…HURRY you only have until Sunday. Click on the image and then enter to WIN!
~~~~~~~~~~~~~~~~~~~~~~~~~~~~~~~~~~~~~~~~~~~~`
How about some inspiration from our Design Team using this fabulous line of Core'dinations!
First up we have a layout from Kate Nolan-Denham.Looks so cool, doesn't it?  Loving the red and green she used here for a cute Christmas layout:
And next up some projects from Debbie Standard using the Shattered cardstock.  Love how she used the doilies on this layout and all that embossing and sanding is INCREDIBLE! You can use your Kraft-Core as is or play with it…sky is the limit.
And it works GREAT for cards, too!  Debbeie added a touch of stamping with one of our Smooth Tags (they are SO great for stamping).
We are celebrating Tim Holtz this week and his Kraft-Core collection! Both the Nostaglia AND Shattered are perfect for ANY project AND we have a HUGE surprise coming up this week so STAY CLOSE!
To start of this awesome week we have some inspiration for you, too! First up is Vivian Keh working her magic with some Tim Holtz Kraft Core Shattered cardstock and Holiday cards. I love that she chose  non-traditional color palette for these!
~~~~~~~~~~~~~~~~~~~~~~~~~~~~~~
Hello, friends! Vivian here with a pair of holiday cards that celebrates a deep love of Tim Holtz. Did you know that Core'dinations has several collections designed by Tim Holtz? I have been going through his Kraft Core "Shattered" Collection with great enthusiasm, so much so that I've just about used up my entire assortment of it. The cards below use the "Shattered" Collection in conjunction with quite a few Sizzix dies that have also been designed by Tim Holtz.
For the Christmas Tree card with the background of festive boughs, I chose my colors based on the color wheel. When lacking in crafty mojo, I will often turn to the color wheel as I choose hues with which to craft, and I highly recommend doing so when you're having trouble getting started in your crafting session. Since blues lie directly across from oranges, they just about always make a fantastic pairing, even when the tints are not what you would consider pure blues or oranges. In this case, we have a soothing greyish blue and a burnt siena which has a warm orange cast. I think they set each other off nicely.
The boughs on this card were die cut in one pass using a strip of Shattered Core'dinations Cardstock and a Sizzix "Holly, Beaded & Snowflake Garland." The boughs were further embellished using a Viva Decor Pearl Pen.
In order to preserve the pretty background, I kept the focal image small – a sweet pair of stamped and easily fussy cut trees from a Jillibean Soup holiday stamp set.
For the Wreath card, I die-cut the cutest wreath from a Sizzix Mini Wreath Movers and Shapers Die Set studding the pretty wreath with little balls also created with more pearls.
In this close-up of the wreath, you can see the lovely texture inherent in every sheet of Core'dinations ColorCore Cardstock!
The banner was embellished with the left-over die-cuts from the first card.
Shattered Core looks great when dry-embossed and sanded to reveal the Kraft Core. There is something about kraft that is so comforting, and I often turn to it when crafting Christmas cards.
Finally, I added some seam binding and just a few Tim Holtz Ideology clips for variety in texture. Thanks so much for visiting with me here today, folks. Best of luck in your holiday papercrafting!
SUPPLIES:
Core'dinations: Kraft Core "Shattered" Collection, Creme Brulee ColorCore Cardstock, Sand-It Gadget, Dust Buddy
Sizzix: Holly Beaded & Snowflake Garland Decorative Strip Die, Mini Wreath and Bow Movers & Shapers Die Set, "Elegant" Embossing Folder Set
Tim Holtz Ideology: Paper Clips
Jillibean Soup – Stamp Set
Viva Decor – Pearl Pen
Ranger – Avocado Liquid Pearls, Distress Ink
Really Reasonable Ribbon – Seam Binding
Memento – Rich Cocoa Dye Ink
Today we have some cards from David Tutera Celebrate Cardmaking system from one of our Designers …Jennifer Edwardson!  If you love these cards make sure you check out her blog
here
! First up Jennifer mixed and match our Core'dinations Whitewash with a David Tutera Cardbase:
I love the look of ribbon folded paper and have done it before in different ways but I wanted to make a sweet and simple card using the White Wash and a border punch (LOVE the White Wash) …..
I started with a white A2 (4.25 x 5.5″) card base from the David Tutera Celebrate card making system. I cut (4) 2 x 5 1/2″ pieces of white wash and then ran each piece through the same border punch. I lightly sanded the top of each piece to see the colors show through and then started to layer them onto my card base.
I ran a strip of double sided tape along the top of each piece and adhered that part down first, starting at the bottom of the base and working up.  Then I put 3D foam under the bottom punched edge to raise it off the base.  I layered each one on top of the other and then wrapped some ribbon at the edge of the top piece.  I stamped a thank you sentiment on the top right corner to finish it off ….. Super simple but super sweet  - easy to use for any occasion !!
WhiteWash
– Grandma's Rocker, Cottage Porch, Corner Hutch, Garden Gate
~~~~~~~~~~~~~~~~~~~~~~~
And another card from  Designer Jennifer Edwardson:
I love the look of chevron on just about anything so I decided to create this quick and easy card with a chevron theme.
I started with an A2 white card base. I chose a piece of blue cardstock from the A2 Bulk Sheets pkg and ran it through my Big Shot using a Chevron embossing folder. I lightly sanded off the top to show the pattern and then started to layer (5) pieces from the A2 Border Strips pkg. They were a bit long as I turned the card to open vertically, so I just snipped the ends of the strips off. I chose the layered 'thank you' from the 'Thanks 1 Sentiments' sheets to finish it off …. add the included envelope and it's good to go !!
Supplies:
A2 White Smooth Cards & Envelopes
A2 Bulk Sheets Asst.
A2 Border Strips
Thanks 1 Sentiments
Sand It Gadget
Dust Buddy
Darice Embossing Folder – Chevron (1218-68)
If you LOVE tags than you came to the right place. We have them in textured Core, lights, darks, pastels, smooth tags and MORE! Make sure you check them out HERE.
Today we have some gorgeous festive cards from Designer Clare Buswell!
If these don't get you in the spirit, I am not sure what will!
How cute is the pompom trim?
Supplies:
Memento Luxe Love Letter ink pad, Jet Black Ranger Ink, Distress Ink (Scattered Straw and Vintage Photo), Mistletoe Moments embossing folder from Crafter's Companion, Big Shot (Sizzix), Waltzingmouse Stamps (Nordic Winter, Compliments of the Season, Santa's Coming to Town), baker's twine, seam binding, pom pom trim, silver bells, red saddle stitch ribbon.