This sweet pic of my girl, Emma, and one of her closest friends was taken this past summer and I was so excited that I could use this fun lace doily embossing folder on my Core'dinations cardstock as is matched with Mackenzie's creme top .
I chose several colors of Core'dinations  to pick up the colors in my pictures and used the same portion of the embossing folder on each one.  One of my fave things about Core cardstock is how well it picks up the tiniest details of the embossing folder like with this one when you sand it gently.   The lace pattern really stands out so beautifully!
I rounded the corners and cut my larger photo the same way.  For the smaller ring pictures, I cut the photo down to what I wanted to show and then cut it in half again to adhered it on 2 different mats.
I mean..seriously?  How cute are these??!??!? Keep on reading on how to make these little cuties. They are perfect for Spring! And the button embossing folder is too perfect!
Cut files from cardstock using Silhouettte Portrait. Use paper crimper on roofs and sand using Sand It Gadget. Emboss main sections of bird houses using the button box embossing folder, sand using Sand It Gadget and wipe with Dust Buddy.
Assemble each bird house, thread ribbon through roof and glue roof in position. Roll piece of Core cardstock tightly to make peg for perch and place in position, to finish.
And a close up:
Other: Silhouette Portrait, Silhouette cut files (#44005, #44006), Crafters Companion Embossalicious 8×8 Embossing Folder Button Box, Spellbinders Grand Calibur, pink grosgrain ribbon, paper crimper.
Hi! Jill from Every Day is an Occasion  here to share a birthday card with you today! I used Core'dinations Gemstones paper, which is one of my favorite paper packs.
Birthday Card using Gemstones Core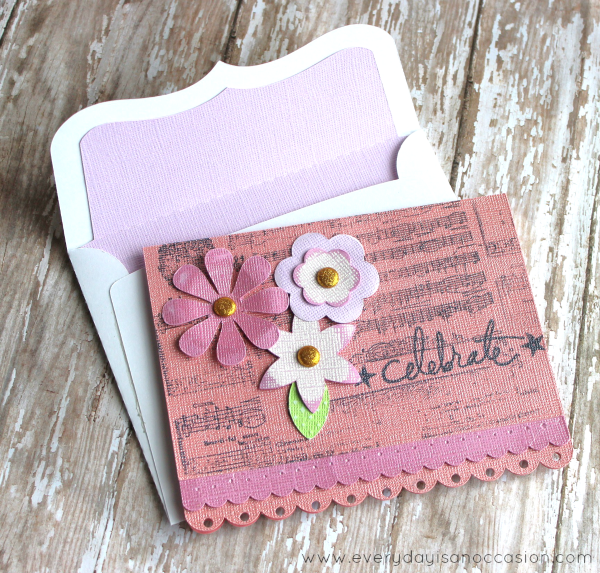 To make this card, I used Gemstones Core, Green 6×6 spotted core, and a little White Wash Core along with this Silhouette Card cut and this Silhouette Envelope Cut. But you don't need a die cutting machine..any cardbase will do!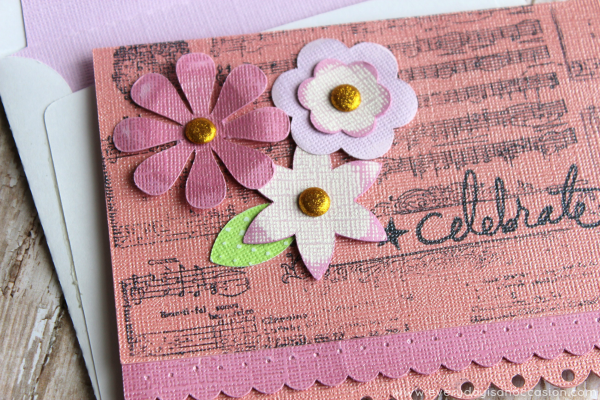 Once I cut out all the shapes I sanded the Core flowers with my Sand-It tool! To add a little fun detail to this card I used my Sew Easy Tool from We R Memory Keepers to create the little tiny holes. I then sanded the holes with my Sand-It tool.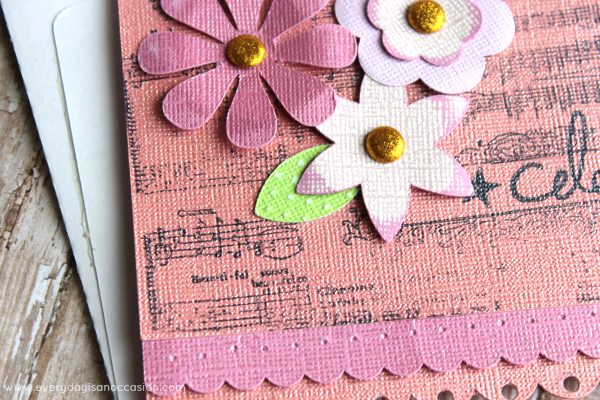 I also used some of Heidi Swapp's new stamps and ink. I stamped directly onto the Gemstones Core. The Gemstones Core just LOVED the ink! I just soaked it right up!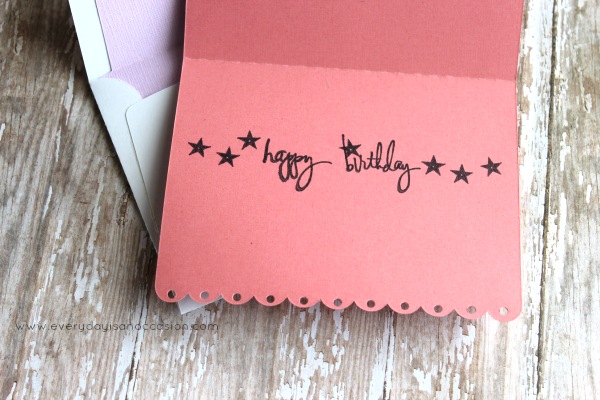 What is your favorite Core'dinations paper pack?
….that is with our CORE IMPRESSIONS! Debbie Standard is rocking the layouts for us today. ENJOY!!!!
~~~~~~~~~~~~~~~~~~~~~~
Creating with the Core Impressions line is SO MUCH fun! For this page I wanted an embossed background in a soft color so I chose a sheet from the Pink Paisley collection as my base which I sanded with my Sand It Gadget and then dusted with my Dust Buddy. Then I just went through my scraps (and yes I keep all reusable Core'dination's scraps) and picked colors from the basic core colors that went with my photo and background paper.  To tie them all together I used a neutral beige to back each square.  I embossed each square with Darice embossing folders, sanded them and then matted them with the Neutral beige.  I added my title and some embellishments both hand made and pre-made to compete the page. The beautiful girls are my daughter (left) and her bff.
Supply List:
Pink Paislee Core Impressions
Core Basic Colors – a variety
Sand it Gadget
Dust Buddy
Cuttlebug
Darice Embossing folders:  1218-28, 1215-62, 1215-61, 1216-68, 1216-64, 1217-59, 1215-60
Spellbinder's Die:  S4-328 Foliage,S5-050 Rose Creations, andS5-114 Spectacular Spin
AND another layout from Debbie Standard working that Core Impressions…this time the Cosmo Cricket Woodgrain cardstock.  Debbie uses these for her CSI case files. The colors are always amazing!
The cool thing about Core Impressions, in addition to the fact they come embossed, is that you can add layers and layers of sanding and inking and sewing like Debbie did here:
Ink:  Tim Holtz
Stamps:  Fancy Pants, Cornish Heritage Farms
Flowers:  Prima
Papers:  Webster's Pages
Lace:  Webster's Pages
Brads:  My Mind's Eye
Rubons:  Basic Grey
Today we have some inspiration for Valentine's Day for you from Ava Gavloski. I hope you love red, pink and black because you came to the right place!
~~~~~~~~~~~~~~~~~~~
Hello Ava here …Happy Valentines Day!  The heart is wonderful place for all things kind and good.
Here is a card that I designed showcasing Core'dinations Vintage collection and Scarlett from the Darks collection.
You can see that embossing and sanding the Scarlett red cardstock matches the Vintage cardstock well.  That is one nice feature of Core'dinations cardstock, so many of the collections co-ordinate with each other to design a wonderful presentation.
Add some embellishments like Darice washi tape, rhinestones, pins and ribbon and your have a luscious full bodied presentation of a vintage valentine card.  Visit your nearest LSS and pick up some Core'dinations Cardstock for that special card.
Core'dinations:
Vintage Collection
Scarlette Dark Collection
Sand it Set
Darice Washi Tape/Folder
Other:
Helmar Premium Adhesive
Want2Scrap
May Arts Ribbon
Sizzix Die
Maya Road Stick Pins
Gina K Designs Stamps
Clearsnap Stephine Barnard Dye Ink, Raspberry
~~~~~~~~~~~~~~~~~~~~~~~~~~~`
I would like to share a Wedding Layout with you to celebrate February the month of Sweetheart Valentines.
I choose the Core Amour Whitewash cardstock to showcase how quickly pre-embossed collections from Core'dinations can have a layout completed with a great textured presentation.
The layout is embellished with some doilies, tulle and sequins.
Core'dinations Supplies:
Amore Whitewash Cardstock
Other Supplies
Tulle, feathers, sequences
Gina K Stamps has a cute set of stamps which celebrates Valentine's Day and I thought this  vintage phone complements the vintage feel of the Core'dinations Vintage collection.
I stamped the image using WOW embossing powder to gloss up the image to support the quality of the vintage Core'dinations cardstock.  The pre-embossed vintage Core'dinations cardstock makes this card full with dimension after sanding to reveal the inner colored core.
Embellish your card with rhinestones, sequences and Mary Arts Ribbon.
EMBOSSING AND DEBOSSING! 
Don't forget about our sketch challenge! You  only have until January 25th so there is still  time to enter. Create a card or a layout based on the sketch below and link it to THIS blog post or our Facebook page for a chance to win a Pastels Collection pack! Don't forget to use some Core'dinations and you know how much we love technique. Don't  forget to tear it, sand it, emboss it and LOVE it!
So how do you do ONE sketch TWO ways….emboss it and then deboss it! It's that easy with Core'dinations ColorCore Cardstock.
Yes, it is that easy. Just flip your cardstock over (or the folder) and run it through your machine to get the same pattern but the REVERSE embossed image. SO COOL and a GREAT way to spruce up those folders. If you are new to embossing and debossing and would like more information check out our technique videos HERE. Here is more about these cards from Gail Lindner:
~~~~~~~~~~~~~~~~~~~~~~~~~~~~~~~~~~~~~~~~
Recently we were given a fun card sketch and to put my spin on it, I decided to create two cards, using the same colors and design but showing a variation on a technique.
Can you spot the difference with the two cards below?
We all know that Core cardstock is PERFECT for embossing as a light sand after embossing reveals the pattern even more.
Sometimes even I forget that a flip of the cardstock, to emboss on the reverse side is debossing and you get the opposite (but equally as effective) effect.
The card below was embossed right side up.
This next card was debossed (reverse side up).
Don't you love the effect of debossing on Whitewash Cardstock?
Another advantage of using the Whitewash Collection is that you can use the back of the card to matt with and the color matches perfectly! Love it!
Thanks for visiting and I hope I've inspired you to get double the use out of your embossing folders!
 Supplies:
 Whitewash Collection – Wicker Chair, Washboard, Grandma's Rocker
Graphic 45 Collection – Creme Brulee
Tim Holtz Adirondack Collection – Lake Mist
Core Basics 110 lb. Premium White Cardstock
Big Shot
Darice & Cuttlebug embossing folders
Sand It Gadget
Dust Buddy