….that is with our CORE IMPRESSIONS! Debbie Standard is rocking the layouts for us today. ENJOY!!!!
~~~~~~~~~~~~~~~~~~~~~~
Creating with the Core Impressions line is SO MUCH fun! For this page I wanted an embossed background in a soft color so I chose a sheet from the Pink Paisley collection as my base which I sanded with my Sand It Gadget and then dusted with my Dust Buddy. Then I just went through my scraps (and yes I keep all reusable Core'dination's scraps) and picked colors from the basic core colors that went with my photo and background paper.  To tie them all together I used a neutral beige to back each square.  I embossed each square with Darice embossing folders, sanded them and then matted them with the Neutral beige.  I added my title and some embellishments both hand made and pre-made to compete the page. The beautiful girls are my daughter (left) and her bff.
Supply List:
Pink Paislee Core Impressions
Core Basic Colors – a variety
Sand it Gadget
Dust Buddy
Cuttlebug
Darice Embossing folders:  1218-28, 1215-62, 1215-61, 1216-68, 1216-64, 1217-59, 1215-60
Spellbinder's Die:  S4-328 Foliage,S5-050 Rose Creations, andS5-114 Spectacular Spin
AND another layout from Debbie Standard working that Core Impressions…this time the Cosmo Cricket Woodgrain cardstock.  Debbie uses these for her CSI case files. The colors are always amazing!
The cool thing about Core Impressions, in addition to the fact they come embossed, is that you can add layers and layers of sanding and inking and sewing like Debbie did here:
Ink:  Tim Holtz
Stamps:  Fancy Pants, Cornish Heritage Farms
Flowers:  Prima
Papers:  Webster's Pages
Lace:  Webster's Pages
Brads:  My Mind's Eye
Rubons:  Basic Grey
Today we have some inspiration for Valentine's Day for you from Ava Gavloski. I hope you love red, pink and black because you came to the right place!
~~~~~~~~~~~~~~~~~~~
Hello Ava here …Happy Valentines Day!  The heart is wonderful place for all things kind and good.
Here is a card that I designed showcasing Core'dinations Vintage collection and Scarlett from the Darks collection.
You can see that embossing and sanding the Scarlett red cardstock matches the Vintage cardstock well.  That is one nice feature of Core'dinations cardstock, so many of the collections co-ordinate with each other to design a wonderful presentation.
Add some embellishments like Darice washi tape, rhinestones, pins and ribbon and your have a luscious full bodied presentation of a vintage valentine card.  Visit your nearest LSS and pick up some Core'dinations Cardstock for that special card.
Core'dinations:
Vintage Collection
Scarlette Dark Collection
Sand it Set
Darice Washi Tape/Folder
Other:
Helmar Premium Adhesive
Want2Scrap
May Arts Ribbon
Sizzix Die
Maya Road Stick Pins
Gina K Designs Stamps
Clearsnap Stephine Barnard Dye Ink, Raspberry
~~~~~~~~~~~~~~~~~~~~~~~~~~~`
I would like to share a Wedding Layout with you to celebrate February the month of Sweetheart Valentines.
I choose the Core Amour Whitewash cardstock to showcase how quickly pre-embossed collections from Core'dinations can have a layout completed with a great textured presentation.
The layout is embellished with some doilies, tulle and sequins.
Core'dinations Supplies:
Amore Whitewash Cardstock
Other Supplies
Tulle, feathers, sequences
Gina K Stamps has a cute set of stamps which celebrates Valentine's Day and I thought this  vintage phone complements the vintage feel of the Core'dinations Vintage collection.
I stamped the image using WOW embossing powder to gloss up the image to support the quality of the vintage Core'dinations cardstock.  The pre-embossed vintage Core'dinations cardstock makes this card full with dimension after sanding to reveal the inner colored core.
Embellish your card with rhinestones, sequences and Mary Arts Ribbon.
EMBOSSING AND DEBOSSING! 
Don't forget about our sketch challenge! You  only have until January 25th so there is still  time to enter. Create a card or a layout based on the sketch below and link it to THIS blog post or our Facebook page for a chance to win a Pastels Collection pack! Don't forget to use some Core'dinations and you know how much we love technique. Don't  forget to tear it, sand it, emboss it and LOVE it!
So how do you do ONE sketch TWO ways….emboss it and then deboss it! It's that easy with Core'dinations ColorCore Cardstock.
Yes, it is that easy. Just flip your cardstock over (or the folder) and run it through your machine to get the same pattern but the REVERSE embossed image. SO COOL and a GREAT way to spruce up those folders. If you are new to embossing and debossing and would like more information check out our technique videos HERE. Here is more about these cards from Gail Lindner:
~~~~~~~~~~~~~~~~~~~~~~~~~~~~~~~~~~~~~~~~
Recently we were given a fun card sketch and to put my spin on it, I decided to create two cards, using the same colors and design but showing a variation on a technique.
Can you spot the difference with the two cards below?
We all know that Core cardstock is PERFECT for embossing as a light sand after embossing reveals the pattern even more.
Sometimes even I forget that a flip of the cardstock, to emboss on the reverse side is debossing and you get the opposite (but equally as effective) effect.
The card below was embossed right side up.
This next card was debossed (reverse side up).
Don't you love the effect of debossing on Whitewash Cardstock?
Another advantage of using the Whitewash Collection is that you can use the back of the card to matt with and the color matches perfectly! Love it!
Thanks for visiting and I hope I've inspired you to get double the use out of your embossing folders!
 Supplies:
 Whitewash Collection – Wicker Chair, Washboard, Grandma's Rocker
Graphic 45 Collection – Creme Brulee
Tim Holtz Adirondack Collection – Lake Mist
Core Basics 110 lb. Premium White Cardstock
Big Shot
Darice & Cuttlebug embossing folders
Sand It Gadget
Dust Buddy
~~~~~~~~~~~~~~~~~~~~~~~~
I don't know about you but a lot of team has been getting hit with snow in their respective states so why not share a little bit of that Snow Day love today?!
I hope this post finds you warm and cozy! Suzanna here from Life's Trivialities  to share with you a winter layout created with left over scraps of Coredinations cardstock. Gather colors in the hues of a pleasing snowy palate, emboss a few and lay them out as you would a cozy warm quilt. In order to tie the paper into the theme of the layout, chose snow filled embossing folders. Fill in some holes with David Tutera tags and zig zag with your sewing machine (or use a pen for faux stitching). The layers of the layout in some places are as numerous as the layers you will need to be out in that winter wonderland. Voila! The base of your layout, it's that easy!
oooohhhh! aaaahhh! Core Tags!
Gorgeous detail:
This is a great way to use multiple embossing techniques and different cardstocks!
Supplies
Spotted Jillian; Aqueduct http://www.coredinations.com/index.php/products/spotted/spotted-12×12/
Glitter Silk 6×6; Glitter Girl http://www.coredinations.com/index.php/products/glitter-silk/
Gemstones Collection http://www.coredinations.com/index.php/products/specialty-collections/gemstones-collection/
Core Impressions; Fancy Pants Collection: Refreshed http://www.coredinations.com/index.php/products/core-impressions/fancy-pants-collection/
Core Tags; Smooth Tag; Gift Tag White http://www.coredinations.com/index.php/products/core-tags/
David Tuterra Tags
Embossing Folders: Darice, Stampin Up
Bling: Prima
Die: Memory Box, Avery Elle
Stamps: Avery Elle, Stampin Up
Ribbong: Tim Holtz
Paper Clip: Prima
Alpha Letters: American Crafts
~~~~~~~~~~~~~~~~~~~~~~~~~~~~~~~~~~~~~~~~~~~~~~~`
I did lots of sanding with the Sand It Gadget in this layout to make it pop.
I cut the snowflakes out of Core'dinations Snowflake using my Silhoutte, painted the die cut with some glue and added some fine glitter.
Core'dinations Supplies:
12 x 12 Core Essentials Neutrals
Other Supplies:
Fiskars Crimper
American Crafts Thickers
Helmar Adhesives
We are celebrating the Holidays with some TIM HOLTZ KRAFT-CORE! Did you know that KRaft-Core comes in TWO collections?  Both the Nostaglic collection and the Shattered Collection. Both come in 12″ and 6″ assorted packs, so perfect for any paper crafter.
We have a giveaway for you, too! Want your very own SIGNED copy from Tim Holtz himself???
 Well we have a treat for YOU…HURRY you only have until Sunday. Click on the image and then enter to WIN!
Today we have designer Vivian Keh working her Tim Holtz magic!
Hello Core fans! Vivian Keh here to share with you a new adventure for me in papercrafting. I've never done a December Daily before, mostly because what I've seen online has very much revolved around kids' experiences of this very special month, and our "kids" are only of the furry type. But my friend, Gwen, encouraged me to do one. So here I am today to share a bit of my project with you and hopefully inspire your Core crafting! Mine is going to be a gift for my man, and it's going to be a collection of everyday bits in the cherished life we share, featuring details that others might perceive as mundane, but which are quite precious to us.
Since it's a gift for hubbie, I decided to keep the palette masculine, using primarily Core'dinations cardstock from our Tim Holtz "Shattered" and "Seasonal Impressions" Collections. For this effect, I embossed pieces of various sizes with a number of Sizzix embossing folders, and also used Core pieces that were already embossed straight out of the package. After sanding and distressing the pieces, they were stitched into a patchwork.
This is a detail of the front patchwork, which was stitched onto a piece of printer paper so as not to add bulk, and then mod-podged as one piece onto chipboard.
And the back. On occasion, I will reach for the shimmery stuff, and this Christmas I have been doing quite a lot of it. But initially, I wasn't inclined to glitz up this project. My crafting buddy, Gwen, threw some Core'dinations Glitter Silk bells on top. Lo and behold, it totally worked and infused this project with holiday cheer!
I adhered several gold fibers to carry the gold throughout the composition, and added a bit of cream to contrast the more deeply hued palette.
The completed front…
And the back…
If you are interested, I have a few pages to share today as well! The inside cover has my little dedication.
Core'dinations' Kraft Core Seasonal Impressions have a lovely variety of typography already embossed into the cardstock. I sanded to reveal the beautiful patterns, added a bit of distress ink on the edges, and a few embellishments.
December 1st was all about getting the house ready for my in-laws who are all visiting on Christmas Day. Folks, the house isn't furnished yet! So we have been busy "swatching," painting, IKEA-ing, and sneaking meals in between. This page features Core'dinations Jenni Bowlin Red and Black Collection, which in my opinion is perfect for holiday crafting!
This is my page for December 3rd. A new habit the two of us have picked up is doing the crossword mornings when hubbie doesn't have to rush off. Each of us have different strengths, which makes collaborating on the more difficult puzzles so much fun. Many of these crossword squares were cut from scraps of pieces I had used for the covers.
The journaling is on a canvas texture Core tag that is pinned and removable.
Usually we walk the pooches in the morning together, unless my guy has an early morning meeting. December 4th was such a day, so I took a longer route, allowed the dogs to linger and sniff some more, picked up some lovely acorns that are all falling from the trees right now. We've got grey squirrels here, and black ones, too. The squirrelys go nuts for the nuts and the dogs go nuts over the squirrels lol! I die-cut these using my Silhouette Cameo and File #11205 from Hero Arts, placing patches of textured Core and patterned paper to fill in the negative space.
I hope you enjoyed my December Daily share today! I will be posting more of it as December barrels ahead on my blog!
Happy Holidays!
-Vivian
SUPPLIES:
Core'dinations -
Tim Holtz Shattered Kraft Core Collection
Tim Holtz Seasonal Impressions Collection
Jenni Bowlin Red and Black Collection
Core Tags
Sand It Gadget, Dust Buddy
Sizzix – all dies and Embossing folders
Hampton Art – stamps
Ranger – distress ink, Stickles
Memento – dye ink
Authentique – patterned paper
Really Reasonable Ribbon – fibers
Little Yellow Bicycle – Alphas
Silhouette – cutting file #11205 from Hero Arts
Martha Stewart – Snowflake edger punch
EK Success – Notebook edger punch
Fiskars – small heart punch
We are celebrating the Holidays with some TIM HOLTZ KRAFT-CORE! Did you know that KRaft-Core comes in TWO collections?  Both the Nostaglic collection and the Shattered Collection. Both come in 12″ and 6″ assorted packs, so perfect for any paper crafter.
We have a giveaway for you, too! Want your very own SIGNED copy from Tim Holtz himself???
 Well we have a treat for YOU…HURRY you only have until Sunday. Click on the image and then enter to WIN!
~~~~~~~~~~~~~~~~~~~~~~~~~~~~~~~~~~~~~~~~~~~~`
Now some projects from our Design Team ….
Hi everyone! Jill from Every Day is an Occasion here to share a kids craft with you today!!! I made this chapstick card. This "kids" craft is great because it can be made by little kids for their teachers or by teenagers for friends! I think it is a great little something for anyone actually!!
Chapstick Card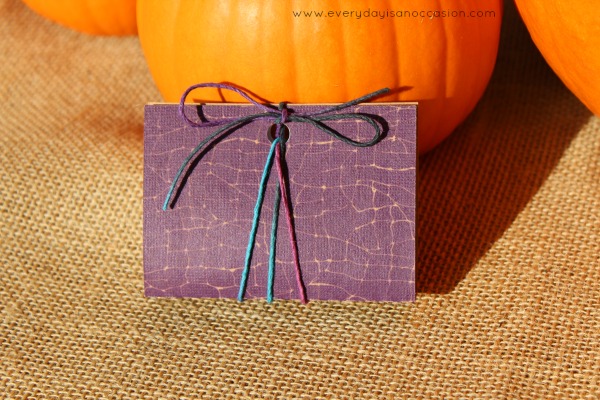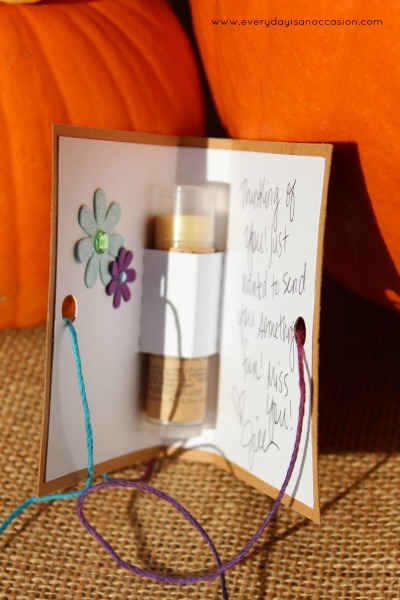 To create this card I used Core'dinations' Tim Holtz Kraft Core Shattered Collection, 110 lb white coredinations paper, this silhoutte cut, and some Hemptique cord.
Thanks! Have a Great day!!! Smiles, Jill
~~~~~~~~~~~~~~~~~~~~~~~~~~~~~~~
And next up we have a card from Designer Clare Buswell using more of that Gorgeous Tim Holtz Kraft-Core Shattered cardstock! Clare really adds some great distressing details with inks and stamps. This cardstock is so great because you can use it "as is" or add your own touches to it!