Hi friends!  It's Joy here, sharing a spooky Halloween paper lantern with you today.  This will add a creepy, but cool, element to your haunted decor!
Spooky Halloween Lantern Supplies:
Lantern SVG from Spooky Soiree Kit by SVGCuts
Embossing Folder: Cuttlebug
Cut 'n' Boss Embossing Machine
Xyron 9″ Creative Station and 3″ Sticker Maker
Silhouette Cameo
Step 1. Cut the lantern pieces using Core'dinations Bright Color cardstock along with solid black, vellum and black spotted Tillie Dot using your favorite electronic die cut machine.
Step 2. Emboss and sand all of the orange pieces and the black Spotted Tillie Dot spider using the Core'dinations Sand It Gadget.
Step 3. After embossing and sanding the pieces, I ran them through the Xyron 9″ Creative Station and the Xyron 3″ Sticker Maker.  Those machines helped me quickly add adhesive to the panel pieces.
Step 4. I used a liquid adhesive to help me adhere the vellum to the inside of the lantern.  By the way, that vellum cut without a problem in my Silhouette Cameo.  YAY!
Step 5.  Assemble the lantern and spider. Add two Darice Self Stick Gems to create eyes for the spider.  Spooky!
Step 6.  Add a Darice Halloween LED Tea Light to your lantern.  I got black tea lights.  They look cool!
Turn on your tea light and you're ready to be spooky!
Hi everyone!  I'm Joy and today I'm super happy to be sharing this project with you using Core'dinations great products!
Supplies:
5/8 inch Chevron Grosgrain Ribbon: Gold and White
Xyron Create A Sticker Machine – 2.5 inch
Silhouette Cameo
Joy's Life Holiday Occasions stamp set
Black Ink
Pencil Shape Card – Silhouette ID #10126
3D Pencil – Silhouette ID #64599
Step 1: Cut the pencil 3D and card shapes using Core'dinations Neutrals and Bright Color cardstock along with solid black and white.  They cut so well!  A little side note: At first I cut the pencil card background in white but later I went back and cut it out in grey to match the band near the eraser of the 3D pencil.  I thought that just looked better color-wise to match both project pieces.
Step 2: Emboss the pencil pieces as desired.  Here, I'm using the wood grain background folder.
Step 3:  Sand the pieces using the Core'dinations Sand It Gadget.  That revealed a lighter color yellow on these pieces.  That's so cool!
Step 4: Adhere the pieces.  I used my Xyron machine to add adhesive to the backs of these pieces.  Then I added them to the pencil.
Isn't all that sanded texture great?!
Step 5:  Create a tag.  I cut a small tag from the Core'dinations Bright Assorted Tags even smaller and backed it with a piece of Core'dinations black cardstock.
Step 6:  Stamp a sentiment.  Keep in mind that stamping on textured paper can give an uneven stamped image.  You can fill in any spotty places with a marker.  I did!
Step 7:  Sand the tag and tie ribbon to finish the look.
That huge roll of Smarties can fit into the 3D pencil!
Now your project is ready for gift giving! Happy crafting! ~Joy
Supplies:
-A Child's Year Cricut cartridge
-Cuttlebug Seeing Spots embossing folder
-Darice Wire Fence embossing folder
-May Arts Twine
-Spellbinder's Standard Circle Small dies
-Lawn Fawn A Birdie Told Me set
This sweet pic of my girl, Emma, and one of her closest friends was taken this past summer and I was so excited that I could use this fun lace doily embossing folder on my Core'dinations cardstock as is matched with Mackenzie's creme top .
I chose several colors of Core'dinations  to pick up the colors in my pictures and used the same portion of the embossing folder on each one.  One of my fave things about Core cardstock is how well it picks up the tiniest details of the embossing folder like with this one when you sand it gently.   The lace pattern really stands out so beautifully!
I rounded the corners and cut my larger photo the same way.  For the smaller ring pictures, I cut the photo down to what I wanted to show and then cut it in half again to adhered it on 2 different mats.
I mean..seriously?  How cute are these??!??!? Keep on reading on how to make these little cuties. They are perfect for Spring! And the button embossing folder is too perfect!
Cut files from cardstock using Silhouettte Portrait. Use paper crimper on roofs and sand using Sand It Gadget. Emboss main sections of bird houses using the button box embossing folder, sand using Sand It Gadget and wipe with Dust Buddy.
Assemble each bird house, thread ribbon through roof and glue roof in position. Roll piece of Core cardstock tightly to make peg for perch and place in position, to finish.
And a close up:
Other: Silhouette Portrait, Silhouette cut files (#44005, #44006), Crafters Companion Embossalicious 8×8 Embossing Folder Button Box, Spellbinders Grand Calibur, pink grosgrain ribbon, paper crimper.
Hi! Jill from Every Day is an Occasion  here to share a birthday card with you today! I used Core'dinations Gemstones paper, which is one of my favorite paper packs.
Birthday Card using Gemstones Core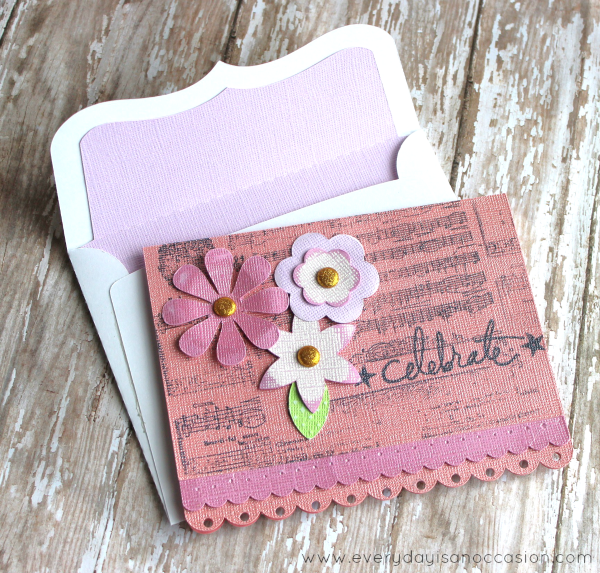 To make this card, I used Gemstones Core, Green 6×6 spotted core, and a little White Wash Core along with this Silhouette Card cut and this Silhouette Envelope Cut. But you don't need a die cutting machine..any cardbase will do!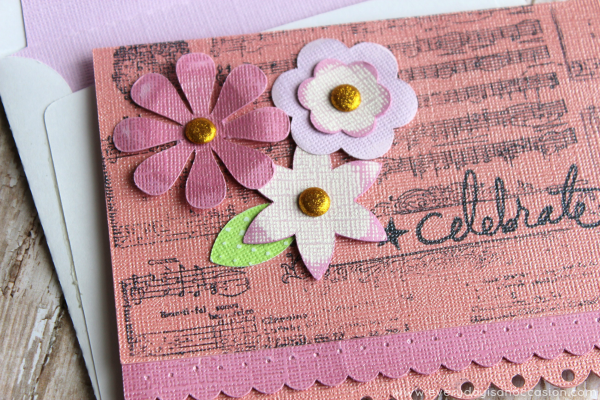 Once I cut out all the shapes I sanded the Core flowers with my Sand-It tool! To add a little fun detail to this card I used my Sew Easy Tool from We R Memory Keepers to create the little tiny holes. I then sanded the holes with my Sand-It tool.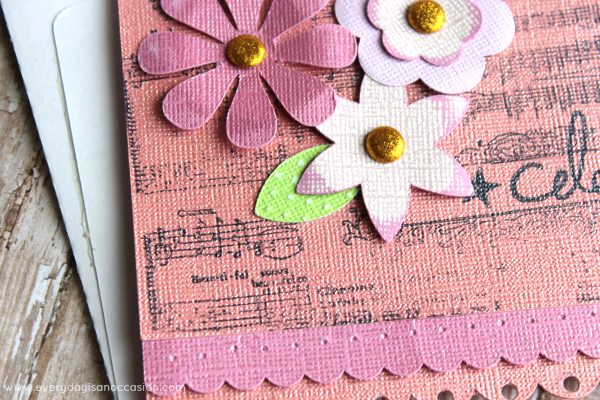 I also used some of Heidi Swapp's new stamps and ink. I stamped directly onto the Gemstones Core. The Gemstones Core just LOVED the ink! I just soaked it right up!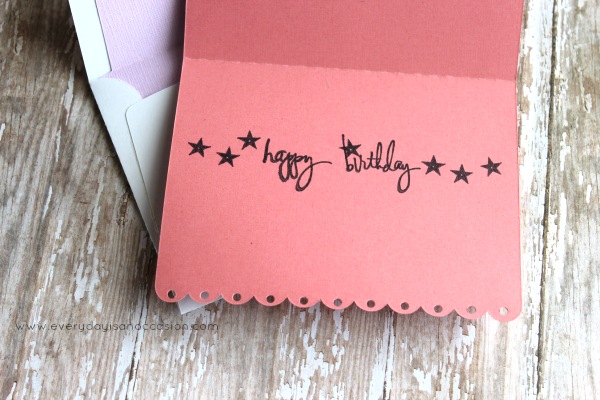 What is your favorite Core'dinations paper pack?