We are excited to share Xyron projects with you all week long.
And do not forget to head over to the Xyron blog for MORE inspiration AND a giveaway! I heard a rumour that it might be a sticker maker?!??!?!
Designer Shaunte Wadley is up first with some mixing and matching of Tim Holtz Kraft Core Season Impressions, Kraft-Core and Fancy Pants Core Impressions. And see that super cool strip of pumpkins? Shante used her 2.5 Sticker maker so keep scrolling to check out easy it is to adhere that with Xyron tools.
How is easy is that???
It's like magic…it's sticky and NO MESS!
Here's a close up of it finished with the die cut layers:
THEN after you sand with your Sand it Gadget, take your chalks and apply desired color for a really cool look! Not sure if you saw Friday's post but Designer Kate Nolan Denham did that on her layout, too, but with some Black Magic..super cool!
And next up is Designer Vivian Keh working the Black Magic!  Just love how she chose Black Magic for her Thanksgiving card. For some step by step photos check out her blog HERE.
For this card, I used cardstock from our fantastic "Black Magic" Collection.  Since I started playing with this stuff a month or so ago, I literally have not been able to stop crafting with it.  The results are always interesting and unique.  I sanded both my dry embossed background and my paper punched leaves, following that by applying a little pigment ink over the raised areas in a variety of autumn leaf tones.  I used the Xyron 1.5 in Create-A-Sticker machine to adhere the leaves – totally nuts about this tool because it is incredibly fast and convenient for adhering tiny pieces, like die-cut alphas or these leaves, to papercrafted projects.  No sticky, messy, glue-y fingers!  I used the Xyron Mega Runner to adhere the card front to a slightly larger card base – nice strong hold.
Some details:
And how amazing is this detail and all this color!? Very same concept as Shaunte using chalks but you can use ink, too!
SUPPLIES:
Core'dinations – "Black Magic" Collection, Sand-It Gadget, Dust Buddy
Sizzix – Fancy & Floral Frames Embossing Folder Set #657197, Brenda Walton "Gift Tags" Bigz die #658730
Inkadinkado – Sentiment Stamp
TPC Studios – Flourish Stamp
Xyron adhesive
Clearsnap – PetalPoint Ink Pad Collection in "Provence," Frost White Pigment Ink
~~~~~~~~~~~~~~~~~~~~~~~~~~~~~~~~~~~~~~~~~~
And don't forget to comment to win because we have some awesome prizes up for grabs for commenting this week. How about some Core AND a Xyron Mega runner? We have more in store for prizes this week so STAY CLOSE!
Well…as a cake topper!  Jill has some great birthday ideas for you today.
Hi everyone! Jill from Every Day is an Occasion back to share another project with you. Today I am sharing the cake topper I made for my son's birthday. He turned four this year. He loves cooking and baking, so we decided we would make the cake together. He picked out the kind of cake he wanted, the frosting, and of course what he wanted on top of the cake. This summer we have spent a lot of time at our lake cottage. He absolutely loves it up there. One of the highlights for him is to look at all the animals while we are on the pontoon boat. He especially loves it when we find turtles. So this year we decided a turtle themed cake would be fun.
Turtle Themed Birthday Cake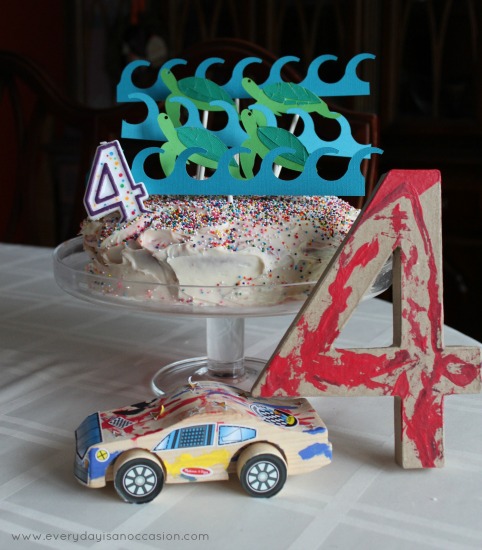 You may notice a random car in the picture…he painted that car and asked for it to be in the picturebecause he wanted to remember he painted that on his birthday.
I love Core'dinations Brights Paper Pack. I use it all.the.time! It is my second go to…my first go to favorite is Core'dinations white in the neutral pack…I know I'm weird! lol
Anyways, the turtles and waves were both made using the Brights pack. So go get yourself some and thank me later:)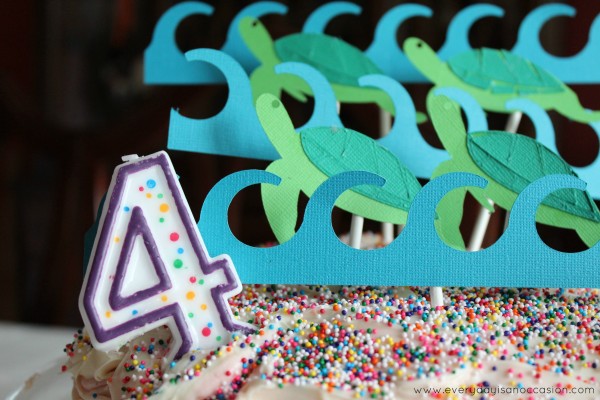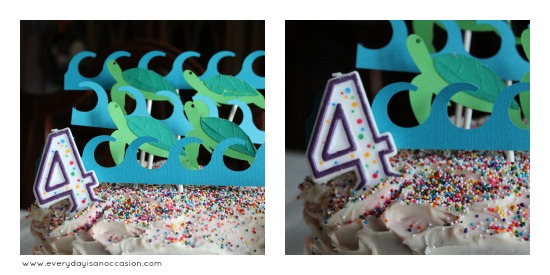 Next up I'm sharing a project I made for my mom. I keep making cards for her that she absolutely adores and doesn't want to throw away…this is where I blush and come up with a solution…..
Card Holder and Scalloped Card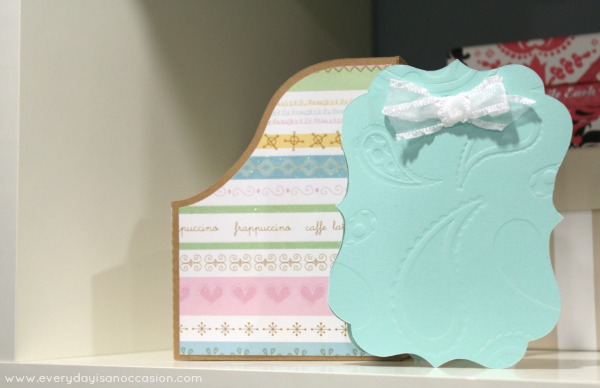 When I first got my Design Team box from Core'dinations, this SUPER CUTE Fancy Pants Core paper was inside. This paper was my mom's absolute favorite! I knew when her birthday rolled around, what I would be using to create her card! She doesn't like really fancy things. She is more of a clean and simple gal so I used the backside of the cardstock.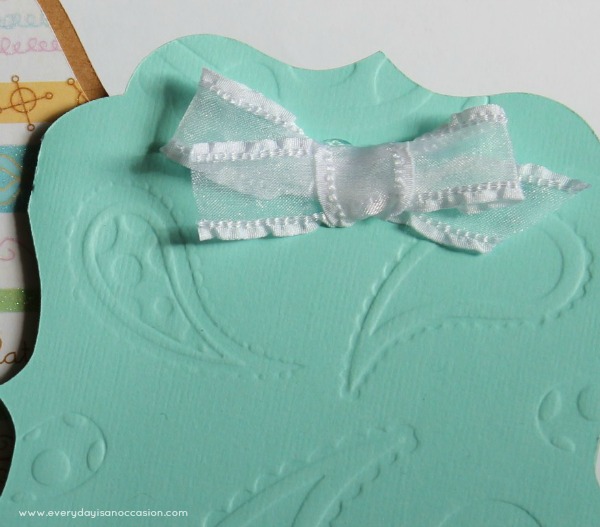 Then when she said she needed a place to put all the cards I was making her, the Tim Holtz Kraft Core paper stuck out to me because on one side it is a kraft color and on the other side it is colored. I think it is so perfect because no matter which side you look at the paper it is beautiful!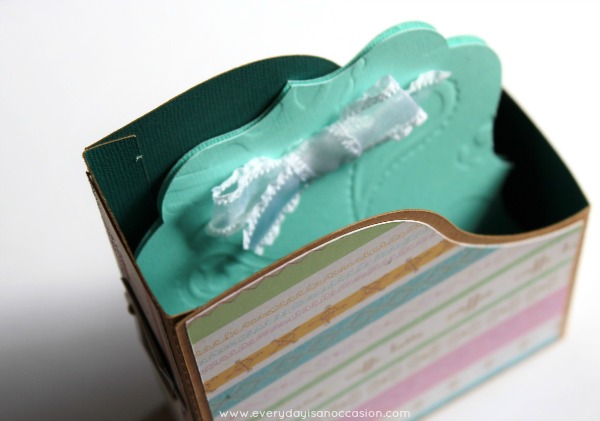 Materials
Card Base: Fancy Pants Coredinations paper
Ribbon: May Arts
Silhouette Cameo
Card Holder: Tim Holtz Kraft Core 
For more details on how I created these two projects, come visit me at Every Day is an Occasion.
Thanks for stopping by and checking out my project.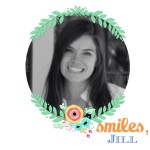 –
We have three gorgeous layouts from the amazing Debbie Standard!
Debbie creates the most amazing projects…so much detail and SO MUCH CORE!  She really demonstrates the entire concept of, ahem, not needing any patterned paper.  You can do it!
I love using the White Wash collection – there's just so many uses for it.  For my page here I  sanded over the entire sheet so some of the blue tones would come through and then up under the title area I put a piece of cloud chipboard and sanded over it in several different places to simulate the sky and clouds in that area of my page.  Then I had two small embossing folders and I used some of the bright cardstock which perfectly matched the little dress and embossed and sanded two small squares.  I then used the same paper and scored it around the area of my embossed piece to create little frames.  To make the embossed piece stand out I backed it with white.  The leaves were all created on my Silhouette machine.  As long as you can run these through your Xyron you can sand these delicate pieces before taking them off the backing and applying them to your page.  The flowers are all cut with Spellbinder's Dies.  Then I  lightly sanded them – you have to be really careful doing this as they are delicate – I find it works best to put my finger in the middle of the flower and then lightly sand the edges of the petals.  The larger the flower the easier it is to sand.  Then I rolled the petals over my paper piercer and sprayed them with some Maya Road mist.  I continued to encourage the edges to curl after misting.  After they were dry I added some My Mind's Eye brads.  This adorable little subject is my sister's bff's granddaughter, Bridgette.
Supply List:
Whitewash cardstock
Core Brights
Sand it Gadget
Dust Buddy
Cuttlebug
Silhouette Cameo
Spellbinders Dies – Rose Creations
Embossing Folders:  Sizzix, Cuttlebug
Xyron
My Mind's Eye Brads
Scor it
D'eja Views Clear Word Stickers
I just love the dotted collection – both of them – one has larger dots and one smaller.  It even comes in the 6 X 6 too!  For this I started with a sheet of the blue in the Jillian collection.  First I scored a frame around the entire sheet and then I sanded only inside my frame.  Then I cut a piece from the Tillie collection in a lighter shade of blue and attached it to top of my page.  I then used a sheet of Core Impressions Fancy Pants collection which I sanded and then just cut out the frame from.  I made my clouds using a die cut and then cutting it from a sheet of White Wash – these make the best clouds – you can sand them letting the blue come through and they really look like clouds!  Then using some of the smooth tags I used one for my title tying a May Arts ribbon around it and another for my journaling.  The adorable little subject is my daughter's bff's baby – so love that she got these monthly stickers so she can record a picture every month for me!
Supply List:
WhiteWash Collection
Jillian Dots Collection
Tillie Dots Collection
Core Pastels collection
Core Impressions Fancy Pants collection
Core Smooth tags
Sand It Gadget
Dust Buddy
Martha Stewart Punch
Tags:  October Afternoon, My Mind's Eye
Chipboard:  Basic Grey
Hellicopter:  Best Creations
D'eja Views Clear Word Stickers
Ribbon:  May Arts

I saw this wedding photo and immediately knew I would be jumping into my Core Amour collection for this one.  I also used some of the Core Pastels which were the colors of her wedding.  This particular Amour sheet only requires that you sand across the works.  Then I misted it.  I used my  Silhouette to cut some swirls which I layered down the side of the page.  I then used a Martha Stewart punch and placed a small pink ribbon over it.  The photo itself I first matted with black, then with pink and then which yellow white I tore around .  The flowers and butterfly all came from die cuts which I cut, sanded and then sprayed with Maya Road spray.  I let them dry and then put them together and attached to my page.  I added some little tiny die cut tags and some prima leaves.  
Supply List:
Core Onyx Amour Collection
Core Pastels collection
Spellbinder's Rose Creations Die, and tags CD003
My Mind's Eye Brads
Maya Road Mist
D'eja Views Clear Word Stickers
Sand It Gadget
Dust Buddy
Silhouette Cameo
Xyron
Ribbon:  Stash
Envelope:  Stash
Bling:  Queen & Co.
Leaves:  Prima
Sizzix – "English Botanical" Embossing Folder

Tim Holtz – Distress Ink

Really Reasonable Ribbon – Seam Binding

Teresa Collins – Decorative Brad

Spellbinders – Floral Die

My Mind's Eye – Gems

~~~~~~~~~~~~~~~~~~~~~~~~~~~~~~~~~~

Need a wedding card?  Look no further!

I love the aqua/ chocolate brown color pairing in just about everything, from papercrafts to home decor – both fresh and comforting.  For today's project, I used Core'dinations Fancy Pants Designs"Refreshed" Collection, which delivers that comforting chocolate embossed in a variety of designs as well as your pick of pretty pastels that are also pre-embossed. This makes for great papercrafted projects in a variety of themes. 

I sanded all the layers and die-cuts and added distress ink to the edges. The sentiment was stamped using watermark ink and then heat embossed with embossing powder.  Just a little bit of embellishment and this card was done.

Supplies:

Sizzix – Bigz Die "Butterflies and Labels"

Hampton Art – "Happily Ever After" Clear Stamp Set

Tim Holtz – Distress Ink
Fiskars – Floral Punch
Stampendous – "Champagne" Embossing Powder
Versamark – Watermark Ink
Really Reasonable Ribbon – Lace

~~~~~~~~~~~~~~~~~~~~~~~~~~~~~~~~~~~~~~~

And nothing finishes up better than a layout, don't you agree?

 I chose several bold colors from Core'dinations Darks Collection, which have great grounding colors that are perfect for masculine projects.  As you can see in the detail shot, there is so much easy interest one can create with Core – die-cut it, paper-punch it, sand it, tear it, emboss it, crimp it, distress it, stamp it.  All of these were used in this layout. The possibilities are only limited by your imagination!  

The story of how my husband and I met is really special.  And both of us still can't believe how serendipitous our meeting truly was.  Hence, the "when pigs fly" stamping on my background, using the great kraft side of our Tim Holtz Kraft Core Cardstock with a simple black ink. His smile, and humorous personality brought levity to the rather challenging moment in our lives captured here on film. I simply layered a bunch of Core elements on top of a piece of old book paper, topping off with a little bling and some scrunched up mulberry paper that I had misted.  

Supplies:

Core'dinations – Darks Collection, Tim Holtz Kraft Core, Venetian Lace (Cream Color), Sand-It Gadget, Dust Buddy

Darice – Dominoes Embossing Folder
Sizzix – Chip Block Alphabet Strip Die, Washer Border Strip Die

Fiskars – Crimper, Hexagon Punches, Floral Punch

Bo Bunny – Gems

Hampton Art – Art Warehouse "Speckle Background" Woodblock Stamp, Graphic 45 "Olde Curiousity Shoppe One" Cling Stamp Set

Tim Holtz – Distress Ink

Memento – Tuxedo Black Dye Ink

Lindy's Stamp Gang – Mist
Old book paper

Mulberry Paper
Who's having fun this week???
Today we are welcoming Jill Lebbin!  If you have been with us the last week or so make sure you check out the winner list HERE. You might see your name there and don't want to miss out on your Core Prize pack.
Here is a little bit about Jill:
Hello! My name is Jill and I share my crafts on my blog Every Day is an Occasion. I am so ecstatic to be on Core'dination's Design Team! I absolutely LOVE designing and creating projects! Within the last five years I have learned that I am happiest if I am able to carve out a little bit of time to live creatively every day, whether it is by decorating my house, making a card, or working on a scrapbook. I guess I could say, it is in blood…I attribute all my craftiness to my mother.
Most of my time is spent with my loving family. I have a wonderful husband who is very supportive of my endeavors and two sweet and spunky kids whom I get to spend my days with. I am so blessed!! We enjoy traveling together, whether it is to zoos, museums, or lakes…but our very favorite spot to travel to is The Cayman Islands.
When I'm not spending time with the fam or crafting I am working on my fundraiser that I created and direct called Craft for a Cause. We raise money to help buy Automated External Defibrillators (AED's they help restart a heart).
Here is the inside scoop in Jill's layout:
I chose a picture of my family as the focal point in my layout because they are my main focus. They are my life. Everything revolves around them and I wouldn't have it any other way. This is a picture of the four of us at a zoo. My son absolutely LOVES zoos, so we have been to 7 different zoos around the country within the last year.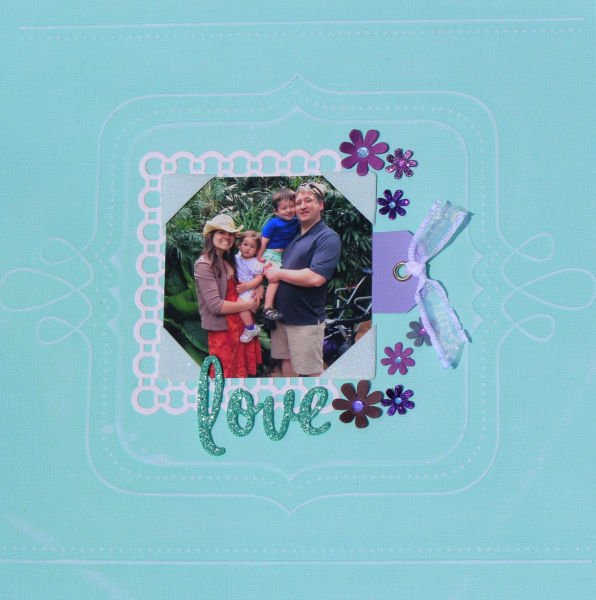 When crafting, I like to make things fun and interactive. So, I hid the Core Tag behind the photo. If you pull the ribbon, the tag will come out and I wrote where we were and the kids' ages on the tag.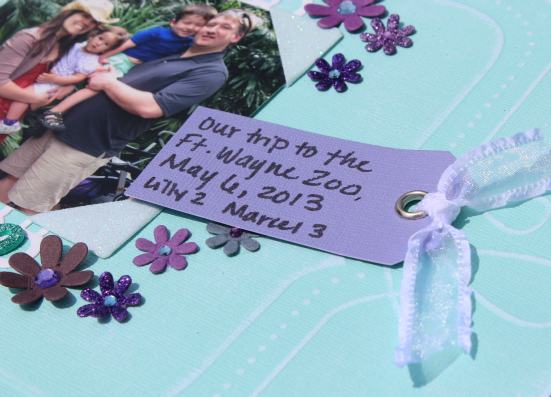 I love sanding Core'dinations paper! It's become a serious love! I mean really isn't it fun?!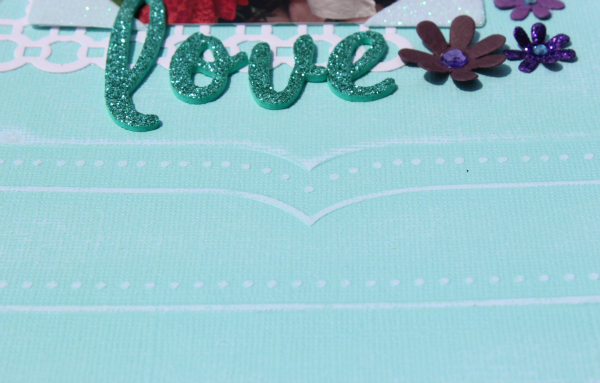 Supply List
Main turquoise cardstock piece: Core Impressions: Fancy Pants
White Core'dinations Cardstock: David Tutera -Lace Doily Assortment
Purple Tag: Core'dinations Tags-Brights Assortment
Ribbon: May Arts
Photo Corners: Martha Stewart Crafts
Thickers: American Crafts
Flowers: Paper Studio-Spare Parts
Thanks for stopping by and learning a bit about me!
To find out all the latest with me, we can stay in touch by Blog Facebook Twitter Pinterest Instagram
~~~~~~~~~~~~~~~~~~~~~~~~~~~
Anyone up for a WINNER from yesterday's Brights collection pack??????????
The Brights collection have such bright & cheery colors! I'd love to try them!
~~~~~~~~~~~~~~~~~~~~~~~~~
And today we have a pack of the gorgeous Neutrals Cardstock! Every single crafter MUST HAVE this in their stash! Same great Core but in a neutral color palette.
Please note we will only be posting Monday through Friday. We will pick a random winner the following morning (or Monday if it is the weekend) to win a pack of Core'dinations Cardstock. The cardstock pack may vary due to availability. Winners must email ellen_sosnoski@coredinations.com by June 7  to claim their prizes with the cardstock they won in the subject line.  Please include address and phone number in the email.