With Core'dinations, it's all about the technique! The beauty of Core'dinations IS, the core. The core of the paper, getting to the core of the matter. You can do so much with it!
Emboss it, crimp it, sand it and run it through your label machine it! These are the things I have done on this layout. If you haven't already visited, be sure to check out the technique videos on the Core blog. There are many more techniques to see there too!
Crimp it! Running your Core'dinations cardstock through a crimper with some sanding provides not only a neat texture but a striped effect depending upon the color core you reveal with your sanding.
Sand it! I used the Spotted Tillie cardstock to create my own Lego bricks! Cut each brick to size using your paper trimmer and sand! Dead easy!!
Label it! I created the sub title of my layout by running an appropriate sized strip of cardstock through my label maker and sanded it! Simple yet so effective!
Chocolate, right?  Well we have the next bext thing today… Chocolate Box cardstock!
~~~~~~~~~~~~~~~~~~~~~~~~~~~
Mary Pat here with a fun layout all about corrugating! For a video on how to do this technique with your paper crimper click HERE to view our Technique videos.
Playing with the
Chocolate Box
collection is really fun!  Just take the
Chocolate Box
and run it through a paper crimper.  When you lightly sand the paper the blue core comes through  and it is just amazing!
Next, tear the bottom in order to really expose more of the colored core.  Continue to add layers like the Spotted Core Cardstock  and sand.  Add a photo, some sewing and fun embellishments  and you have a great layout.
Supplies:
Pattern paper- Imaginisce
Stickers – Imaginisce
enamel dots- Glitz
Lawn Fawn Star Dies
Sewing Machine
And we have Ava Gavloski  here with a  cute little shaped card for Easter.
Sometimes it's a refreshing change to make a shaped card.  Here I used the Core'dinations Core Essential's Pastel Collection. Just Emboss and sand the card to show the inner core.
I embellished my card with a die cut from Spellbinders, May Arts Ribbon and ScrapFX chipboard to give the card some layers and texture.  The Core'dinations Pastel collection colors core'dinate so well with each other!
Core'dinations Supplies:
Sand It Set
May Arts Ribbon
Spellbinders Die
ScrapFX chipboard
Unity Stamp Co.
Clearsnap Colorbox Ink
Tombow Adhesive, Liquid Mono and Foam Tabs
Designing with Melissa Oliveira today!  Here is a little bit about this cute layout from Melissa:
The graphic design of the Pink Paislee Core Impressions made a great home for a grid style layout. AND chevrons are all the rage these days! Keeping the layout clean and simple with just a bit of sanding and embossing allows the little details like the punched butterflies, sanded edges and machine stitched border shine through.
And a close up…Core'dinations is just so great. Sand some, emboss some, use your Fiskars Paper Crimper like Melissa did here with the yellow strip …so many textures so little time! And the added Queen & Co. bling on the butterflies is the perfect touch!
With only a few days left to Halloween we thought we would share some very treats for you!
And when we say treats, we of course mean festive Halloween tags 🙂 Don't forget to check out yesterday's post for more of these fun and festive Halloween inspired tags. One for each day of the month of October.
Glitter Silk, Black Magic, Core Tags…you name it Designer Leica Forrest used it for her Halloween Daily Fun box of tags. I don't know about you but this is my favorite time of year!
So for the next few days we will be showing you bits and pieces of these fun tags Leica created.
See the purple Glitter Silk tag on the left?! Don't be afraid to use those rubons on your Glitter Silk (the green swirls under the pumpkings). They go on smooth and don't rub off.
And how about that Fiskars paper crimper?  Oh yes!
We looove to crimp here and it looks great on tags, too!
Petaloo and Sweet Stamp Shop!
We have a fun week for you this week! We have teamed up with Petaloo and Sweet Stamp shop for some FUN! If you love flowers make sure you buy Petaloo flowers that core'dinate with our cardstock PERFECTLY!  No worrying about matching them yourself, we did that for you.
Don't forget to head over to Petaloo blog and the Sweet Stamp Shop blog to check things out. I heard some rumors there are goodies up for grabs over there, too! (Keep  in mind SSS is PST time so they be up a bit later).
We will be giving away some goodies here on the blog for commenting ALL WEEK long (make sure to comment on every post here for more chances to win).
Today is our first day of school in Pennsylvania…we got a bit of a late start here due to some construction but it is always a fun day…alarms…a bit of scrambling….what to wear…pictures…pencils…
AND head over to our Facebook page, too! Leave a comment over there about what the first day of school is like in your house!  I know it is a crazy day here!!! And if you don't have kids in school then share a found memory you have about your first day of school.  We want to here it…we are gearing up for 8000 likes over there and can't wait!
We hope you had fun this week. We sure did! We will post our winners next Monday or Tuesday. You can still comment today and all weekend long…
Today we have some cards for you!
Design Team Member Melissa Oliveira created this FUN window card. Is it ever possible to have too much woodgrain?  I didn't think so. She used the Sizzix Tim Holtz woodgrain folder for the embossing and then the woodgrain Sweet Stamp Shop  stamped on the inside of the card.
And close up of the flowers. Melissa used a Spellbinder's Label die to create the window.
And the inside:
And Design Team Member Debbie Standard created this cute card! She used the back of her cardstock for the bus and all that fun embossing and sanding is just perfect! Don't forget to run that "grass" through your Fiskars Paper crimper for that perfect look…add a Petaloo flower and you have a perfect Back To School card!
And we are having a BLAST! Are you? Sorry we are a bit late getting up today. We had some technical difficulties but we are ready!!!
REMEMBER…you can post on our blog here all week long for a chance to win. We will put all of the comments in random. org and pick one random winner from ALL the  blog posts ….  the more you comment the more you can WIN WIN WIN! AND we will pick one lucky winner from our Facebook page, too!
AND…yes there is more! Imaginisce is giving away goodies on their blog, too! Of course there is loads inspiration over on their blog as well. PLEASE head over to their Facebook page as well. If you don't like them, well you should! And if you already do…awesome! Tell them we said HI!
Today we have layouts galore for you from our ever inspiring Design Team!
We got to play with the i-Rock.
And of course…we are showing off what it can do with some Core'dinations Cardstock!  A match made in heaven!  Today we have some layouts for you from our Design Team.
First up a layout from me :)….Want to know how to make this arrow using your i-Rock and some Glam Rocks???
CLICK HERE to go to our Facebook page and view a quick video to see how I did it with some Core Essentials cardstock. It is so easy and just ONE MORE reason to get yourself an i-Rock 😉
And a close up of the  arrow:
And we have some Spotted galore on this layout from Lydia Jackson!!!
How much do you love the Legos she created?????? Brilliant!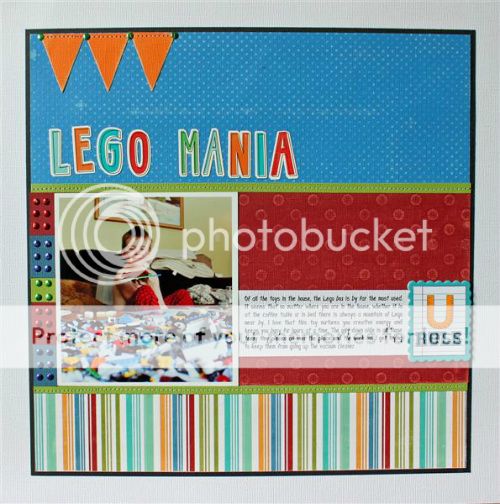 And another layout from Melissa Oliveira. Melissa used her Glam Rocks as little accents on her title and ran her hanging banner flags through her Fiskars Paper Crimper.
And how much do you love all of this gray Tim Holtz KRaft-Core???