Clean the surface of your paper and then stamp your image. Making sure you clean your surface with a Dust buddy is SO important! Your image will stamp much much cleaner!
I stamped my eggs and then fussy cut them out.  Now they have a bit of a soft distress feel to them even though they were in the bright collection! Last but not least I cut some grass out using the Gemstone collection and my Silhouette and here is what I came up with!
Stamps- The Alley Aay stamps
ink- Memento, Hero arts
Spectrum noir markers
Silhouette
Darice embossing folder
 Cuttlebug
Sand it Gadget
Dust Buddy
Hi Everyone! Tracy Gruber here! Hopefully it's starting to feel like spring where you are!  I decided to create my own beautiful flowers out of Core'dinations card stock to get me in the mood for spring and summer.  Start out by cutting the hydrangea from the Walk In My Garden Cricut cartridge at 4 inches.  Next, emboss a piece of White Wash card stock with the Cloudy Sky embossing folder from Darice.  I de-embossed it and sanded it so the clouds stayed white and the sky became blue.  Then, tear two strips of brown card stock to create the "dirt" at the bottom on the card.  Use the Fiskar's grass border punch and Kraft Core card stock to create the grass that is behind the dirt.  Die cut the clouds from white card stock and stamp the sentiment on the medium cloud.  Adhere everything together for a fun card!
Supplies:
-Cricut Walk In My Garden cartridge
-Fiskars Grass Border Punch
-Memory Box Puffy Clouds die
-Lawn Fawn A Birdie Told Me stamp set
-Darice embossing folder
Happy Spring Card:
I love to create 3D flowers with my Core card stock.  After a little sanding, they start to look real!  Die cut the flowers using the Spellbinder's Rose Creations die.  Bend each flower petal and then sand each one with the Sand It Gadget.  I like to attach each flower layer together with a brad, but you could use whatever you want. For the card base, layer together a piece of yellow and dark purple card stock.  Sand the purple card stock to give it a distress look.  Attach a white Core Tag to the card base and stamp the sentiment.  Lastly, attach each flower and the leaves onto the card front.
Supplies:
- Lawn Fawn Jessie's ABC's stamp set
Welcome Card:
The ombre trend is hot right now and I love to use my Core card stock to create ombre backgrounds.  We have been having gorgeous sunsets lately, so I was inspired to create a card with a sunset that looks like it's on fire!  I tore strips of red, orange, and yellow card stock and attached them to a white card base.  I die cut the sky line with a Memory Box die and used Glitter Silk for the buildings windows.  The windows look like they are really lit up because of all of the sparkle from the Glitter Silk card stock!  I used the speech bubble die from Simon Says Stamp and stamped the Paper Smooches sentiment on it.
Supplies:
-Memory Box Cityscape Nightline
-Simon Says Stamp Talk Bubbles 2 die
-Paper Smooches Word Salad stamp set
Hi! Jill from Every Day is an Occasion  here to share a birthday card with you today! I used Core'dinations Gemstones paper, which is one of my favorite paper packs.
Birthday Card using Gemstones Core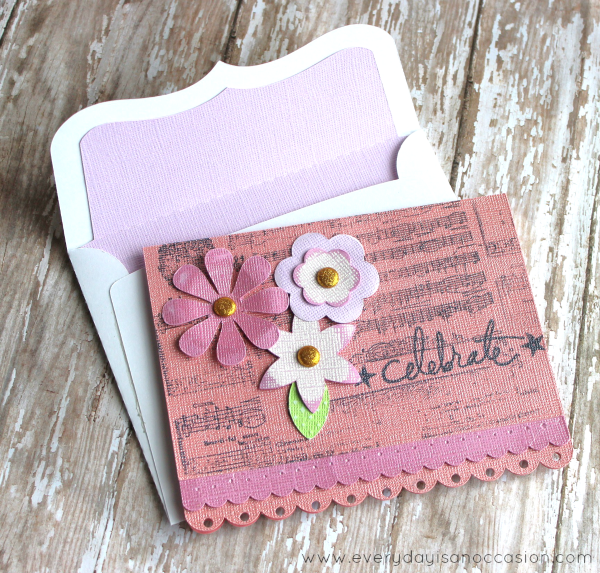 To make this card, I used Gemstones Core, Green 6×6 spotted core, and a little White Wash Core along with this Silhouette Card cut and this Silhouette Envelope Cut. But you don't need a die cutting machine..any cardbase will do!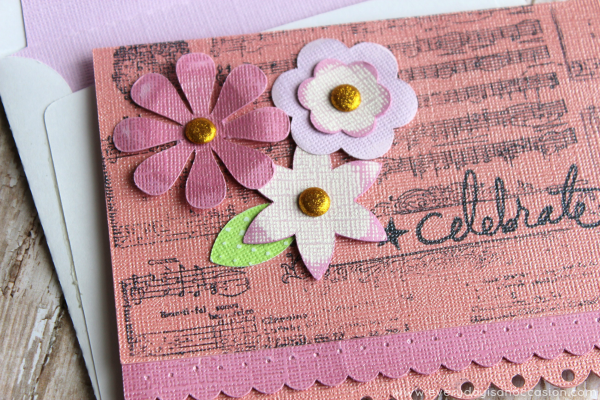 Once I cut out all the shapes I sanded the Core flowers with my Sand-It tool! To add a little fun detail to this card I used my Sew Easy Tool from We R Memory Keepers to create the little tiny holes. I then sanded the holes with my Sand-It tool.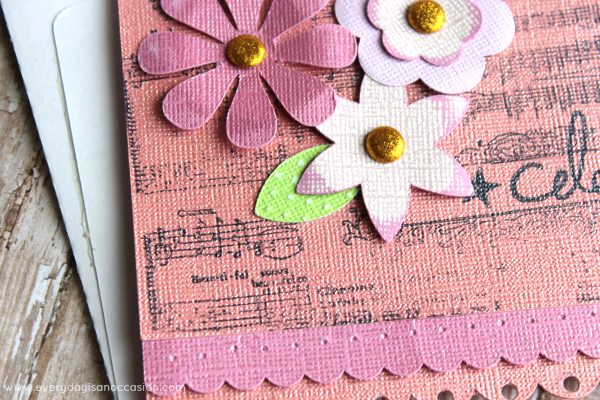 I also used some of Heidi Swapp's new stamps and ink. I stamped directly onto the Gemstones Core. The Gemstones Core just LOVED the ink! I just soaked it right up!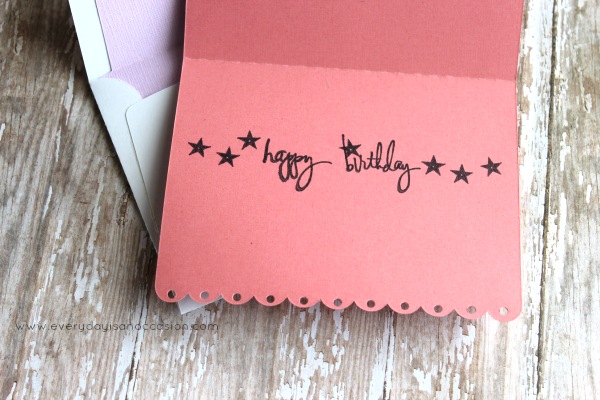 What is your favorite Core'dinations paper pack?
Who's lucky?
Find some complementary colors that will blend well and try out different embossing folders for an interesting textural feel to the card.  A gentle sanding with your Sand it Gadget and a clean wipe with your Dust Buddy will result in some great looking faux washi tape.
Add some embellishments and you have a CAS card ready in your stash for any congratulatory event.
Helmar Adhesive and Sizzix embossing Folders.
~~~~~~~~~~~~~~~~~~~
And Suzanna Lee with a fun card for us,too!
Ah, St. Patrick's Day. It's the one day a year where I can celebrate a holiday that doesn't feel like a huge marketing scheme has overtaken the true meaning of the day.  We get to don our green shirts, eat either green foods (prepared by Mum) or corned beef and cabbage (prepared by Dad) and put a lot of stock in Luck.  And that's where my craft comes in!
Today I have a card that I made for this special day in March and I'm here to share it with you!  It was dead easy using a cut file from the Silhouette store. It originally had a heart as the center shape but I removed that and inserted my own four leafed clover. I used the back side of the Black Magic and flipped it for the heart on the left and cut a kelly green clover for the right hand side! Pop the Black Magic bracket frame and viola!
Loving how the gree "pops" through the Black Magic!
Supplies
Black Magic
Spotted Jillian
Core Essentials – Crab Grass
Core Essentials, Brights
Letter Stickers: Studio Calico
Twine: The Twinery
Cut File (amended to clover by me): Silhouette Store Design #50081
Foam Adhesive: Imaginisce
Silhouette Cameo
I know every day I feel lucky to have Core'dinations as a part of my life and when I saw this layout from Kate Nolan-Denham, I couldnt wait to share!
When we are lucky enough to have a good friend that will stand by us through thick and thin, we should celebrate it!  What better time of year to celebrate how lucky we are than St. Patrick's Day?
My layout today is inspired by the lucky theme of St. Patrick's Day and the colors we associate with this day, too. It is chock-full of glittery greens, golds and blacks found in Core'dinations Gemstone, Glitter Silk, and Core Couture Glitter Collections.  I bet you didn't even realize there were so many fantastic glittery collections by Core'dinations!
I embossed the black Glitter Silk Cardstock and then lightly sanded it just so the embossing would pop.  The die cut doilies are also lightly sanded to show off the core.
The titlework was also cut out of the Glitter Silk Collection.  When using your Silhouette to cut the Glitter Silk, I recommend reversing your image and cutting it Glitter Silk side down.
Core'dinations Supplies:
Other Supplies:
LYB Patterned Paper
Couture Creations Embossing Folder
Maya Road Ribbon
EK Success Punch
CM stickers
Papertrey Ink Die
Lucky Me…Friend Silhouette Cut File
Wishing you much luck today! ~Kate
~~~~~~~~~~~~~~~~~~~~~~~~~~~~
And how about another fabulous layout from Suzanna Lee?!?!?!
How awesome are these cuts Suzanna made with her Silhouette?
And a close up
And a close up of that Darice Shamrock embossing folder!