I love Valentine's Day. It is such a fun reminder of all those around us that we love and that love us! Not only do I enjoy making Valentines to give to others, but I enjoy decorating my home for the holiday as well. Today, I'm sharing this simple and fun "LOVE" Valentine Banner with you.
LOVE Valentine Banner Supplies:
Core'dinations Pop Dot Paper in Pearl Silver with White Polkadots
Baker's Twine
Assorted Ribbons
Hole Punch
Dimension Squares
Paper Trimmer
Scissors
Die Cutting Machine (None Electronic)
Electronic Die Cutting Machine
Step 1. Using the paper trimmer, cut your Silver Pop Dot Paper into 3, 4″ x 12″ strips. Using one strip, place the larger Nesting Book Page die on your paper, and follow instructions for your die cutting machine to cut it out. Cut out 6 of these.
Step 2. Cut a 1 1/2″ x 12″ strip of Amethyst Gemstone paper with your paper trimmer. Use the die cutting machine to cut out 5 of the smaller Nesting Book Page die.
Step 3. Use your hole punch to punch holes in the corners of the cut out banner pieces.
Step 4. Punch holes in the little purple pieces too.
Step 5. With the Electronic Die Cutting Machine, cut out the hearts and LOVE letters.
Step 6. Place dimension squares on the back of the hearts and letters.
Step 7. Mount letters and hearts on the banner pieces.
Step 8. Use the baker's twine to tie the banner pieces together. I used two strands. Alternate the larger silver letter pieces with the purple pieces in between, tying each one. Also, tie twine onto the ends, leaving twine to hang the banner with.
Step 9. Tie some additional ribbon onto the twine for embellishment.
Now you are ready to hang your cute and fun new Valentine banner up in your home. The shimmer on the Gemstone cardstock adds just the perfect amount of bling.
The ribbon adds a fun touch as well.
I love the way the Gemstone cardstock looks on the top of the silver Pop Dot Paper.
Grab your supplies and make a LOVE Valentine Banner for yourself. You will "LOVE" it.
I'm sure you can find the perfect place to display it in your home too.
~Amy
Jennifer Edwardson here with you today with this little Darice paper mâché flower pot that has been calling my name for a while now!  I LOVE the shimmer of the Gemstones cardstock and decided to create this entirely with all the fun colors I could. Plus, this is a GREAT way to use up scraps.
Supplies:
 Gemstones Cardstock: Opal, Moonstone, Tanzanite, Yellow Topaz, Quartz, Amethyst, Peridot, Garnet
Misc flower punches and 1 1/2″ circle punch
Buttons and twine
1.) Start by punching out MANY 1 1/2″ circle of the Opal color and stared overlapping them all over the base of the pot using Mod Podge. I cut several in half for the rim as well.
2.) Put a styrofoam ball inside and covered it with kraft cut paper pieces that you can make on your own or buy at a local craft store.
3.) Punch multiple flowers using several colors and create flower picks using cut down wooden skewers.
4.) Add buttons tied with twine and your flower pot is complete.
Sanding is key when using Core'dinations ColorCore Cardstock! Sanding isn't just about letting the ColorCore show, it is about showing off the ColorCore to add dimension and design.
The not-so-obvious areas I sanded were the arrows and waves.  Sanding these elements helped give a 3-D effect without adding height.
 After sanding your Core'dinations ColorCore Cardstock, don't forget to dust with your Dust Buddy!  It really does clean up the dust and keep the colors true.
Hi! Jill from Every Day is an Occasion  here to share some Clean and Simple Spring Cards with you. These cards are so beautiful and yet so simple!!
Clean and Simple Spring Cards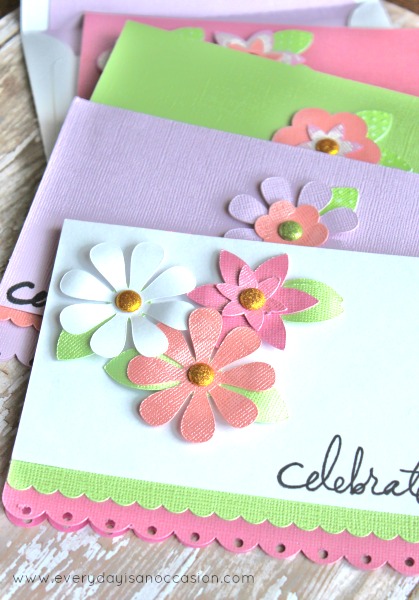 To make these cards, I used this Silhouette Cut. Then I used all different colors from the Gemstones Pack, Green Spotted Core, Whitewash Core, and the 110 lb White Core. The best way I have found to make a bunch of cards is to use the cut on several different colors but only one color at a time and then mix and match the colors.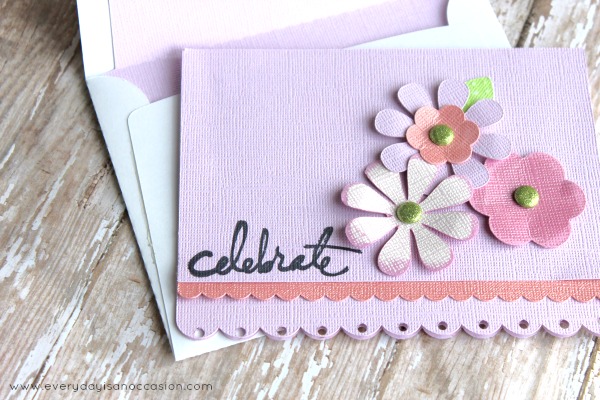 I just love sanding the tips of the Whitewash Core. The color shows through so vividly.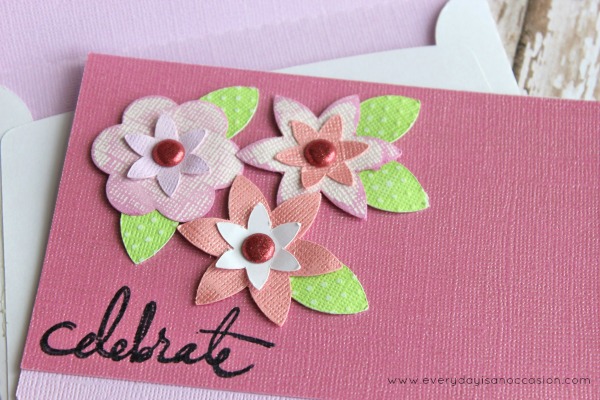 I used the Green Spotted Core for the leaves. It is really fun to sand and really gives the card that pop.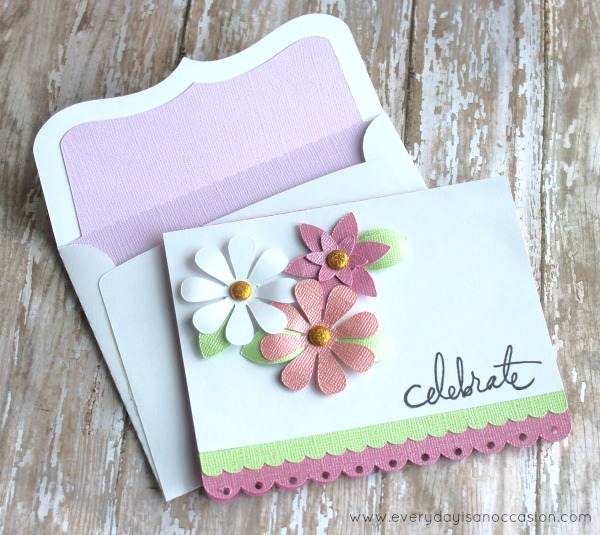 I made envelopes and liners with each card. I used a Pastels, 110 lb White Core, and this Silhouette Cut to make envelopes and liners.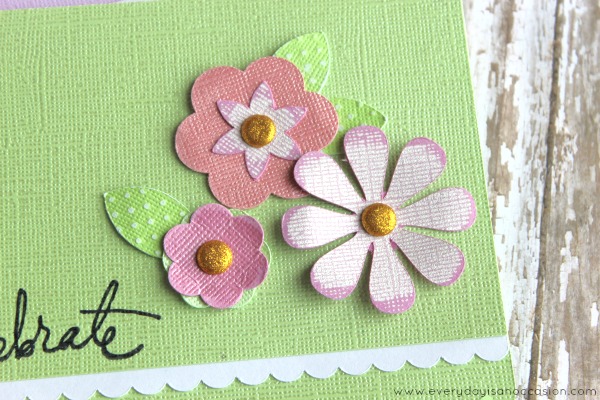 Thanks so much for stopping by and checking out my Clean and Simple Spring Cards!
Viva Decor – Pearl Pen
~~~~~~~~~~~~~~~~~~~
A great way to add interest to your projects is to cut an image from the same color cardstock as your layout or card base.  It is visually interesting and, in some instances, even looks like faux embossing! Plus…I am a sucker for fur baby layouts!
~~~~~~~~~~~~~~~~~~~~~~~~~
Hi there, Core'dinations friends! Vivian Keh here to share a layout of one of our furry babies, Jujubee. This past Christmas Eve, sadly, we lost her to cancer so I wanted to honor her in a layout.
Here are a few close ups of the details:
I die-cut these pretty birds using Core'dinations Core Essentials in Burgundy, sanding the edges for an elegant, subtle effect. For a bit of dimension, I propped the birds' wings up on a small pop dot.
The pretty flourishes were crafted the same way, creating nice movement without being distracting.
To soften the horizontal lines of the composition, I added some Sizzix die-cut branches in a softer hue, "Concerto," and paper punched some dainty blossoms in "Snowflake."
This butterfly in the softest tint, "Rose Embroidery," was dry embossed and sanded to further the natural theme of this layout.
I hope you enjoyed my project today. Thanks so much for visiting with me here on the Core blog. Looking forward to next time!
SUPPLIES:
Core'dinations – Core Essentials in Burgundy, Concerto, Rose Embroidery, and Snowflake, Sand-It Gadget, Dust Buddy
Sizzix – Dies and Embossing Folders
Fiskars – Small Floral Punch
My Mind's Eye – Patterned Paper
Prima – Self-adhesive Gems
Clean the surface of your paper and then stamp your image. Making sure you clean your surface with a Dust buddy is SO important! Your image will stamp much much cleaner!
I stamped my eggs and then fussy cut them out.  Now they have a bit of a soft distress feel to them even though they were in the bright collection! Last but not least I cut some grass out using the Gemstone collection and my Silhouette and here is what I came up with!
Stamps- The Alley Aay stamps
ink- Memento, Hero arts
Spectrum noir markers
Silhouette
Darice embossing folder
 Cuttlebug
Sand it Gadget
Dust Buddy