First up we want to wish everyone a very SAFE and HAPP New Year!  We could not have had such a successful year without YOU! OUr HARD CORE CRAFTERS! 
~~~~~~~~~~~~~~~~~~~~~~~~
I don't know about you but a lot of team has been getting hit with snow in their respective states so why not share a little bit of that Snow Day love today?!
I hope this post finds you warm and cozy! Suzanna here from Life's Trivialities  to share with you a winter layout created with left over scraps of Coredinations cardstock. Gather colors in the hues of a pleasing snowy palate, emboss a few and lay them out as you would a cozy warm quilt. In order to tie the paper into the theme of the layout, chose snow filled embossing folders. Fill in some holes with David Tutera tags and zig zag with your sewing machine (or use a pen for faux stitching). The layers of the layout in some places are as numerous as the layers you will need to be out in that winter wonderland. Voila! The base of your layout, it's that easy!
oooohhhh! aaaahhh! Core Tags!
Gorgeous detail:
This is a great way to use multiple embossing techniques and different cardstocks!
Supplies
Spotted Jillian; Aqueduct http://www.coredinations.com/index.php/products/spotted/spotted-12×12/
Glitter Silk 6×6; Glitter Girl http://www.coredinations.com/index.php/products/glitter-silk/
Gemstones Collection http://www.coredinations.com/index.php/products/specialty-collections/gemstones-collection/
Core Impressions; Fancy Pants Collection: Refreshed http://www.coredinations.com/index.php/products/core-impressions/fancy-pants-collection/
Core Tags; Smooth Tag; Gift Tag White http://www.coredinations.com/index.php/products/core-tags/
David Tuterra Tags
Embossing Folders: Darice, Stampin Up
Bling: Prima
Die: Memory Box, Avery Elle
Stamps: Avery Elle, Stampin Up
Ribbong: Tim Holtz
Paper Clip: Prima
Alpha Letters: American Crafts
~~~~~~~~~~~~~~~~~~~~~~~~~~~~~~~~~~~~~~~~~~~~~~~`
Happy Snow Day Core Fans!  
Kate
here, sharing a simple snow layout with you using lots of Core'dinations Spotted Tillie Dot cardstock.
I did lots of sanding with the Sand It Gadget in this layout to make it pop.
I cut the snowflakes out of Core'dinations Snowflake using my Silhoutte, painted the die cut with some glue and added some fine glitter.
Core'dinations Supplies:
12 x 12 Core Essentials Neutrals
Other Supplies:
Fiskars Crimper
American Crafts Thickers
Helmar Adhesives
Every month we challenge our designers with something fun and this month it was all about monochromatic color schemes.
Did you get the August newsletter?  Well if you did then you got a FREE downloadable PDF from Designer Mary Pat Siehl featuring a quick "how to" on how to create EASY monochromatic looks with just embossing!  Core makes scrapbooking easy, don't you think? By being a Hard Core Crafter you are automatically signed up for our newsletter.
Our Design Team also did some for us today as well. As you can tell our team likes blue
First up Kate Nolan-Deham…Kate used a banner to really enhance her monochromatic color scheme. And how sweet is her Glitter Silk dress form that she embellished!
And look at all this texture from Designer Gail Linder??!?! LOVE how she chose to use some yellow…a color I think a lot of scrappers struggle with:
A super simple card from Designer Ava Gavloski…monochromatic doesn't need to be complicated….
 and one last card from Designer Heather Kaesgan…LOVE how she mixed in some Gemstones for her monochromatic look for that bit of shimmer….
Clare Buswell used our Core Amour Cardstock to create a unique monochromatic look:
And Tracy Gruber always creates the CUTEST cards….hippo-ray, LOL! So cuuuuute! And monochromatic doesn't need to be the exact same color. Tracy used different hues of purple for hers and added some Gemstones as well.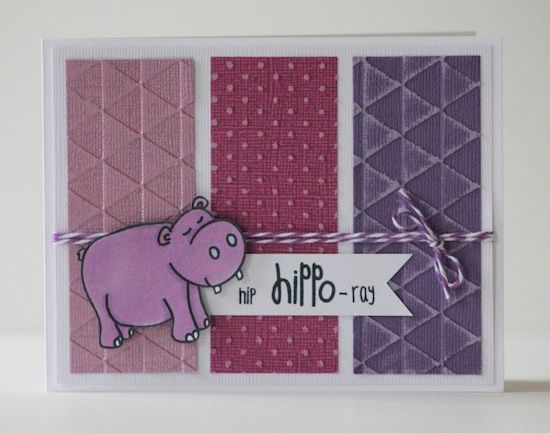 And how about a Pink Monochromatic layout from Designer Ava Gavloski? Look at all that gorgeous detail!  Using the BasicGrey Core Impressions for her base and then just adding fabulous bits and pieces in pink and white….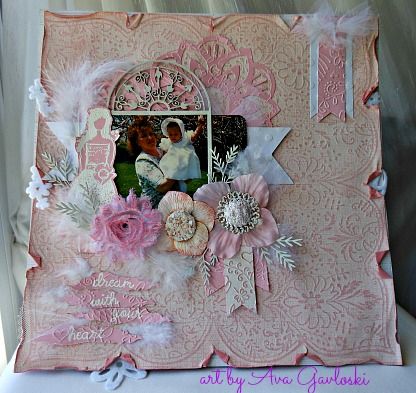 Wow, this week is just flying by, isn't it?
First up we have important giveaway information. We are sponsoring DAY THREE of  Scrapbook & Cards today's 12 Days of giveaways. You have until NOON Dec 22nd 2012 to post on their blog HERE to win ONE EACH of our 6×6 collection packs!
If you were here earlier then you know we are having a super fun week with SCOR PAL. Do you have one of these?  Well, if you are a paper craft you better. AND if you love Core, then  you BETTER! Scoring, then sanding with Core'dinations ColorCore Cardstock is the only way to go.
Scoring raises the cardstock so you can sand it and release that inner Core. It's gorgeous AND both design teams are going to show you easy and fabulous ways the Scor Pal products and Core'dinations can add interested to your papercrafting projects.
Did you know we have a Scoring Video?   Check out our Technique videos for some awesome ideas on what you can do with Core, including the scoring video.
PLEASE make sure you check out the Scor Pal blog for some INCREDIBLE designs this week (I think there might be a prize over there
). They SIMPLY rock. You know we always have something up our sleeve for you when we do these fun blog events so keep commenting for a chance to win some great Core'dinations Cardstock!
Today we have some gorgeous designs from Designer Shaunte Wadley. She created this beautiful flower on the card just by using some simple scoring. The flower is a Lifestyle Crafts die so you could really do this with any flower.
See how Shaunte scores from the back?  That is important so the raised line is on the front of the cardstock. Especially when you are sanding.
And a close-up of it on the card. Keep in mind sanding the Gemstones will take off the shine so you may not want to sand it.
AND Shaunte  created her frame on this card by scoring and using the VERY FUN Scor Bug Embosser!!! It makes these fun dots that look so great sanded.
AND she scored the woodgrain on the branch using some Vintage Cardstock. So you can see all the really amazing details you can get on your projects just by scoring and sanding. The base of the card is Whitewash.
And another card for you from Shaunte using Core Essentials and loads of scoring.
Bling is from Queen & Co and Ribbon is from May Arts.
Welcome to our Second Day of our week with Stampendous! We couldn't be more excited than to share gorgeous projects with you featuring Core'dinations and Stamendous products all week long!
We love Stampendous and their products so make sure you do a few things for us while you are here this week.
1.) Like them on Facebook. AND  2.)  Follow them on Pinterest. Oh and if you tweat, 3.) Follow them on Twitter here.
And we have a blog hop for you, too!
Here is a list to hop along…make sure you do as we are giving away prizes ALL WEEK LONG for those that are commenting and having fun. There are chances to win every day on one of these blogs from BOTH companies!
Sorry about the technical difficulties with Lydia Jackson's blog yesterday. That was my fault SO we are letting you comment on her blog again today for a chance to win to make up for it…hope that works!!!
And for inspiration here today, we have a project from Design team Member Melissa Oliveira. You MUST check out the details on this layout. I know we were going for a bit of a fall theme here this week but Melissa just couldn't stop and had to pull out her favorite Stampendous stamp, the Stampendous Jumbo Magnolia cling stamp.
Here is a little bit about this layout from Melissa: To create the pieced flower, I stamped the flower image three times; twice on a lightly sanded piece of whitewash and once on a piece of core'dinating Gemstones Cardstock. One of the Whitewash stamped images was embossed using an embossing folder, and the other was trimmed and used as the base for the flower embellishment. Petals were cut from the embossed and Gemstone stamped flowers and layered over the matching petals on the base flower. I added some Queen&Co. pearls to the center of the layered flower for added interest and texture. Leaves were stamped onto a piece of BasicGrey Core impressions and layered beneath the completed flower.
How about that for some stamping?!  Gorgeous. Gorgeous!
And a close up…
See you tomorrow!
Here on the Core blog this week!
We have  a special treat from Core Teacher Vicki Boutin for you today!
What a way to to show off all the amazing colors and textures of Core'dinations cardstock. Our color families core'dinate in each line so you can mix and match them easily.
Here is a little bit about this layout from Vicki:
"We love St Patrick's Day around here.  Not for the traditional reasons as much as the fact that it is my son Riley's birthday!!!  We wear the green, get the Shamrock shakes from McDonalds and enjoy celebrating a "green" birthday.  So when I received a box of new Core'dinations I knew I wanted to put something together for a St Paddy's Day layout.
Hope you get into the St Patrick's Day fun and make something special to commemorate the day!"
We have some Winners!
First up our random blog winner from commenting last week is….
I love that birthday card! I have the IRock tool…need to get some more gems!!
And from Facebook our random winner is:
Today was great just like the other days. The hop was great and feeled with a whole lot of inspiration. Thanks so much.
Please email ellen_sosnoski@coredinations.com with your name, address, phone number (if international) with Imaginisce Winner in the subject header. We ship contest prizes twice a month so please expect a minimum of  two weeks for your prize to arrive.
If you missed our blog week last week, got to play with the i-Rock!
And to celebrate St Patrick's Day this week, Design Team Andrea Amu created this gorgeous altered frame using lots of Core'dinations Vintage Cardstock, Gemstones and Core Essentials Cardstocks!  Doesn't the i-Rock make the perfect accents? Oh and a touch of May Arts Ribbon.
Please note all cuts on this project were done with the Circut.