Goooood Tuesday Morning!
We are are here bringing you some Core'dinations and Glue Arts projects again today and all week long!

Make sure you head over to the Glue Arts blog for some awesome projects from their Design Team. They are also introducing a new product, Glue Glider Pro PLUS and they are doing 10 days of give-a-ways over there!!! And they have a GrEaT Facebook page, too, make sure you head over there as well for daily inspiration.
And, YES, we are giving away ANOTHER pack of Core for one lucky winner that posts here on the blog this week!!!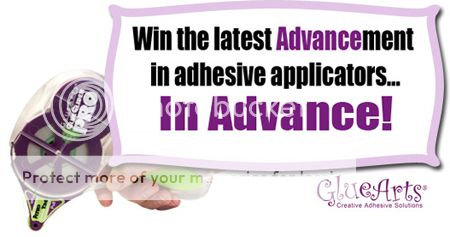 Today we have a tutorial for you from Design Team Member Shaunte Wadley using Core'dinations Vintage Cardstock, Whitewash, Glitter Silk and Core Essentials.
Sometimes those brads look ugly on cards when you open them up and look inside, don't you think?  Well Shaunte worked around that with this solution.
First, snip off the back of the brad like this:
Then adhered it to the Glitter Silk Crown using Glue Arts Square Adhesives. You definitely need an adhesive that is going to stick with this large brad!
Next you need some of these! U Cut It foam 3D adhesives. Our team is going gaga over these! You can trim them to any size you want! Small, Medium…Large..whatever you need.
Cut some down to the appropriate size and adhere it to the back of the crown:
And here is a some close-up of what your final project will look like:
And now for some MORE winners!
Our September Color Challenge Winner is Megan A
And our World Cardmaking Day Winner is Homemade Cards by Erin
Please email ellen_sosnoski@coredinations.com with your address (phone numbers if you are international) so we can get your prizes out as soon as possible.
Don't you think?
We sure do here at Core! Have you seen our tried our Glitter Silk paper yet? If you haven't, you must!
It is smooth as silk and cuts beautifully…and the best part is that it doesn't shed glitter all of your scrapbook room and yourself. There have been plenty of times I have walked around the house or even the grocery store with glitter on my face and didn't even know it! This won't happen with this versatile cardstock.
Here is a card from Ellen Sosnoski that shows off how beautifully it cuts and looks great with our other cardstock lines like Core Essentials. Remember for tips on scoring click here for our videos.
And p.s…..don't forget to check out our June Challenge!!!
All you need to do is journal and show us a fun Hard Core technique and you can get up to TWO chances to win!!
Check out details here.
And a close up of  the die cut flowers from Lifestyle Crafts:
The sentiment is from MyStamp Box and embossed with clear embossing powder and the flowers are layered with Helmar Zapdots.
AND we have more
YOU know how much we LOVE color 'round here so if you like this color combination here it is for you: