Today is Thanksgiving in Canada and we want to wish all of you an amazing day!
We are so thankful here at Core'dinations for so many reasons.
We had such an awesome week last week with Glue Arts!
Between the Glue ARts blog and the wonderful projects here at the Core blog you had to come away with some inspiration. You must have GREAT cardstock AND awesome adhesive for your crafting projects. If you  missed last week, don't worry. Go to our main site, www.coredinations.com and then click on "Scrapbook Projects" and then you will see "2,4,6,8 Core'dinate". There you will see all of our preferred partners, including Glue Arts, and the projects that we have created.
Today  our Design Team Member Char Dobson created this layout in celebration of Canadian Thanksgiving using Core'dinations and, of course… GLUE ARTS. We just couldn't stop! Char also used some Jenni Bowlin Core Impressions and Black Magic.
There are so many great details on this layout and so many things to be thankful for.
AND NOW FOR OUR GLUE ARTS WINNER!
Maggy Tronche (@MaggyTronche) says:
October 7, 2011 at 2:30 pm (Edit)
Beautiful layouts, love them!!! TFS girls! You are so talented and creatives!! Hugs.. Maggy 
Maggie..email ellen_sosnoski@coredinations.com with your address information for your prize!
Goooood Saturday Morning!
We are are here bringing you some Core'dinations and Glue Arts projects again today and this is IT! So leave so make sure you leave comments for your chance to win win win!

Make sure you head over to the Glue Arts blog for some awesome projects from their Design Team. They are also introducing a new product, Glue Glider Pro PLUS and they are doing 10 days of give-a-ways over there!!! And they have a GrEaT Facebook page, too, make sure you head over there as well for daily inspiration.
And, YES, we are giving away ANOTHER pack of Core for one lucky winner that posts here on the blog this week!!!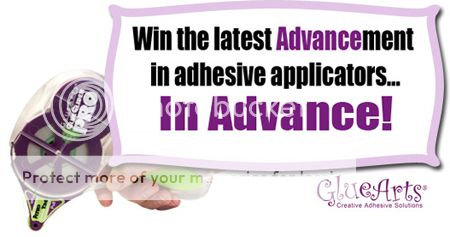 Today we have a Thanksgiving Day wreath from Designer Ellen Sosnoski.
There are only a few easy steps for this easy project. First,  wrap burlap (from MME) around a wooden base. I am using an old "O"  that I bought to alter for my son's room. The intention was for us to do it together but he didn't find it as exciting as I did so we are using it for a Fall Wreath today with some Tim Holtz Kraft-Core and Sizzix dies.
You may need to play with it a bit to make sure the end is on the back. Use your Glue Arts Square Adhesives to attach. They worked perfectly!
I used about the Adhesive Squares to attached the leaves…
I just love this piece of Kraft-Core. It is so soft and subtle and it just looked perfect on the spool. Again, use an adhesive Glue Square here….
And a close up of the leaves. They were embossed, then spritzed with some Tattered Angels Glimmer Mists and then sanded. To get them to stand up, I used the 3D UCut it squares.
We cannot wait to see what you create with Core'dinations Color Core Cardstock and Glue Arts!
Thank you Thank you for  a fantastic week. Please make sure you stop over at Glue Arts and give them a big shout out.
Come back Monday for some Canadian Thanksgiving ideas and some winners!