Before we get started today we have some dates for you that you need to put on your calendars! We are having our THIRD  online crop in less than a month so make sure you save the dates! We have SO MUCH fun..we have tons of challenges all weekend long and then you have an entire WEEK to create.
So if you have been with us this week then you have been seeing loads of Xyron and Core ALL week long. And do not forget to head over to the Xyron blog for MORE inspiration AND a giveaway over there, too. AND we have a giveaway for our Facebook Fans, too! CLICK HERE to enter to win.
We love our mega runners and today that is what we are working here on the Core blog!
And don't forget to comment all week long for a chance to win this:
AND this!
~~~~~~~~~~~~~~~~~~~~~~~~~~~~~~~~~~~
Hi! I'm Jill from Every Day is an Occasion here to share a project I made using the Xyron mega runner and Core'dinations Fancy Pants Core Impressions and pink Vintage cardstock. I also used some Authentique patterned paper. My daughter turned two recently and so we got her two year old pictures taken. I just adored this one and had to create a mini album page layout.
Mini Album Two Year Old Layout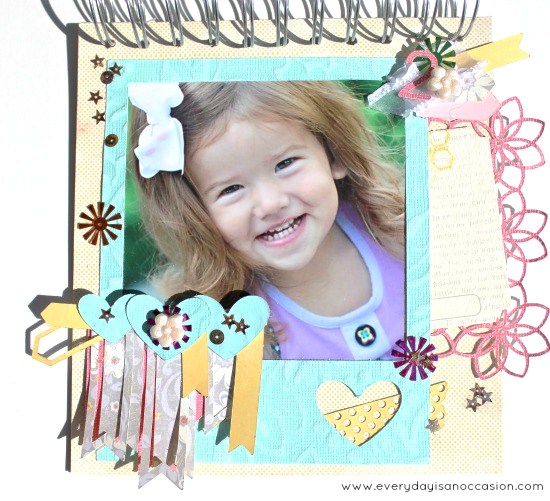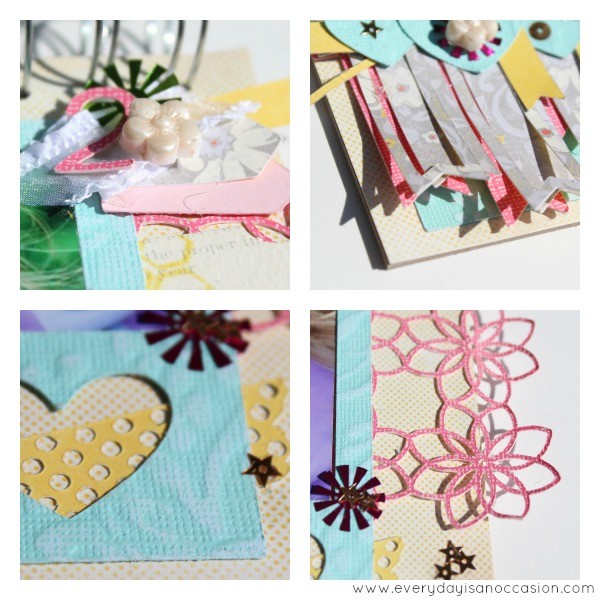 As mentioned before, I used the Xyron Mega tape runner. Even though it is called a "mega" tape runner it isn't so mega that it is obtrusive to your crafting. Actually, I love the size of the mega tape runner. I also love the refill system, so simple and quick! Thank you Xyron!!!
In this layout I used the Fancy Pants Core impression paper for the photo frame, and then I sanded it. The pick accents are the Core'dinations Vintage Collection. I cut out the accents using my Silhouette Cameo.
Materials:
Fancy Pants Core Impressions, Vintage Core'dinations, Authentique Patterned paper, Vintage sequins from stash (the were my great grandmother's), flower, Xyron mega tape runner, Sand it Gadget and Dust Buddy.
~~~~~~~~~~~~~~~~~~~~~~~~~~~~~~~~~~~~
And next up Designer Ava Gavloski with an amazing project for us today, too!
Party Favors have truly taken center stage at parties and has given the cake a nudge. So, today, I would like the two too share the spot light together.
Lets start with quality Xyron Adhesive and the best cardstock on the market…Coredinations! 
You need some GREAT adhesive for this. Have you ever made a project like this and then the next day it's all popped apart?  Not with Xyron. This beauty is still going strong!
Now, look at how lovely the Couture Creations Embossing folder showcases the Core'dinations inner colored cardstock.
Adding some Graphic 45 papers to the top of the cake was a delight. To complete the bridal presentation I made a card and decorated a candle holder to match the festive occasion.
Supplies:
Core'dinations:
"Sugar and Spice" from Pastels Collection
"Old Paper" from Tim Holtz & Ranger Distress Collection
Sand-It Gadget
Dust Buddy
Xyron:
Mega runner tape adhesive
1.5 Create a Sticker
Glue Stick for corners
May Arts Ribbon
Want2Scrap-pearls
Couture Creations – Embossing Folder: Smooch, from Fresh & Fun Collection,
Graphic 45- Once a upon a springtime pattern paper
Marvy Uchida – Floral Paper Punch
Marvy Uchida-Poppy punch
Imaginisce-Glam Rocks
~~~~~~~~~~~~~~~~~~~~~~~~~~~~~~~~~~
And a layout from Designer Kim Moreno!
Here's how Kim created this layout:
 I used my ScorPal again to create the border around the edge of my layout and then sanded it slightly. I then sanded and cut out the ledger cardstock and adhered it to the center of the black cardstock. I matted my photo with the red cardstock and tore it along the bottom to reveal the colored core of the red cardstock. I cut out the clocks and sanded each of them to reveal the kraft core.  Then layered my photos and embellishments to finish my layout.
Supplies:
Stickers: Jillibean Soup (yellow "joy")
Letter Sticker: American Crafts (yellow), Doodlebug (black glitter)
Embellishments: Simple Stories
Flag Pins: Maya Road
Tool: ScorPal
We are here with Helmar this week and couldn't be more excited!  We have partnered with them previously and it has been great so we hope you enjoy yourself this week and stick around 😉 Sit back with your cup of coffee and be ready to be inspired.
Also, make sure you say "hi" from us over on the Helmar Facebook page AND they have some awesome boards over on Pinterest, too!  And…you know how it goes here… post all week long for a chance to WIN some FAB Core'dinations goodies all for yourself. Comment every day for more chances to win!!! And, of course…check in over at the Helmar Blog for more inspiration.
Today we have some gorgeous designs from Design Team Member Debbie Standard. For this first layout, Debbie adds pops of colors against the black Graphic 45 Core Impressions. And you need great adhesive to adhere that May Arts ribbon down, don't you?  Well grab that Helmar Quickfix adhesive tape runner ..it's the perfect size for ribbon! And the 450 Helmar Quick Dry adhesive works really well for those little bits like the green flowers Debbie cut using her Spellbinders dies. You can dab some of the Quick dry on and you are good to go..and fast! No drying time needed 😉
I know Halloween was last week but we just had to share this fun layout with you using some of the  newly released Tim Holtz Kraft Core Seasonal Impressions. These are so fun!!!!!!!  Pre-embossed sheets for all your favorite Holidays. Seriously..did I say how fun these are? It's like magic when you start sanding and all the color starts to come through.
Remember to use that Dust Buddy after you sand so that adhesive sticks better.
How much do you love Core Tags?!  We sure do! Each tag comes with a beautiful, sturdy metal grommet and that awesome Core that you know and love!  Char used some of the tags from the Darks collection.  The core'dination perfectly with our Core Essentials Darks collection. Add some May Arts Ribbon and Graphic45 Core Impressions and you have a fabulous layout!
Design Team Member Char Dobson worked that title with some Black Magic Cardstock and her Cricut. LOVE it!
DON'T FORGET….ONLY 25 MORE HOURS TO GET THOSE CARD DESIGN TEAM APPS IN!!!!
Today we have some layouts for you from Design Team Member Debbie Standard.
Check out the color matching Petaloo flowers Debbie used on this layout in addition to some Spellbinders Dies, Graphic 45 Core Impressions and all that sanding!
And Next up Debbie has another layout for us today. Seriously…what goes better with clouds than our fabulous Whitewash Cardstock?!?!??!
GOOD Morning! Friday here…and our last day of Authentique.
If you haven't seen their new Carefree Collection you are missing out! It is goooorgeous AND it looks FAB with Core!
AND…DID YOU SEE OUR FACEBOOK PAGE RECENTLY????? We hit the 6k+ mark and we Thank you, Thank YOU so much for getting us there! We gave away a bunch of cardstock this week to celebrate!  I wasn't kidding when I said we would give some good stuff away! Stay close to our FB page so that when you have more chances to win. Sometimes we just do random giveaways over there!
Now lets get to the good stuff! We couldn't be more excited than to do it this week with our friends over at Authentique and today is the last day!  All good things must come to an end, I guess.
So how can you STILL win this week:
1.) Comment on our blog all week long. So if you comment every day than it's up to FIVE chances to win. We choose a random winner and post it the following Monday.
2.) Head over to the Authentique blog for chances to win, too! If  you comment over on their blog, you can win some Authentique, too!!!!! Here is a link to their Facebook page, too. While you are over there make sure you tell them we said "HI"!
Who is read for some more amazing projects from our team?
First up we have a layout from Debbie Standard using some gorgeous embellishments and circles on this layout to showcase the Authentique Carefree collection and the embossing. Debbie embossed her own Core Essentials with a Tim Holtz Sizzix folder (bricks) and she used a piece of pre embossed Core Impressions from Graphic45 to anchor her layout as well (damask). OH…and don't forget the Petaloo Flowers that match our Cardstock perfectly with the Color Matching Series where Petaloo flowers are died to match our cardstock perfectly!
And Andrea Amu made a gorgeous altered candle box using our Spotted Collection and load of gorgeous Authentique goodies.  Then, she topped it off with some beautiful May Arts ribbon.
Happy Wednesday!
We are here with a super fun week with Authentique. If you have been here before for our blog swap weeks, you know the drill. Comment ALL WEEK LONG for a chance to win some Core'dinations! If you post every day, that is five chances to WIN!
AND…DID YOU SEE OUR FACEBOOK PAGE RECENTLY????? We have 5936 5946 5988 Likes. How cool is that?  We are less than 70 60 15 away from 6K and we want to make that happen this week. SO PLEASE help us get there!  Shout it from the roof tops, tell you friends…SHARE  this Core & Authentique badge with your friends. 6k or Bust!
We couldn't be more excited than to do it this week with our friends over at Authentique?!?!?!
We have a some Tim Holtz Kraft Core up for grabs. Who wants some????  If we get to 6k this week will give some away and it COULD BE YOU! Just help us on Facebook ..it's that easy!
So how can you win this week:
1.) Comment on our blog all week long.
2.) Help us get to 6k of Facebook by sharing with your friends, shouting from the rooftops how much you LOVE Core and Authentique, doing a dance…just kidding  with that last part but we would still love to see it 😉
3.) Head over to the Authentique blog for chances to win, too! If  you comment over on their blog, you can win some Authentique, too!!!!! Here is a link to their Facebook page, too. While you are on Facebook helping us get to 6000 likes, stop by and say "HI!"
YES! Even the Whitewash looks awesome with the Authentique Carefree Collection!!! Love how Kim Jeffress paired it with the Authentique Carefree  elements.
and a close up…loving that black splatter against the Whitewash! Don't be afraid to get out that Sand It Gadget and really sand that Whitewash to get that color core to come through like Kim did here.
And Melissa Oliveira…the stitching is perfection…and the touch of May Arts ribbon and the Posie Cardstock from Jenni Bowlin is so sweet with this layout!
And Lydia Jackson uses the touch of Graphic45 Core Impressions along with top of this layout…
Check out the awesome details…Lydia used her Tim Holtz Sizzix embossing folder on this layout and then inked over top of it for a really fabulous distressed feel. The sanded parts of the Core really pick up the inking.  Lydia also used her Spellbinder's Label Die and printed her journaling directly on it. LOVE the tone on tone…fabulous!  OOOH and some May Arts Ribbon 🙂