Hello, everyone!! Jill from Every Day is an Occasion back to share another project with you! Today, I have what I like to call "FairyWare"….a lot like "silverware", but for fairies. My son and daughter love Disney's fairy movies, so that is where this inspiration came from.  This idea is perfect for ANY kind of party…birthday…holidays and more!
FAIRYWARE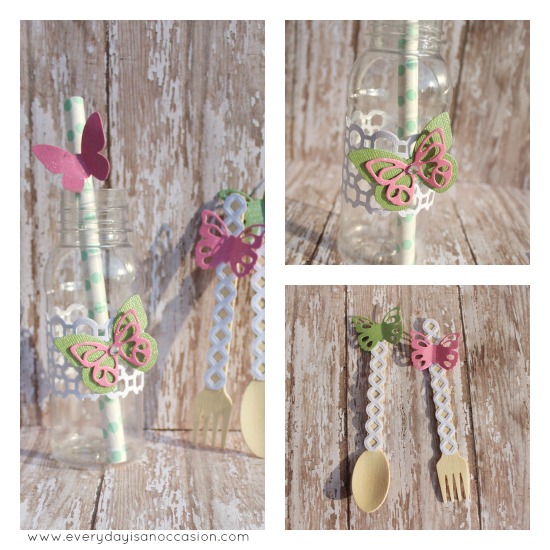 This is simple simple simple. All I did was take wooden silverware and decorate it with David Tutera's beautiful collections, the butterflies and borders pack. It is as simple as hot gluing them onto the silverware. Then I took a plastic bottle my kids had left over from their milk, took the wrapper off, washed it out and adhered David Tutera's butterflies and white lattice background. This set, unfortunately for my kids, had to be shipped off to HSN, but we will surely be making some more "fairyware" soon! Have a crafty day! 
Next up I have a Clean And Simple card to share with you. This card was created using David Tutera's line which is made from Coredinations Cardstock, just in case you didn't know. I love all different styles of card making, but with two small kids, lately I have been sticking with CAS. I think it is important to Thank people with a handwritten note. Today it is so easy to send a text message or email thanking someone, which I do, but my favorite is a handmade card.
Keep in mind this can be applied to invitations…Christmas cards..you name it!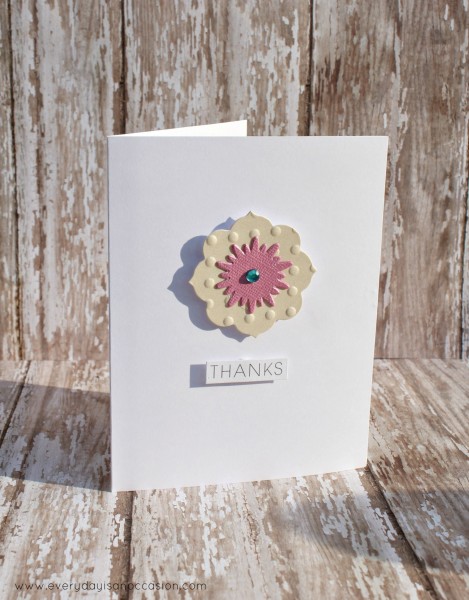 Sometimes I feel so rushed to make cards or I'll make one and the person doesn't seem to appreciate it the way I thought they would and then I feel like I wasted 2 hours of my life making a card they really don't care about. This card solves both of those problems. David's line is quick and simple. He has it laid out for you. Basically, you supply the adhesive and it takes 5 minutes  to make the card. I used David's white card base, flower pack and sentiments. All found here on his page exclusive ot our website.  Quick. Simple. Fabulous! Have a crafty day!