~~~~~~~~~~~~~~~~~~~~~~~~~~~~~~~~~~~~~~~~~~~~~~
Hello! Jill from Every Day is an Occasion here to share a double sided magnetic board with you today. I love making these magnetic boards because they are super fun to hold pictures I print from Instagram.
Double Sided Magnetic Board
This summer I was fortunate enough to go to CHA and while I was there a must-do on my list was meet Heidi Swapp. To showcase my  holiday photos this season I made a magnetic board. It's super easy and quite festive.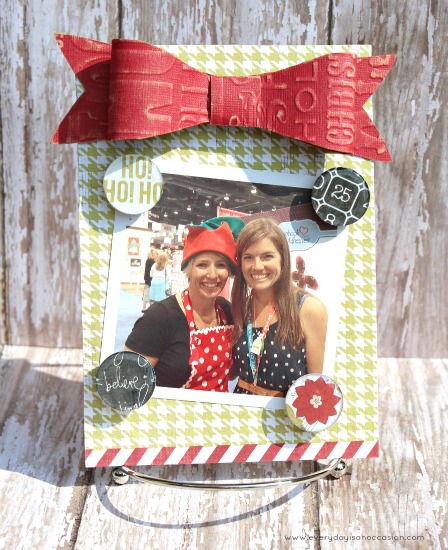 To create this magnetic board I used Heidi's Believe 12×12 paper pack and Core'dinations Tim Holtz Seasonal Impressions.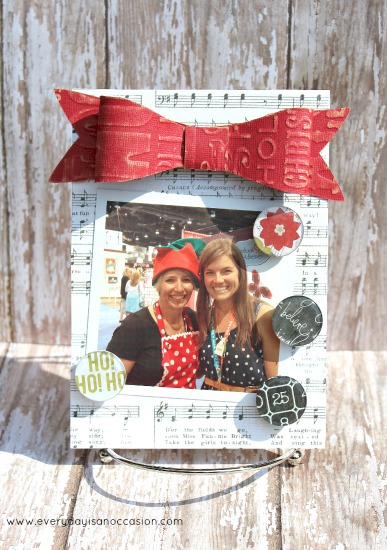 The 4 small magnets are made using Heidi Swapp's 12 x12 Believe paper pack and the Epiphany Crafts 25 Round tool. The bow is actually a magnet , too! You can get little magnets at your local craft store and you can get full sheets, too, so you can cut them any size you want. The bow is  Core's Tim Holtz Seasonal Impressions paper and cut  from my Silhouette. EASY!
Just cover the magnets with patterned paper after you cut them with the Epiphany Crafts round tool so they will "stick" to the back. This way you can change photos or even make a Christmas countdown. So many possibilities with this easy project.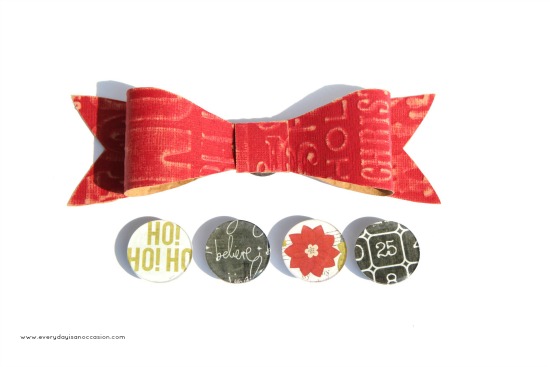 Metal Roof Flashing
Metal Stand
 Xyron Mega Tape Runner
Magnets
Silhouette Bow
~~~~~~~~~~~~~~~~~~~~~~~~~~~~~~~
Next up Gail Linder…I am so making this, too!
We have been hanging out with Heidi Swapp all week and let me tell you how inspired I am! Wow…their team is incredible. I love the attention to detail and the inspiration. Did you see Maridette's interactive layout yesterday? I mean WOW! Definitely on my to do list to try.
On Wednesday's Heidi takes over their blog so make sure you head over there today for some great ideas. I love her videos on the My Craft Channel. Today our team is working some more Mixed Company and some Believe Heidi Swapp projects.
First up Tracy Gruber!
I loved pairing the colors in the Heidi Swapp Mixed Company collection with the different Core'dinations cardstocks!  This confetti paper is so fun and really reminds me of the texture of Core'dinations with the dots so why not pair it with the  turquoise  cardstock from the Spotted Tillie Dot and the light pink from the Pastels paper pad?  Simply sand over both of them with your Sand It Gadget…it's that easy!  I also cut 1 inch circles, embossed them with an embossing folder, and sanded them to create what looks like a scalloped border using the Navy from the Darks Collection pad.  I cut down the patterned paper to 11.5 x 11.5 inches and matted the whole thing with a piece of gray Core'dinations from the Neutrals paper pad. I like how this makes the Mixed Company patterned paper really "pop".  To create the embellishments, I used my Spellbinder's circles to cut the patterns from a piece the Mixed Company Good Life paper They look like premade embellishments!
And a close up…
Tracy does such a great job on this card by mixing and matching the stripes and dots and adding some of the fun Heidi Swapp Chipboard stickers. They are the perfect accent for any card or layout. Just put them on my wish list 😉
I thought it would be fun to create a card using the extra supplies from my layout!  I used the same turquoise Spotted Tillie Dot and some patterned paper from the Mixed Company Collection.  I added some stickers and crinkle ribbon to complete my card!
-Spellbinder's Standard Circle Small
-Heidi Swapp Stickers
-Crinkle Ribbon
-Tombow 3D Foam Tabs
~~~~~~~~~~~~~~~~~~~~~~~~~~~~~~
And guess what we have in store for you tomorrow and Friday? The gorgeous Heidi Swapp Believe Collection!
Here is a little  sneak of this collection from Clare Buswell…don't go far, you will want to see more of this Holiday collection this week. Loving how Clare used the Jingle All the Way 12×12 sheet for her sentiment on this card. Who doesn't love some chalkboard and this sheet makes it EASY! No stamping…no mess…just some scissors.
Make card from cardstock. Emboss Tim Holtz & Ranger Distress Collection cardstock, sand with Sand-It gadget and wipe with Dust Buddy. Ink edges with Distress Ink and adhere to card front. Add lace, ribbon and ric rac. Layer sentiment panel onto patterned paper, ink edges and machine stitch border, adhere to card with foam pads. Attach holly, string and bells embellishments.
And what amazing detail with the bells and holly!
Supplies:
Other: Foam pads, Distress Inks – Antique Linen and Vintage Photo, sewing machine, red velvet ribbon, crochet lace, gold bells, holly embellishment, paper string, gold ric rac, Mistletoe embossing folder Embossalicious, Big Shot.
AND DON'T MISS OUT!!!
Yep! We are at it again with Heidi Swapp this week! But before we get started just wanted to let you know that winners will be posted tomorrow. We have last week Xyron winners and our WCMD winner.
REMEMBER! You can still enter to win by participating in our challenge til NOON today! Details here:
And don't forget to SAVE THE DATE! We are cropping again!
Some important links this week –> Heidi Swapp blog for TONS if inspiration AND Heidi Swapp Facebook page, too! I heard a rumour there are some giveaways going over there in addition so some amazing inspiration. If you have ever seen their design team's projects….I mean INCREDIBLE!
Let's get started with some Heidi Swapp Mixed Company projects with Suzanna Lee:
I wanted to match my Coredinations cardstock to the wonderful colors that Heidi used in this line and compliment the dots and circular textures used in the patterned papers. Though subtle, the top dotted punched border is made using some of Core's spotted line to compliment the confetti of the background. Check out those letters!! My favorite part of this layout. First, cut out your title (I used Bebas font with my Silhouette). Then rub Distress stain on your embossing folder, place your letters in the folder and run it through your die cutting system. I do recommend waiting for the letters to dry and bit before removing them from the embossing folder so as not to "stretch" them.
and some close ups…some embossed Core!
So cool how cool those embossed letters are?!
Supplies:
Coredinations Aegean
Coredinations Spotted Jillian Aqueduct
Coredinations Fuschia Fizz
Core Impressions Basic Grey
Sand It Gadget
Dust Buddy
Patterned Paper – Heidi Swapp Mixed Company
Embossing Folder – Cuttlebug
Ink – Martha Stewart
Tim Holtz Distress Stain
Letter stickers – October Afternoon
Die – Spellbinders
Thread – Guttermans
Date Stamp – American Crafts
Font – Bebas
Silhouette Cameo
~~~~~~~~~~~~~~~~~~~~~~~~~~~~~~~~~
And next up Debbie Standard working that Heidi Swapp Mixed Company and Core'dinations Fancy Pants Core Impressions. It's amazing how these color just work perfectly together!  Debbie used her Spellbinder's dies to really work that patterned paper and Core'dinations and make her own unqiue embellishments. Then, she hand cut some of the gorgeous flowers found in the Mixed Media line. Don't be afraid to mix and matc the flowers and graphic prints found in this gorgeous line for unique, one of a kind scrapbooking layouts and projects.
And it wouldn't be a week like this without a giveaway!  Heidi Swapp is giving away some goodies on their FACEBOOK page so head over there to win and we are giving away some of our Spotted Cardstock on our blog HERE!
Sorry I am a little late today, the flu bug has hit our home and today hasn't been so much fun. Thank goodness it's today and not next week when our kids go back to school.
So what is on the agenda for today?  First we have a giveaway!!! Does that word ever get old? LOL! May Arts, our absolutely go to ribbon around here, is celebrating so check out how to win HERE!
Next up we have Designer Kim Moreno with a  ffew gorgeous gorgeous gorgeous layouts!
To create the hearts in the background of my layout I placed a chipboard heart behind my cardstock and slightly sanded over the top making sure to get the edges well so the heart would show clearly (the outlining technique).
I the layered the pre-embossed Spotted purple cardstock and the cuttlebug embossed grey paper to create my layout. I added white spotted cardstock and instead of inking the raised dots I simply rubbed them along the black cardstock and it picked up the "leftover" dust and colored the white spotted cardstock nicely. 
I then added my stickers and embellishments to complete my layout!
Supplies:
Cardstock: Core'dinations (Spotted- Forge me not, BlackMagic- protect, Core Essentials- Argos, Snowflake)
Chipboard: Heidi Swapp (arrows), American Crafts (letters), Magistical Memories (heart used to sand)
Stickers: Jillibean Soup
Flowers: Creative Charms
Jewels: Queen & Co
Washi Tape: K&Co (black dot), scroll (unknown)
Cuttlebug machine and embossing folders.
~~~~~~~~~~~~~~~~~~~~~~
Summer Lovin' layout using loads and loads of Imaginisce goodies!
And a close up:
Using my scorpal I embossed the lines around the edge of my layout to frame the whole layout I then sanded the lines and the edge of my paper rather roughly tearing some of the edges to reveal the color core of the cardstock. I backed my photo in patterened paper and vintage cardstock tearing along the bottom to reveal the core. I also traced on the back of the vintage yellow cardstock and tore the pieces of the sunshine out and sanded the edges slightly to create the sunshine piece.
Supplies:
Cardstock: Core'dinations (Autumn & Lemonade- Vintage Collection), (Nassau Blue, Snowflake, & Sutter Butter- Core Essentials collection)
Patterned paper/ sticker/ die cuts: Imaginisce
Adhesive: Zapdots by Helmar
Tool: ScorPal