Make sure you stop by the Imaginisce blog…they have some awesome ideas and are really working the Core'dinations! And our blog post here for the give-a-way!
Seriously, we are not quite sure that this Live Loud collection could be more fun!
We have another layout from Kim Moreno…how cool are those layered guitars? And the sanded circles from the Cosmo Cricket Core Impression line is a perfect contrast to the lines and shapes of the Live Loud line from Imaginisce.
And Ellen Sosnoski embossed, sanded, tore and printed on her Core Essential cardstock on this layout:
AND the Live Loud line is not just for boys…check out this fun layout from Hera Frei…how clever is that title? Plus, that vertical photo is just awesome. Oh and did you look close? Hera did some faux stitching along the corners of her Core Essentials Cardstock, too.
This post wouldn't be complete without a cool card from the Live Loud collection. Notice the green showing through on the edges of this card? Sarah Hodgkinson used the Black Magic Cardstock on this cardstock.

Okay…we lied about being done….one more card from Kimber McGray using some Cosmo Cricket Core Impressions and Black Magic cardstock:

Who doesn't love flowers? Today we are featuring some layouts with the Lucy Bird line . Our Design Team just loved all the flowers from the Lucy Bird Collection from Imaginisce…it just goes perfectly with Core'dinations.
Don't forget to check out the Imaginisce Blog for some FAB inspiration!!! And comment here to win over 200 pieces of Core!
Kim Moreno paired the Jenni Bowlin Core Impression Butterfly cardstock with some Lucy Bird on this layout:
And sanding doesn't have to be intense…check out this subtle sanding by Melissa Oliveira on the edge of the layout. And she randomly embossed the scallops around the circle, too!
Heather Bowser mixed and matched Cosmo Cricket Core Impressions with some Core Essentionals cardstock on this sweet layout:
And one more from Debbie Standard. She used her Spellbinder's dies on this layout and topped them with all sorts of Lucy Bird flowers and Gemstone Cardstock as her base:
Thank you so much for all of your comments so far! Make sure you keep posting and check out the give-a-way we are doing here this week.   We have loads more to show you including some layouts today featuring Core'dinations and Imaginisce.
Today is all about lines.  You don't need a fancy embossing machine to emboss with Core'dinations.  For these layouts, all you need is a ruler and a stylus but a Scor It would work fabulously, too.
For this layout, Lydia mimicked the lines from the Live Loud line:
And Ellen scored vertical lines on her page with the Live Loud line, as well:
And Cari framed her layout with a double embossed line:
Don't forget to check out the Imaginisce blog, too!
than a whole week of Core'dinations AND Imaginisce???  We are blog swapping with the Design Team over on the Imaginisce blog for the whole week! AND we are giving away some goodies, too! Make sure you comment on this post to win over 200 sheets of Core'dinations plus the 2 collections, Lucy Bird and Live Loud, from Imaginisce!!! You can comment all week long to win. We will announce the winner on Monday, May 31st.
First up we have some gorgeous cards from our Design Team that feature the totally fun Sticker Puffs.
For this card Melissa embossed and sanded her Core'dinations Cardstock in the background and she accented the sticker by adhering it to some cardstock and then trimming  around it. Doesn't it just pop of the card?
Next up is a card from Sarah. The details on this adorable card are amazing! Core'dinations is perfect for paper piecing and Sarah set off her stickers with some paper tearing and Scooter's Vacation ribbon in addition to the puffy sticker.
And for Linda's card, she layered the chipboard and stickers from the Lucy Bird collection with some simple and elegant stitching and sanding.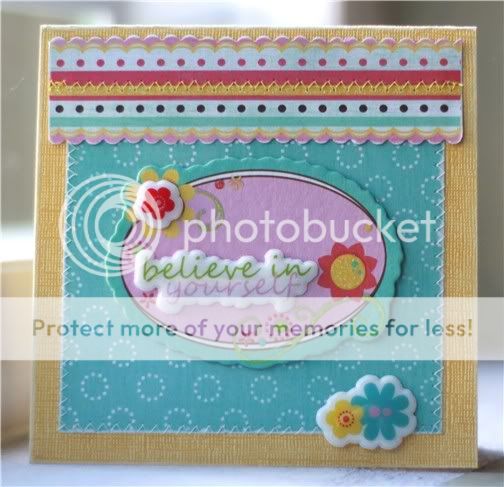 Make sure you check back all week long for posts everyday!!!