Getting ready for the end of the school year means thanking those who have spent the year inspiring our little ones to learn.  Today Kate Nolan Denham is sharing a gift bag and card made with a variety Core'dinations Cardstock.
I decorated a simple kraft gift bag from Darice by creating a base designed to look similar to a chalk board.  The same base design was used for the thank you card.
The giant cardstock pencils on both the bag and card were scored, sanded and bent to give it the 3-D effect of a real pencil.
Other Supplies:
Darice Kraft Gift Bag
Scor Pal
Well, if you hang out over at our Facebook page we were mulling over the idea of not one BUT TWO prizes for our sketch challenge. We are so happ you guys had fun with it and looks  like we will have another one soon!  Nothing makes us happier then seeing Core in action. All that sanding just makes me  HAPPY!
So…who wants some winners?????
The winner of Pastels Collection pack is….Jenny from Jen's Scraptography!!!
And we have to other winners, too!  Please note:  once winners will email us, we will contact you with your prize. Not sure what we have in stock right now for prizes
There was just too much sanding and tearing and FUN we just couldn't choose one so we have two other random winners for you:
Jackie Schachter and Debbie Marcinkiewicz
Winners email ellen_sosnoski@coredinations.com  with "Sketch Challenge Winner" in the subject line. Email your name address and phone number. Please allow 6-8 weeks shipping and handling.
`~~~~~~~~~~~~~~~~~~~~~~~~~~~~~~~~~~~~~~~~
Now, inspiration please??? I mean what else is inspiring you right now besides snow?
I did lots of sanding with the Sand It Gadget in this layout to make it pop.
I cut the snowflakes out of Core'dinations Snowflake using my Silhoutte, painted the die cut with some glue and added some fine glitter.
Core'dinations Supplies:
12 x 12 Core Essentials Neutrals
Other Supplies:
Fiskars Crimper
American Crafts Thickers
Silhoutte "Snowflake Lace" cut
Helmar & Xyron Adhesives
~~~~~~~~~~~~~~~~~~~~~~~~~~~~~~~~~~~~~~~~~~~~~
And next up two layouts from Debbie Standard:
I have always loved the Jenni Bowlin collection. The reds, blacks and browns are always so striking. And there are so many wonderful collections in Core'dination's products that it's easy to mix and match to get just the look you want. For this I started with some Jenni Bowlin with the dots, added a piece of the JB with the words on it. Then I used some of the Tim Holtz Distress 2 X 12 pieces and embossed and sanded them. I added a few other color scraps and then sanded and cut around the My Mind's Eye Core mini label. Then I punched out some snowflakes with a Martha Stewart punch, attached them and then added the Queen & Co and the Kaser Goosebumps. The kids having so much are my grandkids, who had an unexpected snow day and a great family play day.
Supply List:
Jenni Bowlin Red and Black Impressions
Tim Holtz Distress 2 X 12
My Mind's Eye Core Impressions minis- Lost & Found Labels Collection
Glitter Silk White 6 X 6
Sand it Gadget
Dust Buddy
Cuttlebug Embossing Machine
Cuttle Bug Folder, Darice Folder
American Crafts Letters,
Martha Stewart Punch
Queen & Co. Goosebumps
Kaser Crafts Glittler Buttons
Tim Holtz is always a winner in my book. For this page I used papers from his Shattered collection. I started with the red sheet and left it as is. Then I took a sheet of black and embossed it with a snow flake embossing folder and sanded it. Then I choose a piece of the yellow and embossed it with a folder of winter sayings. Then I added the strips of grey and white. I used my Silhouette to make the snowflakes out of the Glitter Silk White paper and added some of the Queen & Co. Pom poms. I used some random My Mind's Eye buttons as well. This is my little great-nephew, Cason, who is finally old enough to get out and enjoy the snow.
Supply List:
Tim Holtz Shattered
Glitter Silk White – 6 X 6
Cuttlebug Embossing Folder
Cuttlebug Embossing Machine
My Mind's Eye tags and buttons
Letters: American Crafts
Queen & Co. Pompoms
Jillibean Soup letter stickers
Sand It Gadget
Dust Buddy
Silhouette Die cuts – snowflakes
Today we have some inspiration for Valentine's Day for you from Ava Gavloski. I hope you love red, pink and black because you came to the right place!
~~~~~~~~~~~~~~~~~~~
Hello Ava here …Happy Valentines Day!  The heart is wonderful place for all things kind and good.
Here is a card that I designed showcasing Core'dinations Vintage collection and Scarlett from the Darks collection.
You can see that embossing and sanding the Scarlett red cardstock matches the Vintage cardstock well.  That is one nice feature of Core'dinations cardstock, so many of the collections co-ordinate with each other to design a wonderful presentation.
Add some embellishments like Darice washi tape, rhinestones, pins and ribbon and your have a luscious full bodied presentation of a vintage valentine card.  Visit your nearest LSS and pick up some Core'dinations Cardstock for that special card.
Core'dinations:
Vintage Collection
Scarlette Dark Collection
Sand it Set
Darice Washi Tape/Folder
Other:
Helmar Premium Adhesive
Want2Scrap
May Arts Ribbon
Sizzix Die
Maya Road Stick Pins
Gina K Designs Stamps
Clearsnap Stephine Barnard Dye Ink, Raspberry
~~~~~~~~~~~~~~~~~~~~~~~~~~~`
I would like to share a Wedding Layout with you to celebrate February the month of Sweetheart Valentines.
I choose the Core Amour Whitewash cardstock to showcase how quickly pre-embossed collections from Core'dinations can have a layout completed with a great textured presentation.
The layout is embellished with some doilies, tulle and sequins.
Core'dinations Supplies:
Amore Whitewash Cardstock
Other Supplies
Tulle, feathers, sequences
Gina K Stamps has a cute set of stamps which celebrates Valentine's Day and I thought this  vintage phone complements the vintage feel of the Core'dinations Vintage collection.
I stamped the image using WOW embossing powder to gloss up the image to support the quality of the vintage Core'dinations cardstock.  The pre-embossed vintage Core'dinations cardstock makes this card full with dimension after sanding to reveal the inner colored core.
Embellish your card with rhinestones, sequences and Mary Arts Ribbon.
All week long we are playing with Authentique papers! How awesome is that?
We have been busy this October for sure but before we get started a few things.  First up..winners from last week will be posted HERE torrow so please check back to see if you won. AND, next up, SAVE the date! In a few weeks we will be cropping ALL WEE LONG! Rules will be posted on October 28th so check back then for more details but challenges will be posted that first week in November.
Now on to this weeks festivities. First up we have Shaunte Wadley working some Pride layouts. I don't know about you but I JUST got my summer photos printed so I am going to be reaching for this paper pack for sure.  I just love how Shaunte works the 12×12 sticker sheet here with all the little bits you can make with them.  She creates her own little embellies al over the page with the tags and banners.  Layouts are easy with Core'dinations  and Authentique!
And when you are done here make sure you head over to the Authentique blog for inspiration and a giveaway, too!
Twine by David Tutera Celebrate
And nothing goes better with 4th of July projects than Tim Holtz Core Seasonal Impressions!  Again, Shaunte used the cardstock stickers for fun little elements all over the page
~~~~~~~~~~~~~~~~~~~~~~~~~~~~~~~~~~
~~~~~~~~~~~~~~~~~~~~~~~~~~~~~~~~~~
We are giving some away so comment here to win!
Before we get started today we have some dates for you that you need to put on your calendars! We are having our THIRD  online crop in less than a month so make sure you save the dates! We have SO MUCH fun..we have tons of challenges all weekend long and then you have an entire WEEK to create.
So if you have been with us this week then you have been seeing loads of Xyron and Core ALL week long. And do not forget to head over to the Xyron blog for MORE inspiration AND a giveaway over there, too. AND we have a giveaway for our Facebook Fans, too! CLICK HERE to enter to win.
We love our mega runners and today that is what we are working here on the Core blog!
~~~~~~~~~~~~~~~~~~~~~~~~~~~~~~~~~~~
Hi! I'm Jill from Every Day is an Occasion here to share a project I made using the Xyron mega runner and Core'dinations Fancy Pants Core Impressions and pink Vintage cardstock. I also used some Authentique patterned paper. My daughter turned two recently and so we got her two year old pictures taken. I just adored this one and had to create a mini album page layout.
Mini Album Two Year Old Layout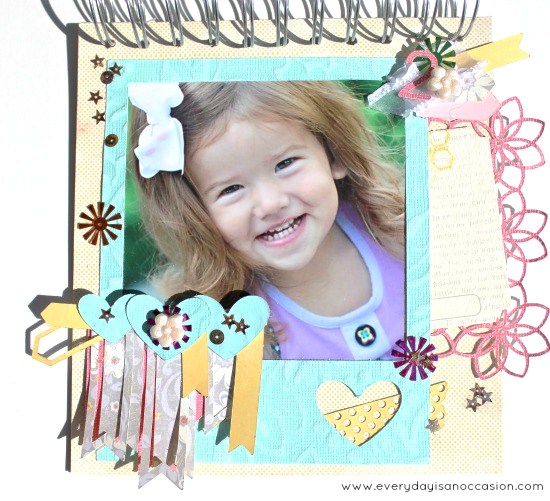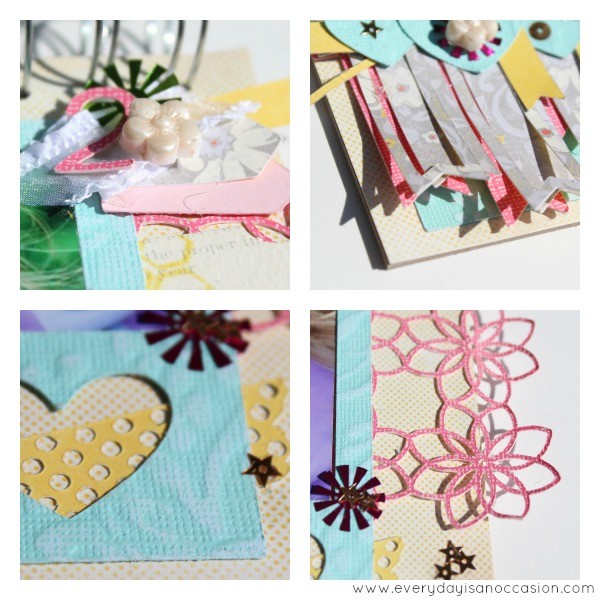 As mentioned before, I used the Xyron Mega tape runner. Even though it is called a "mega" tape runner it isn't so mega that it is obtrusive to your crafting. Actually, I love the size of the mega tape runner. I also love the refill system, so simple and quick! Thank you Xyron!!!
In this layout I used the Fancy Pants Core impression paper for the photo frame, and then I sanded it. The pick accents are the Core'dinations Vintage Collection. I cut out the accents using my Silhouette Cameo.
Materials:
Fancy Pants Core Impressions, Vintage Core'dinations, Authentique Patterned paper, Vintage sequins from stash (the were my great grandmother's), flower, Xyron mega tape runner, Sand it Gadget and Dust Buddy.
~~~~~~~~~~~~~~~~~~~~~~~~~~~~~~~~~~~~
And next up Designer Ava Gavloski with an amazing project for us today, too!
Party Favors have truly taken center stage at parties and has given the cake a nudge. So, today, I would like the two too share the spot light together.
Lets start with quality Xyron Adhesive and the best cardstock on the market…Coredinations! 
You need some GREAT adhesive for this. Have you ever made a project like this and then the next day it's all popped apart?  Not with Xyron. This beauty is still going strong!
Now, look at how lovely the Couture Creations Embossing folder showcases the Core'dinations inner colored cardstock.
Adding some Graphic 45 papers to the top of the cake was a delight. To complete the bridal presentation I made a card and decorated a candle holder to match the festive occasion.
Supplies:
Core'dinations:
"Sugar and Spice" from Pastels Collection
"Old Paper" from Tim Holtz & Ranger Distress Collection
Sand-It Gadget
Dust Buddy
Xyron:
Mega runner tape adhesive
1.5 Create a Sticker
Glue Stick for corners
May Arts Ribbon
Want2Scrap-pearls
Couture Creations – Embossing Folder: Smooch, from Fresh & Fun Collection,
Graphic 45- Once a upon a springtime pattern paper
Marvy Uchida – Floral Paper Punch
Marvy Uchida-Poppy punch
Imaginisce-Glam Rocks
~~~~~~~~~~~~~~~~~~~~~~~~~~~~~~~~~~
And a layout from Designer Kim Moreno!
Here's how Kim created this layout:
 I used my ScorPal again to create the border around the edge of my layout and then sanded it slightly. I then sanded and cut out the ledger cardstock and adhered it to the center of the black cardstock. I matted my photo with the red cardstock and tore it along the bottom to reveal the colored core of the red cardstock. I cut out the clocks and sanded each of them to reveal the kraft core.  Then layered my photos and embellishments to finish my layout.
Supplies:
Stickers: Jillibean Soup (yellow "joy")
Letter Sticker: American Crafts (yellow), Doodlebug (black glitter)
Embellishments: Simple Stories
Flag Pins: Maya Road
Tool: ScorPal
We have a random winner!
Thank you so much for a GREAT week! We hope you enjoyed yourselves and got loads of inspo for your Core and Tombow to use in the future. You can't do much without quality adhesive, right?  RIGHT!
So, again, we THANK YOU THANK YOU THANK YOU for your continued support of Core'dinations Cardstock. We love our Hard Core Crafters!!!!
So we pick our winners randomly by blog and then by comments. The random blog was Clare Buswell's and the winner is…..
marylouh August 12, 2013 at 4:35 PM
Very pretty card. Love the textures and embellishments.
MaryLou email ellen_sosnoski@core'dinations.com with your full name, address and phone number with Tombow Winner in the subject line.
~~~~~~~~~~~~~~~~~~~~~~~~~~
And how about another card from Design Team Member Heather Kaesgan? A super cute card using some Marvy Uchida punches and Glitter Silk, Core Couture, Core Essentials and a Darice embossing folder for the buttons. What a great mix don you think? Love how the ribbon that she created with the punches pops off the top a bit. Oh of cours..Tombow adhesive!