Here on the Core blog this week!
We have  a special treat from Core Teacher Vicki Boutin for you today!
What a way to to show off all the amazing colors and textures of Core'dinations cardstock. Our color families core'dinate in each line so you can mix and match them easily.
Here is a little bit about this layout from Vicki:
"We love St Patrick's Day around here.  Not for the traditional reasons as much as the fact that it is my son Riley's birthday!!!  We wear the green, get the Shamrock shakes from McDonalds and enjoy celebrating a "green" birthday.  So when I received a box of new Core'dinations I knew I wanted to put something together for a St Paddy's Day layout.
Hope you get into the St Patrick's Day fun and make something special to commemorate the day!"
How much did you LOVE yesterday's project from Design Team Member Kim Jeffress?
REMEMBER…you can post on our blog here all week long for a chance to win. We will put all of the comments in random. org and pick one random winner from ALL the  blog posts ….  the more you comment the more you can WIN WIN WIN! AND we will pick one lucky winner from our Facebook page, too!
AND…yes there is more! Imaginisce is giving away goodies on their blog, too! Of course there is loads inspiration over on their blog as well. PLEASE head over to their Facebook page as well. If you don't like them, well you should! And if you already do…awesome! Tell them we said HI! Cannot wait to see how they work some Core!
Today we have layouts galore for you from our ever inspiring Design Team!
We got to play with the i-Rock.
First up is Design Team Member Melissa Oliviera using some red Glam Rocks and Core Essentials and Jenni Bowlin Core Impressions:
And a close up of some of that great detail:
And Design Team Member Debbie Standard created this gorgeous layout with some BasicGrey Core Impressions:
And Debbie gave us some close up to check out those Glam Rocks! See how she put them in the little embossed circles? Brilliant!
AND………… Design Team Member April Derrick! How much do you love the Rain drops on this layout with the sweetest photo you have ever seeeeeeen! Looks beautiful with some Vintage Cardstock.
See you tomorrow!
Just a reminder …Don't forget about our Core Colour Challenge!
Only nine days left to get those entries in and a Core pack of cardstock is up for grabs!!! More details here.
Today we have some fun layouts from Design Team Member Melissa Oliveira.
Melissa works the 8.5×11″! check out the tone on tone embossed hears!!!! LOVE!!!
Here is a little bit about this layout from Melissa, "the embossed hearts were cut from the left over strip from trimming the background to a 8 1/2 x 11 size. I just embossed, sanded, and popped them up with foam tape for a little added dimension. I sanded then inked the Jenni Bowlin butterfly Core Impressions that is behind the title work. I really like the way the sanded areas take to the ranger distress inks."
And speaking of love…..
How sweet is this?  That chevron Pink Paislee Core Impressions is too perfect! SO many great details, don't you think? Melissa used her BasicGrey embossing folders for the hearts.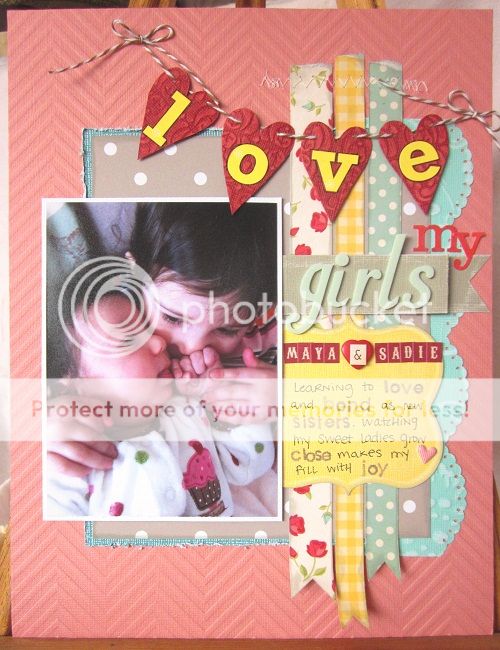 We have all made invitations for parties before. But the question is…what do you do with them once the party is over?
A few months ago we shared this super cute invitation from Design Team Member Lydia Jackson for her son's birthday party.
Well…here is the layout that Lydia created using one of those  invites! What a great way to preserve that special memory and invitation that she created  for her little man, don't you think?  She used primary colors  just like the spaceship and accented them throughout the page with the Jenni Bowlin Core Impressions and the Tillie Spotted cardstock and some Core Essentials of course!
Yes…it is that time of year!
Ready for some Valentine's Day cards? Cards have never been easier with Core'dinations ColorCore Cardstock.
Before we get started, don't forget to sign up for our NEW Hard Core Crafter program! Details are here.
You will get access to tons of giveaways….EXCLUSIVE videos….and it is FREE!!!!
Design Team Member Debbie Standard created some gorgeous cards for us today focusing on black and red anchored with a neutral base. Just love how it pops off the page!
No one does red and black like Jenni Bowlin! Debbie used the Jenni Bowlin Core Impressions Red and Black on this card with some other fabulous embellies.
Debbie embossed some Black Magic for this card and painted the Maya Road hearts in red to match.  Don't forget that May Arts ribbon!!!!!!!!!!!!