We have a random winner!
Thank you so much for a GREAT week! We hope you enjoyed yourselves and got loads of inspo for your Core and Tombow to use in the future. You can't do much without quality adhesive, right?  RIGHT!
So, again, we THANK YOU THANK YOU THANK YOU for your continued support of Core'dinations Cardstock. We love our Hard Core Crafters!!!!
So we pick our winners randomly by blog and then by comments. The random blog was Clare Buswell's and the winner is…..
marylouh August 12, 2013 at 4:35 PM
Very pretty card. Love the textures and embellishments.
MaryLou email ellen_sosnoski@core'dinations.com with your full name, address and phone number with Tombow Winner in the subject line.
~~~~~~~~~~~~~~~~~~~~~~~~~~
And how about another card from Design Team Member Heather Kaesgan? A super cute card using some Marvy Uchida punches and Glitter Silk, Core Couture, Core Essentials and a Darice embossing folder for the buttons. What a great mix don you think? Love how the ribbon that she created with the punches pops off the top a bit. Oh of cours..Tombow adhesive!
I know that Canada Day isn't for a few days but we wanted  to share a project with you to create just in time for that special day!
Design Team Member Char Dobson created this gorgeous project for you today with her daughter for our series Kids Krafts & Core.
Project: Canada Day Mini-Album
Techniques: sanding, paper tearing,  stamping
Don't be afraid to use found objects in your house. Char actually used a wooden maple leaf that had in her house. They traced it using a stylus!
Making a mini album about your country is a great way for children to learn first hand about their country.
Trust us!!!
Paper tearing is a super simple way for kids to really explore texture AND it's FUN!
Have your kids journal directly on the Core Cardstock like Char's daughter did here!
And a cute stamped image on the back!
Just a reminder …Don't forget about our Core Colour Challenge!
Only nine days left to get those entries in and a Core pack of cardstock is up for grabs!!! More details here.
Today we have some fun layouts from Design Team Member Melissa Oliveira.
Melissa works the 8.5×11″! check out the tone on tone embossed hears!!!! LOVE!!!
Here is a little bit about this layout from Melissa, "the embossed hearts were cut from the left over strip from trimming the background to a 8 1/2 x 11 size. I just embossed, sanded, and popped them up with foam tape for a little added dimension. I sanded then inked the Jenni Bowlin butterfly Core Impressions that is behind the title work. I really like the way the sanded areas take to the ranger distress inks."
And speaking of love…..
How sweet is this?  That chevron Pink Paislee Core Impressions is too perfect! SO many great details, don't you think? Melissa used her BasicGrey embossing folders for the hearts.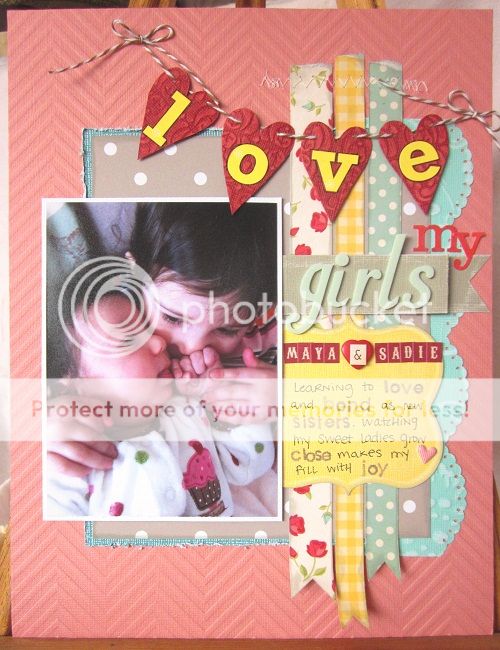 We have a few more shots of our booth in CHA. Are you tired of them yet?  Tomorrow we have projects in store for you so no worries! We didn't forget about them. We still scrapbook around here
We got some request for some more Core Impressions shots and Tim Holtz, oh and the Glitter Wall (Stay tuned for that a bit later this wee) AND the Teresa Collins and Jenni Bowlin Core Amour lines!
Core Impressions Wall. I think this gentleman in the blue is drooling a little:
The other side of the Core Impression Wall with the new Jenni Bowlin and My Mind's Eye!
Some of the cool projects featuring Core Impression from the Design Team:
And last but not least….
THE gorgeous Teresa Collins and Jenni Bowlin Core Amour Lines. WOWZAS! These are gorgeous. Gorgeous! You are going to love these amazing colors…blues and pinks from Teresa Collins and reds and golden browns from Jenni Bowlin. You won't want to miss these. Make sure you ask your favorite scrappy store to stock these collections!

The sun is out, then it rains for two days, then more sun, neighbors are mowing lawns, waking up to birds chirping, little girls with crocheted hats and kids with strawberries…that is what Spring is all about. And, lucky for you, we are celebrating Spring on our blog right now
Look at this cutie in Melissa's layout:
Check out this Detail!
And nothing reminds me of Spring more than Strawberries. Check out this fun layout from Paula celebrating Spring.
We love to Core'dinate here at Core'dinations Cardstock!!!
Linda Beeson does an amaZing job core'dinating different patterns and different lines with this gorgeous card.

Jenni Bowlin Core Impressions
Jillibean Soup
Stay tuned as we count down the days to Valentine's Day with all of our LOVEly projects!