YES! I said Winner(s)!
We couldn't pick just one so we picked TWO!!!
First up is Irit Shalom. Irit submitted two fabulous entries with some fun journaling and cool techniques and here they are:
Some awesome Basic Grey Core Impressions on this layout. Love it paired with all of the vertical strips of cardstock and ribbon. AND, yes! We would love to go to that Cherry Festival! Sounds amazing.
Love love all the Jillibean Soup Core Impressions on this layout and how Irit sanded the "18" with the Core Impressions. And those layered journaling spots are the best!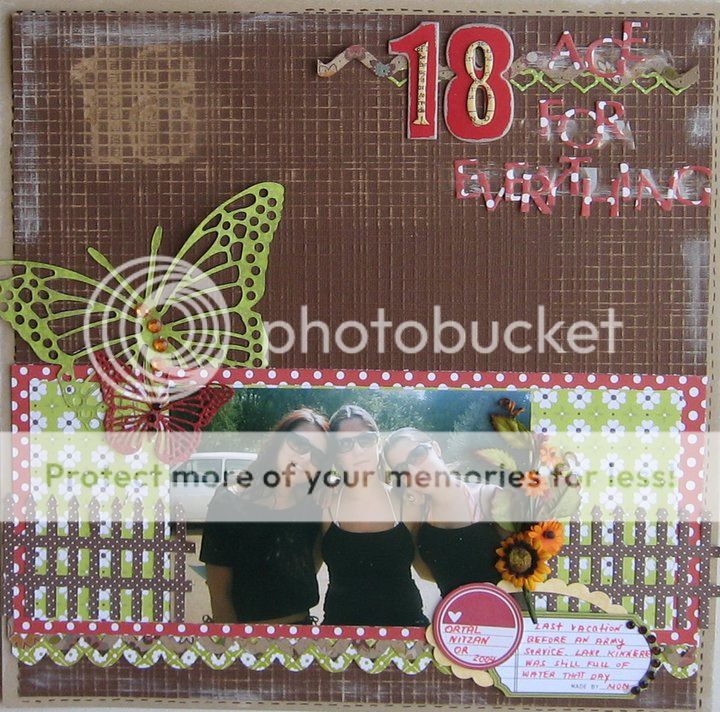 And Sherry Coogan submitted this layout where she etched in the embossed woodgrain on the Chocolate Box like a REAL Tree!!!!
Such a cool idea!!!
Make sure you check out how Sherry mixed handwriting with tiny alphas for her journaling.
Thank you thank you so much for all the entries!!! We will be doing challenges every month so stay tuned for the 1st of July for details for the July challenge.
Winners can you please email your address and phone number (for international entries) to  ellen_sosnoski@coredinations.com.
Have a GREAT week!
Here on the Core blog! We are celebrating brown and blue today! This color has really turned into somewhat of a classic these days and can be a go to color combination for any occasion.  Check out these two very different themed layouts from our Design Team using the same color combo.
A Sporty layout from Design Team Member Hera Frei using some Cosmo Cricket Core Impressions and Gemstones Cardstock:
And a festive layout from Design Team Member Paula Gilarde using some Jillibean Soup Core Impressions:
Have a colorful day!!!
Good Morning!  We hope everyone had a great weekend! It's Monday and we are ready to go for another week of fun!
But before we get started, we wanted to send out a huge congrats Congrats to all of our winners of the Core Impressions and Tim/Holtz Ranger contests!  The winners have been notified. We appreciate your support and response to the give-a-way and look forward to more of these soon!
Today we are kicking it on school here at Core'dinations. What does that mean exactly? That means we are using some pre CHA 2011 products for you today. Our Design Team is busy working on their new goodies but we still love some of those older releases that have become staples in our scrapbooking supplies.
First us is a Cosmo Cricket  and Jenni Bowlin Core Impressions layout from Kim Moreno. Aren't these colors gorgeous???
Looks gorgeous anchored with some Core Essentials as the layout base.
And a double page layout from Ellen Sosnoski using some Jillibean Soup Core Impressions and Core Essentials.
And how about some Jenni Bowlin Core Impressions from Paula Gilarde. I know this is a Christmas layout but since it snowed here today, I figured that was okay 😉
We'd love to see your "old school" layouts! Make sure you link us up or email them to ellen_sosnoski@coredinations.com.
HAVE A GREAT WEEK!
WE ARE!!!!!!    Welcome to Day Four of Helmar and Core'dinations Teaming up for some fabulous inspiration.  Make sure you comment here to win AND you can comment everyday for more chances to win! Also, if you could head over to Helmar's Facebook Page and tell them thanks for a fabulous day we would appreciate that!  And check out their blog for some fabulous inspiration from their Design Team, as well.
Today we have some more layouts from our Design Team using Helmar Adhesives.
First up how about this sweeeeeet layout from Heather Bowser using the Stacy Julian Core Impression line? She used 450 quick Dry Adhesive for the felt flowers and the Tape Runner for the remainder of the layout.
Next us is a layout from Char Dobson. LOVE these bright colors from the Stacy Julian Core Impressions line! Char added dimension to the stars with Helmar Zap dots.
And another layout from Hera Frei using the Helmar Tape Runner…your go to adhesive for all your paper crafting needs! Such a great color palette with the Jillibean Soup Core Impressions Cardstock.
See you tomorrow for the Grande Finale of our wonderful week of Helmar!!!!!
Today's Tuesday Tip comes from Design Team Member Sarah Hodgkinson on how to create a quick and beautiful set of Holiday Cards. It is also featured over at the Scrapbooking and Cards Today blog with complete instructions so make sure you head over there for more details.
one sheet of French Roast Grid (Jillibean Soup Core Impressions)
one sheet of Begonia (Core Essentials)
one package of Jillibean Soup kraft cards (some cut to 4″ square, some left in original size)
one package of Jillibean Soup Christmas Chestnut Soup Journaling Sprouts
some Jillibean Soup twine
less than one package of Maya Road chipboard houses
some Making Memories paint (Evergreen)
We R' Memory Keepers Corner Chomper
sand paper or sanding block
Helmar foam layering tape
I just love this fun color combo with a few non-traditional Holiday colors! Make sure you check out the S&CT blog and let Sarah know what you think 😉
Yup..you guessed it! Today's post is about thank you cards.
Here are a few from our Design Team:
Char Dobson used some Jillibean Soup Core Impressions on this card:
And check out all the sanding and Vintage goodness on this card from Heather Bowser!
And a gorgeous card from Kim Moreno showing how easy it is to add some tearing to this delicate card for the perfect touch:

Make sure you give thanks today! Have a good one…