Since February is the month of LOVE…we thought, why not share of love of sketches with everyone?!?!?!
A HUGE thank you to designer Lydia Jackson for creating this sketch for us.  It's got everything you need to create a gorgeous layout, don't you agree?
Now let's see Lydia's layout. Don't you love the tone on tone sanding for the journaling block? And the label journal strips are such an easy way to ensure you get those memories on the page, too.  For tips on how to create those check out the video here. And accenting the hearts along the bottom with one embossed, sanded heart is the perfect accent. SO many possibilities with this sketch.
Now…it wouldn't be right if we didn't give something away now would it???
We would LOVE to give one person a Core prize pack for completing this challenge. Link your layout or card back to THIS post  or Share it on our FACEBOOK page by February 28th, 2013. It must be visible that you used the sketch as inspiration. You must use Core'dinations Cardstock  on the project and at least ONE Core technique. For some inspiration, HERE is a list to our technique videos.  You know we LOVE anything that shows off the cool Core'dinations ColorCore Cardstock!
YES! I said Winner(s)!
We couldn't pick just one so we picked TWO!!!
First up is Irit Shalom. Irit submitted two fabulous entries with some fun journaling and cool techniques and here they are:
Some awesome Basic Grey Core Impressions on this layout. Love it paired with all of the vertical strips of cardstock and ribbon. AND, yes! We would love to go to that Cherry Festival! Sounds amazing.
Love love all the Jillibean Soup Core Impressions on this layout and how Irit sanded the "18" with the Core Impressions. And those layered journaling spots are the best!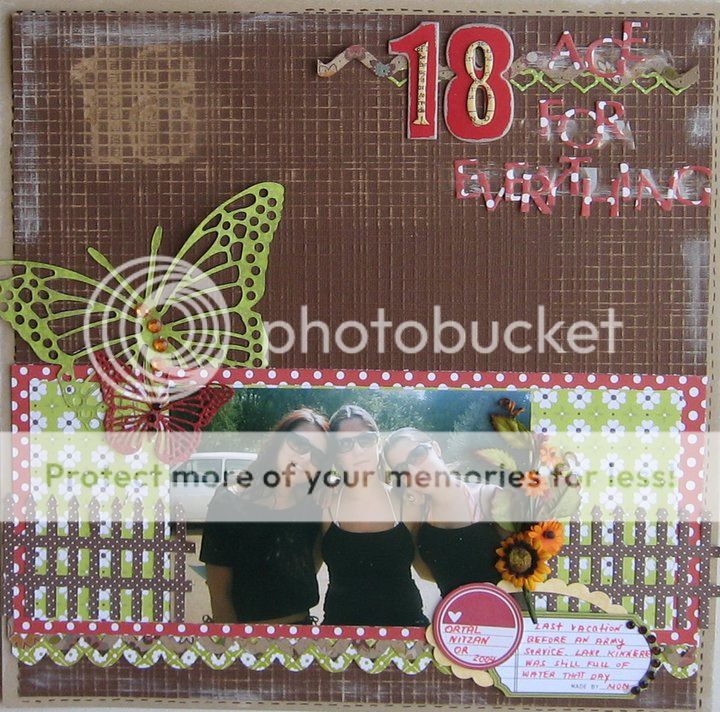 And Sherry Coogan submitted this layout where she etched in the embossed woodgrain on the Chocolate Box like a REAL Tree!!!!
Such a cool idea!!!
Make sure you check out how Sherry mixed handwriting with tiny alphas for her journaling.
Thank you thank you so much for all the entries!!! We will be doing challenges every month so stay tuned for the 1st of July for details for the July challenge.
Winners can you please email your address and phone number (for international entries) to  ellen_sosnoski@coredinations.com.
Have a GREAT week!
Good Morning! And Happy Father's Day week here at the Core blog! We are celebrating family here this week and today Kim Jeffress is sharing a fun and easy tip for you. AND it is her first time on the Core'dinations blog, too!
For this layout Kim used the full sheet of a Jenni Bowlin' 4×6 calendar cardstock sheet from the mini collection on her layout.  These mini cardstock pads are so perfect for layouts and if you are a Jenni Bowling fan, you will love these. They have the Jenni Bowlin Studios signature calendar and bingo designs that will core'dinate with all of her gorgeous products and patterned papers as you can see on Kim's layout.
Each pack consists of four embossed patterns in five colors totally 20 unique sheets in the 4×6″ size.
It looks great with the Black Magic cardstock, doesn't it?!?! And look at that sweet, sweet photo….
And a detail shot of that sanding. Don't be afraid to layer your embellishments and even your journaling like Kim did for her layout here. A GREAT IDEA for our journaling challenge!!!! If you didn't see it, check it out here!
It's June 1st. Let's kick of this month with a fun CHALLENGE!
What do you think?
We just loved this technique that Melissa Oliveira shared with us yesterday on the blog that we wanted to extend the invitation to try it to YOU!
Journaling is such an important part of a scrapbookers journey to preserve memories and tell stories.
SO for this challenge….we want to see your Journaling. It doesn't have to be this specific technique…you can journal any way you choose.
But  for this challenge there are a few things you must do:
1) JOURNAL
2.) Use Core'dinations Cardstock (it must be a visible component of the layout).
3.)  Link your project to THIS blog post or post it on our Facebook page. Make sure you "like" us, too!
4.) Show off a cool Core technique and we will throw in an additional chance to win!
The rest is up to you!
And how could I forget??? Of Course a random Winner will win some CORE'DINATIONS CARDSTOCK!
Here is a layout from Melissa Oliveira to get you inspired on the many ways you can journal on your Core.  The possibilities are endless and we can't wait to see what you can do! For this layout she sanded where she journaled AND scored her journal lines. Brilliant!!!
Deadline for this challenge is two weeks…June 15th by midnight PST.
Core'dinations used: Cosmo Cricket Core Impressions, Basic Grey Core Impressions Ornate collection, Core Essentials.
And a close-up!
So we are here today with the COOLEST technique from Design Team Member Melissa Oliveira!
The unlimited possibilities with Core'dinations cardstock never ceases to amaze us. All you need for this  Tuesday Tip from Melissa is some Core Essentials,  Sand it Gadget and your Dust Buddy!
Take a look at how Melissa sanded where she wanted to journal:
Next up, Journal! Now for this layout, Melissa used her typewriter. Yes, you read it correctly…a typewriter!!! She has a cool, vintage typewriter in her scraproom that she uses for her projects. How COOL is that???
Here is a close up for you:
And don't forget this cool technique with your label maker. An oldie but goodie 😉  So fun how Melissa changed it up a bit and made little flags. In case you missed it, check out the videos here, specifically the Label It video.
MAKE SURE YOU CHECK OUT FACEBOOK FOR ANOTHER AWESOME EXAMPLE FROM MELISSA.