Hello!! Jill from Every Day is an Occasion here to share a fun Kids Craft & Core  project with you! Do any of you have the winter blahs? This sweet little treat container can cheer anyone up!! It would be a fun gift to give or a favor for a winter birthday party!
Snowball Treat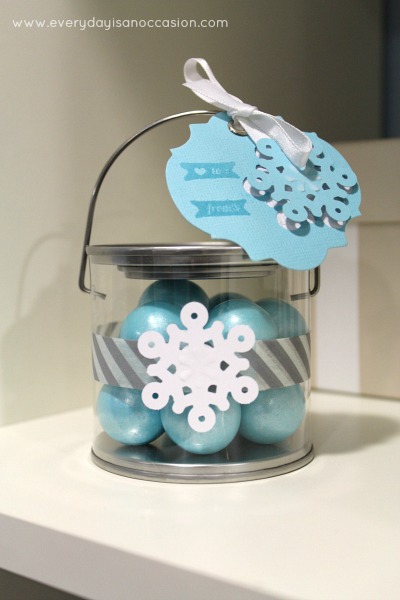 Steps:
1. Put gumballs into pail.
2. Wrap washi tape around pail.
3. Punch snowflakes out of white cardstock.
4. Punch a snowflake out of blue tag and adhere white cardstock behind. Use foam adhesive to pop snowflake up.
5. Sand snowflake with Sand It Gadget…my kids favorite part!!
6. Tie tag on pail
7. Enjoy!!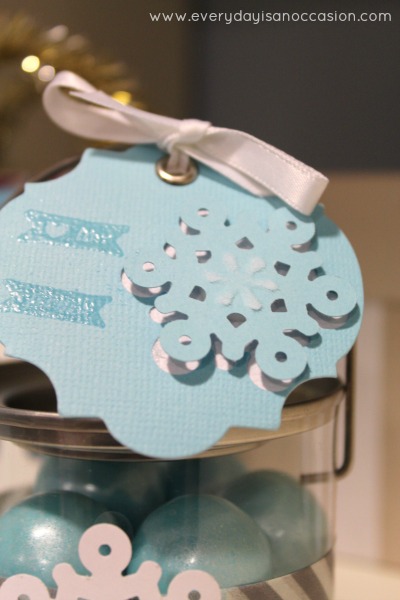 Materials:
White 110 cardstock Core'dinations
Core Sand it Gadget
Darice Washi Striped Tape http://www.darice.com/store/details/catalog/wholesale-memory-embellish-washi-paper-tape/1217-96
Marrvy Snowflake Punch
Gumballs http://www.darice.com/store/details/catalog/wholesale-party-gumballs-and-sixlets/sw15002
See Thru Pail with lid http://www.darice.com/store/details/catalog/wholesale-memory-scrapbooking-storage/1212-96
Foam Adhesive
Ribbon
Today we have a super cool technique for you from Design Team Member Char Dobson and her daughter. This is a TWO PART series from Char so stay tuned for part TWO next week!
Here is a alittle bit about the project from Char:
Today I have a very special project for you:
making SEED PAPER!
Not only is this fun, but it is great fine motor skills practice,
can be used as a science project, and as a wonderful gift for someone special.
What!?! Why!? How!?!??…you may ask…
because not only are we going to make hand-made paper,
you can actually plant this paper as well!
How cool is that!!!!
PART ONE
Supplies you will need:
***this is a really great way to use up all those scraps you've been saving!***
#2: Scrap paper or newspaper
#3: Water
#4: Blender
#5: Fine mesh strainer
#6: Needlepoint screen
#7: Paper towels
#8: Baking sheet
#9: Seeds
Let's get started!
Step 1: Pick scraps of Core'dinations cardstock with similar colours.
Have your child tear papers into small bits.
Not only is this fun, it is great for practicing fine motor skills.
Step 2: Tear up some scrap white paper or newspaper.
We often empty out our paper shredder or recycling bin for this step.
You should have two same-size piles of torn paper -
one of coloured Core'dinations, and one of white scraps.
Step 3: Alternately layer papers into a blender.
Fill at least half way with water.
Give it a whirl, adding more water as needed.
Step 4: The paper pulp should look mushy, like this.
Step 5: Transfer to a fine mesh strainer.
If your strainer has larger holes in it, simply line with paper towel first.
Press out excess water.
Step 7: Use more paper towels to blot squares.
Step 8: Gather seeds and sprinkle on top.
Press lightly into the squares.
Step 9: Let Dry over night
Stay tuned to for part TWO and how you will get this from that!