Are you looking for a fun fall project to do with your children?  How about grabbing some pine cones, some beautiful Vintage Collection papers a few basic craft supplies and creating these fun turkeys.
Pine Cone Turkey Supplies:
Pinecone
Google Eyes
Red and Yellow Chenille Stems
Brown Acylic Paint
2 Inch Foam Ball
Gold Glitter
Scissors
Glue
Step 1: Paint foam ball with brown acrylic paint.  Helpful hint: insert a skewer or small stick into the ball to keep fingers out of the way, allowing the ball to be fully coveredwith paint.
Step 2: While paint dries, trace and cut out two hand prints on Core'dinations Vintage Collection papers.
Step 3: Glue handprints to the stem end and foam ball to the top of the pinecone to create turkey.
Step 4:  Assemble the face of the turkey by inserting a 1/2 inch piece of yellow chenille stem in center of ball and wrapping a 1- 1/2 to 2 inch piece of red chenille stem around it.  Attach google eyes with glue.
Step 5:  To create hat cut a 3 inch circle from black Core Basics cardstock.  Draw a 2 inch circle about 3/4 of the way around and cut out.
Step 6:  Cut edges out of the semicircle and fold up to create hat shape.
Step 7:  To embellish hat cut a small piece of white Core Basics cardstock approximately 1 1/2 inches by 1/2 inch and add a little glitter to the center to create the hat band and buckle.
Step 8:  Place hat on turkey head, glue if desired.
I am sure your little ones will enjoy their turkey friend for many years to come.
~Nancy
Hello! Jill from Every Day is an Occasion  here to share a kid's craft with you today! We are going to make bunny hats! Get excited! They are super simple! When I was a first grade teacher, my students LOVED making hats for any occasion. So, now that I have my own kids I had to make the hats with them, especially now that my daughter is BIG into dress-up clothes.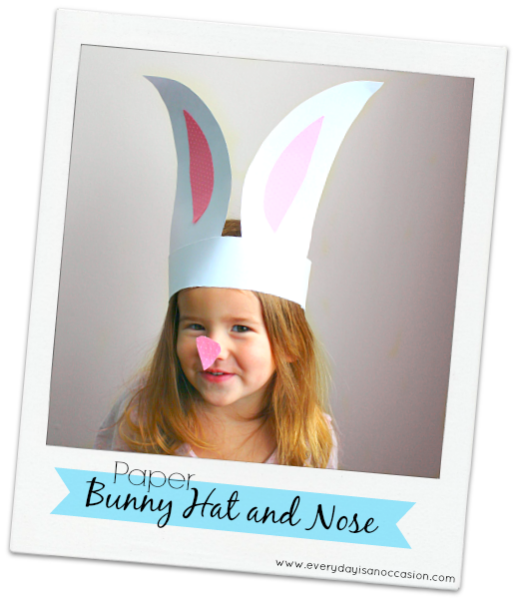 I know they have those $1 bunny ears out there made of fabric, but these are really fun to make to help keep your kids busy on those freezing snow days we've had! My daughter had a blast making these and especially wearing them! Now, I know you may be thinking, "She's two. How did she make those?" Well, she was mostly the assistant. In my humble opinion, I believe that getting kids helping at a young age helps them feel confident with Arts and Crafts.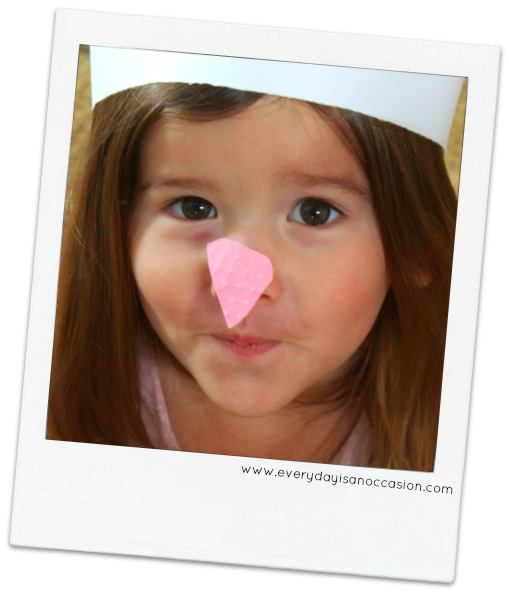 How to make Paper Bunny Hats and Noses:
Materials:
4 pieces of 8 1/2 x11 White Core 110lbs
1 piece Pink from Core Essentials Pastels
Swiss Dots Embossing Folder or any dotted embossing folder
Cuttlebug or your choice of embossing machine
Ear Template- hand draw or use the one below
Xyron Double sided tape
Steps:
1. Draw a bunny ear on the 8 1/2 x 11 piece of White Core. Cut out and use as your template for the White Core. This does not have to be perfect, it's just for fun! Trace onto two pieces of the White Core and cut out.
2. Draw a similar shape but smaller on the white paper. Cut out and use as your template. These do not have to be perfect. It's just for fun! Then trace onto the Pink Core and cut out.
3. Take one piece of 8 1/2 x 11 White Core and fold in half, hot dog style, then fold again so you have 4 pieces. Cut these out. Tape together measuring your child's head. This will be the head band.
4. Put Pink Core into Swiss Dots Embossing folder and then sand the dots.
5. Tape the Pink Core onto the inside of the bunny ears.
6. Tape the bottom of the bunny ears to the headband. *Quick Tip* If you roll the bunny ears up and let it go. It will help make the ears come forward for a cute look.
7. Use scotch tape to put the bunny nose on your child's nose.
8. Enjoy!
Here are the templates I used below in case you want to use them. Just right click on the image and save to your computer and then print.
Hi! Jill from Every Day is an Occasion back to share another Kids Core project with you! Today it's all about being grateful! This Grateful Journal can be used a couple of ways. The first way, which is how I'm going to be using it, is a mini album. Since November 1, I have been taking pictures of things I'm grateful for and posting them on Instagram. I am going to print the photos and then put them in this mini album. The second way could be used on Thanksgiving and to have everyone draw pictures or write on the page what they are Thankful for. Then at the Thanksgiving Table the journal can be read and you have a keepsake to look back on when your kids are older. Now these are just two ideas I came up with. I'm sure you have a great idea if these don't work for you!
Grateful Journal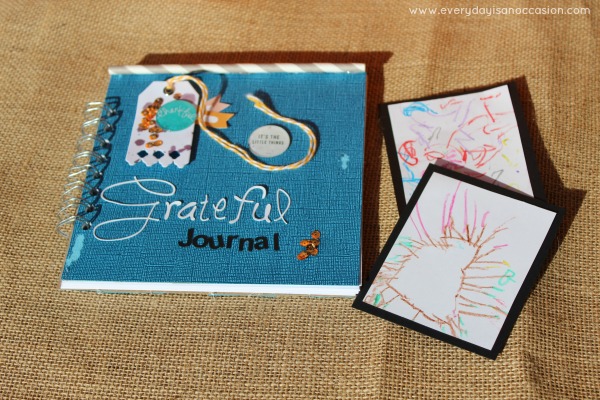 One thing is for sure, I love Core'dinations white core paper! The 12×12 and 110lb 8 1/2 x 11 packs are such an AMAZING quality of paper! I made this entire journal out of scratch and it's thanks to the white core! It is so super sturdy that I felt comfortable using it as all the album pages. To create the cover I actually used a cereal box and cut it to 6 1/2 x 6 1/2. I then used my Xyron Mega Runner to adhere the Vintage Core'dinations cardstock to the cardboard. To create the album pages, I just cut 15 white sheets down to 6 1/2 x 6 1/2. Then I used my cinch machine to bind all the pages together.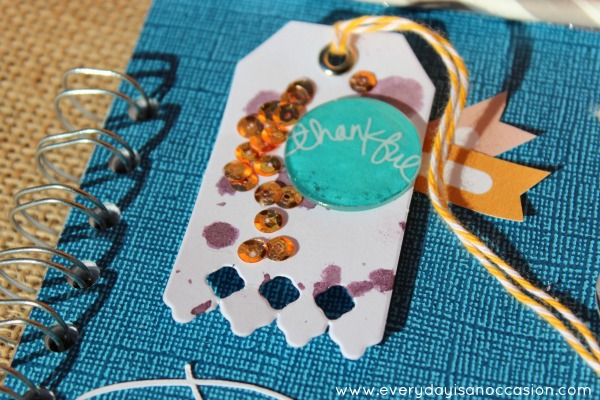 For the cover, I used Core tags along with some vintage sequins I was handed down from my Great Grandmother. I also used some Amethyst Colorshine. I attached some Hemptique Twine to my tag. I have to say though, my favorite thing is to print onto core. I used Shanna Noel's thankful prints and printed them onto my 8 1/2 x11 white core. Then I used my Epiphany Crafts Round 25 tool to punch them out and I put an acrylic sticker (they go with the round 25 tool) on top.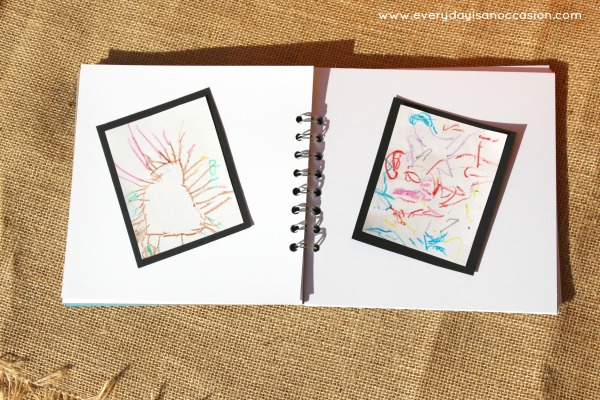 This is all great and grand you may be saying to yourself…but what you really want to know is how is this a kids craft? Well, let me tell youwhat we did… I talked to my kids (2 & 4) about being grateful or thankful. We have read many Thanksgiving books together and discussed what it means. Then I had my kids draw pictures about what they are thankful for. My 4 year old son (on the left) said he is thankful for "ALL the leaves". I said, "Oh you're thankful for leaves?" He said, "No, Mom… ALL the leaves" CUTE! My two year old daughter (on the right) said she is thankful for Daddy and she said Daddy has colorful hair. LOL! I am going to add these to my Instagram pictures. Once I have them printed I will have my kids help me create the layouts with photos of them and their drawings.
Have a great day! Smiles, Jill
You can Follow Jill on Instagram here and Core'dinations here!