We are celebrating the Holidays with some TIM HOLTZ KRAFT-CORE! Did you know that KRaft-Core comes in TWO collections?  Both the Nostaglic collection and the Shattered Collection. Both come in 12″ and 6″ assorted packs, so perfect for any paper crafter.
We have a giveaway for you, too! Want your very own SIGNED copy from Tim Holtz himself???
 Well we have a treat for YOU…HURRY you only have until Sunday. Click on the image and then enter to WIN!
~~~~~~~~~~~~~~~~~~~~~~~~~~~~~~~~~~~~~~~~~~~~`
Now some projects from our Design Team ….
Hi everyone! Jill from Every Day is an Occasion here to share a kids craft with you today!!! I made this chapstick card. This "kids" craft is great because it can be made by little kids for their teachers or by teenagers for friends! I think it is a great little something for anyone actually!!
Chapstick Card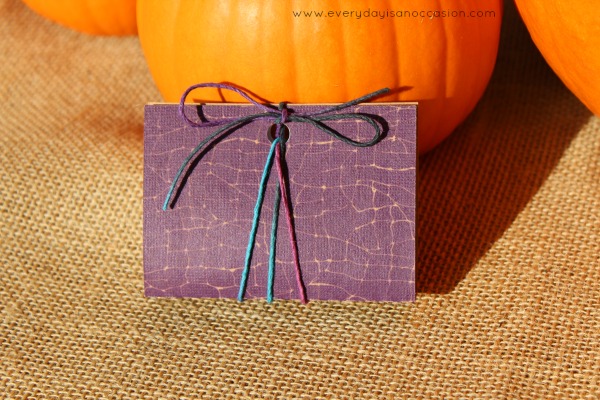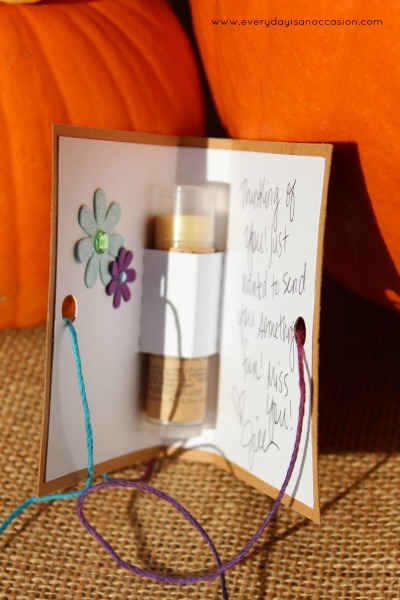 To create this card I used Core'dinations' Tim Holtz Kraft Core Shattered Collection, 110 lb white coredinations paper, this silhoutte cut, and some Hemptique cord.
Thanks! Have a Great day!!! Smiles, Jill
~~~~~~~~~~~~~~~~~~~~~~~~~~~~~~~
And next up we have a card from Designer Clare Buswell using more of that Gorgeous Tim Holtz Kraft-Core Shattered cardstock! Clare really adds some great distressing details with inks and stamps. This cardstock is so great because you can use it "as is" or add your own touches to it!
Today we have designer Jill Lebbin with a super fun craft to do with your kiddos that is not only festive but cute! Who doesn't love teepees?!??!
Jill from Every Day is an Occasion here to share a Kids Core project with you today! My son, daughter and I made Tepees out of white Core! How cute are these?
Core Tepees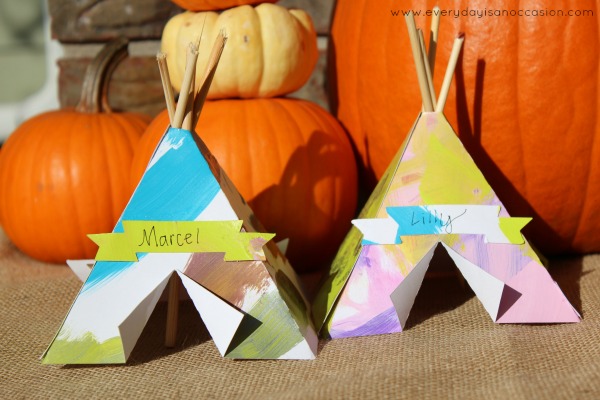 To create these tepees, I use Coredinations 12×12 white paper, this silhouette cut, Americana multi-surface paint, bamboo skewers, Elmers Craft Bond glue.
First, I had my kids paint the Core paper and we let it dry. Then, I put the paper through the silhouette cameo and cut it out using the this cut. If you don't have a Silhouette, you could cut four triangles and add little tabs (or a section to fold over so you can adhere them) to the triangles and glue the sides together. Then we cut bamboo skewers in half so they would fit in the opening. You can embellish these, stamp them or add litte name plates like I did. That's it!
I fond my inspiration from this blog, that artist that woman so you can check out and she has a downloadable pdf you can use to make these on your own for Thanksgivingif you don't have a Silhouette. We are going to use these tepees at our Thanksgiving table as place cards! So excited! My son had a blast putting this together!
Have a great day! Smiles, Jill
~~~~~~~~~~~~~~~~~~~~~~~~~~~~
And crafting with your kids doesn't have to be downloads. Simple handcut circles like this are all you need to make cute catepillars like this one from Heather Kaesgan. Her son LOVES to craft with her and this is the CUTEST! Right side, wrong side, stamping…anything goes with this!
Today we have some  projects our team created with their kids! Crafting is so much fun especially when you can do it with your kids.
First up we have Designer Heather Ann Kaesgan. She made a some wall art with her son. Her son just LOVED the doggie accents with the Imaginisce Good Dog line. He sanded the canvas using his Sand it Gadget after gluing down some Vintage Cardstock…PS KIDS LOVE OUR SAND IT GADGET! It is easy for them to hold onto and, of course, sanding is so much fun! And when they clean off the paper with the Dust Buddy it's like magic!
~~~~~~~~~~~~~~~~~~~~~~~~~~~~~~~~~~~~~~~~~
Next we have Jill Lebbin…..
Hello Everyone! Jill from Every Day is an Occasion back with another project for you!   Today I have a Hot Air Balloon Card. We gave this card to my sweet cousin, who turned 17 this year. I have to tell you, I cannot take complete credit for this card. My son actually assisted me in making this card. He helped pick out the colors, stamp the background, and use the hot air balloon dies. He is such a big helper!
Hot Air Balloon Birthday Card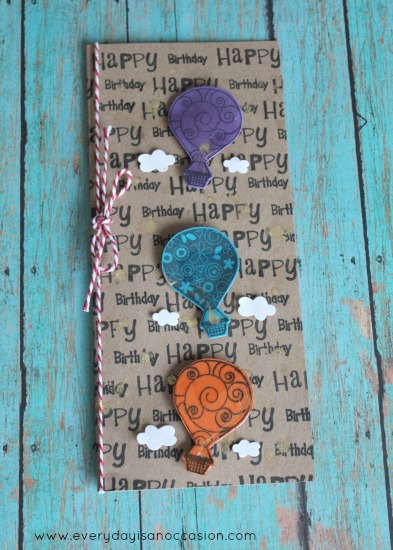 For this card I used Tim Holtz Kraft  Core, Brights Pack, and Neutral Pack of Core'dinations paper. Like I always say, the brights and white are my go to paper packs. I am very impressed with the way that they take stamps. I even put glossy accents on top of the balloons that I had popped up with foam adhesive. The paper held up very well. It did not tear. I sprayed some Colorshine on the paper too, just to give it extra excitement.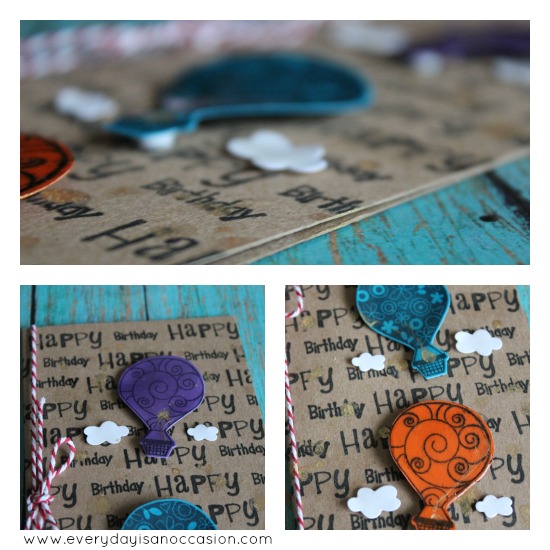 Thanks for stopping by today and checking out my..I mean..my son's and my hot air balloon card!
Have a SUPER fun day!!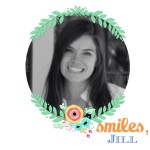 Welcome to part TWO of our making your own Seed Paper with Core'dinations.
Oh….missed Part ONE?  Click here to check it out!!!
After pressing the paper well (careful not to squeeze too much water out of it), you will have this cool and unique seed paper.
Step 1: Using a pencil, lightly trace an easy-to-cut shape on the back of your seed paper. Cut out.
Step 2: Decorate card with markers.
Step 3: Attach seed paper shapes using glue dots.
Step 4: Your finished project!
Thanks for stopping by our Hot Topics section. Stay tuned for more unique projects.
Before we get started, don't forget to sign up for our NEW Hard Core Crafter program! Details are here.
You will get access to tons of giveaways….EXCLUSIVE videos….and it is FREE!!!!
I know we normally do Tutorials on Tuesday but we got a little behind this week with our HCC program and posts so today we have a fun tutorial for you. I wanted to make sure I shared this before Valentine's Day in case anyone wanted to use it as inspiration.
Our team members have been working with their very own kids to bring you Kids Crafts with Core!
A new series of quick and easy projects designed especially for you to be able to do with your very own family.
Design Team Member Char Dobson created these super cute Valentine's Day cards with her (uber talented) nine-year old daughter!
Char's daughter planned the entire pattern, colors, embossing folder….everything! on this project by herself. She even found the heart shape on her own while looking through Cricut cartridge booklets. AND they put this together in less than thirty minutes.
Yes, thirty minutes!
Char's daughter has loved crafts since she was very young but has only been scrapbooking and cardmaking with her for a year or two. Amazing!
READY?
Step 1 & 2: Cut out four large hearts in a dark colour. We used the Cricut + Desiner's Calendar Cartridge for this project:
Step 3: Cut out four slighter smaller hearts in a lighter contrasting colour.
Step 3: Cut out four slighter smaller hearts in a lighter contrasting colour.
Step 4: Cut out letters to form the word LOVE. You could also use Thickers or alpha stickers.
Step 5: Emboss the small hearts using your favourite Valentine's themed embossing folder. We chose Without a Lock by Couture Creations.
Step 6: Sand.
Tip: Sand in a tray like this for easy clean up!
Step 7: Adhere small hearts to large heart background.
Step 8: Adhere letters.
Step 9: Embellish if desired. We added some candy-heart style stickers from Recollections.
Step 10: Adhere finished hearts to a length of ribbon. Tie a loop at the top.
Step 11: Your finished project….