Are you looking for a unique and fun gift box idea?  Maybe just a cute, child friendly project that will hold a few treasures?  Why not these Outrageously Fun Owls?
Owl Box Supplies:
Step 1: Cut pillow box.  I chose to make my owl 6 3/4 inches by 4 1/2.
Step 2:  For added interest, sand the box with your Sand it Tool.  At this time I assembled the box so that I could see where the owl "parts" would go.
Step 3:  Begin cutting Owl "parts".  Two white circles approximately 2 inches wide for eyes.
One three inch circle, cut in half, for the wings.  Again, sand this piece for extra texture and interest.
One two inch circle and a small triangle for the feet and beak.  Feel free to sand if you like.
Two black one and 1/2 inch circles for the pupils,
Sixteen or so one inch circles for the feathers.  Don't worry if they don't punch perfectly, we are going to layer them so you can hide your mistakes.  hee hee

Step 4:  Time to assemble.  Begin applying the "feathers" in rows across the box.  Be sure to not place the feathers where your box will fold up.  Add orange "feet" on top.
Step 5:  Add wings and the whites of the eyes next.
Step 6:  Finish with the pupils and beak.
This project is so fun and easy to make; and the owls are totally outrageous.  The new Core Basic Patterns create the most adorable feathers and coordinate beautifully with the Tillie Dot papers.  I hope you give them a try, my littles did.
 ~Nancy
Are you looking for a fun fall project to do with your children?  How about grabbing some pine cones, some beautiful Vintage Collection papers a few basic craft supplies and creating these fun turkeys.
Pine Cone Turkey Supplies:
Pinecone
Google Eyes
Red and Yellow Chenille Stems
Brown Acylic Paint
2 Inch Foam Ball
Gold Glitter
Scissors
Glue
Step 1: Paint foam ball with brown acrylic paint.  Helpful hint: insert a skewer or small stick into the ball to keep fingers out of the way, allowing the ball to be fully coveredwith paint.
Step 2: While paint dries, trace and cut out two hand prints on Core'dinations Vintage Collection papers.
Step 3: Glue handprints to the stem end and foam ball to the top of the pinecone to create turkey.
Step 4:  Assemble the face of the turkey by inserting a 1/2 inch piece of yellow chenille stem in center of ball and wrapping a 1- 1/2 to 2 inch piece of red chenille stem around it.  Attach google eyes with glue.
Step 5:  To create hat cut a 3 inch circle from black Core Basics cardstock.  Draw a 2 inch circle about 3/4 of the way around and cut out.
Step 6:  Cut edges out of the semicircle and fold up to create hat shape.
Step 7:  To embellish hat cut a small piece of white Core Basics cardstock approximately 1 1/2 inches by 1/2 inch and add a little glitter to the center to create the hat band and buckle.
Step 8:  Place hat on turkey head, glue if desired.
I am sure your little ones will enjoy their turkey friend for many years to come.
~Nancy
Hi! Jill from Every Day is an Occasion back to share another Kids Core project with you! Today it's all about being grateful! This Grateful Journal can be used a couple of ways. The first way, which is how I'm going to be using it, is a mini album. Since November 1, I have been taking pictures of things I'm grateful for and posting them on Instagram. I am going to print the photos and then put them in this mini album. The second way could be used on Thanksgiving and to have everyone draw pictures or write on the page what they are Thankful for. Then at the Thanksgiving Table the journal can be read and you have a keepsake to look back on when your kids are older. Now these are just two ideas I came up with. I'm sure you have a great idea if these don't work for you!
Grateful Journal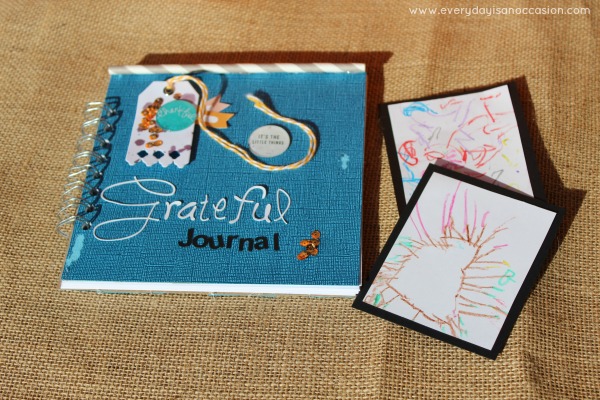 One thing is for sure, I love Core'dinations white core paper! The 12×12 and 110lb 8 1/2 x 11 packs are such an AMAZING quality of paper! I made this entire journal out of scratch and it's thanks to the white core! It is so super sturdy that I felt comfortable using it as all the album pages. To create the cover I actually used a cereal box and cut it to 6 1/2 x 6 1/2. I then used my Xyron Mega Runner to adhere the Vintage Core'dinations cardstock to the cardboard. To create the album pages, I just cut 15 white sheets down to 6 1/2 x 6 1/2. Then I used my cinch machine to bind all the pages together.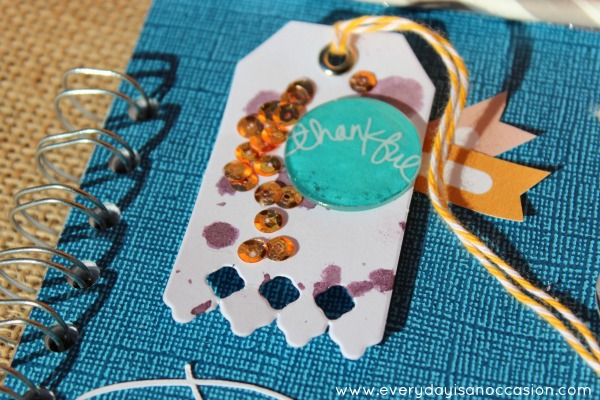 For the cover, I used Core tags along with some vintage sequins I was handed down from my Great Grandmother. I also used some Amethyst Colorshine. I attached some Hemptique Twine to my tag. I have to say though, my favorite thing is to print onto core. I used Shanna Noel's thankful prints and printed them onto my 8 1/2 x11 white core. Then I used my Epiphany Crafts Round 25 tool to punch them out and I put an acrylic sticker (they go with the round 25 tool) on top.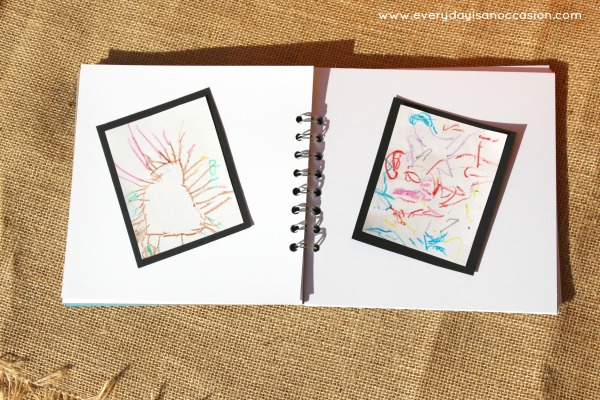 This is all great and grand you may be saying to yourself…but what you really want to know is how is this a kids craft? Well, let me tell youwhat we did… I talked to my kids (2 & 4) about being grateful or thankful. We have read many Thanksgiving books together and discussed what it means. Then I had my kids draw pictures about what they are thankful for. My 4 year old son (on the left) said he is thankful for "ALL the leaves". I said, "Oh you're thankful for leaves?" He said, "No, Mom… ALL the leaves" CUTE! My two year old daughter (on the right) said she is thankful for Daddy and she said Daddy has colorful hair. LOL! I am going to add these to my Instagram pictures. Once I have them printed I will have my kids help me create the layouts with photos of them and their drawings.
Have a great day! Smiles, Jill
You can Follow Jill on Instagram here and Core'dinations here!
with Char Dobson!
Today Char is creating with us and she created these awesome paper lanterns. The great thing about Core is that you can create them in EVERY color possible!  For our list of Core Essentials that we carry please check them out  here.  In SIX easy steps you can have some very own paper lanterns of your own. If you look underneath the title there is a download button so you can save to your own computer.
AND if you want to make them for yourself then check out the instructions HERE. You can find "how to's" on almost everything out there today including these fabulous paper lanterns. They would be great for Valentine's Day or even a Super Bowl party. Whatever the festivities are, these paper lanterns fit the bill for fabulous and fun! And nothing screams a party like Core 🙂
Here are some the shots Char took of them hanging in her home:
Char mixed and matched some Core Impressions and Spotted. Just Sand and Viola! You have a great look.
Fun, huh?
Remember when we made seed paper back in the spring ?  Design Team Member Char Dobson has another take on that project!!!
We are going to make a handmade paper bowl – a perfect place for keeping coins, trinkets or treasures.
We are now going to add three easy steps.
Step #1: After straining water from the paper pulp, press and form it around the strainer to make a bowl shape.
Find a safe, well-ventilated area to let the contents completely dry.
This may take several days.
Here is what ours looks like after two days of drying time.
Step #2: Trim bowl edges if necessary.
Prepare your work area – we just use and old plastic placemat.
Cover the entire bowl with Modge Podge, first one side and then the other.
Let dry overnight.
Step #3: Your finished project!
Such a great way to use those scraps of cardstock!
I know that Canada Day isn't for a few days but we wanted  to share a project with you to create just in time for that special day!
Design Team Member Char Dobson created this gorgeous project for you today with her daughter for our series Kids Krafts & Core.
Project: Canada Day Mini-Album
Techniques: sanding, paper tearing,  stamping
Don't be afraid to use found objects in your house. Char actually used a wooden maple leaf that had in her house. They traced it using a stylus!
Making a mini album about your country is a great way for children to learn first hand about their country.
Trust us!!!
Paper tearing is a super simple way for kids to really explore texture AND it's FUN!
Have your kids journal directly on the Core Cardstock like Char's daughter did here!
And a cute stamped image on the back!