We are continuing our week with Petaloo and Xyron! We have teamed up with some of our favorite adhesive and flowers for a week full of inspiration and, of course, PRIZES! Please go to THIS post to see how you can enter to win this:

Give Thanks Layout by Christine Meyer
I always love the opportunity to get a favorite picture onto a layout and stored as a lifetime memory – today I have a fall layout to share with you featuring products from Core'dinations, Xyron, and Petaloo that does just that.  Christine joining you today to share a layout of some of my kiddos with their Grandma enjoying a fall tradition – leaf piles.
Give Thanks Layout Supplies:
Coredinations Vellum Quotes & Titles
Darice Leaf Embossing Folder
Xyron High Tack Adhesive Dots
Step 1: Emboss your tags and then deboss them by using your Sand-It Gadget.
Step 2: Cut out the center of the Seasonal Impressions cardstock – leaving just a one inch border.  Sand the border and use the Xyron Mega Runne to add Spotted Cardstock underneath as the base.
Step 3: Add Tags and Red Cardstock to create the center of your layout use the Xyron 3 Inch Sticker Maker.  Add Petaloo trims to the Xyron 3 inch Sticker Maker and then attach them above and below.
Step 4: Run the vellum quote thru the Xyron 3 Inch Sticker Maker.  This is the best way to attach vellum because it doesn't show up at all! Add the vellum to the tag.
Step 5: Put the picture on top of the Kraft cardstock and center it.
Step 6: Add a die cut banner and Embellish the corners with Petaloo Darjeeling Flowers. Xyron's High Tack Adhesive Dots make attaching small flowers like this an easy job! Products like this make it both easy and fun to put together a layout that we can cherish forever!
~Christine
Count Your Blessings Layout by Suzanna Lee
Do you have those family dinner table picture that we all take at Thanksgiving, and once you finally seen them think, "ugh! how am I going to scrap that?". Well fret no more! I have the solution for you. First, convert your picture to black and white. The conversion will soften the clash between Auntie Rose's purple hair and Grandpa Jack's hot pink tie and allow you to use the colors of your choice in your layout, just as I did here!
Count Your Blessings Layout Supplies:
Tim Holtz & Ranger Distress Ink
Xyron Adhesive Dots
Step 1:To create both bases of your layout, you will need your trusty Core'dinations steeds; your Sand It Gadget and your Dust Buddy. Sand the edges of the the Basic Grey Core Impressions and wipe the dust with your Dust Buddy to reveal the colored core. If you would like a bit more definition to the border of the page, as I did, then use some Distress ink around the edges. Fussy cut out the Jenni Bowlin Square Label paper and similarly, sand and dust it.
Step 2: Layer a long banner cut from Tim Holtz Shattered cardstock that you sanded and rubbed with some Distress Paint with your picture, Petaloo flowers and some die cut leaves. The PERFECT adhesive to stick Petaloo flowers down with is Xyron's adhesive dots! They come in two sizes, 3/16 inch which is perfect for the little daises I used on the bottom, right hand corner of my page and the larger, 3/8 inch dots for the larger Petaloo flowers!
Step 3: Whatever was not put together with Adhesive Dots, was put everything together with my Xyron MegaRunner! I just love the ability to drop in the cartridge and set to work. No fuss running tape here, there and everywhere or having it snap and need to be re-thread mid-project! Just remove the spent cartridge and pop in a new one and you are good to go!
~Suzanna
Halloween is right around the corner and Core'dinations new Chalk Core is perfect for your all of your Halloween needs. It also core'dinates perfectly with our Black Magic and Core Essentials, too!
Halloween Layout Supplies:
Dies: Tim Holtz, Lifestyle Crafts, Papertrey Ink
Sequins: American Crafts
Twine: The Twinery
Button: October Afternoon
Embossing Folder: Stampin Up
Label Maker
Cut N Boss
Step 1. Using a ruler and cutting tool, cut the grid pattern in 1″ increments. Within those 1″ pieces, cut out a smaller square.  Where some of the lines meet, punch a whole for added interest. Lay a piece of Black Magic Cardstock  underneath it and score the lines that will appare in the negative image of the squares you just cut.
Step 2. Flip over the Black Magic and sand the scored lines, remove dust with Dust Buddy. Line them up again and adhere. Add your additional elements like the sanded doily cut from Chalk Core. Cut the ghosts from the vellum cardstock.
Step 3. Emboss a piece of vellum and add your title along with some additional embellishments.
Hi there! Suzanna here with a seasonal Tim Holtz Kraft Core Seasonal Impressions layout to share with you using one of the individual embossed papers focusing on the American No. 17 sheet. It's perfect for the 4th of July.
Supplies:
Tim Holtz – Kraft Core – Seasonal Impressions
Tim Holtz – Kraft Core – Shattered
Tim Holtz – Kraft Core – Nostalgic
Embossing Folder – Tim Holtz
Cut File – 3d Banner, Design ID #53911
Silhouette Cameo: Font - Independence
Twine – The Twinery
Wood Veneer – Freckled Fawn, Studio Calico
Dies – Lifestyle Craft, Die-Versions
 I selectively sanded the word  that corresponded with my theme. I also happen to have the Tim Holtz embossing folder that matches this pre-embossed cardstock and was able to fussy cut the 4 in a slightly bigger size. It worked out perfectly!
This entire layout was created using all Kraft Core products! I love the vintage feel it gives to the layout.
Another fun technique that is unique to Core'dinations cardstock is the ability to run it through your label maker for some fun banners. By sanding the raised print, like I did on the little red flag to reveal the colored core underneath, you can really see the letters!
With Design Team Member Debbie Standard!
Core'dination's has so many wonderful collections to choose from it makes creating easy!  I love this Pink Paisley Impression's collection.  I picked pink for my page and sanded it with my Sand it Gadget so that the embossing would stand out more.  Then I used my Dust Buddy to collect the extra dust from the sanding.  Next I chose a piece of the Spotted Jillian collection – attached it with my Xyron mega runner and stitched on it.  I added some of the pastel Core'dination's tags and layered it.  I added a David Tutera tag on which I stamped.  Then using some of the Glitter Silk collection I punched out some snowflakes and topped them with pearls and pom poms from Queen & Co.  I created a little film strip along the bottom of my photos of more of the photos from the day.
Sand It Gadget
Dust Buddy
Queen & Co. Pearl, Pom Poms
My Mind's Eye tags and brads
Ribbon:  Stash
Clear works:  Heidi Swapp
Stamp:  Ellie's Studio
~~~~~~~~~~~~~~~~~~~~~~~~~~~~~~~~~~~~~~~~~~~~~~~
And Whitewash Cardstock is the PERFECT accent for all those snow photos!
Core'dination's Smooth White Cardstock
Pebbles cardstock
Tags:  My Mind's Eye, Core'dination's Dark tags, DCWV collection, October Afternoon, Lilybee design
Enamel Dots:  My Mind's Eye
Martha Stewart Snowflake punch
Score It
Dust Buddy
Sand It Gadget
Darice Washi Tape (1217-96)
Tickets: Noel Mignon kit
Wood veneer:  Noel Mignon kit
~~~~~~~~~~~~~~~~~~~~~~~~
I don't know about you but a lot of team has been getting hit with snow in their respective states so why not share a little bit of that Snow Day love today?!
I hope this post finds you warm and cozy! Suzanna here from Life's Trivialities  to share with you a winter layout created with left over scraps of Coredinations cardstock. Gather colors in the hues of a pleasing snowy palate, emboss a few and lay them out as you would a cozy warm quilt. In order to tie the paper into the theme of the layout, chose snow filled embossing folders. Fill in some holes with David Tutera tags and zig zag with your sewing machine (or use a pen for faux stitching). The layers of the layout in some places are as numerous as the layers you will need to be out in that winter wonderland. Voila! The base of your layout, it's that easy!
oooohhhh! aaaahhh! Core Tags!
Gorgeous detail:
This is a great way to use multiple embossing techniques and different cardstocks!
Supplies
Spotted Jillian; Aqueduct http://www.coredinations.com/index.php/products/spotted/spotted-12×12/
Glitter Silk 6×6; Glitter Girl http://www.coredinations.com/index.php/products/glitter-silk/
Gemstones Collection http://www.coredinations.com/index.php/products/specialty-collections/gemstones-collection/
Core Impressions; Fancy Pants Collection: Refreshed http://www.coredinations.com/index.php/products/core-impressions/fancy-pants-collection/
Core Tags; Smooth Tag; Gift Tag White http://www.coredinations.com/index.php/products/core-tags/
David Tuterra Tags
Embossing Folders: Darice, Stampin Up
Bling: Prima
Die: Memory Box, Avery Elle
Stamps: Avery Elle, Stampin Up
Ribbong: Tim Holtz
Paper Clip: Prima
Alpha Letters: American Crafts
~~~~~~~~~~~~~~~~~~~~~~~~~~~~~~~~~~~~~~~~~~~~~~~`
I did lots of sanding with the Sand It Gadget in this layout to make it pop.
I cut the snowflakes out of Core'dinations Snowflake using my Silhoutte, painted the die cut with some glue and added some fine glitter.
Core'dinations Supplies:
12 x 12 Core Essentials Neutrals
Other Supplies:
Fiskars Crimper
American Crafts Thickers
Helmar Adhesives
Every month we challenge our designers with something fun and this month it was all about monochromatic color schemes.
Did you get the August newsletter?  Well if you did then you got a FREE downloadable PDF from Designer Mary Pat Siehl featuring a quick "how to" on how to create EASY monochromatic looks with just embossing!  Core makes scrapbooking easy, don't you think? By being a Hard Core Crafter you are automatically signed up for our newsletter.
Our Design Team also did some for us today as well. As you can tell our team likes blue
First up Kate Nolan-Deham…Kate used a banner to really enhance her monochromatic color scheme. And how sweet is her Glitter Silk dress form that she embellished!
And look at all this texture from Designer Gail Linder??!?! LOVE how she chose to use some yellow…a color I think a lot of scrappers struggle with:
A super simple card from Designer Ava Gavloski…monochromatic doesn't need to be complicated….
 and one last card from Designer Heather Kaesgan…LOVE how she mixed in some Gemstones for her monochromatic look for that bit of shimmer….
Clare Buswell used our Core Amour Cardstock to create a unique monochromatic look:
And Tracy Gruber always creates the CUTEST cards….hippo-ray, LOL! So cuuuuute! And monochromatic doesn't need to be the exact same color. Tracy used different hues of purple for hers and added some Gemstones as well.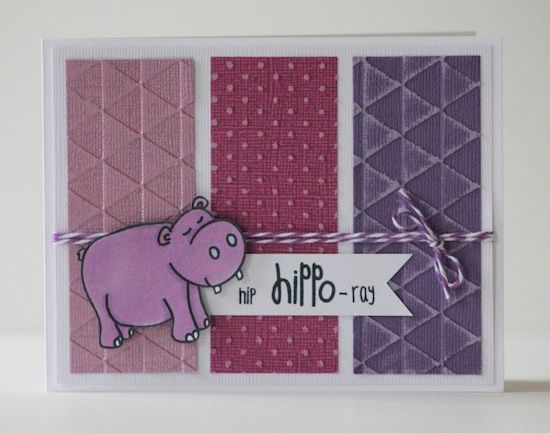 And how about a Pink Monochromatic layout from Designer Ava Gavloski? Look at all that gorgeous detail!  Using the BasicGrey Core Impressions for her base and then just adding fabulous bits and pieces in pink and white….