Halloween is right around the corner and Core'dinations new Chalk Core is perfect for your all of your Halloween needs. It also core'dinates perfectly with our Black Magic and Core Essentials, too!
Halloween Layout Supplies:
Dies: Tim Holtz, Lifestyle Crafts, Papertrey Ink
Sequins: American Crafts
Twine: The Twinery
Button: October Afternoon
Embossing Folder: Stampin Up
Label Maker
Cut N Boss
Step 1. Using a ruler and cutting tool, cut the grid pattern in 1″ increments. Within those 1″ pieces, cut out a smaller square.  Where some of the lines meet, punch a whole for added interest. Lay a piece of Black Magic Cardstock  underneath it and score the lines that will appare in the negative image of the squares you just cut.
Step 2. Flip over the Black Magic and sand the scored lines, remove dust with Dust Buddy. Line them up again and adhere. Add your additional elements like the sanded doily cut from Chalk Core. Cut the ghosts from the vellum cardstock.
Step 3. Emboss a piece of vellum and add your title along with some additional embellishments.
Hi there! Suzanna here with a seasonal Tim Holtz Kraft Core Seasonal Impressions layout to share with you using one of the individual embossed papers focusing on the American No. 17 sheet. It's perfect for the 4th of July.
Supplies:
Tim Holtz – Kraft Core – Seasonal Impressions
Tim Holtz – Kraft Core – Shattered
Tim Holtz – Kraft Core – Nostalgic
Embossing Folder – Tim Holtz
Cut File – 3d Banner, Design ID #53911
Silhouette Cameo: Font – Independence
Twine – The Twinery
Wood Veneer – Freckled Fawn, Studio Calico
Dies – Lifestyle Craft, Die-Versions
 I selectively sanded the word  that corresponded with my theme. I also happen to have the Tim Holtz embossing folder that matches this pre-embossed cardstock and was able to fussy cut the 4 in a slightly bigger size. It worked out perfectly!
This entire layout was created using all Kraft Core products! I love the vintage feel it gives to the layout.
Another fun technique that is unique to Core'dinations cardstock is the ability to run it through your label maker for some fun banners. By sanding the raised print, like I did on the little red flag to reveal the colored core underneath, you can really see the letters!
Every month we challenge our designers with something fun and this month it was all about monochromatic color schemes.
Did you get the August newsletter?  Well if you did then you got a FREE downloadable PDF from Designer Mary Pat Siehl featuring a quick "how to" on how to create EASY monochromatic looks with just embossing!  Core makes scrapbooking easy, don't you think? By being a Hard Core Crafter you are automatically signed up for our newsletter.
Our Design Team also did some for us today as well. As you can tell our team likes blue 🙂
First up Kate Nolan-Deham…Kate used a banner to really enhance her monochromatic color scheme. And how sweet is her Glitter Silk dress form that she embellished!
And look at all this texture from Designer Gail Linder??!?! LOVE how she chose to use some yellow…a color I think a lot of scrappers struggle with:
A super simple card from Designer Ava Gavloski…monochromatic doesn't need to be complicated….
 and one last card from Designer Heather Kaesgan…LOVE how she mixed in some Gemstones for her monochromatic look for that bit of shimmer….
Clare Buswell used our Core Amour Cardstock to create a unique monochromatic look:
And Tracy Gruber always creates the CUTEST cards….hippo-ray, LOL! So cuuuuute! And monochromatic doesn't need to be the exact same color. Tracy used different hues of purple for hers and added some Gemstones as well.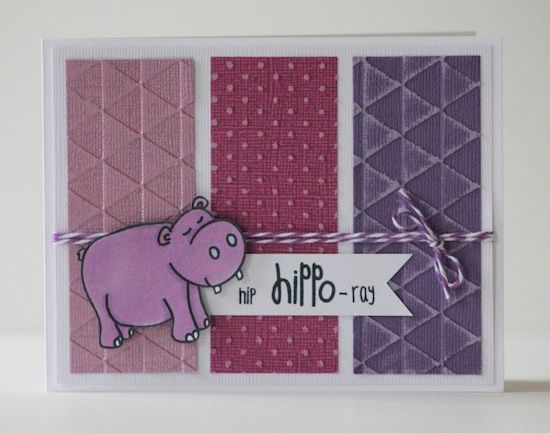 And how about a Pink Monochromatic layout from Designer Ava Gavloski? Look at all that gorgeous detail!  Using the BasicGrey Core Impressions for her base and then just adding fabulous bits and pieces in pink and white….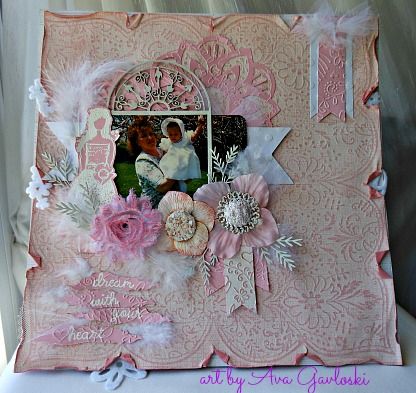 Happy Wednesday! We hope you are enjoying your summer so far and today we want to start out with a super summery layout from Design Team Member Tracy Gruber.  I always struggle with white as a base for my layouts but Tracy makes it looks so easy! Plus…all  that embossing just makes me happy. 🙂
-Tim Holtz Distress Inks: Picked Raspberry, Squeezed Lemonade, Spiced Marmalade
-Lawn Fawn Sunny Skies and Jessie's ABC's stamp sets
-Water Brush
-Tuxedo Black Memento Ink
-1″ Fiskars circle punch
-Sand It Gadget
-Dust Buddy
-Cuttlebug Embossing Folders: Swiss Dots, Tiny Bubbles, Seeing Spots, Spots and Dots
-Sizzix Swirls Embossing Folder
-Thickers
-Clear Rock Candy Distress Stickles
Happy Friday!
Today we have Kim Moreno!
Here is a little bit about Kim:
And Kim gave us a description of super cool 8.5×11″ layout…keep reading!
And some details…love this idea of  the circles and brads with the Core Impressions. No embossing needed!
Core'dintions Core Impressions- Basic Grey Ornate and Whimsy collections
Core'dinations Core Essentials (snowflake and french roast)
Simple Stories brads embellishments
Scor Pal
Jillibean Soup letter stickers
Marvy Uchida and Martha Stewart punches
~~~~~~~~~~~~~~~~~~~~~~~~~~~~~~~~~~~~~
How about a winner of the Darks Collection pack?
~~~~~~~~~~~~~~~~~~~~~~~~~~~~~~~
Speaking of supplies……who wants some Vintage Cardstock??? Comment to win win win!
Welcome Back!
Yesterday we began a TWO THREE WEEK event introducing our BRAND NEW Design Team!    Each member created a layout just for their day on the blog so from today, May 13th -May 31st we will  introduce a team member to you. Isn't that fun??!?!?!
AND TO CELEBRATE THIS EVENT WE ARE GIVING AWAY A PACK OF CARDSTOCK EVERY DAY! Tomorrow morning I will announce today's random winner…just leave a comment on THIS POST. And then come back and comment the next day. We will be doing this until the end of May so don't go far!!!
Today's winner will receive a pack of……
GLITTER SILK!
Please note we will only be posting Monday through Friday. We will pick a random winner the following morning (or Monday if it is the weekend) to win a pack of Core'dinations Cardstock. The cardstock pack may vary due to availability. Winners must email ellen_sosnoski@coredinations.com by June 7  to claim their prizes with the cardstock they won in the subject line.  Please include address and phone number in the email.
~~~~~~~~~~~~~~~~~~~~~~~~~~~~~~~~~~~~~~~~~
So curious to see who is our winner from yesterday??????????
Glitter Silks…oh, how pretty! I would love to play with some that paper. Awesome LO!!
~~~~~~~~~~~~~~~~~~~~~~
Today we have another returning Design Team Member…Shaunte Wadley!
I have had the pleasure of getting to know Shaunte over the past few years and she has an eye for design that always blows me away. She adds just the smallest details and I think, "Man! Why didn't I think of that?!"   Here is a little bit about Shaunte:
Journaling reads:
40 hit me this year like a truckload of bricks. You tend to reflect on life at each decade- what worked, what didn't. Here is what I know. Sure I have made mistakes, but I have also been pretty stinking lucky.
I married well. Sam and I still love each other- and humor has been the glue to hold this family together. We like to laugh a lot- at ourselves, at each other, and at life.
We have five great kids! They are hitting the teen years, and honestly? I really like these guys! Thanks to Sam's job, we have had many adventures traveling together as a family. I turned my hobby into a job. Work from home in my pajamas? Yes, please.
Life is good. I am grateful.
Here is the detail of how Shaunte cut the title  with her Cameo. Cutting glitter cardstock, like our Glitter Silk, upside down and in reverse helps save your blade and make a nice, clean cut so your glitter won't shed.
Supply List:
Tim Holtz Shattered Cardstock, Vintage Cardstock, Tim Holtz Kraft-Core, Glitter Silk (Shaute cut it on her Silhouette by putting the paper in upside down, and printing the title in reverse. ) Queen & Co. washi tape and bling.