We love the beach and are so spoiled to live only 45 minutes from the ocean.  To me, the ocean is a place of freedom & relaxtion.  The thought of it inspired today's beach-themed mini canvas created with lots of Core'dinations Cardstock.
To create this 4″ x 4″ mini-canvas:
1) Cut, sand and dust a 3.75″ x 3.75″ piece of Spotted Jillian Aquaduct.  Adhere to the canvas with craft paste .  I used Helmar's Decoupage.
2) Ink the edges of the canvas and paper with a color that matches the cardstock background. Let the ink dry thoroughly before moving onto next step.  You could even heat set the ink.
3) Place another layer of craft paste over the canvas.  Set aside to dry while doing the next step.
4) Tear, sand and dust three 3.75″ wide pieces of Core'dinations Whitewash Cottage Porch. Layer & glue these pieces onto to the center of the canvas so the tearing is shows on each layer. This creates the beachy waves. Mix craft glue & chucky clear.  Paint this mixture onto the "waves."
5) Tear, sand and dust one 3.75″ inch piece of Core'dinations Whitewash Grandpa's Trunk.  Heat emboss a bit of gold embossing glitter to this piece. This gives it a textured beach sand look.   Glue the "beach sand" to the bottom of the canvas, overlapping the waves.
6)  Punch out a starfish from Core'dinations Neutrals.  Sand & Dust starfish before adding a bit of ink along the edges.  Glue onto the right bottom of the canvas.
7)  Add another layer of craft paste over whole canvas (sides included).  Let this try thoroughly.
8) Freehand paint the quote on the canvas using white craft paint.   Paint over the quote with another layer of white to make the quote really pop.
Other Supplies:
Martha Stewart Starfish Punch & Glitter
Helmar Decoupage & Craft Glue
Quick Quote Chalking Ink
Hi there, Core fans! Vivian Keh here today excited to share with you a pair of mixed media tags crafted on Core'dinations' 110 lb Smooth Cardstock.
I really love this stuff – it holds up to a lot of media work, as you will see in my stepped out tutorial today.
Step 1: Pour a bit of mist onto the Core'dinations 110 lb cardstock. While it is wet, blow onto the media through a straw. This will create the dramatic streaks above on your project.
Step 2: Once the streaks are dry, mist your cardstock with water, then pour or spritz your choice of mists. Spritzing onto a surface pre-moistened with water allows your colors to blend freely and spontaneously with each other.
Step 3: While the surface is wet, unscrew the cap to an intensely hued mist, and tap the color into the puddle. Instead of creating the typical splatter of mist which happens when you work on a dry surface, the colors will move a bit and create a watercolor effect something like Stained Glass.
Step 4: Add some stamping using Distress Inks. Lightly mist your stamping with water to further the feeling you are looking through the softening lens of stained glass.
Step 5: Add die-cuts, text, and other desired embellishments. To complete my organic look, I added my vascular hot glue effects (for which I have many videos available on my youtube channel). To make the die-cuts pop, you can use a marker along the edges – while still wet, blend in the pigment with decoupage medium.
Thanks so much for visiting with me here on the Core blog today!
-Vivian
SUPPLIES:
Core'dinations – 11o lb Smooth Cardstock
Sizzix: Asian Dragonfly Thinlits Set #658801, Tag & Bookplates Die L Die #656938, Bigz Mariposa Die #658530
Lindy's Stamp Gang – Mists
Hampton Art – nature stamps
Inkadinkado – bird stamp
Ranger – distress inks
Clearsnap – Mix'd Media Inx
Hot Glue
Hemp twine
Hi there, friends! Vivian Keh here today to share with you a really fast technique that uses Core'dinations 110 lb cardstock to create dramatic backgrounds quickly and easily.
Let's get started….
Step 1: Stamp a lined image using watermark ink. Sprinkle with clear or white embossing powder, and tap off the excess.
TIP: If your image is detailed like this one, I recommend using a "fine" or "super fine" embossing powder.
Step 2: Heat with a heat tool to set.
Step 3: Wet your surface with a light misting of water. Then spritz with your choice of mists. If you use primary colors, they will blend beautifully together to create secondary colors.
TIP: Use more intense hues where you want your heat embossed stamped images to really pop. You can see I used a bright red in the centers of these blossoms.
Step 4: Add a dash of salt! Then go have lunch while your dramatic background dries.
Step 5: Lightly rub with a finger to remove the salt. This will reveal the cool work that the grains of salt did for you, pulling in the pigment in natural, organic patterns.
Step 6: If you like, rim the edges with distress ink. For my card project, I kept embellishments to an absolute minimum so that my background could be the star of the show.
Hope you enjoyed my tutorial today and that you'll give salt a try during your next mixed media craft session.
SUPPLIES:
Core'dinations – 110 lb Smooth Cardstock
Paper Source – Woodblock Stamp
Clearsnap – Watermark Ink
Ranger – Super Fine Embossing Powder, Distress Ink
Lindy's Stamp Gang – mists
Coarse Kosher Salt
Hemp Twine
Button
We are here having fun this week with Couture Creations. It's no secret that Core'dinations ColorCore Cardstock looks fabulous with dies and embossing folder especially when you sand, sand, sand!  Couture Creations is  an Australian owneda & loved brand, Couture Creations is the culmination of 20 years experience in the scrapbooking industry. From its final inception in 2010, Couture Creations has been devoted to producing expertly designed, high quality products overseen by veteran designers & crafters for a result that is both simple and elegant.
Make sure you head over to their BLOG, PINTEREST, FACEBOOK pages to find out all the other chances you can win. Here is a sneak of what is going on over there today.  Please keep in mind we are in two different time zones so in case we are off on our times bit please forgive us.   We are getting our coffee ready when they are getting ready for bed.
We have some gorgeous projects for you today! Three very different takes on what you can do with Core'dinations and Couture Creations projects.  Mixed Media and a CAS card…something for everyone.
First up Designer Ava Gavloski. She is the queen of texture! She always is inspired by life and created this mixed media canvas for us today. Here is a little bit about this project from Ava….Recently, I visited the Royal Botanical Gardens in Hamilton, Ontario, Canada ( www.rbg.ca).  That visit inspired me to create my Core'dinations Couture Creations canvas.    There is a plant at the rock garden  called a Helleborus that likes the shade and the young leaves of the plant look like a pale mint green flower which eventually become the leaves of the plant.
I folded tissue paper making  a stack of 4 sheets for each of the 3 flowers die cutting with  the Couture Creations Doily die.  Keeping the tissue paper stacked together after removing from the die, fold the flower in half and half again and hot glue the edges as you shape the doily flower.  Spray with your favorite re-inker/water mixture  and dry.
And a close up of that gorgeous Fantasia Doily Die from Couture Creations:
Then the fun part of this project was selecting the various green co-ordinating colors from the Core'dinations collections that harmonize with each other.  Core'dinations collections sing in harmony on this organic canvas.
Once the color tones were selected the Couture Creations Embossing folders were perfect for this organic rock garden inspired canvas.  Emboss, sand and tear the Core'dinations embossed papers and layer onto your canvas.  Apply the Gel medium to hold all the elements in place and sprinkle with the beads and sequins while the gel is still wet. Love the grass chipboard pieces by ScrapMatts.
It's all about texture…
Core'dinations, Tim Holtz Adirondack, Willow and Meadow green
Core'dinations, Tim Holtz Distress, Old Paper, Peeled Paint and Crushed Olive
Sand it Gadget
Dust Buddy
ScrapMatts chipboard
Cuttlebug
Ranger Distress re-inker, peeled paint green
Golden Gel Mediums, High Solid Gel (Matte) and Hot Glue
Canvas, Cheesecloth, seed beads, beads, sequins, colored wire
~~~~~~~~~~~~~~~~~~~~~~~~~~~~~~~~~
Next up we have Designer Jill Lebbin. Mint green is  SO in right now and I just love love this color combo!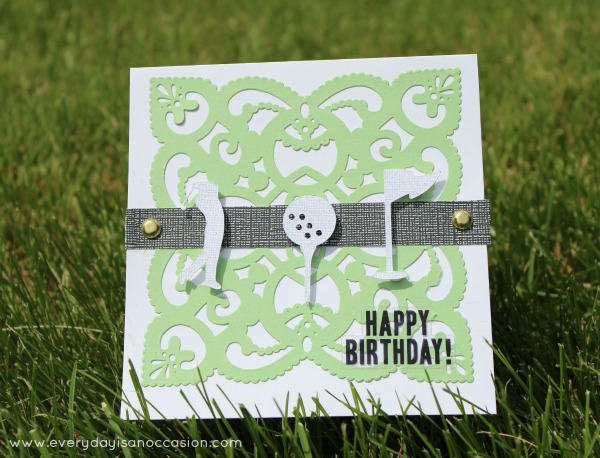 And we are looooving the 3D Foam Adhesive from Couture Creations! Check out this great detailed shot from Jill showing all that dimension: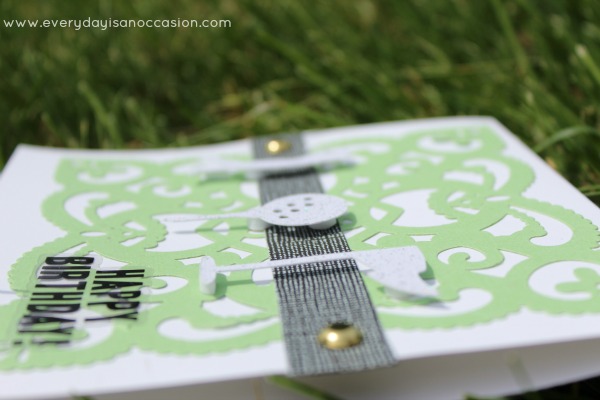 Materials:
Core'dinations- Vintage Collection (Black and Green), Glitter Silk 6×6 pad
Couture Creations: Fantasia Collection- Tatted Lace
Misc. Brads