Happy Tutorial Tuesday!
We have a fun tut today from Design Team Member
Kim Jeffress
. Kim created these SUPER cute bow ties for those fun Easter candy treats you get on a stick. AdorAble!
BOW TIES
2 On a piece of scrap 12 inch cardstock draw this design- basically think of it as two fish kissing. Mine is approx 2 inches wide.
3 Cut it out and then trace around it onto your core cardstock and cut out.
4 Using your sanding block sand the embossed pattern of your cardstock. Remember to wipe off the excess dust with your dust buddy.
5 Take your scissors and cut a slit in the indented end (cut half way through), now turn your cardstock 180 degrees and repeat at the other end but make sure it's on the opposite side.
6 Now comes the tricky part, twist your cardstock over and join each slit cut into the cardstock
7 You should now have something that looks like this.
8 Push down on the centre of the loop as shown.
9 Staple through all the layers to hold it together.
10 Cut a strip approx 1 inch wide of a coordinating pattern paperand wrap around the middle of your bow and glue into place.
11 Now take your chocolate bunny on a stick and using strong adhesive, adhere the back of your bow to the stick as shown. Allow to dry.
12 Your bunny is complete
CUTE!
So are you ready for one of the sweetest Valentine's Day projects?
Design Team Member Kim Jeffress altered these bottles using My Mind's Eye Core Impressions. These are so perfect for this time of year or any occasion!
I can see these for any occasion for sure!
Only FIVE more days until Christmas!
From now until Christmas Eve we are showcasing our Design Team's Favorite cardstock. Each designer picked a few of their favorite lines and created some gorgeous projects for you showcasing why they love it so much.
Then, on that day, just by commenting on that post, you have the chance to win! AND some days we might be showcasing more than one line so you need come back often.
Here is how it works:
1.) We post every day. The following day we pick a winner and then start over so keep coming back!
2.) You have all day and night to post. Yes, you heard me! You can win up until the next day when I pick a winner when I get up. We want our international fans to be able to win and they are normally sleeping now 😉
3.) Want additional chances to win?  Comment on Facebook and share the excitement on your blogs! If you share on your blog, come back here and link us up. Remember, you can do it every day for more chances to win!
WE LOVE our FACEBOOK FANS! And we do LOADS of giveaways over there, too. Make sure you like us to be able to win 😉
4.) Please note: we will not be shipping to winners until the January due to the Holidays. Winners must email ellen_sosnoski@coredinations.com with your name, address, phone number if international to claim prizes.
Now who wants a winner from yesterday????
Oooh, this looks fantastic! Great samples with this line.
Today is all about BasicGrey and My Mind's Eye Core Impressions! Yep! You guessed it….we have TWO giveaways for you today.
First up we have Design Team Member Shaunte Wadley with a layout using the MME Core Impressions. Did you know we have mini packs of cardstock in the MME design for our cardmaker friends?  We sure do!  Obviously these look awesome on layouts as Shaunte shows us here.
Love how she hung the cutout shapes with the MayArts Ribbon like ornaments!
And a close-up. Love how Shaunte inked the edges in black. Looks gorgeous on the whitewash and a great way to accent that sanding. REMEMBER! Use your Dust Buddy before you ink 😉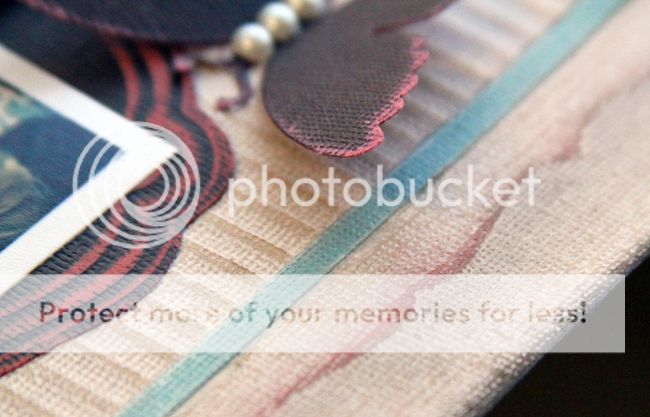 And next up we have some BasicGrey Core Impressions from Design Team Member Kim Jeffress using the Whimsy collection.
How about this for upcycling your scrappy packaging???? Everything does go better with candy.
See you tomorrow!
With the Stanley Cup playoffs in full force, we thought it would be a great time to share our love of all things hockey!
Design Team Member Lydia Jackson shared this layout with us over the weekend and it is just priceless. The My Mind's Eye Core Impressions background is perfect for this layout. Just a touch of sanding around the edges is awesome and just enough to show off that gorgeous red core. Lydia accents that red in small areas throughout the layout, too. And pair it with some neutrals & a touch of blue from the Core Essential line and voila!
We would love to see what you can do with your Black Magic Core Impressions!
Have a gReAt week!