Today we have some  projects our team created with their kids! Crafting is so much fun especially when you can do it with your kids.
First up we have Designer Heather Ann Kaesgan. She made a some wall art with her son. Her son just LOVED the doggie accents with the Imaginisce Good Dog line. He sanded the canvas using his Sand it Gadget after gluing down some Vintage Cardstock…PS KIDS LOVE OUR SAND IT GADGET! It is easy for them to hold onto and, of course, sanding is so much fun! And when they clean off the paper with the Dust Buddy it's like magic!
~~~~~~~~~~~~~~~~~~~~~~~~~~~~~~~~~~~~~~~~~
Next we have Jill Lebbin…..
Hello Everyone! Jill from Every Day is an Occasion back with another project for you!   Today I have a Hot Air Balloon Card. We gave this card to my sweet cousin, who turned 17 this year. I have to tell you, I cannot take complete credit for this card. My son actually assisted me in making this card. He helped pick out the colors, stamp the background, and use the hot air balloon dies. He is such a big helper!
Hot Air Balloon Birthday Card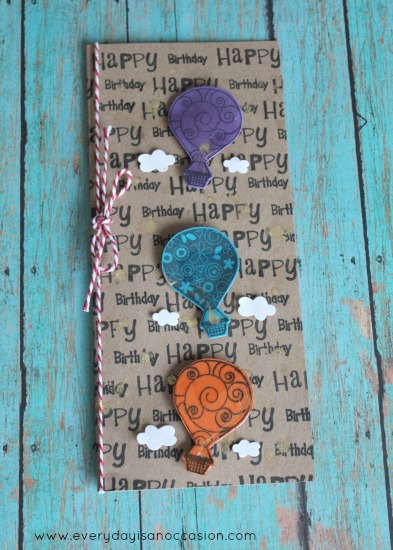 For this card I used Tim Holtz Kraft  Core, Brights Pack, and Neutral Pack of Core'dinations paper. Like I always say, the brights and white are my go to paper packs. I am very impressed with the way that they take stamps. I even put glossy accents on top of the balloons that I had popped up with foam adhesive. The paper held up very well. It did not tear. I sprayed some Colorshine on the paper too, just to give it extra excitement.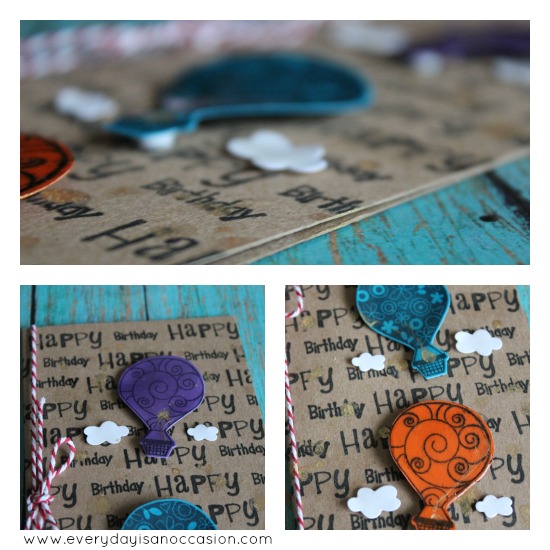 Thanks for stopping by today and checking out my..I mean..my son's and my hot air balloon card!
Have a SUPER fun day!!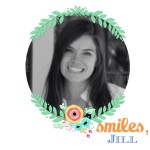 How much did you LOVE yesterday's layouts from our Design Team?
REMEMBER…you can post on our blog here all week long for a chance to win. We will put all of the comments in random. org and pick one random winner from ALL the  blog posts ….  the more you comment the more you can WIN WIN WIN! AND we will pick one lucky winner from our Facebook page, too!
AND…yes there is more! Imaginisce is giving away goodies on their blog, too! Of course there is loads inspiration over on their blog as well. PLEASE head over to their Facebook page as well. If you don't like them, well you should! And if you already do…awesome! Tell them we said HI! Cannot wait to see how they work some Core!
Today we have layouts galore for you from our ever inspiring Design Team!
We got to play with the i-Rock.
And of course…we are showing off what it can do with some Core'dinations Cardstock!  A match made in heaven!
Check out how Design Team Member Shaunte Wadley made these cute little flowers with her Glam Rocks. Looks gorgeous with the Spotted Cardstock.
Design Team Member Debbie Standard created a gorgeous card for us today as well. It has a very different color palette showing how versatile the i-Rock can be. Looks gorgeous with the Black Magic Cardstock and matches our NEW Neutral color  palette from one of our BRAND new collections!