Welcome to the Core Tip of the Month! If you are here then you are receiving our BRAND NEW Hard Core Crafter newseltter! We hope you are enjoying it so far. Not on the list?  Sign up HERE !
This month we want to share some tips with you about designing our Core Tags. We love, love them here at Core'dinations ColorCore Cardstock.  They come in a variety of sizes and colors to match our Pastels, Brights and Darks collection packs, not to mention individual packs of all white. They have a great texture, a metal grommet and you will find they are great for journaling, adding titles and much, much more!
For this project, Designer Kim Moreno used tags from the Brights Collection pack and tore the bottom of one of the Core Tags to create that perfect amount of added interest and texture.
For more tips on tearing Core'dinations Cardstock, make sure you check out our Technique videos HERE.
And a close-up of that detail:
 But keep in mind you don't always need to tear them…you can just stack your tags on your layouts for journaling, too. April Derrick did just this and added some doodling to her tags to personalize them a bit, too! The white tags are perfect for this…
See how April layered them along the sides?  Perfect for titles and journaling.
Make sure you check them out in Pastels and Darks, too!
I know that Canada Day isn't for a few days but we wanted  to share a project with you to create just in time for that special day!
Design Team Member Char Dobson created this gorgeous project for you today with her daughter for our series Kids Krafts & Core.
Project: Canada Day Mini-Album
Techniques: sanding, paper tearing,  stamping
Don't be afraid to use found objects in your house. Char actually used a wooden maple leaf that had in her house. They traced it using a stylus!
Making a mini album about your country is a great way for children to learn first hand about their country.
Trust us!!!
Paper tearing is a super simple way for kids to really explore texture AND it's FUN!
Have your kids journal directly on the Core Cardstock like Char's daughter did here!
And a cute stamped image on the back!
We are so excited to be sharing this week of May Arts, Petaloo AND Core'dinations with you!
It is DAY FOUR already?  Can you believe that?  That is how time flies around here especially when you are having fun and being inspired. We love Thursdays around here, too!  Why is that?  Well,  it's ANOTHER day to comment to win win win!
THREE awesome  companies have come together to inspire you. And our teams have been working hard to create some festive projects for you, too. It's all about the Holidays. From Halloween to Thanksgiving and even Christmas…you will see festive projects to get those creative juices flowing and hopefully give you some ideas for this time of year.
And of course…there are give-a-ways!!! All three companies will giving away tons and tons of goodies this week so make sure you head over to the Petaloo Blog and May Arts Blog for details and inspirational projects. Don't forget about Facebook! Join us on our Facebook page here,  the May Arts and Petaloo pages, too, for additional chances to win. Make sure you tell them we sent you!
Don't forget to comment all week long for a chance win a Core'dinations prize pack! And head over to our Facebook page…you never know when we offer up another chance to win.
Did you know that Core'dinations and Petaloo have a color matching program?  We sure do!  We did all the hard work so that you can easily match your favorite Core Colors with favorite Petaloo flowers.   How easy is that???
Today we have a special treat for you from Design Team Member Andrea Amu. THIS is how you work Black Magic Cardstock. Just sayin' 😉
And some close-ups. Add some Petaloo flowers and May Arts ribbon and you have a gorgeous project. Andrea also used a piece  of Tillie Spotted Core'dinations behind the frame.  For the floss-like fibers used in the button ties, Andrea pulled apart the May Arts cording… discarded the white fiber-fill from the inside and just used the flossy threads. COOL!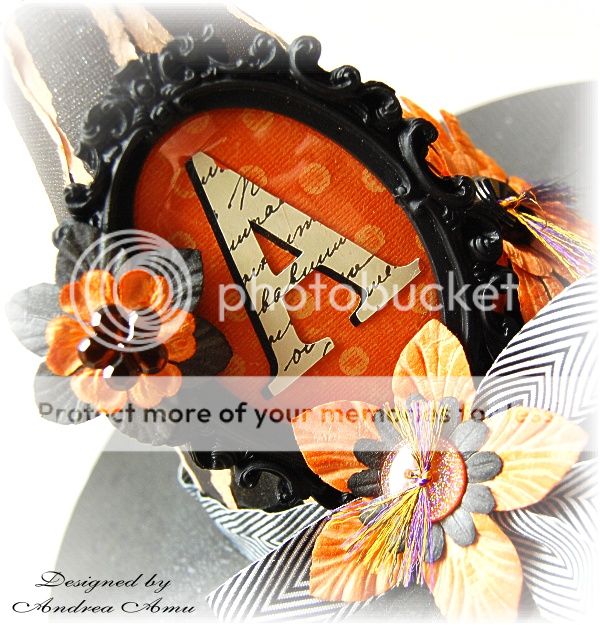 And one more…
Welcome to our week long inspirational blog swap with Spellbinders! We are super excited and both teams have been working diligently to inspire you.
Sophistication, value and maximum versatility make Spellbinders™ die templates #1. Beautiful Details Inspiring Creativity…Spellbinders unique triple function die templates allow you to cut, emboss, and then stencil through the die template for unlimited possibilities. The Spellbinders Grand Calibur® machine and Spellbinders Grand Nestabilities™ die templates cut and emboss up to 11¾", taking die cutting to grand proportions. Follow Spellbinders on Facebook, Twitter and the Spellbinders Blog!
AND Core'dinations  ColorCore Cardstock will be giving away FOUR paper packs in total!!!
Here is how you can win:
1. Visit the Core'dinations blog and leave a comment every day, Monday the 26th through Friday the 30th. We will give away two packs to TWO lucky winners.
2. Like us on Facebook and comment to win a paper pack.
3. Visit the Core'dinations Designer's blogs and leave a comment. We will be linking them up on the Core'dinations blog throughout the week and will choose one random designer's blog to pick a winner.

Make sure you visit the Spellbinders blog for more details on how to win some of their awesome dies AND for some amazing projects from their Design Team.
Remember for additional chances to win, visit our designers blog and leave comment.
Now are you ready for some inspiration!? OH..one quick thing…make sure you check out the DT blogs linked here…they might just have additional projects posted on their blogs in addition to the chance to win 😉
First up we have some fabulous cards…
Design Team Member Andrea Amu created this beautiful card using the Spellbinders Impressabilities Pebbles template.
Design Team Member Ellen Sosnoski Created this card using some Vintage Cardstock and the Large Scalloped circles to create the window.
AND…..
Design Team Member Lydia Jackson created these cute cute cute cute bags for us today.  WANT TO SEE MORE?
She has another sneak of it on her blog. There are so many awesome details to this fun project.
Besides some Core Essentials , Melissa used the Nested Lacey Pennants s5-028.
DON'T FORGET TO COME BACK TOMORROW!
We are kicking off the last few days of August with Paper Trunk projects.
We have had so much fun working with them this month!!! Check out their blog for some more inspiration and DON'T FORGET!!!
YOU HAVE UNTIL TONIGHT FOR OUR COLOUR CHALLENGE FOR AUGUST!
Today we have a layout from  Design Team Member Lydia Jackson. Lydia shares some GREAT tips with this layout using Paper Trunk papers and some BRAND NEW Tim Holtz Kraft-Core.
With the Kraft-Core, the kraft IS the Core! It's so cool! So, one tip that Lydia shares is that you are going to want to sand your Tim Holtz  Kraft-Core first before you print on it with your computer.  This will allow the cardstock to absorb the ink faster.
AND how fun is that sand castle out of the Tim Holtz Kraft-Core?!??!?!?!  Such a great layout. Lydia really shows off how you can use the blues and greens in this Paper Trunk line.
OH OH OH. And did you see those TAGS???  YES, we have tag! They are part of our Cardmaker Series and come with these gorgeous silver grommets.
We hope this week is going to be a great one for you. Today we wanted to showcase a few projects using different lines of Core'dinations. The great thing about our cardstock is that you can mix and match our lines to create unique, one of a kind projects.
Each line core'dinates with the others! So get out that Core Impressions and Core Amour and that Vintage and Core Essentials and get ready to be inspired.
If this card by Design Team member Heather Bowser doesn't get your week started of brilliantly than I don't know what will. Check out the mix of textures and different Core'dinations cardstock (Vintage, Core Essentials, Stacy Julian Core Impressions).
And for this layout, Design Team Member Cari Locken uses Graphic 45 Core Impressions (background), Core Amour (striped strips along the top and bottom) and Core Essentials.
Have you seen our video on paper tearing?  It is such a simple and effective way to add texture and release that gorgeous inner core!
Have a great week. I have a busy day today picking our winners from our Facebook give-a-way  last week and this weekend so stay tuned for some announcements!