I don't know about you but I don't get a chance to scrap Easter (or Holiday photos) until after the Holidays.  It seems as if then all they  hype is over and I we have moved on to the next Holiday for inspiration. Well not here! 😉  Today we have some inspo for you to get out those Easter shots from a few weeks ago and scrap them. Don't wait until next year….if you are like me you will behind schedule 😉
Design Team Member Lydia Jackson created this layout with a beautiful mix  of Core. She used Pink Paislee Core Impressions (honeycomb and dots) and then she used her Spellbinders die to make the impression on the neutral cardstock found in our NEW Neutrals Collection packs.
And here is a detail of that impression with Spellbinder's die. LOVE it!!
Welcome to our Kids Crafts  and Core Series!
Our awesome design team has put together a few tutorials that you will be seeing here on the blog that are designed JUST for you and your family. We had our first series from Design Team Member Char Dobson over Valentines Day here with some great Cricut tips.
Today we have Design Team Member Kim Jeffress and her son with a fun tutorial using Core'dinations cardstock, punches and other found items around the house. Here is a little bit about this project from Kim herself and a sneak peek of what they created together:
My 5 year old son in completely obsessed with all things Space. He spends all day everyday, reading Space books, drawing Space pictures and playing with his space toys.
He is also a BIG lover of craft just like his mum and I have to hide away all my precious Scrapbooking papers and goodies for fear he will cut them up.
Today we decided to create a Space picture using  some of my Coredinations scraps.
Step 1 We gathered a bunch of Coredinations cardstock scraps, scissors, glue, crayons and a pencil.
Step 2 To create the planet Mars he chose a piece of pre embossed Pink Paislee cardstock cut it into the desired shape then used the side of a crayon to shade over the bumps…"Look mummy a pattern" he shouted!
Step 3 He then used some containers to trace circles for other planets and cut them out! He also used the different coloured cardstock to cut out a rocket which he sanded and a sun…Glitter cardstock for a shiny sun!
Step 4 I helped him to cut out the rings for Saturn but he insisted on using my sanding block to sand the rings himself!
Step 5 My punches are definitely a favourite and he raced up stairs to get my star punch to create some stars.
Step 6 He wanted some craters on Mars so I suggested he use the kraft core to tear the top, he then drew and cut out the rest.
Step 7 He then went ahead and assembled his picture.
Step 8 Finally he wrote a simple story about his picture, he couldnt wait to read it to his daddy!
And here is the finished project! SO CUTE! And FUN!
Not sure about you but I always feel as if I need a baby gift these days!
And what better way to whip one up than with a brown bag and some Pink Paislee Core Impressions?  Design Team Member Char Dobson created this super cute bag with some Pink Paislee Nantucket papers and Core Impressions and her Cricut. If you don't have the Wrap  it Up cartridge, no worries! You can use any die cutting machine or even hand cut these details with a pattern.
Don't forget about our Hard Core Crafter program!
Are you Hard Core?
Do you love tearing, sanding and ripping Core'dinations ColorCore Cardstock EVERY chance you get???
Than we are looking for YOU!
We have been working behind the scenes creating a super cool program that is designed to give our Hard Core Crafters exclusive benefits.
Want to know more?  Than keep reading…..
By signing up to be a Hard Core Crafter, you will be automatically entered to win fabulous PRIZES, view NEW product releases and watch EXCLUSIVE videos with unique product tips and technique ideas.  All of this was designed just for you, our Hard Core Crafters!
Our designers have created fabulous videos that will inspire you at the click of your mouse.
Ready to sign up?  It's EASY and 
IT IS FREE!
. See the video player to the right of this blog post?  You can click on that or click
here
to sign up.
And the more people that sign up, the more we giveaway so tell your friends!
AND you can start watching the EXCLUSIVE videos immediately!
Just a reminder …Don't forget about our Core Colour Challenge!
Only nine days left to get those entries in and a Core pack of cardstock is up for grabs!!! More details here.
Today we have some fun layouts from Design Team Member Melissa Oliveira.
Melissa works the 8.5×11″! check out the tone on tone embossed hears!!!! LOVE!!!
Here is a little bit about this layout from Melissa, "the embossed hearts were cut from the left over strip from trimming the background to a 8 1/2 x 11 size. I just embossed, sanded, and popped them up with foam tape for a little added dimension. I sanded then inked the Jenni Bowlin butterfly Core Impressions that is behind the title work. I really like the way the sanded areas take to the ranger distress inks."
And speaking of love…..
How sweet is this?  That chevron Pink Paislee Core Impressions is too perfect! SO many great details, don't you think? Melissa used her BasicGrey embossing folders for the hearts.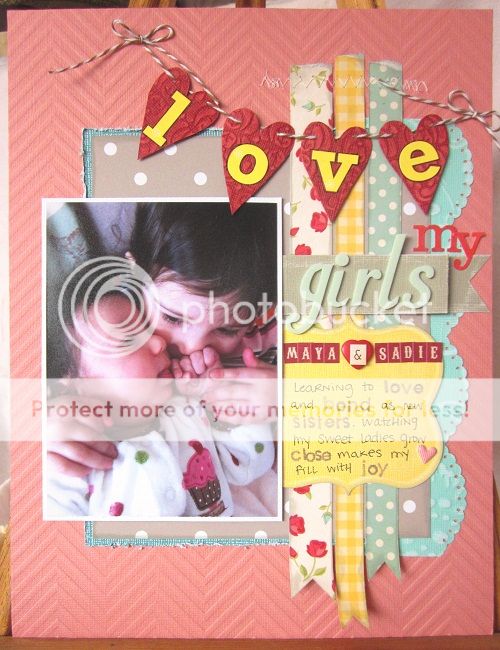 Before we get started, don't forget to sign up for our NEW Hard Core Crafter program! Details are here.
You will get access to tons of giveaways….EXCLUSIVE videos….and it is FREE!!!!
The more people that sign up…the more we giveaway!!!!
So how about some more Valentine's Inspo for today?  What about a Card from Design Team Member Kim Jeffress?
Okay. How much do you love how Kim used the negative image of the punched heart and used the tone on tone with the Pink Paislee Core Impressions. GorGeOuS!!! Pink and yellow is so fabulous and that touch of May Arts Ribbon is just perfect.
Happy Valentine's Day!
Happy Friday!
Don't forget…we will be here tomorrow and Sunday, too!
From now until Christmas Eve we are showcasing our Design Team's Favorite cardstock. Each designer picked a few of their favorite lines and created some gorgeous projects for you showcasing why they love it so much.
Then, on that day, just by commenting on that post, you have the chance to win! AND some days we might be showcasing more than one line … like today!
Here is how it works:
1.) We post every day. The following day we pick a winner and then start over so keep coming back!
2.) You have all day and night to post. Yes, you heard me! You can win up until the next day when I pick a winner when I get up. We want our international fans to be able to win and they are normally sleeping now 😉
3.) Want additional chances to win?  Comment on Facebook and share the excitement on your blogs! If you share on your blog, come back here and link us up. Remember, you can do it every day for more chances to win!
WE  ARE WORKING OUR WAY TO 5000 FANS! CAN YOU HELP US GET THERE? LIKE US ON FACEBOOK IF YOU DON'T ALREADY! TELL YOU FRIENDS…FAMILY…EVERYONE! WE DO GIVEAWAY OVER THERE, TOO 😉
4.) Please note: we will not be shipping to winners until January due to the Holidays. Winners must email ellen_sosnoski@coredinations.com to claim prize. Please include "Favorite Things" in the email title and name, address, and phone number if international.
Who wants a winner??? Yesterday's winner of the  Tim Holtz Adirondack Collection pack is….
Cute layouts. That sister love one is so darn cute. What a great choice for a favorite the Tim Holtz Adirondack Cardstock. It would be a fun one to work with.
So….ready for some inspiration and give-a-ways????
Today is all about Core'dinatons SPOTTED Collections.
This is one of our most versatile collections today. The Tillie spots are bigger and perfect for layouts and the Jillian spots are a bit smaller and closer together and are great for layouts and cardmakers, too. Just what every paper crafter needs in their day-to-day supplies.
First up we have Design Team Member Lydia Jackson with some Jillian AND Tillie cardstock on one layout and she used some patterned paper from our friends over at Jilliebean Soup.
And this is what we are talking about when we say this cardstock is versatile.
Check out this layout from Design Team Member Kim Jeffress…different color palette yet SAME GREAT cardstock and gorgeous,gorgeous layout.
And anyone have any guesses as to what patterned paper Kim used on that layout?
Yep, you guessed it. PINK PAISLEE. Why am I asking?
BECAUSE WE HAVE TWO GIVEAWAYS TODAY! Yes, you heard me right. TWO!
We have a Pink Paislee Core Impressions cardstock collection pack to giveaway today, too!
YIPPPPPEEEEEEEEEE!!!
Here is a layout from Design Team Member Debbie Standard using some Pink Paislee Core Impressions:
See you tomorrow. We will be here all weekend long!!!