….that is with our CORE IMPRESSIONS! Debbie Standard is rocking the layouts for us today. ENJOY!!!!
~~~~~~~~~~~~~~~~~~~~~~
Creating with the Core Impressions line is SO MUCH fun! For this page I wanted an embossed background in a soft color so I chose a sheet from the Pink Paisley collection as my base which I sanded with my Sand It Gadget and then dusted with my Dust Buddy. Then I just went through my scraps (and yes I keep all reusable Core'dination's scraps) and picked colors from the basic core colors that went with my photo and background paper.  To tie them all together I used a neutral beige to back each square.  I embossed each square with Darice embossing folders, sanded them and then matted them with the Neutral beige.  I added my title and some embellishments both hand made and pre-made to compete the page. The beautiful girls are my daughter (left) and her bff.
Supply List:
Pink Paislee Core Impressions
Core Basic Colors – a variety
Sand it Gadget
Dust Buddy
Cuttlebug
Darice Embossing folders:  1218-28, 1215-62, 1215-61, 1216-68, 1216-64, 1217-59, 1215-60
Spellbinder's Die:  S4-328 Foliage,S5-050 Rose Creations, andS5-114 Spectacular Spin
AND another layout from Debbie Standard working that Core Impressions…this time the Cosmo Cricket Woodgrain cardstock.  Debbie uses these for her CSI case files. The colors are always amazing!
The cool thing about Core Impressions, in addition to the fact they come embossed, is that you can add layers and layers of sanding and inking and sewing like Debbie did here:
Ink:  Tim Holtz
Stamps:  Fancy Pants, Cornish Heritage Farms
Flowers:  Prima
Papers:  Webster's Pages
Lace:  Webster's Pages
Brads:  My Mind's Eye
Rubons:  Basic Grey
Hi Everyone!
I couldn't  wait to dive into the NEW David Tutera Celebrate Cardmaking system for things other than cards. Making gift bags is one of my favorite things and I knew the time had come when I wanted to make a mini album for a friend who just had the cutest little guy a year ago.  So I made a premade album for her so all she  needed to do was just add photos.
I used one of the tags from Step 3.  The tags come with different pre-embossed designs so all you need to do is sand.
Same with the Step 2 layers. They make PERFECT pages for the album AND NO CUTTING or EMBOSSING!!!!!! Just sand them if you want and adhere. SO SO easy.
We cannot wait to see what you can do with the NEW David Tutera Celebrate Cardmaking system. It's not just for cards…the possibilities are endless.
For more ideas and inspiration check out our Gallery and How to sections.
Just a reminder …Don't forget about our Core Colour Challenge!
Only nine days left to get those entries in and a Core pack of cardstock is up for grabs!!! More details here.
Today we have some fun layouts from Design Team Member Melissa Oliveira.
Melissa works the 8.5×11″! check out the tone on tone embossed hears!!!! LOVE!!!
Here is a little bit about this layout from Melissa, "the embossed hearts were cut from the left over strip from trimming the background to a 8 1/2 x 11 size. I just embossed, sanded, and popped them up with foam tape for a little added dimension. I sanded then inked the Jenni Bowlin butterfly Core Impressions that is behind the title work. I really like the way the sanded areas take to the ranger distress inks."
And speaking of love…..
How sweet is this?  That chevron Pink Paislee Core Impressions is too perfect! SO many great details, don't you think? Melissa used her BasicGrey embossing folders for the hearts.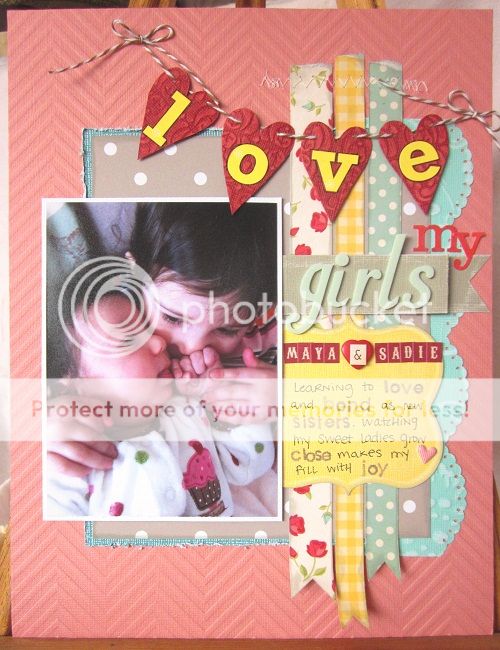 We would like to extend our sincerest apologies to the winners of our Tim Holtz Kraft Core giveaway. We had a programming glitch which prevented the shipping addresses of the winners from being collected. The good news is that we've found the problem, it is fixed, and all future giveaways will work very smoothly.
To show how much we appreciate everyone's patience, we are doing ANOTHER giveaway! We have THREE SIGNED Tim Holtz Kraft Core packs ready to give away to our Facebook fans. So if you aren't a Facebook fan, LIKE US NOW! Tell your friends and hurry!!! We'll be picking our 3 random winners on January 10th.
So who is in the Valentine's Day mode yet?  Anyone?  Well, we wanted to give you some inspiration so when you are ready it's here.
There is nothing better than some Glitter Silk for Valentine's Day projects!
Design Team Member April Derrick created this beautiful card using Glitter Silk and Pink Paislee Core Impressions. April sanded the Core Impressions and then used her Ranger Inks. Don't forget to use a Dust Buddy before you do this so the ink blends better. So many great details on one card!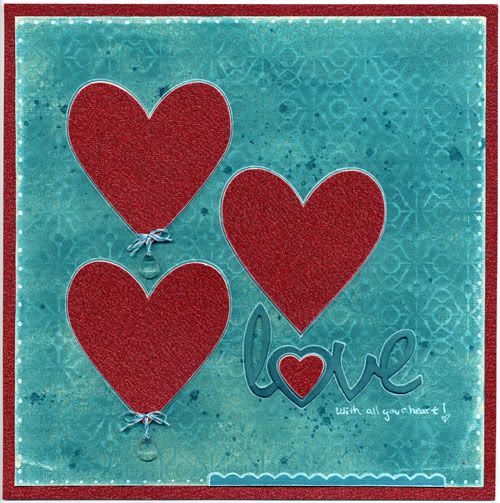 We are kicking off a fantabulous week with Pink Paislee!
And to make things even better…we are going to give away one of the these awesome Pink Paislee Core Impressions packs.  This beautiful cardstock pack has every Modern Print you need: Chevron, Hexagon, Lattice and Circle.
Just comment all week long for your chance to win! Make sure you head over to the Pink Paislee Blog and their Facebook page for additional chances to win win win! And, of course, amazing inspirational projects from their Design Team. I know I am an avid reader of their blog and you don't want to miss what they have created for you.
AND don't forget about our Facebook page!!! You know we always have a treat for you there, too! Spread the word about our fabulous blog swap and you will get additional chances to win!
Pink Paislee also offers Live Pink, an amazing Newsletter that comes right to your inbox. Make sure you sign up here!  They are always doing awesome  contests with fabulous prize packs so don't miss out on that.
Our team has been working hard behind the scenes with the Pink Paislee Core Impression line and the Pink Paislee Nantucket collection.
Today Design Team Member Debbie Standard created some gorgeous layouts for you today. So sit back with that coffee and get ready to be inspired!
Chevron is so HOT right now, you can't help but reach for this gorgeous piece of Chevron Cardstock every chance you get
Debbie paired hers with some hand cut Pink Paislee patterned paper details and some additional Pink Paislee Core Impression Cardstock for a beautiful layout.
This layout from Debbie really shows the versatility of Core. In this Core Impressions paper pack, you will get colors that fit any project…Pink..Blue…Yellow…Chocolate Box…you name it!
And last but not least… another way to use Core and patterned paper. Cardstock doesn't always have to be the start of your layout. Reach for some Patterned Paper first and then anchor it with some Core Impressions. Love the graphic print against the sanded circles! And of course those cute hand cut fishies
Welcome to our week long inspirational blog swap with Spellbinders! We are super excited and both teams have been working diligently to inspire you.
Sophistication, value and maximum versatility make Spellbinders™ die templates #1. Beautiful Details Inspiring Creativity…Spellbinders unique triple function die templates allow you to cut, emboss, and then stencil through the die template for unlimited possibilities. The Spellbinders Grand Calibur® machine and Spellbinders Grand Nestabilities™ die templates cut and emboss up to 11¾", taking die cutting to grand proportions. Follow Spellbinders on Facebook, Twitter and the Spellbinders Blog!
AND Core'dinations  ColorCore Cardstock will be giving away FOUR paper packs in total!!!
Here is how you can win:
1. Visit the Core'dinations blog and leave a comment every day, Monday the 26th through Friday the 30th. We will give away two packs to TWO lucky winners.
2. Like us on Facebook and comment to win a paper pack.
3. Visit the Core'dinations Designer's blogs and leave a comment. We will be linking them up on the Core'dinations blog throughout the week and will choose one random designer's blog to pick a winner.

Make sure you visit the Spellbinders blog for more details on how to win some of their awesome dies AND for some amazing projects from their Design Team.
Remember for additional chances to win, visit our designers blog and leave comment.
Now are you ready for some inspiration!? OH..one quick thing…make sure you check out the DT blogs linked here…they might just have additional projects posted on their blogs in addition to the chance to win
First up we have some fabulous cards…
Design Team Member Debbie Standard created this beautiful Birthday card using the Spellbinders Impressabilities in Paisley and the Blossom Nestabilities SF-192.
Design Team Member Kim Jefress created this beautiful card as well. Kim used  Spellbinders Grand Labels along with some NEW Pink Paislee Core Impressions.
AND…..
Design Team Member Lydia Jackson created these cute cute cute cute bags for us today.  WANT TO SEE MORE?
She has a fun little tutorial over on her blog today just for this Spellbinders Blog swap.
Besides some Core Essentials and Core Impressions Graphic45, Lydia used the  Spellbinders dies Grand Labels One  LF-161 and Nested Pennants s5-028 (for the cute little feeties!)
DON'T FORGET TO COME BACK TOMORROW!