Happy Monday everyone!
Today we have two layouts from Designer Suzanna Lee using our Core Impressions.  The great thing about these lines is that you can sand them or not sand them. So we thought we would give you to examples  of each. The first one uses the BasicGrey Core Impression Whimsy collection not sanded. 
The fun thing about Core is you can sand some …and not sand others ..all in the same  layout like Suzanna did here. She sanded the tone on tone stars and scallop shape in red to make them pop off of each other and then left her Core Impressions as is. Don't forget to get out your Sand it Gadget when you decide to sand
It's repositional sand paper pieces make it so easy to use!
Supply List:
Core Impressions:  BasicGrey
Coredinations Tim Holtz  Distress
~~~~~~~~~~~~~~~~~~~~~~~~~~~~~~~~~~~~
Core'dinations looks great cut in your Silhouette or any die cutting machine!
Love the bits of sanding….
Supply List:
Core Essentials: Darks
Core Impressions Basic Grey Whimsy
Tim Holtz/Ranger: Distress
12×12 Crabgrass
Whitewash 6×6 pad
Sand it Gadget
Dust Buddy
Patterned Paper and stickers: Pebbles
Decorative bag: Fancy Pants
Ink: Memento
Stamp: Cocoa Daisy
Wood pin:Little Yellow Bicycle
Wood Veneer: Studio Calico
Tag: Chic Tags
Die: Lifestyle Crafts
Dot: Q&Co
Wahoo! Our site is up and we are ready to rock-n-roll! But we did lose a few blog posts from earlier this week so today is one of those posts. Unfortunately they were some Fourth of July posts so it may seem a little  late so sorry about that!
BUT the good thing is that you can make these stars ANY time of the year! They look SO good on layouts, too.  Keep on reading for some great step-by-step directions from Designer Kate Nolan-Denham!
1)Create a card base, A2 size, made out of Red Rose Core'dinations Cardstock.
2)Cut a piece of White Glove CoreCouture Glitter Cardstock to 4″ x 5.25″. Glue to card base.
3)Deboss a piece of Navy Cardstock from the 4.25 x 5.5″ Darks collection and layer it on top of the white mat. I used Craft Concepts Solid Stars embossing folder for this card. The debossing is a GREAT contrast to the raised stars, don't you think?
4)Die cut 3 larger stars in different sizes and 2 small stars out of the Red Rose cardstock leftover from making the base of the card.  I used Sizzix Star Framelits.
5)Score each large star at each point.
6)Scor the stars along the scored lines and sand them with the Sandit Gadget to give them a 3-D effect.
7)Die cut a label shape out of the White Glove CoreCouture Glitter Cardstock, trim the bottom of it so it will be flush with the White Glove mat already on the card.
8)Stamp the sentiment on the label you die cut in #7. I used Spellbinders Label.
9)Add the stars and sentiment label to the card using 3-D foam. I used Helmar Zapdots.
10)Give to someone.  This card is bound to brighten anyone's day!
Core'dinations Supplies:
Core'dinations 12×12 Darks – Red Rose
Core'dinations 4.25 x 5.5 Darks – Navy
Core Couture  6×6 – White Gloves
Sand it Gadget
Dust Buddy
 Other Supplies:
Scor-Buddy by Scor-Pal
Helmar Quick Fix Adhesive & ZapDots
Spellbinders & Sizzix Dies
Stampin' Up! Stamp
…..with Vivian Keh!
In order to create the luxurious feeling in this card project, I turned to the beautiful pearlescent hues of our Gemstones collection.  While the sheen on the die-cut rosebuds showcases the elegance of the Gemstones cardstock as is, I dry embossed a bit of Sapphire colored cardstock, sanded  and distressed the raised surfaces with Distress Ink to infuse my card with a sense of nostalgia.
Ah…you can never have too many close-ups, right? Here is a shot of the inking on the embossed Gemstones cardstock.
Gemstones does NOT have a sandable finish like our Specialty collections so when you sand, you will lose the sheen. This is a GREAT alternative…sand it so you loose the smooth finish and your ink will be more intense.
Really Reasonable Ribbon – Metallic String Iridescent
And another card for you!
I love the organic patterns in every sheet of our "Shattered" Collection.  For this card, I kept a rustic, muted palette, creating very easy blooms by paper-punching and sanding petal shapes from a sheet of Shattered cardstock, taking advantage of the kraft backsides for some interesting variation in my blooms.
Can you believe it is our last day of the 2013-2014 intros????
What better way to celebrate yourself then a wedding layout! Here is a little bit about Jennifer's layout:
Who's having fun this week???
Today we are welcoming Jill Lebbin!  If you have been with us the last week or so make sure you check out the winner list HERE. You might see your name there and don't want to miss out on your Core Prize pack.
Here is a little bit about Jill:
Hello! My name is Jill and I share my crafts on my blog Every Day is an Occasion. I am so ecstatic to be on Core'dination's Design Team! I absolutely LOVE designing and creating projects! Within the last five years I have learned that I am happiest if I am able to carve out a little bit of time to live creatively every day, whether it is by decorating my house, making a card, or working on a scrapbook. I guess I could say, it is in blood…I attribute all my craftiness to my mother.
Most of my time is spent with my loving family. I have a wonderful husband who is very supportive of my endeavors and two sweet and spunky kids whom I get to spend my days with. I am so blessed!! We enjoy traveling together, whether it is to zoos, museums, or lakes…but our very favorite spot to travel to is The Cayman Islands.
When I'm not spending time with the fam or crafting I am working on my fundraiser that I created and direct called Craft for a Cause. We raise money to help buy Automated External Defibrillators (AED's they help restart a heart).
Here is the inside scoop in Jill's layout:
I chose a picture of my family as the focal point in my layout because they are my main focus. They are my life. Everything revolves around them and I wouldn't have it any other way. This is a picture of the four of us at a zoo. My son absolutely LOVES zoos, so we have been to 7 different zoos around the country within the last year.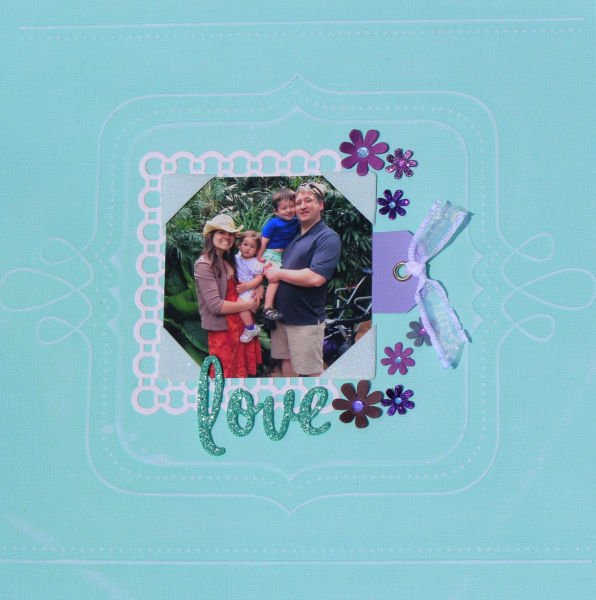 When crafting, I like to make things fun and interactive. So, I hid the Core Tag behind the photo. If you pull the ribbon, the tag will come out and I wrote where we were and the kids' ages on the tag.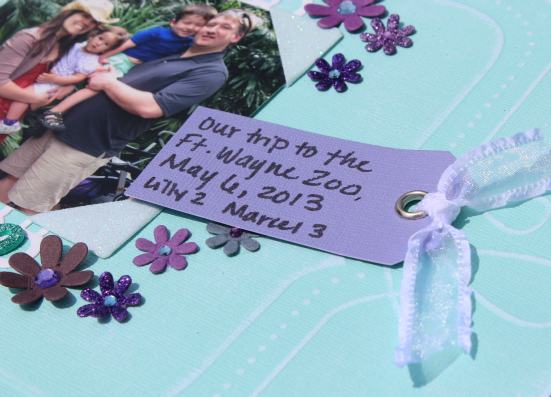 I love sanding Core'dinations paper! It's become a serious love! I mean really isn't it fun?!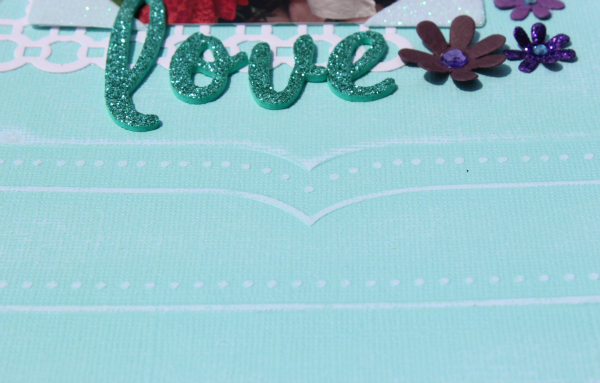 Supply List
Main turquoise cardstock piece: Core Impressions: Fancy Pants
White Core'dinations Cardstock: David Tutera -Lace Doily Assortment
Purple Tag: Core'dinations Tags-Brights Assortment
Ribbon: May Arts
Photo Corners: Martha Stewart Crafts
Thickers: American Crafts
Flowers: Paper Studio-Spare Parts
Thanks for stopping by and learning a bit about me!
To find out all the latest with me, we can stay in touch by Blog Facebook Twitter Pinterest Instagram
~~~~~~~~~~~~~~~~~~~~~~~~~~~
Anyone up for a WINNER from yesterday's Brights collection pack??????????
The Brights collection have such bright & cheery colors! I'd love to try them!
~~~~~~~~~~~~~~~~~~~~~~~~~
And today we have a pack of the gorgeous Neutrals Cardstock! Every single crafter MUST HAVE this in their stash! Same great Core but in a neutral color palette.
Please note we will only be posting Monday through Friday. We will pick a random winner the following morning (or Monday if it is the weekend) to win a pack of Core'dinations Cardstock. The cardstock pack may vary due to availability. Winners must email ellen_sosnoski@coredinations.com by June 7  to claim their prizes with the cardstock they won in the subject line.  Please include address and phone number in the email.
Happy Monday!  Did you have a great weekend? We sure did!
Make sure you check out the full list of winners HERE. We are back for another fun week of intros and giveaways!
First up we have our winner from Friday of the Tim Holtz Kraft Core….
Very cute L/O. I love the added layers and the feather. Thanks for the chance to win. tfs Tami
~~~~~~~~~~~~~~~~~~~~~~~~~~~~~~~~~~~~~
Today we are introducing Heather Kaesgen!
My name is Heather Kaesgen; I am a proud stay at home mom of 2 boys Parker (13) & Hayden (8). They keep me very busy with all of their activities. You can find us at a baseball field 6 nights a week from April – August. Thank God I love baseball! I have been married almost 15 years to the greatest husband and father I could have ever of wished for. I am very blessed to be able to stay at home and play in my craft room daily.  I am always making something. Whether it is for a party, a card, for the house or scrapbooking, I always have a project in the works. My passion is scrapbooking; there is nothing more precious than to see your family on a beautifully decorated page. We LOVE to travel as a family.  We spent 3 weeks in Europe last summer – can you imagine those pictures!? My favorite place in the world is Paris (and the Outer Banks and Disney and Out West, get it LOVE to travel). We are starting a lofty goal of visiting every Major League Ballpark, all 32 of them, in the next 5 years! Did I mention we LOVE baseball. I can't wait to start that scrapbook!
And about Heather's layout…she is passionate about traveling so that is what she created for you today! A layout about her travels:
Core'dinations Cardstock:
Neutrals Core Esssentials Pack
Vanilla Cream
Tranquil Blue
Spotted Tillie Dot
Tim Holtz & Ranger Distress, Antique Linen
Tim Holtz Shattered
Sand It Gadget
Dust Buddy
Darice Embossing Folder
DaisyD Flowers
ColorBox brads & gems
Darice Basic Expressions Ribbon
Cricut
Xyron Mega Runner
~~~~~~~~~~~~~~~~~~~~~~~~~~~~~~~~~~~~~~~~~~~~~~~~~~~~~~~~~
Today we are giving away some Pastel Cardstock! The colors in this pack are gorgeous, don't you think?