Happy Tutorial Tuesday!
We have a fun tut today from Design Team Member
Kim Jeffress
. Kim created these SUPER cute bow ties for those fun Easter candy treats you get on a stick. AdorAble!
BOW TIES
2 On a piece of scrap 12 inch cardstock draw this design- basically think of it as two fish kissing. Mine is approx 2 inches wide.
3 Cut it out and then trace around it onto your core cardstock and cut out.
4 Using your sanding block sand the embossed pattern of your cardstock. Remember to wipe off the excess dust with your dust buddy.
5 Take your scissors and cut a slit in the indented end (cut half way through), now turn your cardstock 180 degrees and repeat at the other end but make sure it's on the opposite side.
6 Now comes the tricky part, twist your cardstock over and join each slit cut into the cardstock
7 You should now have something that looks like this.
8 Push down on the centre of the loop as shown.
9 Staple through all the layers to hold it together.
10 Cut a strip approx 1 inch wide of a coordinating pattern paperand wrap around the middle of your bow and glue into place.
11 Now take your chocolate bunny on a stick and using strong adhesive, adhere the back of your bow to the stick as shown. Allow to dry.
12 Your bunny is complete
CUTE!
Welcome to our Kids Crafts  and Core Series!
Our awesome design team has put together a few tutorials that you will be seeing here on the blog that are designed JUST for you and your family. We had our first series from Design Team Member Char Dobson over Valentines Day here with some great Cricut tips.
Today we have Design Team Member Kim Jeffress and her son with a fun tutorial using Core'dinations cardstock, punches and other found items around the house. Here is a little bit about this project from Kim herself and a sneak peek of what they created together:
My 5 year old son in completely obsessed with all things Space. He spends all day everyday, reading Space books, drawing Space pictures and playing with his space toys.
He is also a BIG lover of craft just like his mum and I have to hide away all my precious Scrapbooking papers and goodies for fear he will cut them up.
Today we decided to create a Space picture using  some of my Coredinations scraps.
Step 1 We gathered a bunch of Coredinations cardstock scraps, scissors, glue, crayons and a pencil.
Step 2 To create the planet Mars he chose a piece of pre embossed Pink Paislee cardstock cut it into the desired shape then used the side of a crayon to shade over the bumps…"Look mummy a pattern" he shouted!
Step 3 He then used some containers to trace circles for other planets and cut them out! He also used the different coloured cardstock to cut out a rocket which he sanded and a sun…Glitter cardstock for a shiny sun!
Step 4 I helped him to cut out the rings for Saturn but he insisted on using my sanding block to sand the rings himself!
Step 5 My punches are definitely a favourite and he raced up stairs to get my star punch to create some stars.
Step 6 He wanted some craters on Mars so I suggested he use the kraft core to tear the top, he then drew and cut out the rest.
Step 7 He then went ahead and assembled his picture.
Step 8 Finally he wrote a simple story about his picture, he couldnt wait to read it to his daddy!
And here is the finished project! SO CUTE! And FUN!
And onto the Wall!
Yes, you heard us right…today we have a fun project for you that takes Core'dinations off the page and will help you stay organized. It doesn't get any better than that, does it?
Design Team Member Char Dobson created this wipe board using  loads of Core, including one of my favorites, the Cosmo Cricket neutrals collection pack. The teal in this collection is such a gorgeous color and you can never have too many circles!
Don't forget your Sand It Gadget to get that perfect sanded look.  We hope you are inspired to take your Core off the page!
What a great way to stay organized AND it looks awesome, too!
SHE SCORS!
Well…not the scoring you might see at a football game…but the FUN kind of SCORING! We highlighted scoring yesterday on the blog and I just happen to come across a few more amazing examples of how to SCOR with CORE
We love love to scor here at Core. If you haven't scor'd before than PLEASE check out our Technique Videos here. LOADS of inspiration and REMEMBER to scor from the BACK of your Core so when you sand the front with your Sand It Gadget, that gorgeous core shines through.
First up we have a layout from Design Team Member Lydia Jackson. Lydia created her own design here just by scoring! You can create a patchwork design like this and the outline around the layout to frame it, too. SO easy yet SO much impact.
Lydia used Tim Holtz Kraft Core as her base and some Core Essentials and added some great details from Jillibean Soup.
And design Team Member Melissa Oliveira used this month's Colour Lover's Inspiration palette for this layout. See how Melissa used scoring to frame the layers of the layout? Gorgeous gorgeous! I cannot  tell you how easy this technique is and how much impact it can have on your layouts with Core'dinatons Colorcore Cardstock!
Here is a little about scoring from Melissa, "Scoring is my favorite way to add some extra visual interest without added bulk or additional layers."  I AGREE, do you?
And Melissa used her Petaloo flowers that match Core PERFECTLY!!!!!!!!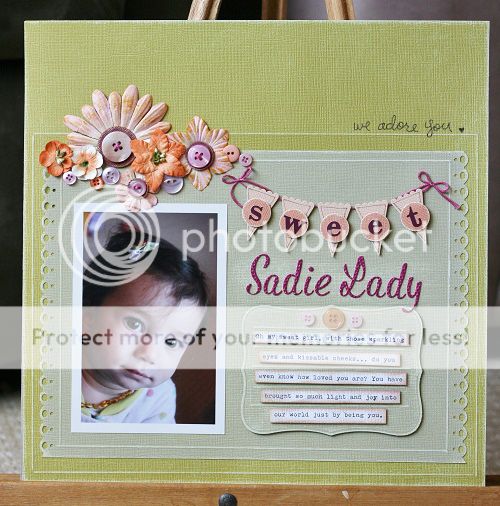 And a Spellbinder's Die for the shape…
Boy it just sneaks up on you, doesn't it?
AND so does the end of the month!
With that comes a close to our February Colour Lover's Challenge!
Don't forget to post your projects here or link on Facebook for the chance to win an awesome prize pack of Core!
Here is our inspiration piece found here on Pinterest:
And if you are on Pinterest make sure you follow Core'dinations!
And here is a layout from Design Team Member Debbie Standard:
Make sure you check out the awesome Cosmo Cricket Core Impressions, embossing and all that Gorgeous sanding!!!!!
KRAFT CORE!
You asked and you shall receive!
I have for you today a gorgeous layout from Design Team Member Kim Jeffress using Tim Holtz Kraft Core, Spotted and Core Essentials. Isn't AWESOME how wonderfully all of our cardstock lines "core'dinate" with each other???  It makes scrapping easy
Kim works the tone on tone neutrals on this layout with a pop of red. Don't forget all that gorgeous sanding, too! And Kim added a touch of paint along the edges of the layout, too.  It's just those subtle details that make this so gorgeous.
Make sure you are asking your retailers to pick up our new Sand It Set! It's a  Sand It Gadget and Dust Buddy in one!
Have a GREAT weekend!
PS…don't forget to sign up for our NEW Hard Core Crafter program HERE!!!
This is probably one of my most favorite releases for us this CHA.
If you know me, you know how much I love my Sandit Gadget and Dust Buddy. If you use Core, you must get this! It's a combo back that includes a Dust Buddy and Sand It Gadet and refill sand paper! Everyone needs one of these so make sure you tell your retailer to stock these for you.
Want proof of how much you will use yours?  Here is a photo of my Dust Buddy from scrapping this weekend. I made two layouts with our BRAND NEW Darks collection pack (see yesterday's post if you missed it) and this is what my Dust Buddy looked like when I was done. It definitely works and it picked up other dust and debris that makes its way onto you projects. Your projects (and hands) will be much cleaner when you use this.
Core'dinations Christmas Gift card holder
by Core Teacher Kimber McGray
Supplies Needed:
Snowflake (White)
Shamrock (Green)
Jillian Scarlet (Red)
Sand-It Gadget
Silhouette Machine & Shapes (Library Pocket set  and Holly)
Queen & Company Pearls (Red)
Button (Red)
White floss for button
Twine
1. Cut the base 3 1/2" x 5 1/2" from Spotted (red) cardstock using the Silhouette machine and the Library Pocket set from Silhouette. Lightly sand the embossed swiss dots with the Sand-It Gadget. Fold and assemble the pocket.
2. Using the Library Pocket set from Silhouette cut the insert from white cardstock. Fold
over top flap and adhere button on top of the flap. Wrap a length of twine around the
pocket and tie into a bow.
3. Cut the holly from cardstock using the Silhouette.
4. Using adhesive, adhere a gift card to the insert and slide it into the pocket.
Stay tuned for more Core Teacher's projects monthly!
We have some fun tips from Design Team Member Melissa Oliveira.
Even though these layouts have a summer theme to them doesn't mean you can't use these tips for any project.
First up Melissa stamped on her Whitewash for this journaling. If you have used our cardstock before, you know it gets a bit dusty  when you sand it. First up, you really should have a Sand it Gadget to make your sanding easy. After that, you want to use our Dust Buddy.
The Dust Buddy is a unique cloth that does many things, including cleaning the sanding residue so your adhesives can stick better. One additional thing it does is make your stamped images crisper and cleaner as seen on Melissa's layout here. If you sanded this Whitewash and didn't use a Dust Buddy,  the stamped imaged wouldn't be as great.  So make sure you tell your favorite Core'dinations Cardstock retailer to get some Dust Buddies. They go a long way, too!
And here is another example of a layout where Melissa stamped over some Graphic 45 Core Impressions. And of course, how cool are those torn waves in the Whitewash????
GOOOOOOOOOOOOOOD Morning!
We have a project for you today featuring Paper Trunk goodies and Core'dinations Cardstock.
Make sure you head over to their blog for some more GREAT ideas and inspiration.
AND DON'T FORGET.. we are giving away some Cardstock to one lucky person. So leave a comment on any post you see with Paper Trunk (here at our blog) for a chance to win!!!  (Please note  prize will not be mailed until after the 12th of September due to us being at an event out of the country).
So today we have a fun layout from Design Team Member April Derrick. April uses bits and pieces of Paper Trunk patterned paper  to from this layout in addition to that super cool doodle frame.  Looks so cool against the sanded Tillie Cardstock from the NEW Spotted Collection! Make sure you check out all of the great colors. You cannot go wrong with the two great designs.