…..with Vivian Keh!
In order to create the luxurious feeling in this card project, I turned to the beautiful pearlescent hues of our Gemstones collection.  While the sheen on the die-cut rosebuds showcases the elegance of the Gemstones cardstock as is, I dry embossed a bit of Sapphire colored cardstock, sanded  and distressed the raised surfaces with Distress Ink to infuse my card with a sense of nostalgia.
Ah…you can never have too many close-ups, right? Here is a shot of the inking on the embossed Gemstones cardstock.
Gemstones does NOT have a sandable finish like our Specialty collections so when you sand, you will lose the sheen. This is a GREAT alternative…sand it so you loose the smooth finish and your ink will be more intense.
Really Reasonable Ribbon – Metallic String Iridescent
And another card for you!
I love the organic patterns in every sheet of our "Shattered" Collection.  For this card, I kept a rustic, muted palette, creating very easy blooms by paper-punching and sanding petal shapes from a sheet of Shattered cardstock, taking advantage of the kraft backsides for some interesting variation in my blooms.
Can you believe it is our last day of the 2013-2014 intros????
What better way to celebrate yourself then a wedding layout! Here is a little bit about Jennifer's layout:
Who's having fun this week???
Today we are welcoming Jill Lebbin!  If you have been with us the last week or so make sure you check out the winner list HERE. You might see your name there and don't want to miss out on your Core Prize pack.
Here is a little bit about Jill:
Hello! My name is Jill and I share my crafts on my blog Every Day is an Occasion. I am so ecstatic to be on Core'dination's Design Team! I absolutely LOVE designing and creating projects! Within the last five years I have learned that I am happiest if I am able to carve out a little bit of time to live creatively every day, whether it is by decorating my house, making a card, or working on a scrapbook. I guess I could say, it is in blood…I attribute all my craftiness to my mother.
Most of my time is spent with my loving family. I have a wonderful husband who is very supportive of my endeavors and two sweet and spunky kids whom I get to spend my days with. I am so blessed!! We enjoy traveling together, whether it is to zoos, museums, or lakes…but our very favorite spot to travel to is The Cayman Islands.
When I'm not spending time with the fam or crafting I am working on my fundraiser that I created and direct called Craft for a Cause. We raise money to help buy Automated External Defibrillators (AED's they help restart a heart).
Here is the inside scoop in Jill's layout:
I chose a picture of my family as the focal point in my layout because they are my main focus. They are my life. Everything revolves around them and I wouldn't have it any other way. This is a picture of the four of us at a zoo. My son absolutely LOVES zoos, so we have been to 7 different zoos around the country within the last year.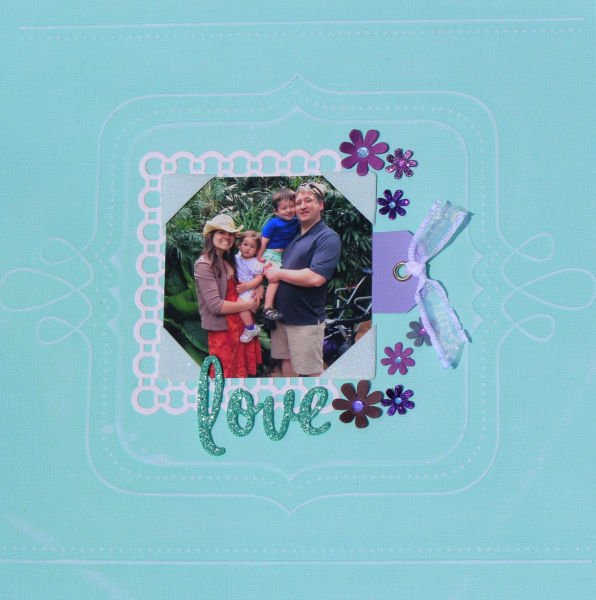 When crafting, I like to make things fun and interactive. So, I hid the Core Tag behind the photo. If you pull the ribbon, the tag will come out and I wrote where we were and the kids' ages on the tag.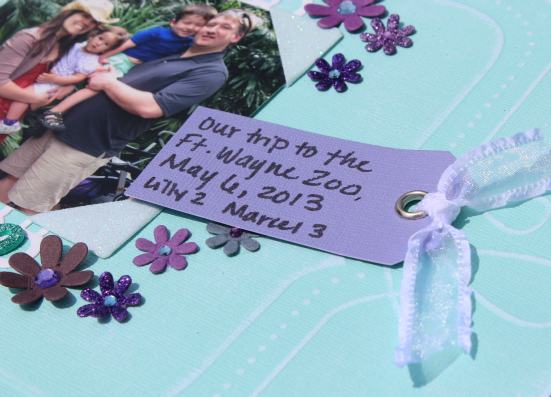 I love sanding Core'dinations paper! It's become a serious love! I mean really isn't it fun?!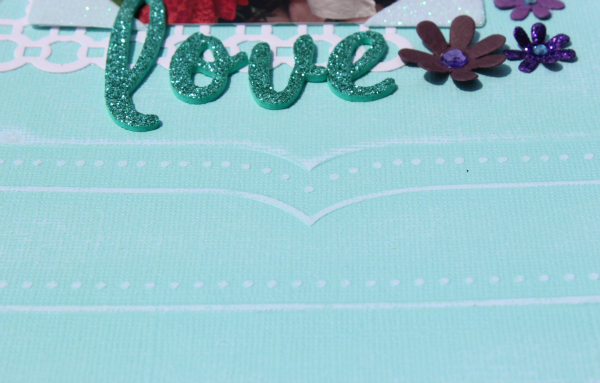 Supply List
Main turquoise cardstock piece: Core Impressions: Fancy Pants
White Core'dinations Cardstock: David Tutera -Lace Doily Assortment
Purple Tag: Core'dinations Tags-Brights Assortment
Ribbon: May Arts
Photo Corners: Martha Stewart Crafts
Thickers: American Crafts
Flowers: Paper Studio-Spare Parts
Thanks for stopping by and learning a bit about me!
To find out all the latest with me, we can stay in touch by Blog Facebook Twitter Pinterest Instagram
~~~~~~~~~~~~~~~~~~~~~~~~~~~
Anyone up for a WINNER from yesterday's Brights collection pack??????????
The Brights collection have such bright & cheery colors! I'd love to try them!
~~~~~~~~~~~~~~~~~~~~~~~~~
And today we have a pack of the gorgeous Neutrals Cardstock! Every single crafter MUST HAVE this in their stash! Same great Core but in a neutral color palette.
Please note we will only be posting Monday through Friday. We will pick a random winner the following morning (or Monday if it is the weekend) to win a pack of Core'dinations Cardstock. The cardstock pack may vary due to availability. Winners must email ellen_sosnoski@coredinations.com by June 7  to claim their prizes with the cardstock they won in the subject line.  Please include address and phone number in the email.
Happy Monday!  Did you have a great weekend? We sure did!
Make sure you check out the full list of winners HERE. We are back for another fun week of intros and giveaways!
First up we have our winner from Friday of the Tim Holtz Kraft Core….
Very cute L/O. I love the added layers and the feather. Thanks for the chance to win. tfs Tami
~~~~~~~~~~~~~~~~~~~~~~~~~~~~~~~~~~~~~
Today we are introducing Heather Kaesgen!
My name is Heather Kaesgen; I am a proud stay at home mom of 2 boys Parker (13) & Hayden (8). They keep me very busy with all of their activities. You can find us at a baseball field 6 nights a week from April – August. Thank God I love baseball! I have been married almost 15 years to the greatest husband and father I could have ever of wished for. I am very blessed to be able to stay at home and play in my craft room daily.  I am always making something. Whether it is for a party, a card, for the house or scrapbooking, I always have a project in the works. My passion is scrapbooking; there is nothing more precious than to see your family on a beautifully decorated page. We LOVE to travel as a family.  We spent 3 weeks in Europe last summer – can you imagine those pictures!? My favorite place in the world is Paris (and the Outer Banks and Disney and Out West, get it LOVE to travel). We are starting a lofty goal of visiting every Major League Ballpark, all 32 of them, in the next 5 years! Did I mention we LOVE baseball. I can't wait to start that scrapbook!
And about Heather's layout…she is passionate about traveling so that is what she created for you today! A layout about her travels:
Core'dinations Cardstock:
Neutrals Core Esssentials Pack
Vanilla Cream
Tranquil Blue
Spotted Tillie Dot
Tim Holtz & Ranger Distress, Antique Linen
Tim Holtz Shattered
Sand It Gadget
Dust Buddy
Darice Embossing Folder
DaisyD Flowers
ColorBox brads & gems
Darice Basic Expressions Ribbon
Cricut
Xyron Mega Runner
~~~~~~~~~~~~~~~~~~~~~~~~~~~~~~~~~~~~~~~~~~~~~~~~~~~~~~~~~
Today we are giving away some Pastel Cardstock! The colors in this pack are gorgeous, don't you think?
Happy Thursday! Are you having fun yet?
We sure are!
This  we began a TWO THREE WEEK event introducing our BRAND NEW Design Team!    Each member created a layout just for their day on the blog so from today, May 13th -May 31st we will  introduce a team member to you. Isn't that fun??!?!?!
AND TO CELEBRATE THIS EVENT WE ARE GIVING AWAY A PACK OF CARDSTOCK EVERY DAY! Tomorrow morning I will announce today's random winner…just leave a comment on THIS POST. And then come back and comment the next day. We will be doing this  every week day until the end of May so don't go far!!!
Today's winner will receive a pack of……
GLITTER SILK!
Please note we will only be posting Monday through Friday. We will pick a random winner the following morning (or Monday if it is the weekend) to win a pack of Core'dinations Cardstock. The cardstock pack may vary due to availability. Winners must email ellen_sosnoski@coredinations.com by June 7  to claim their prizes with the cardstock they won in the subject line.  Please include address and phone number in the email.
~~~~~~~~~~~~~~~~~~~~~~~~~~~~~~~~~~~~~~~~~
So curious to see who is our winner from yesterday??????????
~~~~~~~~~~~~~~~~~~~~~~
Today we have new Design Team Member…… Suzanna Lee!
Check out more about Suzanna and her projects on her blog HERE. Here is a little bit about her:
What can I say? I'm just a woman who is obsessed with her husband, her 2 kids, her camera (a Nikon!), living life to the fullest and preserving our memories as we go! Michael and I have been happily married for 14 years. Together we are raising two amazing children—Nikolas, 10, and Mia,almost 7.
I am very diverse when it comes to styles and techniques. I can't claim any one as a main stay in my projects. I range from clean and simple to layered and packed with little details. The paper and photographs speak to me and I do what feels right. New styles, techniques, products, etc. are some of the major things that offer me inspiration. I am always excited to try new things and new opportunities, in life and with paper crafting.
When I'm not hiding behind my camera or cutting and creating both mess and beauty, I'm a physical therapist. I love what I do and love that it helps fund my hobby and collection! Who needs purses and shoes when you can have paper and embellishments?!
And how much do you loooooove the color combo of this layout??? I just love learning all these random bits about Suzanna.
And some close ups:
Ohhhhhh…embossing!
Our 6×6 pads are a great way to add small deatils to layouts….they aren't just for cards!
Now a little bit about Suzanna's layout:
Every now and again, I try to do a page about myself. My kids love pouring through the albums and love seeing themselves but I know there will come a time when they will wish there was more of Mum and Dad. I know I love learning the little details of my parents' lives. This layout served that purpose as well as sharing a little bit about myself with you. Random bits about Suzanna Lee. I literally wrote the first 5 thoughts that came to mind. I did say random! I also wanted to showcase how amazing core is! There is one piece of patterned paper on this page, the majority of the paper is Core of one type or another. All those different lines come together as a cohesive whole! Amazing!
Core Impressions: Cosmo Cricket
Big Shot
Embossing Folders: Tim Holtz, Cuttlebug, Lifestyle Crafts
Patterned Paper and Journal Spot: Fancy Pants
Brads: American Crafts
Tag: Chic Tags
Misc: vellum
Font: Billabong
Ever wonder what you can create with our 6×6 and Cut & Emboss collection packs?
KEEP READING!
Design Team Member Jennifer Edwardson created this gorgeous handmade flower basket for her mother for Mother's Day.
Here is a little bit about this project from Jennifer:
Using some of my fave Core cardstock textures and colors I set to work punching all shapes and sizes of flowers before running them through my die cut machine with several different embossing folders !!  I sanded and adhered them all together keeping some flat and adding 3D foam to several as well.  I tied twine into some fun buttons and adhered them to the center of the flowers ….. I even got a few butterflies into the mix and added some adhesive backed pearls too.
I adhered each flower to a thin wooden kabob stick.  Once my 'bouquet' was complete, I added a styrofoam ball to the bottom inside and covered it with white crinkle cut paper.  Then I was able to gently push my flower 'stems' into the styrofoam and have them stand where I wanted them.
And another shot of all that embossing"