We are here having fun this week with Couture Creations. It's no secret that Core'dinations ColorCore Cardstock looks fabulous with dies and embossing folder especially when you sand, sand, sand!  Couture Creations is  an Australian owneda & loved brand, Couture Creations is the culmination of 20 years experience in the scrapbooking industry. From its final inception in 2010, Couture Creations has been devoted to producing expertly designed, high quality products overseen by veteran designers & crafters for a result that is both simple and elegant.
Make sure you head over to their BLOG, PINTEREST, FACEBOOK pages to find out all the other chances you can win. Here is a sneak of what is going on over there today.  Please keep in mind we are in two different time zones so in case we are off on our times bit please forgive us.   We are getting our coffee ready when they are getting ready for bed.
We are happy that you hung in there with us this week that we shortned all of our posts into a few so it would be easier for our readers and not have to jump from post ot post. Sound good?  Oh and as a thank you we are offering ANOTHER giveaway so make sure you check THIS POST!!!!
First up Designer Kate Noal Denham explains how she created this gorgeous card using Couture Creations Doily dies and embossing folder from the Sweet Dreams collection:
Instructions: 
1)  Create a 4.5″x 6″ card base out of a piece of Cream Core'dinations Cardstock.
2)  Emboss a 4.25 x 5.5 piece of Blueberry cardstock from Coredinations Chocolate Box Collection with Couture Creations embossing folder.
3)  Trim embossed cardstock to 4″ x 5.5."
4)  Lightly sanded embossed image using the Sandit Gadget, so as the Blueberry color shows, and then clean the dust off using the Dust Buddy.
5)  Add VersaMark and sprinkle clear embossing powder over the entire 4″x5.5″ embossed paper.
6)  Heat embossing powder until a lovely sheen appears.
7)  Now add this piece of embossed Blueberry cardstock to the card base, leaving an even amount of matting on all sides.
8)  Die cut a piece of Rivulet from Core'dinations Vintage 6″x6″ Collection using  Couture Creations Doily Die.
And a close up of that fabulous sanding!!! :):):)
9)  Trim two sides of the die cut paper so that it is flush against the bottom right of the embossed paper on the card base.
10)  Before added the trimmed doily to the card, sand the edges a bit using the Sandit Gadget. Don't forget to use the Dust Buddy!
11)  Add foam dots to the backside of the doily (I used Helmar Zapdots) and place on the bottom right of the embossed paper.
      12) Punch a circle out of the Cream cardstock used to create the base.
  13) Trim two edges of the circle so that it is flush with the doily.  Add to the doily.
  14) Cut a one inch banner out of some more Blueberry Chocolate Box Cardstock.  Sand it a bit.
  15) Stamp sentiment on banner and adhere stamped banner to the bottom third of the doily/circle.
  16) Add a few pearls around the outside of the circle.
  17) Give to someone for their birthday!
 I really enjoyed using Couture Creations products with Core'dinations Cardstock!  The embossing folders are really crisp and the embossing really stands out on all the Core'dinations Cardstock.  The doily die is incredibly intricate, yet it cut through the hearty Core'dinations Cardstock like butter.  I look forward to playing with these product again!  ~Kate
~~~~~~~~~~~~~~~~~~~~~~~~~~~~~~~~~~~~~~~
Next up Designer Shaunte Wadley with fabulous pr0jects! Shaunte really works color combos that are just perfection!
Again…Couture Creations Fresh and Fun Embossing folders and Doily dies
 Core Essentials
The background is BasicGrey Core Impressions
Misc Buttons
Silhouette Cameo
And next up a super cute gift bag and card:
The topper is the Couture Creations die mounted on a circle and then folded in half to top the bag.
The gift card is embossed with the Couture Creations die from the Sweet Dreams embossing folder line.
SHE SCORS!
Well…not the scoring you might see at a football game…but the FUN kind of SCORING! We highlighted scoring yesterday on the blog and I just happen to come across a few more amazing examples of how to SCOR with CORE 😉
We love love to scor here at Core. If you haven't scor'd before than PLEASE check out our Technique Videos here. LOADS of inspiration and REMEMBER to scor from the BACK of your Core so when you sand the front with your Sand It Gadget, that gorgeous core shines through.
First up we have a layout from Design Team Member Lydia Jackson. Lydia created her own design here just by scoring! You can create a patchwork design like this and the outline around the layout to frame it, too. SO easy yet SO much impact.
Lydia used Tim Holtz Kraft Core as her base and some Core Essentials and added some great details from Jillibean Soup.
And design Team Member Melissa Oliveira used this month's Colour Lover's Inspiration palette for this layout. See how Melissa used scoring to frame the layers of the layout? Gorgeous gorgeous! I cannot  tell you how easy this technique is and how much impact it can have on your layouts with Core'dinatons Colorcore Cardstock!
Here is a little about scoring from Melissa, "Scoring is my favorite way to add some extra visual interest without added bulk or additional layers."  I AGREE, do you?
And Melissa used her Petaloo flowers that match Core PERFECTLY!!!!!!!!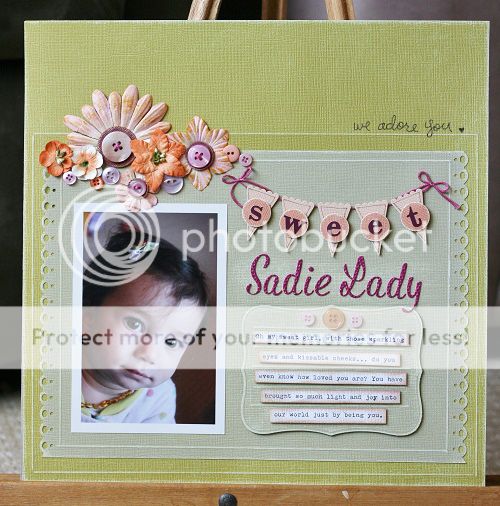 And a Spellbinder's Die for the shape…