Today I am excited to show you how to make this fun 31 Framed Halloween Decor. Halloween is such a fun holiday to decorate for, and this is the perfect addition to any shelf or mantle.
Framed Halloween Decor Supplies: 
Step 1. Measure your frame opening, and cut a piece of Chalk Core Core'dinations Cardstock in white to fit.
Step 2.  Lay your piece of Chalk Core Cardstock into your embossing folder. Make sure to pay attention to where the dots line up, so they are straight.
Step 3.  Run through an embossing machine.
Step 4. Using the Sand It Gadget, sand the top of the embossed dots to reveal the white underneath.
Step 5. Cut out (I used an electronic die cutting machine) a bat, and adhere it using dimensional foam squares. I put it in the frame for this part, to make sure the frame wouldn't smash the bat.
Step 6.  Using the Orange and Green Spotted 12 x 12 Core'dinations Cardstock, cut out your numbers. I used a digital die cutting machine for this also. Once the numbers are cut, sand the tops of the "spots" to show some of the white underneath. Add dimensional foam squares to the back, and tie some purple string around the numbers, and trim with scissors. On the upper left of the number 3, I just used a regular glue dot, so it didn't add extra dimension, since the bat already had dimension squares under it.
Step 7.  Adhere your numbers to the black cardstock.
Step 8.  Put it in your frame, and display. (To make the paper tight in the frame, I put the glass behind it before putting the frame backing on.)
Now you have a fun little display item to put on your shelf, desk, mantle, or you could even hang it on the wall.
~Amy
Hi friends!  It's Joy here, sharing a spooky Halloween paper lantern with you today.  This will add a creepy, but cool, element to your haunted decor!
Spooky Halloween Lantern Supplies:
Lantern SVG from Spooky Soiree Kit by SVGCuts
Embossing Folder: Cuttlebug
Cut 'n' Boss Embossing Machine
Xyron 9″ Creative Station and 3″ Sticker Maker
Silhouette Cameo
Step 1. Cut the lantern pieces using Core'dinations Bright Color cardstock along with solid black, vellum and black spotted Tillie Dot using your favorite electronic die cut machine.
Step 2. Emboss and sand all of the orange pieces and the black Spotted Tillie Dot spider using the Core'dinations Sand It Gadget.
Step 3. After embossing and sanding the pieces, I ran them through the Xyron 9″ Creative Station and the Xyron 3″ Sticker Maker.  Those machines helped me quickly add adhesive to the panel pieces.
Step 4. I used a liquid adhesive to help me adhere the vellum to the inside of the lantern.  By the way, that vellum cut without a problem in my Silhouette Cameo.  YAY!
Step 5.  Assemble the lantern and spider. Add two Darice Self Stick Gems to create eyes for the spider.  Spooky!
Step 6.  Add a Darice Halloween LED Tea Light to your lantern.  I got black tea lights.  They look cool!
Turn on your tea light and you're ready to be spooky!
Hi everyone!  I'm Joy and today I'm super happy to be sharing this project with you using Core'dinations great products!
Supplies:
5/8 inch Chevron Grosgrain Ribbon: Gold and White
Xyron Create A Sticker Machine – 2.5 inch
Silhouette Cameo
Joy's Life Holiday Occasions stamp set
Black Ink
Pencil Shape Card – Silhouette ID #10126
3D Pencil – Silhouette ID #64599
Step 1: Cut the pencil 3D and card shapes using Core'dinations Neutrals and Bright Color cardstock along with solid black and white.  They cut so well!  A little side note: At first I cut the pencil card background in white but later I went back and cut it out in grey to match the band near the eraser of the 3D pencil.  I thought that just looked better color-wise to match both project pieces.
Step 2: Emboss the pencil pieces as desired.  Here, I'm using the wood grain background folder.
Step 3:  Sand the pieces using the Core'dinations Sand It Gadget.  That revealed a lighter color yellow on these pieces.  That's so cool!
Step 4: Adhere the pieces.  I used my Xyron machine to add adhesive to the backs of these pieces.  Then I added them to the pencil.
Isn't all that sanded texture great?!
Step 5:  Create a tag.  I cut a small tag from the Core'dinations Bright Assorted Tags even smaller and backed it with a piece of Core'dinations black cardstock.
Step 6:  Stamp a sentiment.  Keep in mind that stamping on textured paper can give an uneven stamped image.  You can fill in any spotty places with a marker.  I did!
Step 7:  Sand the tag and tie ribbon to finish the look.
That huge roll of Smarties can fit into the 3D pencil!
Now your project is ready for gift giving! Happy crafting! ~Joy
Hi! Jill from Every Day is an Occasion  here to share a birthday card with you today! I used Core'dinations Gemstones paper, which is one of my favorite paper packs.
Birthday Card using Gemstones Core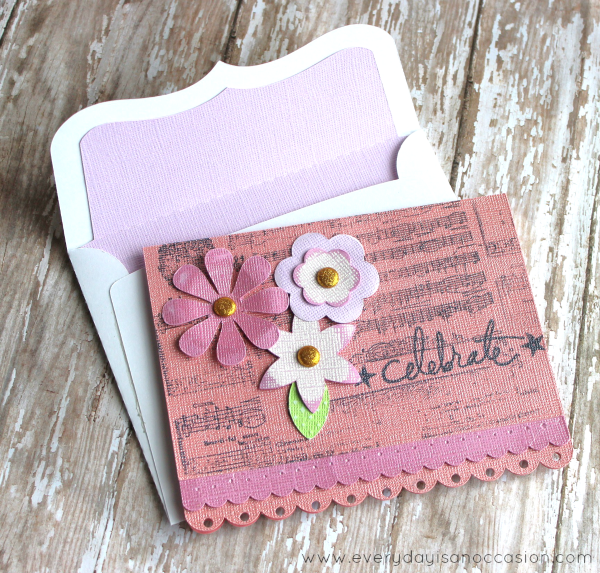 To make this card, I used Gemstones Core, Green 6×6 spotted core, and a little White Wash Core along with this Silhouette Card cut and this Silhouette Envelope Cut. But you don't need a die cutting machine..any cardbase will do!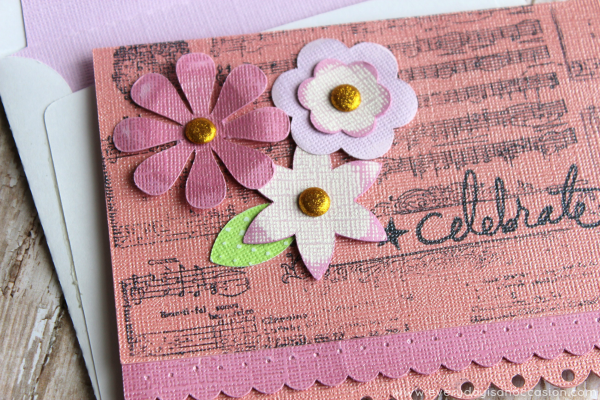 Once I cut out all the shapes I sanded the Core flowers with my Sand-It tool! To add a little fun detail to this card I used my Sew Easy Tool from We R Memory Keepers to create the little tiny holes. I then sanded the holes with my Sand-It tool.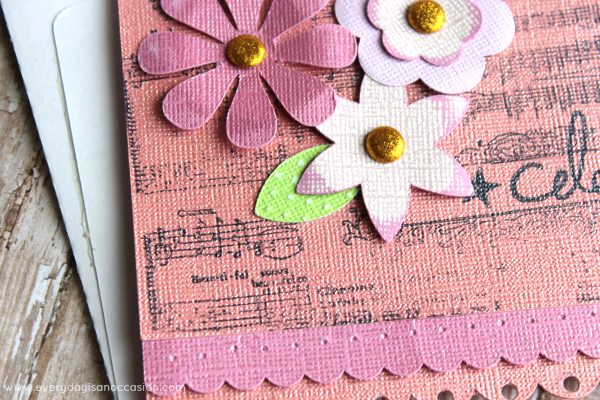 I also used some of Heidi Swapp's new stamps and ink. I stamped directly onto the Gemstones Core. The Gemstones Core just LOVED the ink! I just soaked it right up!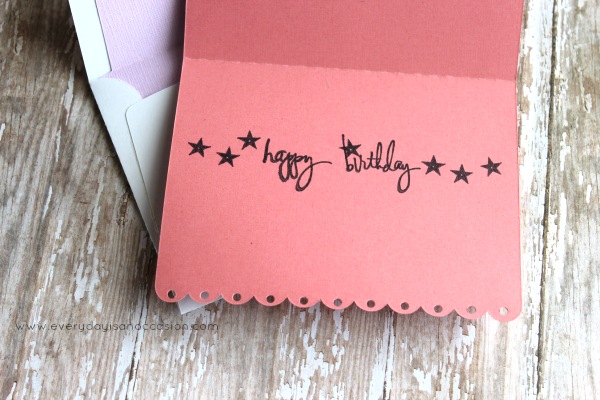 What is your favorite Core'dinations paper pack?
Today we have some inspiration for Valentine's Day for you from Ava Gavloski. I hope you love red, pink and black because you came to the right place!
~~~~~~~~~~~~~~~~~~~
Hello Ava here …Happy Valentines Day!  The heart is wonderful place for all things kind and good.
Here is a card that I designed showcasing Core'dinations Vintage collection and Scarlett from the Darks collection.
You can see that embossing and sanding the Scarlett red cardstock matches the Vintage cardstock well.  That is one nice feature of Core'dinations cardstock, so many of the collections co-ordinate with each other to design a wonderful presentation.
Add some embellishments like Darice washi tape, rhinestones, pins and ribbon and your have a luscious full bodied presentation of a vintage valentine card.  Visit your nearest LSS and pick up some Core'dinations Cardstock for that special card.
Core'dinations:
Vintage Collection
Scarlette Dark Collection
Sand it Set
Darice Washi Tape/Folder
Other:
Helmar Premium Adhesive
Want2Scrap
May Arts Ribbon
Sizzix Die
Maya Road Stick Pins
Gina K Designs Stamps
Clearsnap Stephine Barnard Dye Ink, Raspberry
~~~~~~~~~~~~~~~~~~~~~~~~~~~`
I would like to share a Wedding Layout with you to celebrate February the month of Sweetheart Valentines.
I choose the Core Amour Whitewash cardstock to showcase how quickly pre-embossed collections from Core'dinations can have a layout completed with a great textured presentation.
The layout is embellished with some doilies, tulle and sequins.
Core'dinations Supplies:
Amore Whitewash Cardstock
Other Supplies
Tulle, feathers, sequences
Gina K Stamps has a cute set of stamps which celebrates Valentine's Day and I thought this  vintage phone complements the vintage feel of the Core'dinations Vintage collection.
I stamped the image using WOW embossing powder to gloss up the image to support the quality of the vintage Core'dinations cardstock.  The pre-embossed vintage Core'dinations cardstock makes this card full with dimension after sanding to reveal the inner colored core.
Embellish your card with rhinestones, sequences and Mary Arts Ribbon.
EMBOSSING AND DEBOSSING! 
Don't forget about our sketch challenge! You  only have until January 25th so there is still  time to enter. Create a card or a layout based on the sketch below and link it to THIS blog post or our Facebook page for a chance to win a Pastels Collection pack! Don't forget to use some Core'dinations and you know how much we love technique. Don't  forget to tear it, sand it, emboss it and LOVE it!
So how do you do ONE sketch TWO ways….emboss it and then deboss it! It's that easy with Core'dinations ColorCore Cardstock.
Yes, it is that easy. Just flip your cardstock over (or the folder) and run it through your machine to get the same pattern but the REVERSE embossed image. SO COOL and a GREAT way to spruce up those folders. If you are new to embossing and debossing and would like more information check out our technique videos HERE. Here is more about these cards from Gail Lindner:
~~~~~~~~~~~~~~~~~~~~~~~~~~~~~~~~~~~~~~~~
Recently we were given a fun card sketch and to put my spin on it, I decided to create two cards, using the same colors and design but showing a variation on a technique.
Can you spot the difference with the two cards below?
We all know that Core cardstock is PERFECT for embossing as a light sand after embossing reveals the pattern even more.
Sometimes even I forget that a flip of the cardstock, to emboss on the reverse side is debossing and you get the opposite (but equally as effective) effect.
The card below was embossed right side up.
This next card was debossed (reverse side up).
Don't you love the effect of debossing on Whitewash Cardstock?
Another advantage of using the Whitewash Collection is that you can use the back of the card to matt with and the color matches perfectly! Love it!
Thanks for visiting and I hope I've inspired you to get double the use out of your embossing folders!
 Supplies:
 Whitewash Collection – Wicker Chair, Washboard, Grandma's Rocker
Graphic 45 Collection – Creme Brulee
Tim Holtz Adirondack Collection – Lake Mist
Core Basics 110 lb. Premium White Cardstock
Big Shot
Darice & Cuttlebug embossing folders
Sand It Gadget
Dust Buddy