So with Easter right around the corner, what do you think of?  Um, CHOCOLATE CANDY! Not sure if you hang out with us on Facebook but I posted a question over there about the endless debate of what is the best Easter candy.  So why not share some Chocolate with you today?
That is Chocolate Box cardstock!
Designer Debbie STandard created this card with some Chocolate Box Cut  & Emboss and David Tutera Celebrate step three Sentiments.
And don't  forget about our Challenge for this month! How many embossed designs can you get on your layouts????
Check out DETAILS HERE!
And one more Chocolate Box cardstock for all you chocolate lovers out there:
This one is from Designer Shaunte Wadley.  She used her Scor-Pal to create the border and the Scor-Buddy for the dots. Such a GREAT way to add a simple border. And don't be afraid to mix and match the different Chocolate Box washes together. It's just like mixing and matching patterned paper.  For a video on how to Scor on your layouts click here.
SHE SCORS!
Well…not the scoring you might see at a football game…but the FUN kind of SCORING! We highlighted scoring yesterday on the blog and I just happen to come across a few more amazing examples of how to SCOR with CORE 😉
We love love to scor here at Core. If you haven't scor'd before than PLEASE check out our Technique Videos here. LOADS of inspiration and REMEMBER to scor from the BACK of your Core so when you sand the front with your Sand It Gadget, that gorgeous core shines through.
First up we have a layout from Design Team Member Lydia Jackson. Lydia created her own design here just by scoring! You can create a patchwork design like this and the outline around the layout to frame it, too. SO easy yet SO much impact.
Lydia used Tim Holtz Kraft Core as her base and some Core Essentials and added some great details from Jillibean Soup.
And design Team Member Melissa Oliveira used this month's Colour Lover's Inspiration palette for this layout. See how Melissa used scoring to frame the layers of the layout? Gorgeous gorgeous! I cannot  tell you how easy this technique is and how much impact it can have on your layouts with Core'dinatons Colorcore Cardstock!
Here is a little about scoring from Melissa, "Scoring is my favorite way to add some extra visual interest without added bulk or additional layers."  I AGREE, do you?
And Melissa used her Petaloo flowers that match Core PERFECTLY!!!!!!!!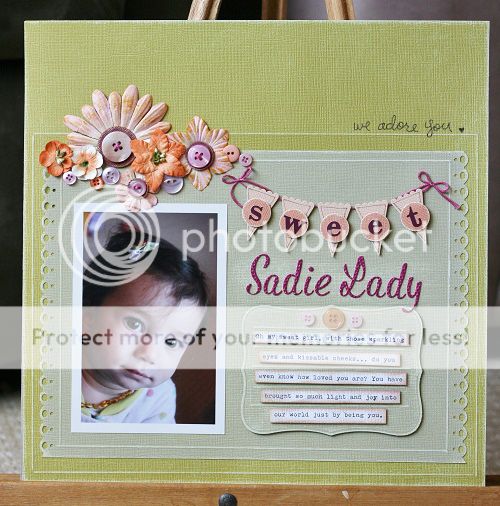 And a Spellbinder's Die for the shape…