I just love Tips and Tutorials. Today's in no exception. Design Team Member Shaunte Wadley created this awesome layout today with her daughter. What better way to preserve memories than having your kids do it with you?!
If you want to see how to do this…keep reading! This is going to be two part series. Today we will be talking about how to make the title and the next part will be how to print on those cool Core Tags!
First, grab some Black Magic Cardstock and a stylus. Have your child press firmly and spell out there name. You can write lightly with a pencil if  you need to but very lightly. The pressure from the stylus will blend it in to the black cardstock.
Also, you need to work on a craft mat of some sort NOT a hard surface.  The stylus needs a soft surface so it can make an impression in the cardstock.
With your Sand It Gadget sand..sand …sand! Notice we are sanding the negative space. Doesn't it look awesome?!
All you need to do is add some of your children's art work and you have an awesome layout that not only preserves those memories of your children but truly makes them a part of it.
Other products used: Core Tags, Spotted Collection, Whitewash Cardstock.
SHE SCORS!
Well…not the scoring you might see at a football game…but the FUN kind of SCORING! We highlighted scoring yesterday on the blog and I just happen to come across a few more amazing examples of how to SCOR with CORE
We love love to scor here at Core. If you haven't scor'd before than PLEASE check out our Technique Videos here. LOADS of inspiration and REMEMBER to scor from the BACK of your Core so when you sand the front with your Sand It Gadget, that gorgeous core shines through.
First up we have a layout from Design Team Member Lydia Jackson. Lydia created her own design here just by scoring! You can create a patchwork design like this and the outline around the layout to frame it, too. SO easy yet SO much impact.
Lydia used Tim Holtz Kraft Core as her base and some Core Essentials and added some great details from Jillibean Soup.
And design Team Member Melissa Oliveira used this month's Colour Lover's Inspiration palette for this layout. See how Melissa used scoring to frame the layers of the layout? Gorgeous gorgeous! I cannot  tell you how easy this technique is and how much impact it can have on your layouts with Core'dinatons Colorcore Cardstock!
Here is a little about scoring from Melissa, "Scoring is my favorite way to add some extra visual interest without added bulk or additional layers."  I AGREE, do you?
And Melissa used her Petaloo flowers that match Core PERFECTLY!!!!!!!!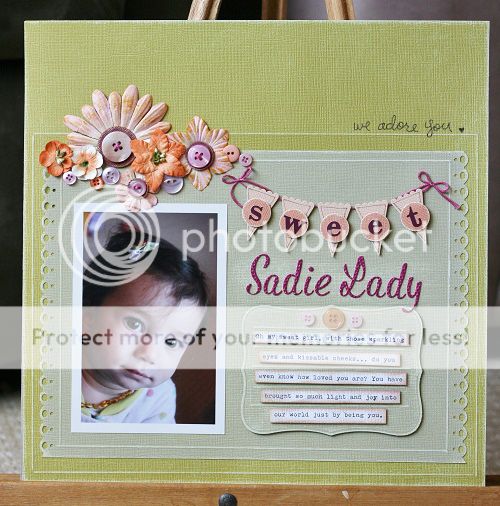 And a Spellbinder's Die for the shape…
Ask you will receive!!! We try and give you as many ideas and inspiration as we possibly can here on our blog so make sure you let us know if there is something you would like to see.
Yesterday  on Facebook we asked what you wanted to see on the blog today and we got a response for Scoring…Black Magic…
Design Team Member Leica Forrest created this layout that has all of the above and then some!!!
See the scored lines on the Black Magic cardstock base?  You can create ANY design you want! And if you need some tips on how to scor, check out our Technique Videos here. AND we have our Hard Core Crafter videos, too!!! Make sure you sign up to be a member to get exclusive videos, win prizes and more!
Leica also used some Spellbinders Dies to create the gorgeous scalloped circles. They look great with the different embossed designs! And Leica turned her Black Magic over and journaled (with journaling strips) to make sure the colors core'dinate perfectly!
Today from Design Team Member Andrea Amu!
Andrea's cards have more details than my layouts. Anyone would be so blessed to receive one of these. They are amazing!
How about some scoring and Tim Holtz Kraft Core??? Notice the letters cut in the Chocolate Box?  yes please!!!
And this card has a beautiful mix of Tim Holtz Kraft Core and My Mind's Eye Core Impressions. Don't be afraid to mix up those collections….they all core'dinate!
Happy Birthday to you….
Happy Birthday dear Kimber…..
Happy Birthday to you!  How old are you now…..Did you like my singing voice? I will stop now while you still have ear drums!
Welcome to the Core'dinations Blog! We are celebrating a very fun day here today for our very own Core Teacher…
Kimber McGray!!!
Hope it's a great day for you, girl!
Here is a card that I made to celebrate this festive day.  I was looking for my lordy lordy looks who's forty stamp but I must have misplaced it
Next up is Celeste Smith's blog so make sure you head on over there next!
While you are visiting…….
Don't forget to sign up for our Hard Core Crafter Program HERE!
It's FREE and you will be able to view never seen before videos, exclusive giveaways AND sneak peaks!
I love Core'dinations so much! The possibilities are truly, truly ENDLESS!  Ellen Sosnoski here with a fun and easy tutorial on how to make your own Chevron print.
How much do you love Chevron?  Let me here it!  Here are some of my favorite examples I have found on Pinterest.
P.S. did you know Core'dinations is on Pinterest?  Follow us here and we will follow you back, too.
From iheartprintsandpatterns.blogspot.com:
And another gorgeous print from a cute Etsy Store with loads of chevron prints
Here is my tag I created using some Chocolate Box cardstock.
And a close up:
Here is how I did it. Please note: I recreated this on a larger scale so it was easier to take photos and see the grid. I would recommend starting small like I did with a tag. A 12×12 sheet of cardstock is really hard to line up on your scoring too for THIS project because you are twisting and turning it. So you want to practice first and start on a smaller scale.
Note: Not familiar with Scoring?  Check out the Learn Tab on our website for our awesome How To videos including Scoring.
First, start making a grid on the BACK of  your Core'dinations Cardstock. Remember that when you are scoring with Core, you want to work from the back so the raised image is on the front to sand.
Now you want to connect the grid to make the Chevron pattern. I did mine freehand, you can definitely use your ruler but this is only a guideline for scoring. You definitely want to use the ruler for the grid.
Now you can adjust the sizes of  your pattern if you would like. The larger the pattern the easier. As you can see, it may  take you some sketching to get the look you are looking for but we are working from the back so that doesn't matter!