… with the wonderful Heather Bowser!
1. What is your most treasured Holiday memory? When I was little on Christmas Day after the presents were all opened we would go to see a Disney movie.
2. Do you have any special Holiday traditions that are unique to you and your family? It is not unique but we look forward to going to a tree farm to cut down our tree. Now that we have teenage boys they get to do the cutting. We love to decorate cookies and we do an advent with the children. and on Christmas morning we read the Chrismas story from the book of Luke.
3. What kind of holiday crafts are you making this year? For gifts I made a pin for my Grandma. She is a Red Hat Lady and my Mom bought her a purple coat and I made a pin from a tutorial at www.heatherbailey.typepad.com
I used a Sizzix die and my big shot to cut out the box template. I then ran the template through my big shot again with the Cuttlebug swiss dot embossing folder. I lightly sanded the dots. I assembled the box and added ribbon. I stamped and punched out the tag, adding glitter for sparkle.
Here is a close-up:

Todays Holiday Inspiration comes from Kimber McGray.
Kimber made some totally cute and festive cards!
Christmas Wishes Card


Core'dinations used: Core Essentials and Whitewash
Holiday Cheer Card:


Core'dinations used: Core Essentials and Whitewash Read more
We just finished Thanksgiving Day here in the States so we though we would share some of the projects our DT have created celebrating what they are thankful for…
Sarah Hodgkinson made this wonderful Thankful layout highlighting each member of her family and what they are thankful for utilizing some products from Jillibean Soup:
Melissa Oliveira altered this wonderful candle utilizing some Fiskars products…
We hope you enjoyed our Holiday projects and stay tuned for more Holiday inspiration in December!
As November comes to an end, we thought it would be a wonderful time to share some Fall layouts and projects that our Design Team has been working on…
Here is a wonderful layout from Heather Bowser. I just love how she utilized the negative space with her Fiskars punch:
And Melissa Oliveira made this layout with some Queen & Co. supplies from a product trade. This little angel is the sweetest pumpkin ever!
Melissa utilized sanding as a simple way to create a background for her photo.
Core'dinations is sponsoring the Cuttlebug Challenge blog this week for their Festival of Lights celebration so please hop over there and take part in the festivities.
As part of their celebration, we have joined forces and are featuring some of the Cuttlebug Challenge blog Design Team creations here today AND you can check out their blog for some of the fabulous creations the Core'dination's Team has made utilizing their Cuttlebugs.
Today June Houck is showing us this how to make this wonderful recycled tin. What a great way to start off the holiday season by creating this great project. Here is a little but about her project in her own words:
This is a busy time of year for everyone, and paper crafters are no exception! Hand-made gifts are the best types of gifts, but quite often a lot of time and effort is spent preparing them. I have a few quick ideas that I hope will inspire you.
Supplies:
paint can (local craft store), tin canister, and 16oz. jar
Cuttlebug embossing folder (Candy Cane), Scor-it, glue gun
Designer paper and coordinating Core'dinations papers
Punches: 1/2″ circle, 2″ circle, small & large ovals, word window
Dies: QuicKutz Revolution flourish, QuicKutz Vixen, CTMH circles and Nestibilities circles
(Picture 2)
I created toppers for each container using various dies. The "You're Sweet" is computer-generated and "You're My Cup of Tea" is an Impression Obsession stamp. The "lights" on the paint can are CTMH stickers. I wrapped both of these with paper from Carol Wilson Fine Arts, Inc. What is inside? I have tea biscuits in the paint can and mint tea in the tin…perfect for a chilly winter day.
(Picture 3)
I found recipes for both food and non-food items by doing a Google search for "gifts in a jar". There are recipes for lots of things from sweets to bath salts! Many of these items are for 1 quart containers (4 cups). My jar is a recycled pickle or mayonnaise jar, which is only 2 cups. I adjusted my recipe accordingly.
So before you toss a jar into the recycle bin, think of the possibilities for gifts for good neighbors, teachers, and friends!
Linda Beeson created this adorable card for Thanksgiving next week for those of us in the United States that are celebrating…it is just too cute.
Linda utilized her Fiskars crimper. It is one of the most versatile tools you can get to work with Core'dinations Color Cardstock. It is easy and you can do so many things with it. She used Paprika cardstock, a gorgeous color for this time of year!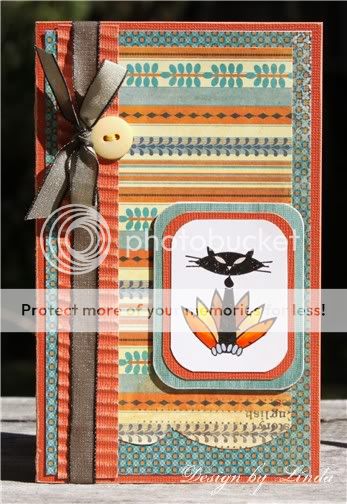 Stay tuned later this week for our Cuttlebug highlights and blog swap! There will be some AmAzIng inspiration and