Welcome Back!
Yesterday we began a TWO THREE WEEK event introducing our BRAND NEW Design Team!    Each member created a layout just for their day on the blog so from today, May 13th -May 31st we will  introduce a team member to you. Isn't that fun??!?!?!
AND TO CELEBRATE THIS EVENT WE ARE GIVING AWAY A PACK OF CARDSTOCK EVERY DAY! Tomorrow morning I will announce today's random winner…just leave a comment on THIS POST. And then come back and comment the next day. We will be doing this until the end of May so don't go far!!!
Today's winner will receive a pack of……
GLITTER SILK!
Please note we will only be posting Monday through Friday. We will pick a random winner the following morning (or Monday if it is the weekend) to win a pack of Core'dinations Cardstock. The cardstock pack may vary due to availability. Winners must email ellen_sosnoski@coredinations.com by June 7  to claim their prizes with the cardstock they won in the subject line.  Please include address and phone number in the email.
~~~~~~~~~~~~~~~~~~~~~~~~~~~~~~~~~~~~~~~~~
So curious to see who is our winner from yesterday??????????
Glitter Silks…oh, how pretty! I would love to play with some that paper. Awesome LO!!
~~~~~~~~~~~~~~~~~~~~~~
Today we have another returning Design Team Member…Shaunte Wadley!
I have had the pleasure of getting to know Shaunte over the past few years and she has an eye for design that always blows me away. She adds just the smallest details and I think, "Man! Why didn't I think of that?!"   Here is a little bit about Shaunte:
I guess if I were to describe myself as a crafter- I would say I like little details- tags, tabs, pearls, tiny flowers, etc.  I also love to add texture and dimension to my projects. I love to sand, machine stich, die cut and I buy pop-dots in bulk.
I naturally gravitate towards happy colors, but I depend on my photos to determine my color palette.
My favorite Core products are Glittersilk and Vintage.
Vintage looks (and feels) to me like a good pair of comfortable broken-in jeans, which is what you will find me wearing almost daily. I like to embellish things with Glittersilk. Anything sparkly and glittery will always appeal to me!
Journaling reads:
40 hit me this year like a truckload of bricks. You tend to reflect on life at each decade- what worked, what didn't. Here is what I know. Sure I have made mistakes, but I have also been pretty stinking lucky.
I married well. Sam and I still love each other- and humor has been the glue to hold this family together. We like to laugh a lot- at ourselves, at each other, and at life.
We have five great kids! They are hitting the teen years, and honestly? I really like these guys! Thanks to Sam's job, we have had many adventures traveling together as a family. I turned my hobby into a job. Work from home in my pajamas? Yes, please.
Life is good. I am grateful.
Here is the detail of how Shaunte cut the title  with her Cameo. Cutting glitter cardstock, like our Glitter Silk, upside down and in reverse helps save your blade and make a nice, clean cut so your glitter won't shed.
Supply List:
Tim Holtz Shattered Cardstock, Vintage Cardstock, Tim Holtz Kraft-Core, Glitter Silk (Shaute cut it on her Silhouette by putting the paper in upside down, and printing the title in reverse. ) Queen & Co. washi tape and bling.
Yes, you heard me right….
A layout with the David Tutera Celebrate Cardmaking System!  Trine  always does beautiful work and this layout is no exception. She mixed and matched some Jenni Bowlin Everyday Core Impressions with bits and pieces of the Steps 2 Lace Doily Assortment and Die Cut Label Assortments and  Steps 3.
Isn't it gorgeous?   And the little banner from the  Flower and Heart Seals and the Wedding Shapes. This line is so versatile and makes even layouts easy and beautiful!
Someone pointed out about the little envelope…I don't know how we missed this the first time around. That is one of our Step 3 Bookmarks! Trine just folded it to make it look like a cute little envie!
And just to keep you updated…the new Design Team members have been notified via email. THANK YOU THANK YOU THANK YOU THANK YOU for all of the amazing applications.
Any old but goodie!
Designer Melissa Oliveria created this layout for us today. Banners never get old, do they?
The cupcake banner was created by embossing and sanding several 1″ strips of Core Essentials cardstock, then trimming a "v" shape at one end of each strip. A punched, sanded Whitewash border was added to each flag before adhering to the layout using foam dots. The base is Pink Paislee Core Impressions…just a little sanding goes a long way!
And I just heard that the NEW Design Team is 99.99% finalized. So stay tuned for the announcement!!!!!!!!!!!
Before we get started today we have a quick update on the Northrige winners. They have been picked and emails will go out shortly! So  stay close to your inbox and we will post names soon, too.
Today we have a layout from Designer Debbie Standard featuring some Core Amour.  Sand the white wash and the black core comes through…it's so cool! Debbie accented it with blues and yellows from the Spotted Collection. Love that pop of color, don't you?
And how about pairing that Spotted Cardstock with some Fancy Pants Core Impressions? Mixing and matching our different collections is so much fun!  Add some of your own embossing like Debbie did here with the Whitewash strip and who needs patterned paper?
Sit back, grab that coffee and relax..we have a few updates for you today!
~~~~~~~~~~~~~~~~~~
FIRST up we will have a winner for you for the Sketch Challenge soon with all of these goings on  we are a bit behind.
Second…DESIGN TEAM CALL posted yesterday! Not sure if you know this but we have a Hot Topics section on our homepage right underneath the flash images (the images that rotate of the new products). We can tag things from our blog and other areas of the site there so that the important stuff stays in one place. Like contests, challenges, giveaways and, of course, Design Team calls!
THIRD ….we posted our winner of the year long sub to ScrapbookTrends on Facebook yesterday…the winner IS……Carol Casatelli Vivenzio!  I emailed you Carol so heads up on that inbox.
FOURTH…want a chance to win EVEN MORE CORE????  We are one of the sponsors of the Cupcake Inspiration blog two hundredth challenge  celebration! Click here for more details on how to win win win win! We are only one of the awesome companies that donated some prizes.
~~~~~~~~~~~~~~~~
Hmmmmm…I think that is for now!   So…last week on Facebook I said we would give you some St Patty's Day inspiration so let's do it! Thanks to Design Team Member Debbie Standard we have a great card for you today.
This Tuesday's  Tip is to break out that Glitter Silk for St Patty's Day. As you can see, we love our GS here ..it was great for Valentine's Day and we are STILL using it in March!
Gosh, it looks beautiful embossed, doesn't it? Pair it with some Core Couture and you have a festive card.
We sure hope you are feeling the LOVE this week!  We sure are. And we have a fun way to kick off this weekend, too! A SUPER HUGE MEGA AWESOME giveaway for you!   We are proud to partner with Scrapbook  Trends for some exciting things to celebrate their 15th Anniversary.
Now…if you want win the party for your friends (some of those goodies include Core'dinations cardstock!!!!) CLICK HERE.
And if you want to win the YEAR subscription just do a few things for us here…the more you do the more chances to win! Did you know we are on Twitter?  AND Pinterest?
Now how about some Valentine's Day inspiration????
Design Team Member Debbie Standard has a fun card for us today. Nothing screams Valentine's Day hearts and glitter, don't you think?  I love the pink and gray combo.
AND we aren't done yet! Guest Designer Leeann Pearce is here with us again with just the coolest layout! If you are familiar with Leeann's work she always has uber amounts of texture and depth to her projects and this one is no exceptioan!  All I have to say is that kebab sticks aren't just for grillin'  Here is a little bit about this layout from her:
Hello core fans…. I hope you are all well after another successful CHA. I hope you are all ready to share the LOVE this month. I am, that's why today I get to share another fabulous page with you featuring none other than CORE!!!!
I created this page using jenni Bowlin core collection – I used the wallpaper print, as a matt and background. I didn't sand it I really love the natural embossed texture. Plus I wanted to let you all know how I made my heart embellishment.
How too heart paper softie:
1: cut out oversize heart shape and sand
2: punch holes in one heart
3: hand stitched to heart shapes together
4: leave small opening and stuff with plastic bags (tissue paper or batting would work here, too)
5: make arrow and thread thru before stitching closed
6: embellished and glue to page.
Tip: Stuff your heart with chocolates and give to LOVED ones.
Material: Jenni Bowlin Core Impressions, Heidi Swapp buzz words, prima vines, epiphany crafts vintage settings and bubble caps, kebab stick and feathers.
We have a big HUGE week schedule for you! Mark your calendars! Inspiration….prizes….STAMPING  (EEEEK!), Core'dinations! What could be better??!?!!?!?
AND  WE HAVE OUR VERY OWN EVENT PAGE! How cool is that?  We can chat, share projects, give away stuff :0
AND next week we have Valentine's Day project for you all week long!
How about  a quick Chocolate Box layout from Design Team member April Derrick? Again, April used The Crafter's Workshop stencil to sand….looks fABulOuS!!!!
Did you know that we are offering the BRAND NEW Tim Holtz Shattered collection in 6×6?  Oh yeah!
Here is a layout from Design Team Member Debbie Standard. Check out how she scored the frame around the outside of the layout and then sanded it. We love our ScorPals! Same GREAT Kraft Core!
And, since we are in the purple mood today….how about another layout from Design Team Member April Derrick. For this layout April paired her Shattered Cardstock  with some Tim Holtz Kraft-Core. These two lines were designed in the exact same color scheme (No. 1, No.2, etc) so they core'dinate perfectly!
AND our Tim Holtz Kraft-Core is available in 6×6 now, too!!!!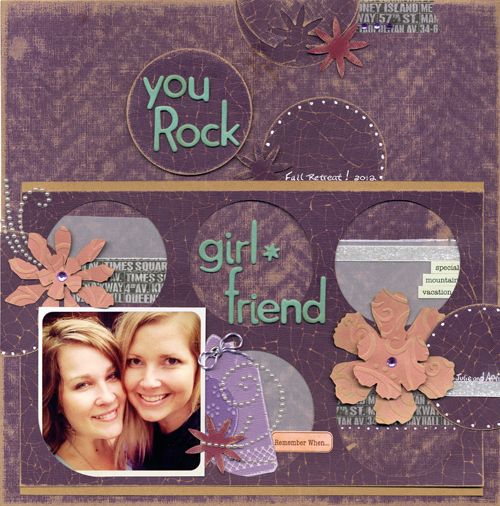 April used a stencil from The Crafters Workshop to sand the base piece of Kraft Core. Just put your Core on top of it and sand and you get a really cool design!
Core'dinations is celebrating FIVE years today! It's hard to believe it but it's true. And as a celebration the entire Core team…our designers, teachers and employees put together an album for our fearless leader, Anthony.
It was so much fun seeing it all come together.  Here are a few shots of Anthony looking through the book. And a few shots of the pages from our team.
By Debbie Standard
by Lydia Jackson
~~~~~~~~~~~~~~~~~~~~~~~~~~~~~~~~~~~~~~~~
And Anth0ny opening the book. I think he likes it!
And one more..